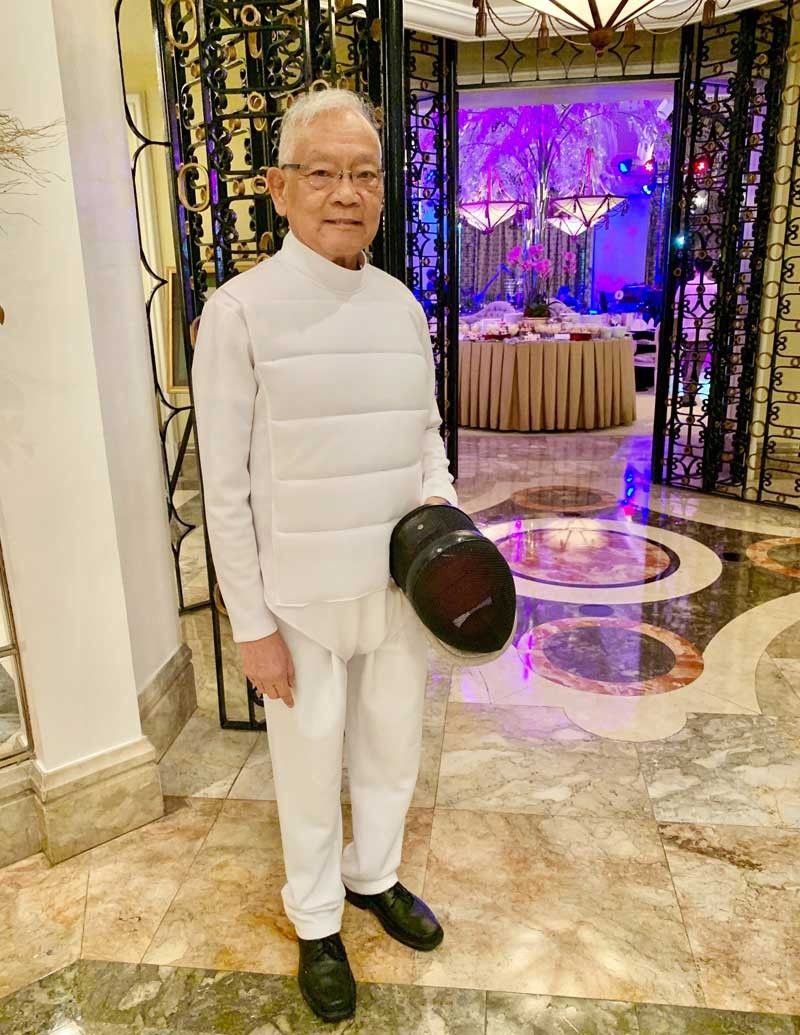 For his themed birthday dinner at the Champagne Room, Jimmy Laya wore his fencing uniform from UP college days.
Photos by Millet M. Mananquil
How Jimmy Laya made his friends rock in their school uniforms (... and almost made them cry)
Jimmy belongs to the vanishing breed of gentlemen with Old World manners. A decent fellow who has always chosen the right path. A man whose integrity, humility and nationalist soul make him truly handsome. Plus, he has a terrific sense of humor.
Jimmy Laya is one of the most beautiful human beings I know.
If you think I mean that in the same manner that George Clooney is deemed one of the sexiest guys alive, you could be right. It is no secret that Jimmy has been one of Manila's most elusive widowers the past three decades, fueling the fantasy of widows and society women that he could probably be their permanent trophy partner for cultural events and social balls.
How could this no-nonsense erudite, who has the seemingly stone-faced poise of an academician and statesman, possibly look beautiful? Truth is, the secret of his charisma lies between his ears, for he is more brains than brawn. He belongs to the vanishing breed of gentlemen with Old World manners. A decent fellow who has always chosen the right path. A man whose integrity, humility and nationalist soul make him truly handsome. Add to that, the fact that he has a terrific sense of humor.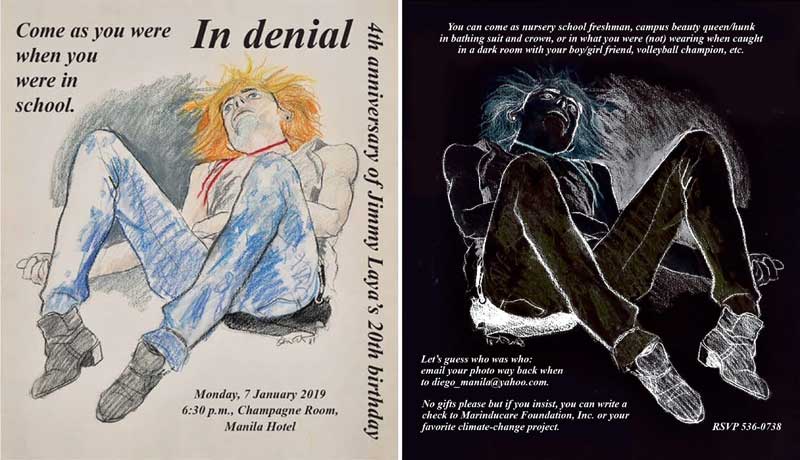 Jimmy Laya's ''In Denial'' invite to the 4th anniv of his 20th birthday, now a collectible with its BenCab artwork
So when Jimmy issued an invitation via text to celebrate the 4th anniversary of his 20th birthday on Jan. 7, I quickly said yes. He specified a dress code: Come as you were when you were in school.
At the Champagne Room of the Manila Hotel, Jimmy greeted guests in his white fencing uniform, explaining that he took fencing as his PE course during college days in UP. "I had to pick among basketball, football and tennis, and decided that fencing was the least life-threatening. It was a mistake, because my costume is riddled with holes. Proof that I never hit anyone, as I was the one more hit."
Many of the 150 guests showed up in their school uniforms. Some wore their student IDs or their school medals. A few came as Boy or Girl Scouts.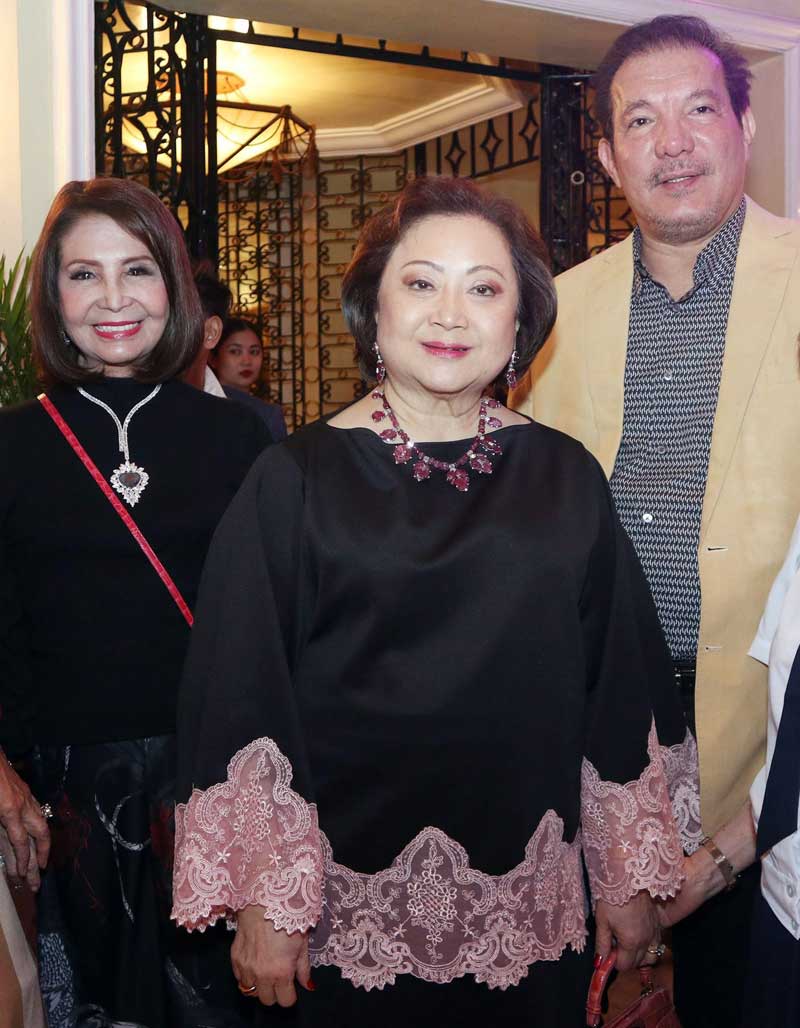 Helen Ong, Nedy Tantoco, Patrick Jacinto
Jimmy had asked guests to send him old photos from their youth, but unfortunately, only five people did — Danny Dolor (as a handsome young man), Letty Hahn (acclaimed for her best costume as a Girl Scout), Criselda Lontok (during her first communion), Helen Ong (as a glamorous young lady, a Miss Malabon beauty) and Tito Kalagayan (as a naughty grade schooler). As their reward, Jimmy gave them a painting each by Wilson Wong.
"I guess those people who did not send old photos believe they look better now compared to how they were years ago," Jimmy said.
''Thank you for fighting the post-New Year and pre-Nazareno traffic," he greeted his guests.
''I had not realized that organizing an event like this means a zillion little details – food, drinks, place, corkage, parking, entertainment, DIs, RSVPs and seating plan, sound system.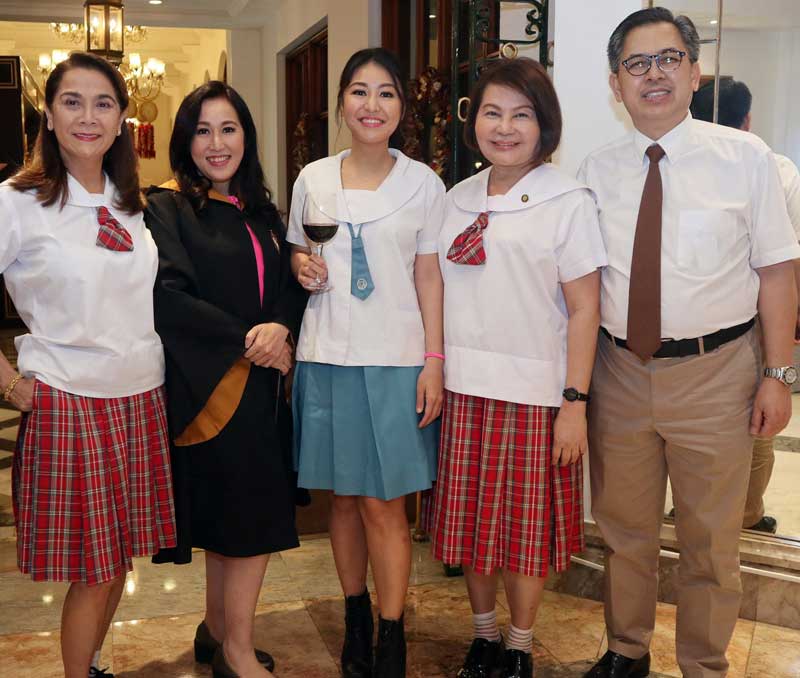 Marivic Vasquez, Flora Chua, Sheree Chua, Marian Ong, Edwin Medalla
''Neither did it occur to me that the guest list should be the first decision, to allow for conceptualizing, design, printing, and delivery. Most of you got your invitation by text, email or word of mouth, some just the other day. Those who didn't get an invitation, please pick one up later. The drawing is a BenCab and may be a collectible in time.
''Consul Helen Ong must have noticed the amateurish preparations. She took pity on me and took charge as only she can. It's no coincidence then that this celebration could be in the same league as spectaculars like the Consular Ball, Manila's Best Dressed, and other grand events that Helen organizes.
Hashtag: in denial
''Tonight we will be in denial and forget numbers: 80 to begin with, let's forget about it; 32 (the number of teeth my dentist tells me I should have), 40-30-35 (the long ago vital statistics of many ladies present?), 100 (pounds, our weight once upon a time), 2 millions (hairs that we're supposed to have).
''We will deny too, aching back, unwilling knees and consider wrong lab counts of cholesterol, glucose, uric acid, and BMI.
''We will insist that we still are able to instantly match faces and names of people 100 percent.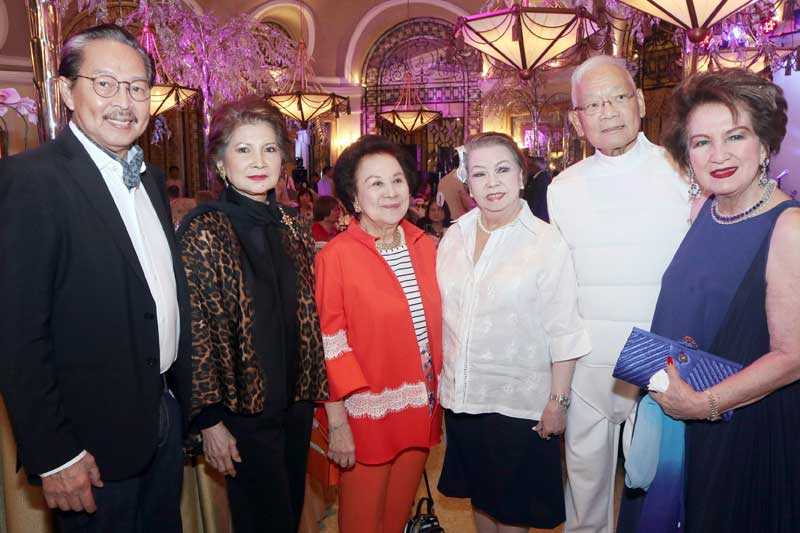 Ramon Orlina, Criselda Lontok, Alice Briones, Baby de Jesus, Jaime Laya, Nene Leonor. Additional photos by LORNA LLANES
''In Grade IV I was incredulous when Mrs. Marquez revealed that Coke at Manila Hotel was P1, which was only 10 centavos at Aling Rosing's. I never imagined that many grading periods later, I would be in this glorious room, with people with whom I have shared joys and sorrows of four score years.
''My First Score Years (1939-1959) were with my sisters, cousins, neighbors, and schoolmates. My sister Eleanor lives here but my twin sisters, Susan and Trina, Maryknollers all, have come from Maryland, halfway around the world.
''I was the youngest, puniest and most insecure boy at Arellano High School, awed by classmates like the pretty Adorable Mendoza.
''At UP, the new BA and Engineering honor graduate Cesar Virata was my BA 101 professor. In other colleges were Belen Luna (Nick Lizaso's fair lady), Linda Enriquez, Aida Reichert, and swimming champions Walter Brown and Annabel Pizarro."
And then came the only point when Jimmy's voice trembled and I thought the dam would break. The audience was ready to cry with him.
''Walter and Annabel got married early and gave me pointers on how to behave the night before my first date with Alice Sandoval, my future wife, and 25 years later lent me a coaster for her funeral.
''My Second Score Years (1959-1979) were in graduate study abroad, working and raising a family. That's when I met the Hidalgos of Marinduque and Sandovals of Palawan and when Mianne, Jamesy, Sandra and Amy arrived.
''Cesar Virata's paths and mine crossed frequently. He was my boss at U.P. and SGV and sent me to Stanford for graduate work. I worked with him in government and now we see each other in NGO meetings and occasional meals (on him). Jimmie Gonzalez and Ric Camus (Jay's Dad) were SGV colleagues.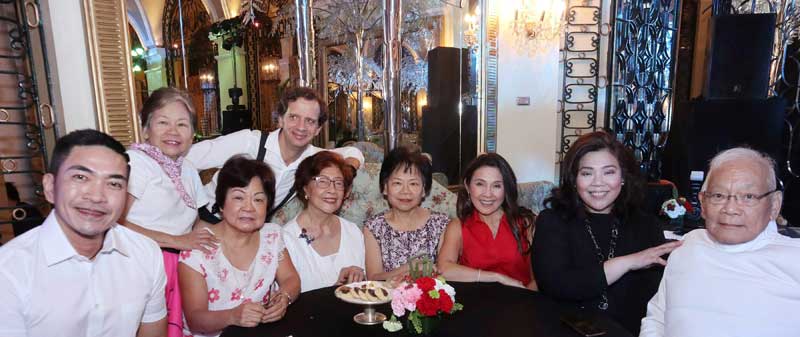 Family: Mario Zinampan, Susan Mysen, Mary Locsin, Trina Sensenig, Mianne Ortega, Sandra Zinampan and JCL; (standing) Eleanor de Gracia and Carlos Ortega. Eleanor Trina and Susan are his sisters; Mary is his sister in law, Mario and Carlos are his sons in law
''I met Chief Justice Hilario Davide, Jr. at the Batasang Pambansa—opposition stalwart with whom I fenced yearly over the budget. He says he touche?d more. Carmeling Salgado, Vicky Bello and Manny Velasco were fellow teachers at UP BA.
''My Third Score Years (1979-1999) started out in government but something happened at EDSA and I had to do something to support my young family.
''Mar Lao encouraged me to organize an auditing firm. I am a CPA but was unknown in the field. Carmeling Salgado, UP accounting department Chair and accounting profession idol, lent me her name and Laya Salgado & Co. Ltd was born. Mar Lao and Tina and Tony Turalba were among my first clients.
''It was tough going at first but we grew. Bing Valencia became one of my partners. Ultimately, crown jewel San Miguel Corporation became an audit client.
''One day Don Emilio Yap called for me. One thing led to another and I eventually met Basilio, Benjamin, Emil Yap, Francis Gaw, Miriam Cu, Justice Bellosillo, and Ernesto Chan.
''And during my latest Score Years (1999-2019), my children got married and I got to know Carlos Ortega, Kate Ansbro and Mario Zinampan. Diego, Isabel, Sophie, Irene, and Ana soon followed.
''I also had more time for culture and the arts and enjoyed comparing notes and admiring great private collections—paintings, santos, maps—of friends present tonight.
''That was also when I entered the super exciting world of artists. I never had as many fights as I did at NCCA, witnessed by Rio Almario, Emily Tiongco, and Tessa Carlos. The CCP is more peaceful, with Nedy Tantoco, Bal Endriga, Nes Jardin, and Nick Lizaso. When I joined the Map Society I began hobnobbing with Jimmie Gonzalez and Alfredo Roca.
''Makati Sports Club has been my morning destination for close to 50 years—mostly gasping in the pool at first and now mostly shooting the breeze with coffee cronies. Most of the originals are gone and don't appear (thank goodness) and I now pal around with the athletic Tito Kalagayan, Butch Hidalgo and Igo Gan.
The Rockin' 60s band: Boy Najarro, Nonong Dero Pedero, Cathy Melendrez, Weng Eraña and Titus Santiago.
''I also got to know many charming ladies and dashing gentlemen. They get together frequently and I sometimes get invited to join the fun. They are talented performers, devoting long days and nights practicing choruses and complicated dance routines, most recently a can-can number worthy of Le Moulin Rouge, with a lot of skirt raising and high kicks. They're also enthusiastic ticket sellers and I'm pretty good at avoiding them during hunting season.
"I used to attend jam sessions, weddings, baptisms, children's parties. Lately though I notice that more and more of my socializing is at the inner court of that small structure behind Santuario de San Antonio. I've also begun to frequent St. Luke's Global to debate on internal matters—heart, pulmonary, cardiac, gastro, ortho. I wish to clarify though that Joven Cuanang and I talk about art, not brain issues, not yet.
''Now therefore seems the ideal time to celebrate, when the Champagne Room can still overflow with friends who walk, see, hear, talk, and recognize.
''In any case, we are in denial tonight, and I'd like to invite all of you to gather once again, on the 5th anniversary of my 20th. Till then, may the good Lord bless and keep us.''
Jaime C. Laya has done it all: He was magna cum laude then later became Dean of the UP College of Business Administration. Budget Minister. Central Bank Governor. Minister of Education. Head of the National Commission of Education, Culture and Sports. Head of Intramuros Administration. IMF- World Bank-UNESCO delegate. Board member , Cultural Center of the Philippines.
What does he consider his greatest achievement? "That my children have become upright persons, honest, reliable and successful in their chosen fields."
They learned from the most beautiful.
* * *
Follow the author on Instagram and Facebook@milletmartinezmananquil. Email her at mmmananquil@philstarmedia.com.