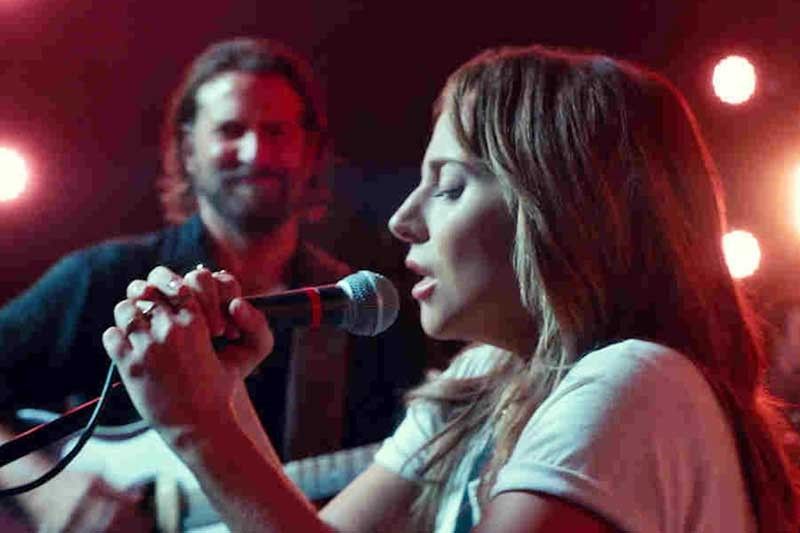 Down the rabbit hole: Movies and entertainment got more disrupted and woke in 2018. A Star is Born.
2018: The Year That Broke Cinema
What a strange, wonderful year for movies. Lots of changes — political, social, technological — forced many viewers to reevaluate what "entertainment" can ultimately offer us. We got new viewing innovations from Netflix, which advanced its strategy of sending new films out to select cinemas (Annihilation, Bird Box, Roma) before dropping them on their streaming service, thus making them eligible for the big awards season. We had more films by African-American directors that looked head-on at race relations (Spike Lee's BlacKkKlansman, Boots Riley's absurdist debut Sorry to Bother You, Barry Jenkins' If Beale Street Could Talk, not to mention the behemoth of Marvel's Black Panther), and interesting documentaries that explored more humane, activist viewpoints (Won't You Be My Neighbor? about Mr. Rogers, Michael Moore's Fahrenheit 11/9, and RBG about SC Justice Ruth Bader Ginsburg).
It was a year when even the biggest, nastiest movie moguls got their comeuppance in real life (hello, Harvey) and women were front and center in caper comedies (Ocean's Eight), fashion noir (A Simple Favor), horror remakes (Luca Gaudagnino's Suspiria), period power-play dramas (Mary Queen of Scots and The Favourite) and women-centered reminiscences (Alfonso Cuaron's Roma). Call it the revenge of #TimesUp, or #MeTooPart2.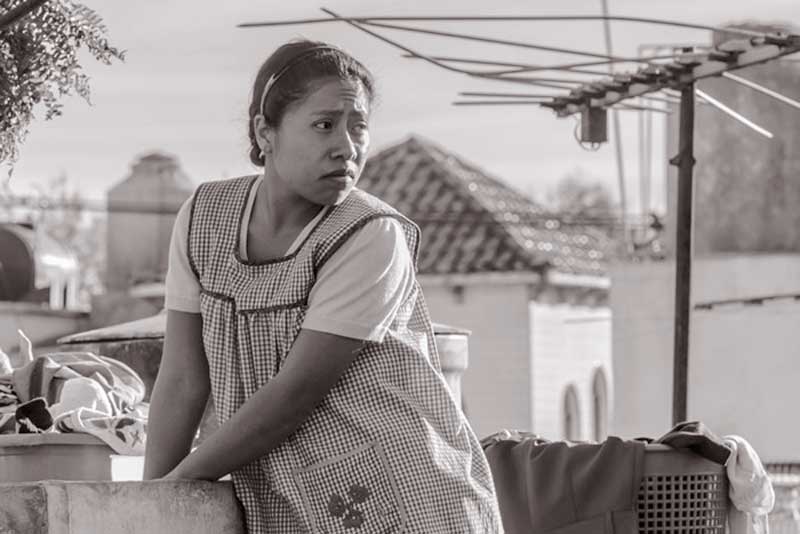 Roma
If you needed extra evidence that genres were being put in the blender, you needed to look no further than Veep creator Armando Iannucci's wickedly satirical Death of Stalin, with its power-grabbing politics outdoing even Trump's White House; or the Coen brothers' through-the-wormhole Western vignette saga, The Ballad of Buster Scruggs (which itself debuted almost simultaneously on Netflix).
Netflix upped its own game even further, making the new season of its acclaimed British import Black Mirror into a single movie — albeit an interactive mindfrak of a movie called Bandersnatch that requires you to make choices along the way, branching out into hundreds of possible outcomes. If entertainment didn't take a flying leap down the rabbit hole in 2018, you can be sure it will be slipping down there for good in the coming year.
After all, we can't be expected to be confined to one formula or viewing option. Hollywood seems to be reading the tea leaves more closely, pointing towards even bigger untapped markets. The huge success of Crazy Rich Asians was seen as a watershed moment — a film completely occupied by characters that resisted previous Hollywood-supplied stereotypes, painting a picture that more and more (affluent) Asians can finally relate to. But there was also the small hit Searching, with John Cho desperately trying to piece together clues about his missing daughter, depicting the lives of Korean-Americans as integrated, yet fraught with new perils.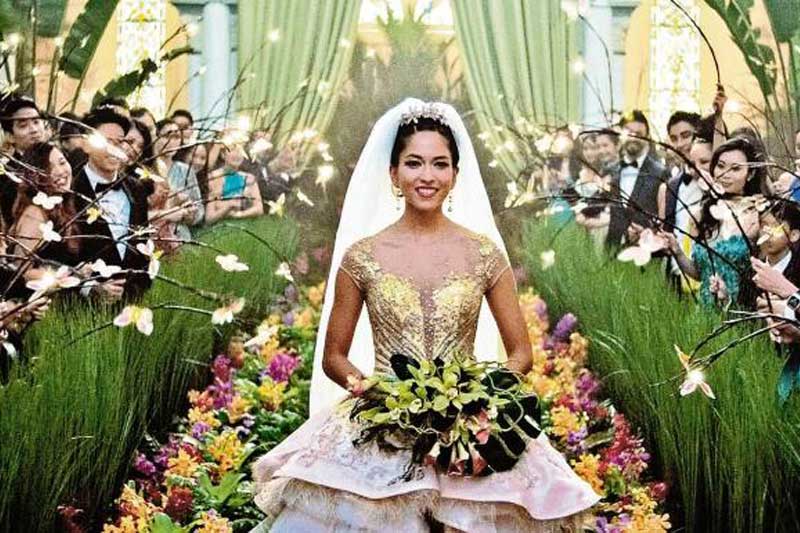 Crazy Rich Asians
We had Oscar bait galore, but few came as prepackaged for the trophy stage as Bradley Cooper's remake of A Star is Born, with the star/writer/director casting himself as a faded country rocker and Lady Gaga in a breakout role as the ingénue pop star. Great as it was, it didn't exactly crack any Hollywood molds or shatter any glass ceilings.
In fact, A Star is Born was competing with another behind-the-music epic, Bohemian Rhapsody, which defied expectations by eliciting tons of respect for '70s rock band Queen among people too young to have been around for their music 40 years ago. It helped to have a plucky band fronted by a colorful lead singer, Freddie Mercury, embodied by Rami Malek and a whole lot of facial prosthetics.
Horror reasserted itself as a strong Oscar genre, with hits like A Quiet Place taking a more nuanced look at a family trying to survive an alien menace; Hereditary casting Toni Colette and Gabriel Byrne as a family surviving an internal demonic menace; and Guadagnino's arty Suspiria making us all fear Berlin-based dance academies run by witches. It seems the breakout promise of Get Out has spawned numerous new variations on the common horror trope.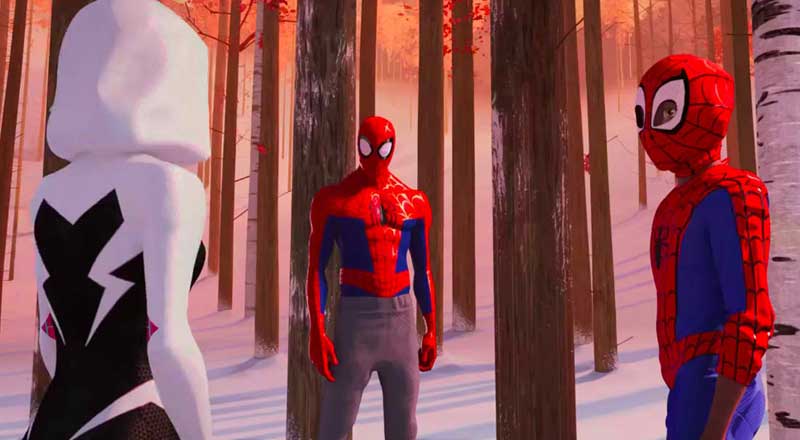 Spider-Man: Into the Spider-Verse
And while Marvel fans couldn't get enough of the cliffhanging Avengers: Infinity War, it was the super-deluxe cartoon Spider-Man: Into the Spider-Verse that reignited what is possible in the superhero genre, with cutting-edge animation art (some supplied by Fil-Am Louie Del Carmen), and not only a Black-Latino Spider-Man, but a female version as well. Even dogs got their day, with Wes Anderson's stop-animation paean to canines, Isle of Dogs, tapping into another no-longer-fringe demographic.
Women were very strong in movies, and Oscar will no doubt take notice. Let's hope the Academy thinks outside the box this year, whether it's Nicole Kidman's turn as a damaged detective in Destroyer, Toni Colette as a supremely terrified mom in Hereditary, Viola Davis as a crime boss in Steve McQueen's Widows or Melissa McCarthy as a booze-soaked literary fraud in Marielle Heller's style-bending Can You Ever Forgive Me? — but expect the trophy to go to industry fave Glenn Close for The Wife or Julia Roberts as Concerned Mom To Drug Addict Son in Ben is Back.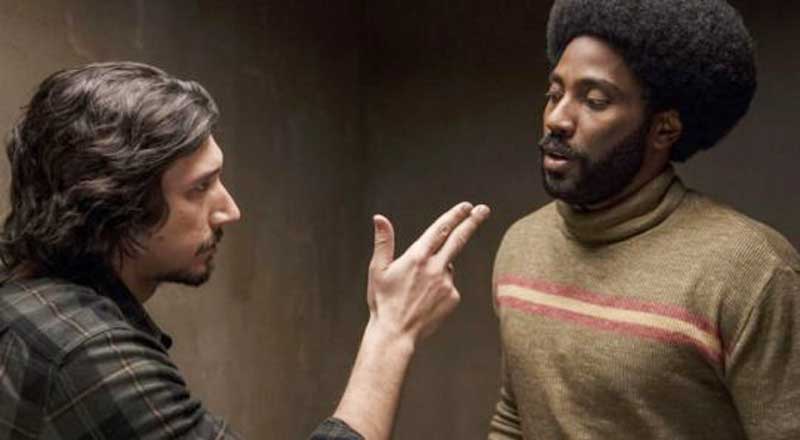 BlacKkKlansman
Speaking of opioid addiction, that was a mini-genre all itself, with Steve Carrell trying to rescue son Timothée Chalamet from its claws in Beautiful Boy (either actor is up for an Oscar nod). Other standout male performances included truly great work from Ethan Hawke in comebacking director Paul Schrader's First Reformed, playing a priest suffering a whole lot of faith issues (and mirroring Travis Bickle's descent in the process). There was Joaquin Phoenix in a pair of interesting roles — playing a truly weathered hitman in Lynne Ramsay's You Were Never Really Here and alcoholic quadriplegic cartoonist John Callahan in Gus Van Sant's Don't Worry, He Won't Get Far on Foot.
And while last year's biopics focused on controversial leaders like Winston Churchill — with Gary Oldman picking up an Oscar for Darkest Hour — 2018 seems to have settled on dissecting antiheroes, like Christian Bale channeling George W. Bush war freak Vice President Dick Cheney in Adam McKay's The Big Short follow-up, Vice.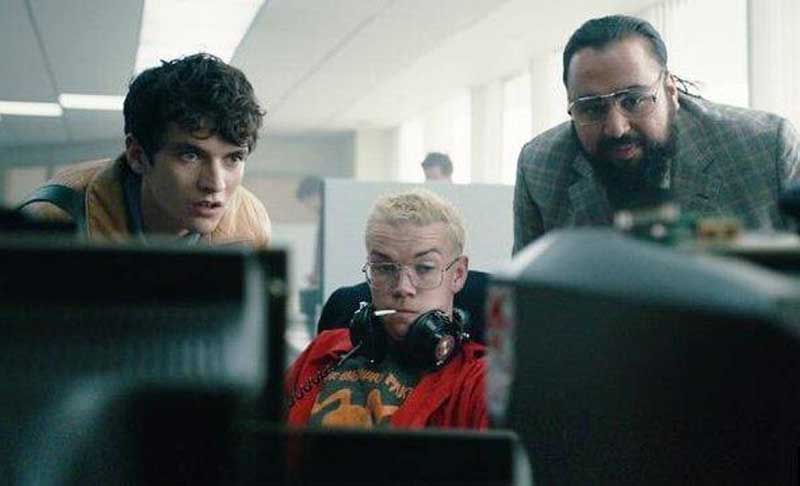 Bandersnatch
Yup, in a year that saw world leaders flipping things upside down, (some) sexual predators heading to jail, people voting in US midterms like it actually mattered, climate change taking an even greater toll on the planet, and technology opening up so many portals to entertainment that we could be forgiven for feeling overwhelmed by all the options, movies were a reflection of how things are, indeed, a-cha-cha-cha-changing.
* * *
Follow @ScottGarceau on Instagram.