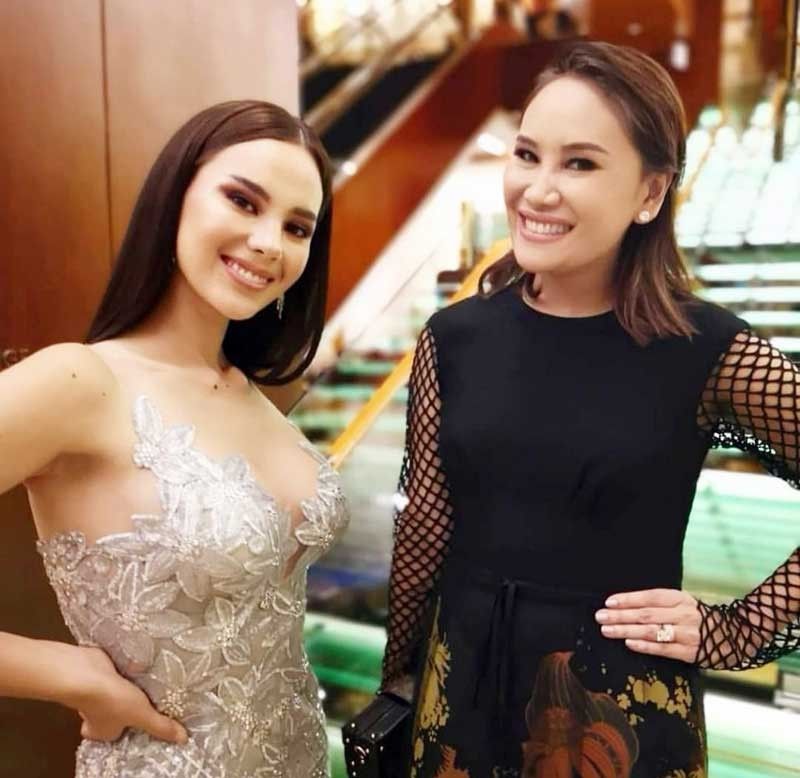 Catriona with her dermatologist, The Aivee Clinic's Aivee Aguilar-Teo
How to look like Miss Universe
We get it straight from Catriona Gray's dermatologists, Doctors Z and Aivee Teo.
I first met Miss Universe 2018 Catriona Gray during her modeling days in 2015, on a four-day, out-of-town shoot in a resort in Mactan where I was the stylist. It involved her climbing Balete and Talisay trees and making it fashion, holding on to branches — for dear life — while constricted by designer piña garments, so you see how she pulled off her oversized parol on wheels for the national costume presentation. She's a pro, but she would also go beyond her modeling duties, like helping me carry the clothes while changing locations. She did politely decline our clubbing invite, but when she looked fresh and rested for our beauty editorial in the morning, we totally understood.
In front of the camera, she would effortlessly transition from edgy to sublime, shifting her body into "the hunch" pose that was en vogue at the time to channeling a dreamy diwata in the woods. I would've never guessed she had scoliosis until I was up close, buttoning her up. I bet it was the same for the rest of the world who watched her "lava walk" during the Miss Universe swimsuit competition.
During one of our downtime moments, she played her song covers from her phone. She didn't just say she wanted to make more music; she said she wanted to find her voice. In that same year, Pia Wurtzbach brought home the Miss Universe crown for the country, after an almost half-a-century drought. The following year, Catriona returned to pageantry (her first crown was Little Miss Philippines Sydney at the age of five) when she competed for Miss World and placed third runner-up.
With this encounter, I can assure you that she is all-natural — her physique, her jolly nature and enthusiasm, her substance and compassion. And when she's fierce, smizing, flipping her hair? That's natural, too. It's her fighting spirit that's got her to this point, coming through the surface.
There is no doubt that Catriona is beautiful, but to become the most beautiful woman in the universe, she had to bring it. She had to become the most beautiful that she could be. It's worth noting that Catriona is backed by a team she assembled herself. In pageant culture, the girls are made into beauty queens by an agency with its own set of collaborators and a formula of how to bring home the crown.
To become the Miss Universe that she wanted to be, Catriona stuck to her guns. She trusted The Aivee Clinic. After winning Binibining Pilipinas in March, Catriona met with doctors Aivee and Z Teo in May.
"The Aivee Clinic is really so proud to have been part of her journey to the crown, but we really cannot take all the credit. Catriona's heart, her charm, her love for her country and her cause, and her distinguished character are what really won her the Miss Universe title," the Doctors Z and AiveeTeo told the STAR in an email interview.
"Personally, Aivee and I have always been very comfortable with Cat. From the start, she has been respectful, humble, and easy to work with," Dr. Z adds.
The 'Catriona package'
Now, there is no such "package," but for the netizens who coined the term and everybody else curious about the extra push Catriona had, here it is:
"We created a seven-month program for her to get looking her best for the competition. She did these treatments consistently once or twice a month in the months leading up to the Miss Universe pageant."
Any problem areas she wanted to focus on? "We wouldn't call them problem areas at all. Catriona was already so beautiful even before she was an Aivee Leaguer. Catriona's treatments were all non-invasive. The treatments we prescribed for her were meant to get her to become the best version of herself."
It was also crafted in line with Catriona's hectic schedule. She was not only training and working out. She was very much visible in the weeks leading to the pageant, attending events and doing photo shoots and interviews. Downtimes were a no-no. Back at the clinic, the treatments also had to undo the effects of lack of sleep, stress and exhaustion.
For breakouts, Catriona would get the acne prescriptive Light Clearing Facial TX that utilizes LED light: red to stimulate healing, and blue for acne clearance. When she had dull and tired skin, it was the Aivee Hollywood Facial, a celebrity favorite in the clinic characterized by its dark gray magnetic clay mask. "It adds moisture to the skin and creates a soft, smooth, nourished red carpet-ready glow which would be perfect for the pageant."
She also did a combination of Aivee Luxury Treatments to keep her complexion flawless: Red Carpet, an anti-aging, rejuvenating facial treatment that incorporates Shining Bright laser; Porcelain TX for skin brightening and an instant glow without pain or downtime; and Gentle Laser Pore, a laser that replaces damaged skin with healthy, younger-looking tissue, resulting in minimized pores and smoother skin texture.
Like her body, her face had to be toned and lifted, too. She did Protégé Face regularly for seven months. "This uses dual energy to deliver thermal waves that stimulate and strengthen the collagen network of the skin, improving skin texture and laxity. This is great for tightening the jowl area," the doctors explain.
For an extra, skin-tightening boost right before Catriona left for Bangkok, she did Thermage, a 45-minute treatment that uses radio frequency to deliver results that can last for a year. "We chose this because it has no downtime and is a very comfortable treatment. Her face was immediately tighter, refreshed and much more lifted. Just when you thought her beautiful face could not get any more beautiful, we saw a great improvement!"
Aivee and Z knew they couldn't just focus on her face. "We wanted to keep her even more confident during the swimsuit and long gown segments of the competition." They supplemented the hours Catriona spent working out and eating healthy with body treatments, all non-invasive. First was eliminating cellulite, something that's difficult to remove through exercise alone and would be difficult to conceal even with body makeup. They used Aivee Unison (a new body treatment to be launched soon), a combination of monopolar radiofrequency and targeted pressure energy to diminish cellulite's fat chambers, stimulate collagen production, and restore skin elasticity. For those stubborn extra pockets of fat and stretch marks, she alternated with Vixen Body Tightening, which also reduced her body circumference and increased skin tightening with a combination of pulsed magnetic fields and multipolar radio frequency to efficiently deliver heat within the skin.
The doctors also prescribed consistent vitamin drips to keep her health up during crunch time while also delivering beauty benefits from within. Catriona enjoyed the Platinum Drip. "It's a concoction of anti-wrinkle and antioxidant solutions for skin whitening and brightening, and at the same time has vitamins for boosting energy which is great for her and her busy schedule."
Another beauty-from-within secret? It was given in Catriona's winning Miss Universe Q&A answer: Always look for beauty, see a silver lining, be grateful, and give more of ourselves where we can.
* * *
Contact The Aivee Clinic at 0917-7283838 or (02) 573-1420 or visit aivee.ph or @theaiveeclinic on Instagram for updates.