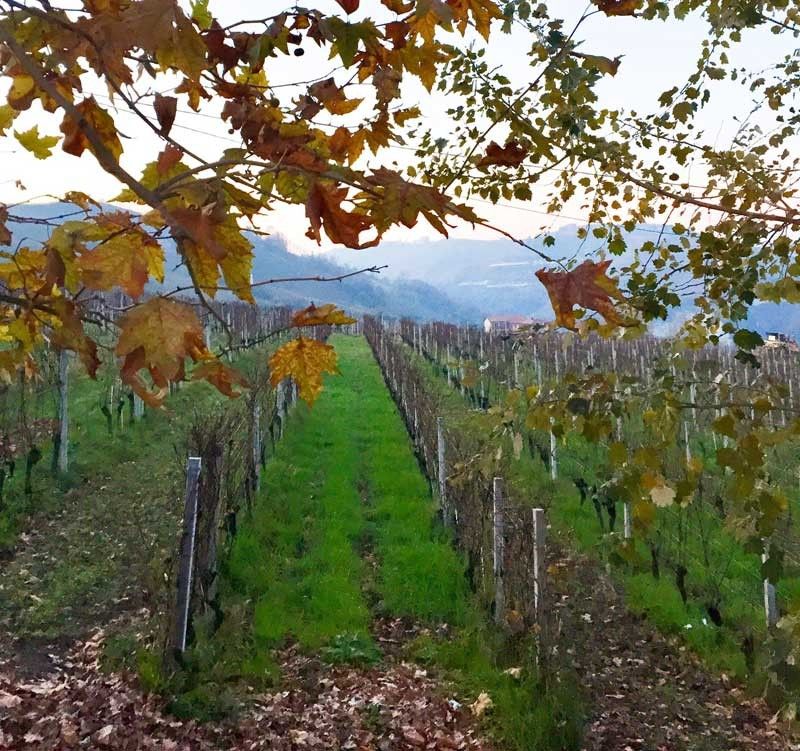 Heard it through the grapevine: Vineyards blanket the hills of Asti, a region of northwest Italy known for its winemaking.
Sparkling wines and Italian sunsets
Filipinos are particularly fond of lifting glasses of sparkling Asti Spumante for holiday cheer. There's a misconception among Filipinos, though, that "Asti" is simply that white wine — when it's actually a winemaking territory in northern Italy that produces hundreds of sparkling vinos. They run the range from Moscato D'Asti (sweet, with alcohol content of 5-6 percent) to Asti Dolce (less sweet, about 7.5 percent) to Asti Secco (dryer, about 12-15 percent alcohol). What makes the difference is a multitude of factors, among them the quality of the tiny white muscat grape, and the taste of the winemakers. And then, of course, there's location.
Ah, yes: location. You start with a country noted for its stunning vistas and charming piazzas. You add an abundance of gourmet foods and ingredients — like Alba white truffles, which are overflowing this time of year, just after harvest time.
Then you add some of the most sublime wines on the planet.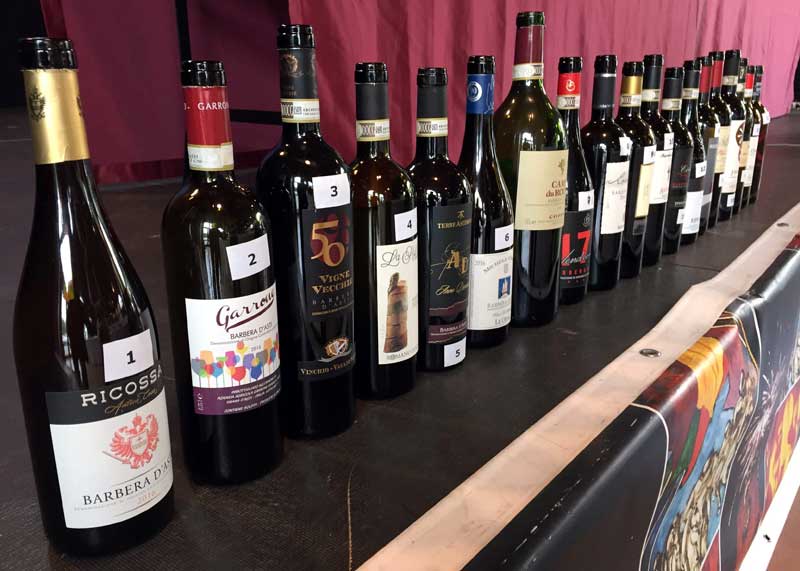 19 bottles: We sampled 19 winner selections during the "Barbera Revolution" master class at Nizza Monferrato
That's how you introduce your guests to Moscato d'Asti.
For us — invited by Consorzio D'Asti D.O.C.G. and International Exhibition Management to the sparkling wine towns of Asti in the Piedmont region of northern Italy — the first tasting commenced atop Castello di Gancia, a castle estate owned by a fifth-generation winemaker who specializes in transforming the small white grape into world-class sparkling wines.
The D.O.C.G. (Denominazione di Origine Controllata e Garantita) is the pinnacle of Italy's quality rating for wines. Like France's appellation system, it involves the grapes, the soil, the water, the family estates and production methods. Everything about the terroir is guaranteed. For Moscato d'Asti, for example, you can never add sugar or inject gas to create bubbles in the wine; it must be introduced naturally. The D.O.C.G. label found on certain wines is much stricter than the lower D.O.C. label; in fact, according to sommelier Martina Doglio Cotto, there are only 74 D.O.C.G. winemakers in all of Italy — and of these, 17 are located in Piedmont, the northwest region we are visiting.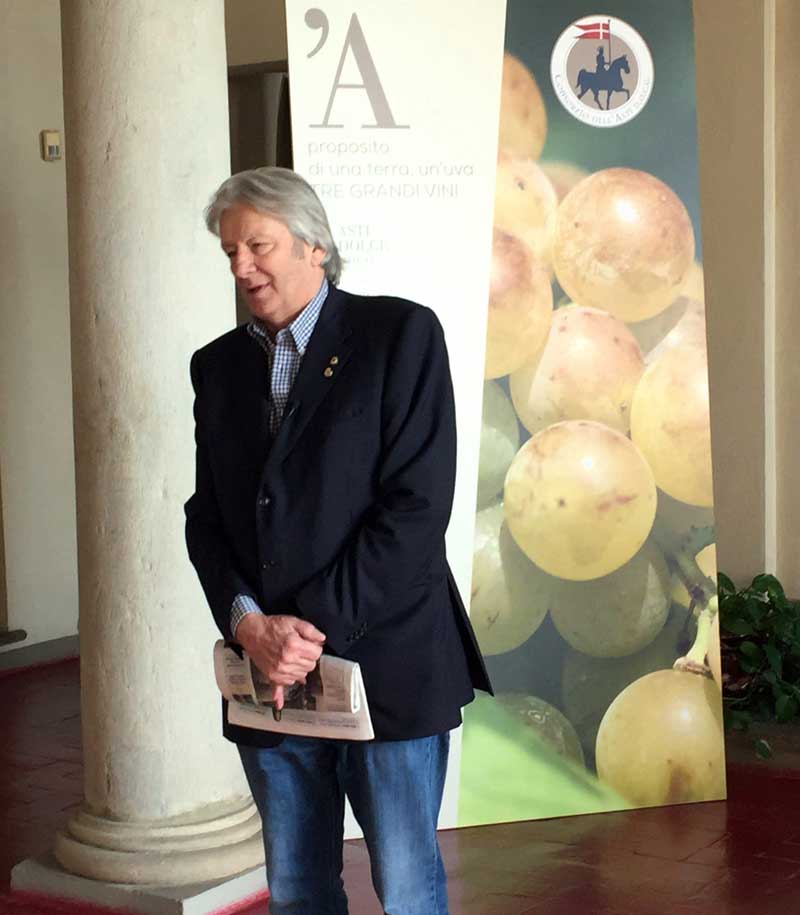 Signor Romano Dogliotti, president of Consorzio di Tutela dell'Asti e del Moscato d'Asti and our gracious don for the Italy tour, arrives at Castello Di Gancia.
Asti, a territory of Piedmont made up of 52 towns, is 90 minutes from Milan Malpensa Airport and as you approach it, you can see the Alps running up and down the borders of France and Switzerland. Piedmont wines benefit from these mountains, a shelter from harsh winds, as well as cool and warm breezes from the Mediterranean below. Asti itself is hilly, and it's a marvel to see vineyards running across these hills — not so easy for grape picking, though; unlike, say, the Banaue rice terraces, there are no flat levels, just steep hills lined with grape vines. Now, in early November, the plants are bare; those grapes have been picked, placed in boxes and sent to production sites of winemakers.
For spumante (literally, "sparkling wine"), the fermentation process is intentionally short, resulting in sweeter wines with less alcohol; but it can be extended, yielding crisper wines with higher alcohol content.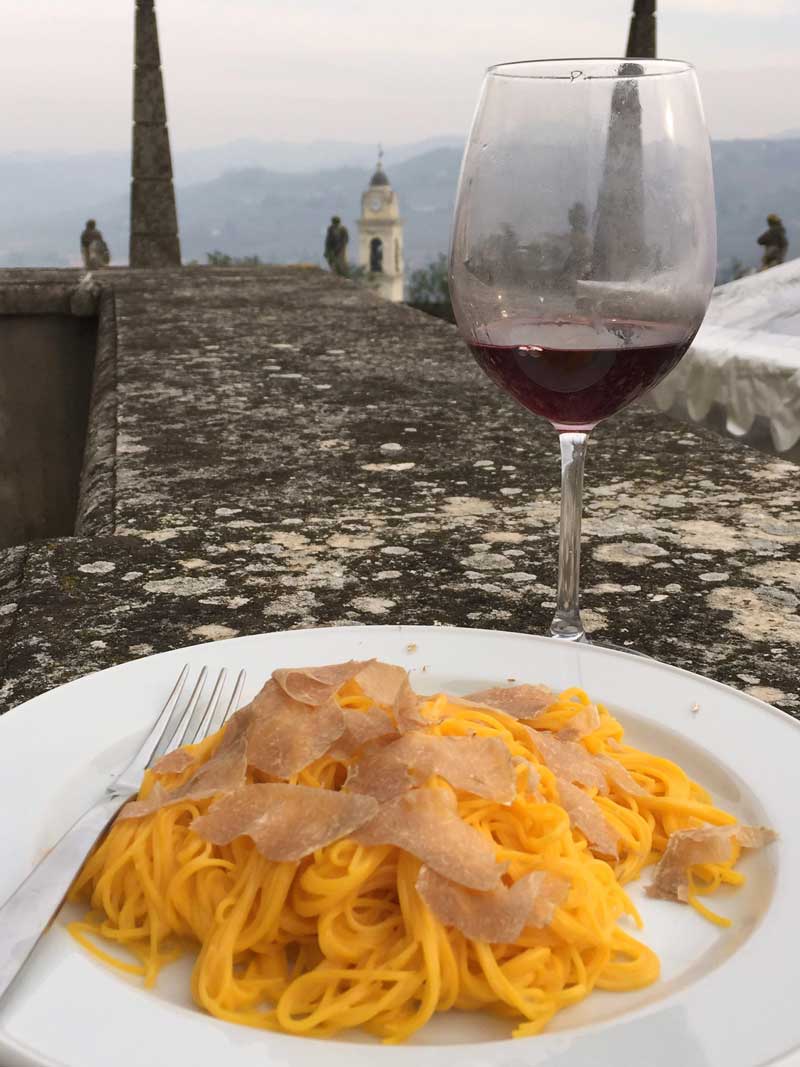 A Barbera d'Asti paired with a plate of 40-egg taglierini pasta grated with fresh white Alba truffles as the sun sets over a valley personally kissed by God. Some might call it "working."
The grapes arrive in 25-kg boxes from the vineyard; they're pressed right away in huge vats with soft pressure to separate juice from skin, resulting in the "must" (the freshly crushed grape juice that contains skins, seeds and stems of the fruit); this is then "clarified" naturally (no chemicals or enzymes) to remove impurities. The must is then stored in refrigerators, where fermentation starts.
The ingenious twist of Asti wines is to cool down the fermentation process at around 5-6 degrees Celsius, then store the resulting must in vats for two to three months. During that time, filtration occurs under pressure, so the natural gas and bubbles produced during fermentation are kept, trapped inside the bottles. Voila: sparkling wines.
Back at Castello Di Gancia, we see Romano Dogliotti, president of Consorzio di Tutela dell'Asti e del Moscato d'Asti, arrive and walk up the castle steps in long black cape and wide-brimmed black hat. It's what he wears to most events here, and it's no affectation — it reminds us of tradition, and its importance here in Asti.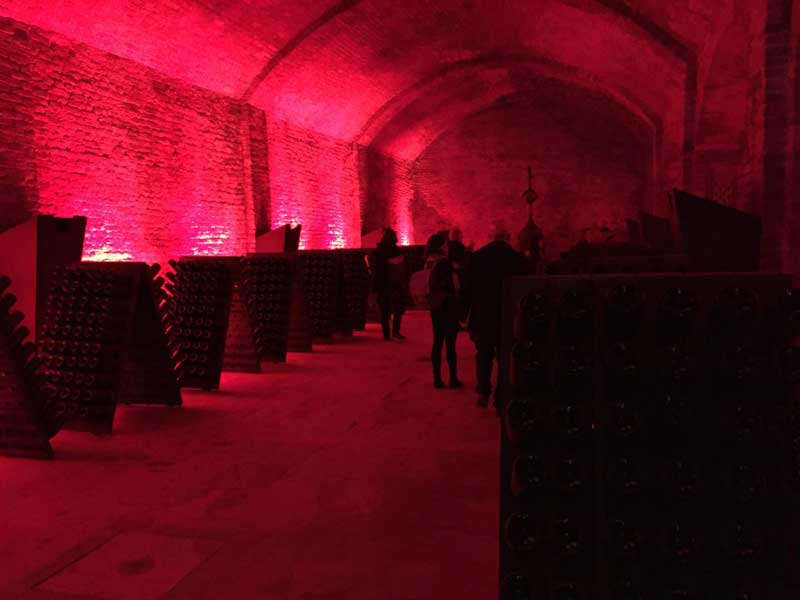 We tour Bosca "underground cathedrals" in Canelli, now a UNESCO World Heritage Site.
With his head of lengthy gray hair, he's a gracious don, owner of his own Dandrina wine estate, and he invites us — after three days of celebratory meals that include risottos and handmade pastas grated with white truffles recently harvested from neighboring Alba — to give thanks to the farmers and vineyard workers who have made it all possible.
Italy's tradition of terroir, at least according to wine expert Walter Speller, rivals even that of France. It's a history built on family tradition, innovation and culture. In Asti, it's largely built around the muscat grape, and its central role in sparkling wines. But the method of slowing down fermentation to add sparkle, Speller informs us, has been documented since the 16th century. Back then, they would simply drop the wine casks in cold water to stop the process. Nowadays, methods are more technological, but it's the same idea.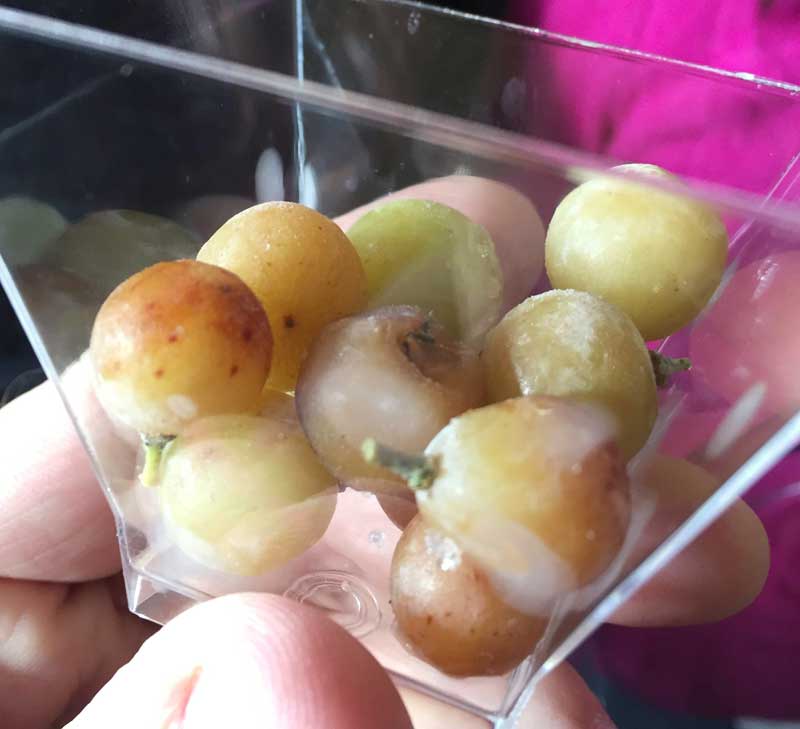 The unassuming muscat grape — small, white, very sweet — drives the production of Moscato d'Asti wines here.
How old is the muscat grape? We're told it's the oldest in Italy, imported from the Middle East and used to produce wine as early as 1510. August is harvest time, with its aromatic compounds, acidity and sugars reaching a "sweet spot" somewhere mid-month. Even today, Asti prides itself on using manual picking, not mechanization, to harvest grapes.
You'd be surprised how inexpensive Asti wines are in Italy. They're a bit less so in Manila, but if you look on the label, the "D.O.C.G." label tells you it's been through a strict quality-controlled process. (Be careful: we were told there are a lot of "fake" Asti wines on the market.) Asti and sparkling wines are trending worldwide right now, with the US being the biggest market. Our D.O.C.G. hosts — inviting journalists and wine writers from around the world — are pretty sure these refreshing summer wines will go well with tandoori chicken, samosas, a Chinese lauriat or even ukoy.
Brachetto roses and the Barbera Revolution
Our Asti trip, as wine scribes, involves three days of sipping approximately 50 wines a day, either at cocktail events, paired with Michelin-star restaurant meals, or at walkabout wine tastings held in rustic wine cellars and mountain spas. It could be called "working."
The salmon-pink color of Brachetto d'Acqui wine comes from its short maceration period; its purplish blue berries, high in sugar, unleash strong floral notes suggestive of red roses.
We travel to the hot springs town of Acqui Terme, where Brachetto d'Acqui is produced. In a town hall built in the 16th century, Mayor Lorenzo Luchinni invites guests to "celebrate our newborn" — this year's Brachetto releases from harvest 2016 — as sommelier Martina leads us through the winemaking process in a town where volcanic steam wafts from local piazza fountains. The hot springs don't affect the wines, per se, or add to the bubbles; they do add some of the minerality for which these rosés are prized. Martina tells us a legend that cases of Brachetto wines — said to have aphrodisiac qualities — were sent to Cleopatra long, long ago, and that she was "charmed." While there's no historic record of this, it was in the 1950s that Arturo Bersano started promoting these cheap, everyday wines — served at dinner tables throughout Acqui Terme — as sparkling rosés. Later, we meet dozens of winemakers from local estates, and taste dozens upon dozens of Brachettos. What hits you first about Brachetto is the color (the pale salmon-pink comes from its short maceration period), then the aroma: the purplish blue berries are high in sugar; when fermented they produce strong floral notes suggestive of red roses. Taste-wise, they are very smooth, medium-body wines. From our tasting, we recommend the Acqui D.O.C.G. Rosé, the Cantina Sociale Di Fontanile Dolce, the Araldica Dolce, and the Tre Secoli Brachetto D'Acqui 2016.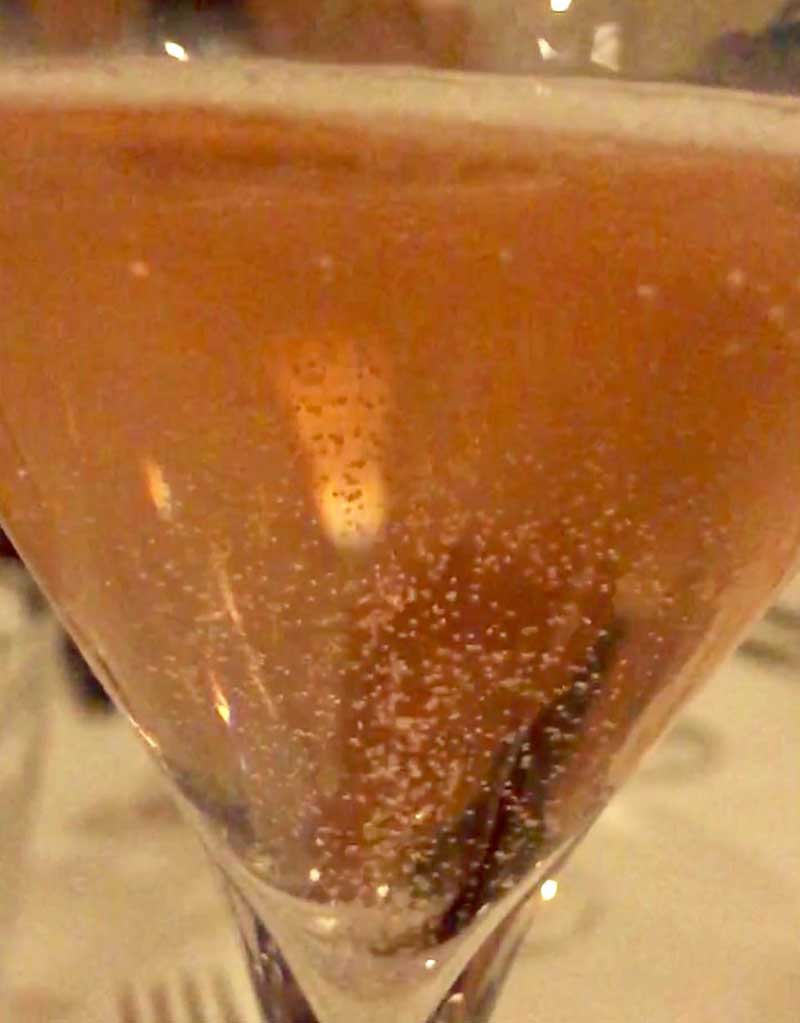 Tiny bubbles: The frissante that Italian sparkling wines are known for is captured naturally in Asti.
Our next day we explore the phenomenon of Barbera reds at the "Barbera Revolution" symposium held at a large hall in Nizza Monferrato. Some 150 journalists and wine collectors gather for a 19-glass wine flight — before lunch, mind you — to explore Italy's deep plum-colored Barbera grape. Barbera d'Asti was once considered a "rustic" wine, something with high acidity and low tannins that you'd plop on the table for everyday meals. Now it's gaining cachet among wine hunters thanks to a focus on careful aging and lowered yields.
It's true, the regular Barbera d'Asti D.O.C.G. reds we sample that afternoon are still a bit fresh and tight (bottled in 2016), but move over to the Superiores from the same year (steel- and wood-cask-aged six to eight months) and another story emerges: there are still juicy blackberry and cherry notes, but some of the barrel wood (French and Slovenian oak) starts to add structure; vanilla, leather, spicy, jammy fruits come to the fore. As our master class speaker Kerin O'Keefe puts it, the Superiores from Barbera now display "nice backbone," which suggests the 4,130 hectares of vineyards are yielding something new, something world-class. From the tasting, we recommend the 2016 Coppo Camp du Rouss, the Pico Maccario Epico Superiore (my personal favorite, with a hint of prunes), the Berta Paolo 1843 Superiore, and the Franco Roero Superiore.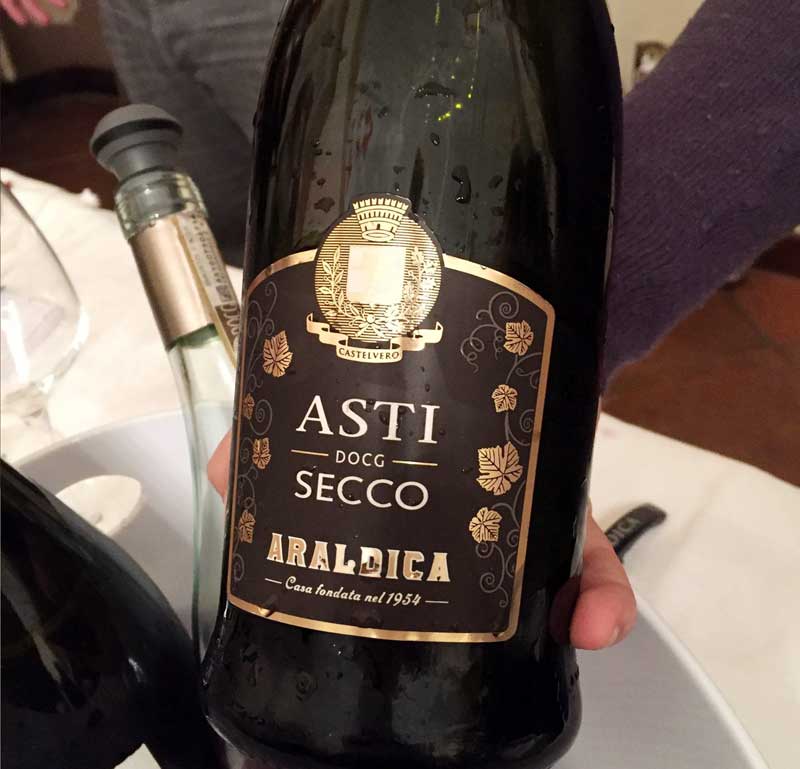 Not all Astis are sweet: this Secco pairs nicely with fish, cheese and even chocolate.
Our wine journey continues that day to the "underground cathedrals" of Bosca in Canelli, now a UNESCO World Heritage Site. Led by Polina Bosca, communications director, we discover a 187-year-old family-run operation that's one of the biggest exporters of Italian spumante. Touring their red-lit wine caves, where bottles are stored at very specific angles and with a patented Multistap cap, we feel like we're immersed in the history of Canelli, something that's survived since the Middle Ages. Though the vaults hurtle us back to the past, Bosca keeps things up to date: we slip into a hidden wine bar, a modern, well-lit underground space where we're served some of their finest Dolces and Seccos, and even a halal spumante with zero fermentation. Italy has a way of preserving the past down to the tiniest detail, while remaining as current as the latest cocktail invention.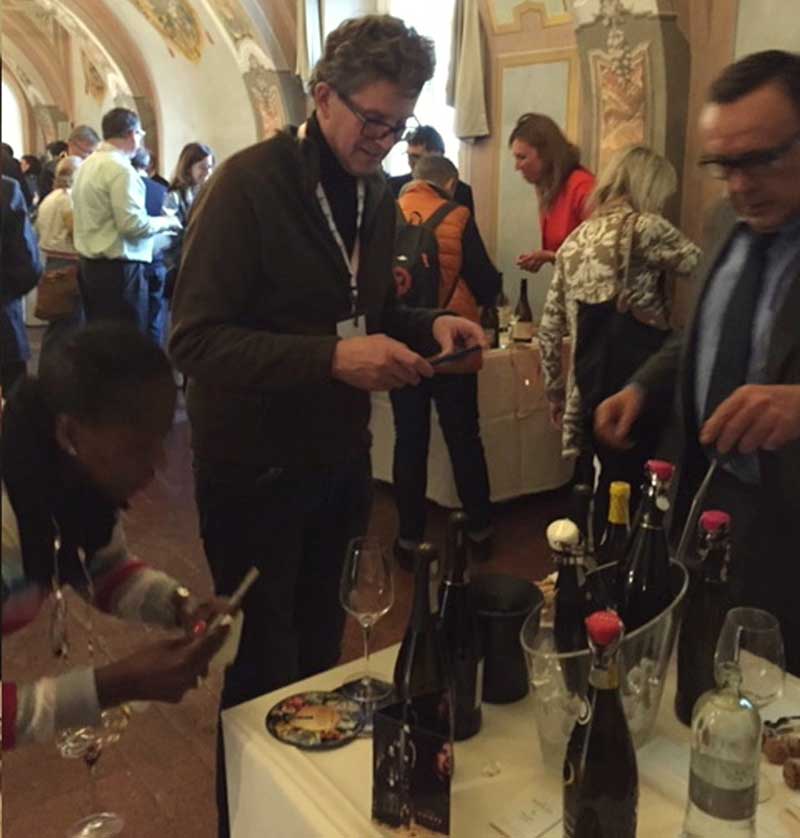 Nonstop wine tastings, vineyard visits and Michelin star meals: That's how the Italians roll.
Back at Castello di Gancia, where we conclude our first wine symposium, the phrase that keeps popping into my head is: "Location, location, location." It is one thing to sample a Moscato d'Asti or a crisp Secco in, say, a wine bar in a city; it's quite another to pair it with a plate of 40-egg taglierini pasta grated with fresh white Alba truffles as the sun sets over a valley that seems personally kissed by God. Will you have the same experience as you hunt down Asti wines in Manila? It doesn't hurt to try.