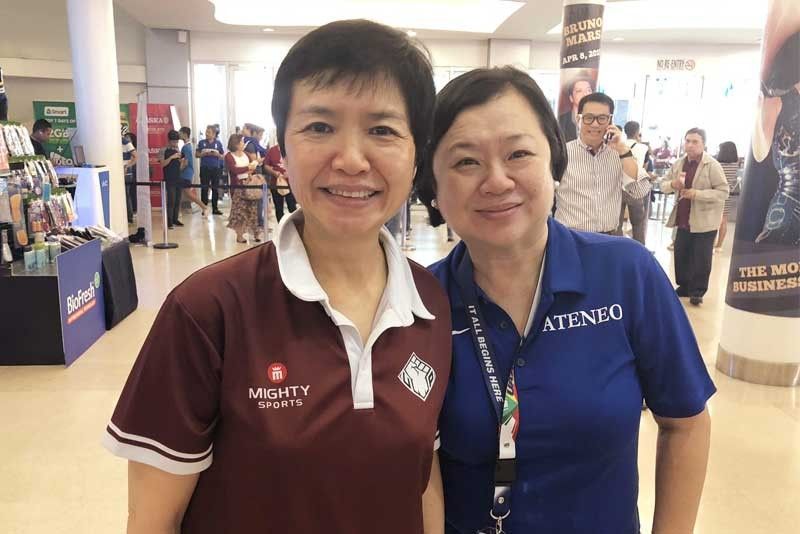 Mighty mama-sans: Robina Gokongwei-Pe and Debbie Tan
Robina Gokongwei-Pe and Debbie Tan: Fairy godmothers of UP and Ateneo
On the sidelines of the recent UAAP men's basketball Finals between Ateneo and UP, two ladies — call them fairy godmothers— stood out for their passion in supporting the schools where they spent some of the best years of their college lives. Robina Gokongwei-Pe took up economics in three years at the State University before finishing with a journalism degree at New York University while Debbie Tan earned an interdisciplinary studies diploma in four years at the Loyola campus. They were years apart as students but shared a common bond, both graduating from high school at Immaculate Conception Academy.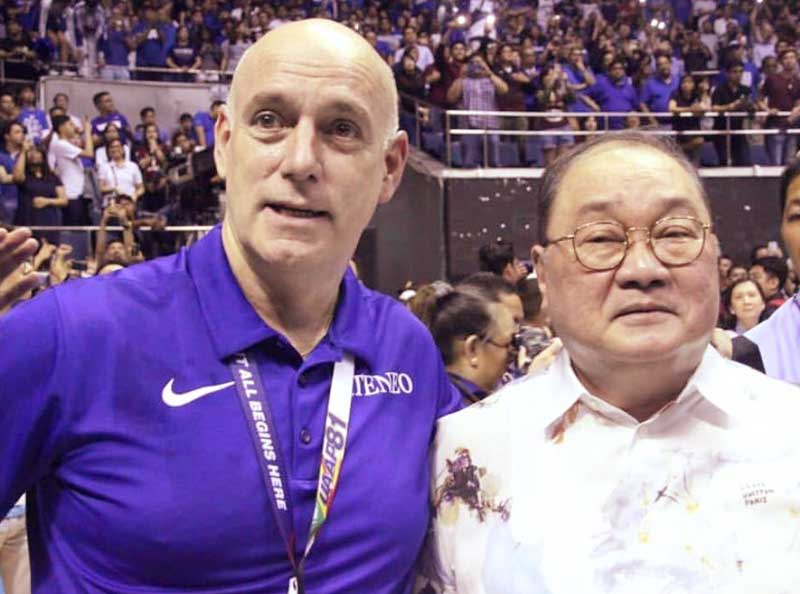 Ateneo coach Tab Baldwin with Blue Eagles supporter Manny Pangilinan. Photo from @goodlifebymb
The STAR caught up with Robina and Debbie after Ateneo roared to its second straight title, sweeping the Fighting Maroons in the best-of-three Finals. Although UP failed to nail a win in the Last Dance, advancing to the playoffs was a milestone as it was the Maroons' first Final Four appearance in 21 years. And for the Eagles, winning two titles in a row under coach Tab Baldwin sparked speculation of the dawning of another Blue dynasty.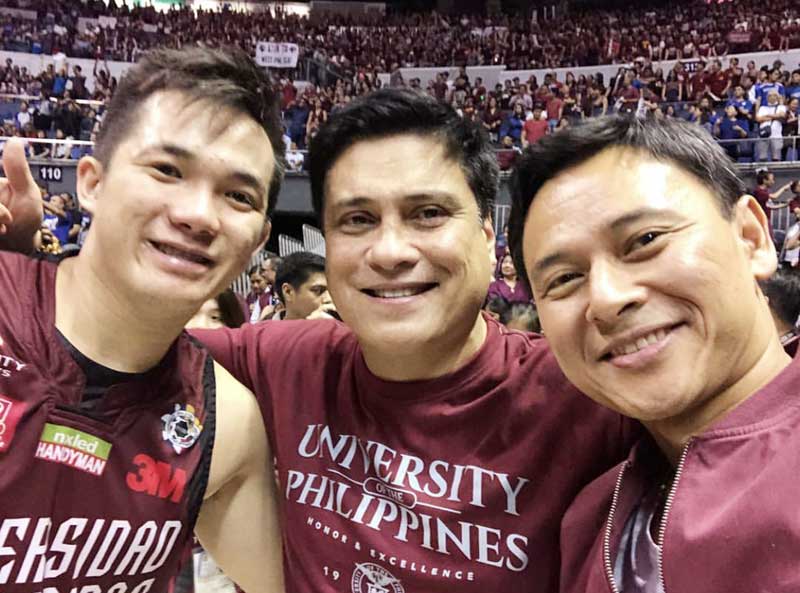 "Ateneo won the game. But this guy @pauldesiderio won the hearts of all UP fans," says Sen. Sonny Angara with Sen., Migs Zubiri.
Philippine STAR: What's your role with the team?
Robina Gokongwei-Pe: I'm UP's longest-running supporter. I'm very proud that I've stayed on since 2010 through two 0-14 seasons and only six wins over the last five years. I'm still here. When we reached the Final Four this season, I was deliriously happy and when we made it to the Finals, I almost flipped. But I'm not alone in backing the team. We're a group made up of Jonvic Remulla, Ariel Lacsamana, Catherine Tiu-Tan, Vincent Go, Renan Dalisay, J.J. Atencio, Ags Uvero and the Nowhere To Go But UP Foundation.
Debbie Tan: I'm the team disciplinarian. I scold the players, lay down the rules but also feed and take care of them. I fit all the mother descriptions. I've been with the team since 2008 and we've won seven championships. I think that's not a bad batting average.
If there was one person whose hair you would've liked to pull during the Finals, who would that be?
DEBBIE: Juan Gomez de Liano because he has so much hair to pull.
ROBINA: That never crossed my mind.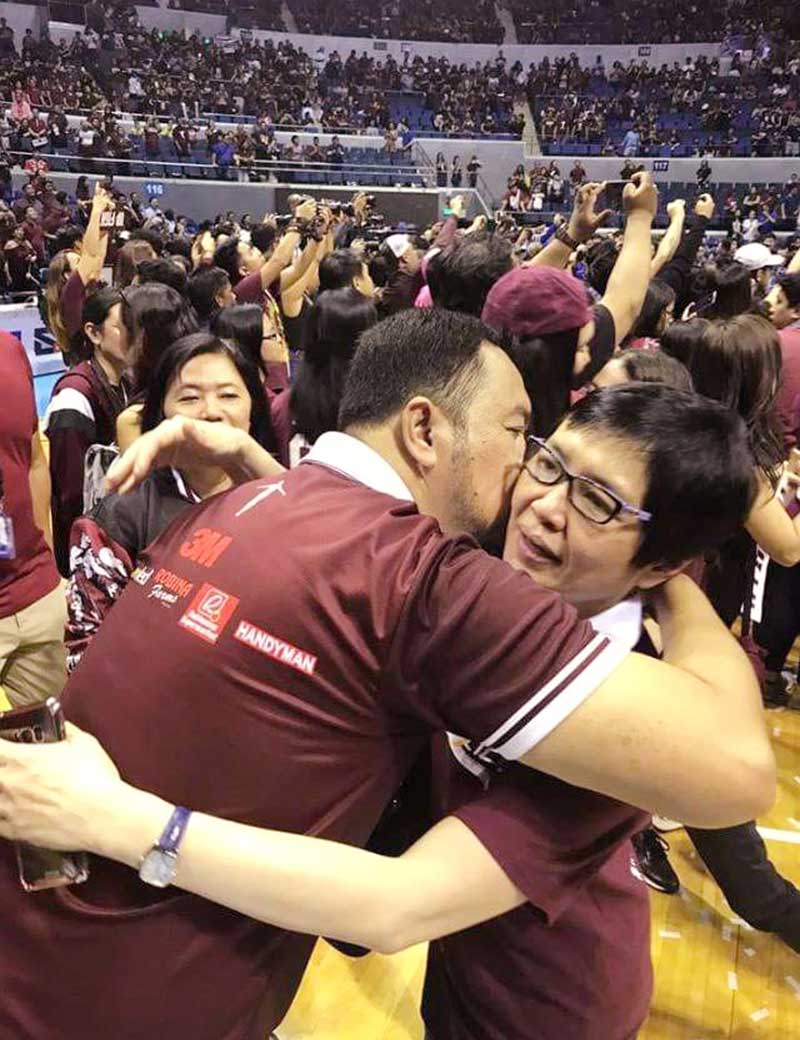 "UP coach Bo Perasol has finally brought the UP mbt to the Final Four after 21 years! In just three years, from 2016 to 2018, UP has already won 19 games," says Robina Gokongwei.
How high did your blood pressure go?
ROBINA: I don't know about my blood pressure but there were times when I think my heart stopped and my stomach turned over.
DEBBIE: I'm sure it went through the roof. I'm so invested in our team.
When you were in school, did you ever imagine you would someday be involved with the team?
DEBBIE: The four years I spent at Ateneo made such a difference in my life. By the way, I earned my MBA at UP. Since I was eight or nine, I fell in love with basketball. I used to watch Bill Russell and the Boston Celtics on the Armed Forces TV channel years ago, then I became a Magic Johnson fan. With Magic, I saw how a beautiful pass can be more exciting than a dunk. I love the game because of the thrill of watching five players on the floor operating as one.
ROBINA: I was a sportswriter with the Philippine Collegian and joined the UP varsity swimming team for a year but I don't remember ever jumping into the water. I was Team A bangko at UP because we had so many outstanding swimmers with the varsity. My high school coach was the same as my college coach. But while I was a Team A regular swimmer in high school, I wasn't in college. I've always enjoyed sports and I love UP, so supporting our basketball team came naturally.
Who's the one player on the other side you would've wanted to play on your team?
ROBINA: Isaac Go because he takes his schoolwork and sports seriously.
DEBBIE: Paul Desiderio.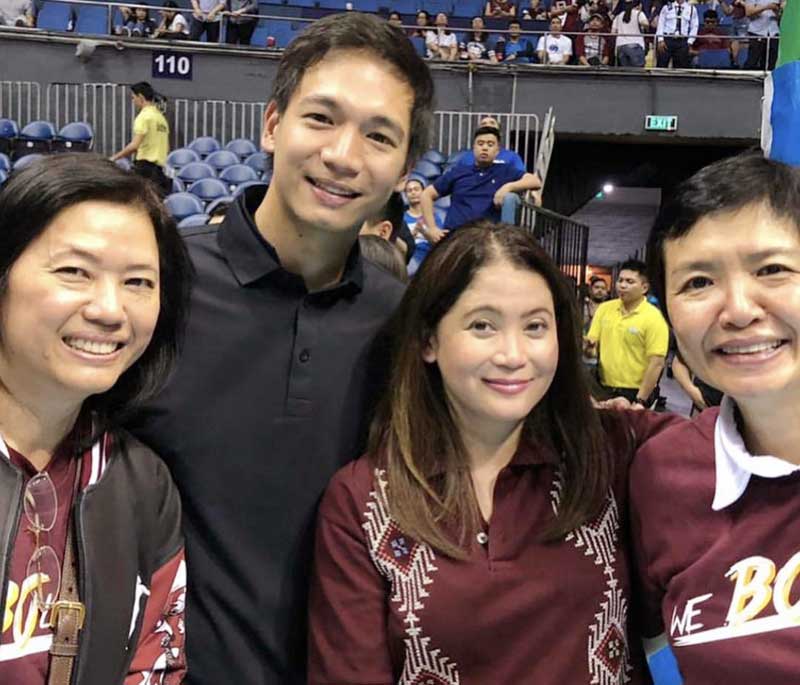 Chris, Berna Romulo-Puyat and Robina
What's the one thing about your team you're most impressed with?
DEBBIE: Openness to criticism. During viewing sessions, when Coach Tab lectures, mistakes are pointed out and players take it. Nobody gets upset, they know it's for their own good.
ROBINA: Their camaraderie. They crack jokes, make fun of each other, they laugh together. I think their bonding in Serbia made them closer. Serbia is known for its rigid basketball training so that exposure created a higher sense of discipline and chemistry.
What's the last thing you told your team before Game 2?
ROBINA: We got together before the Finals for dinner. What I tell the team is the same thing every year so I think it's boring. But I remember in between our 3-5 and 5-5 records, we gathered for dinner and I told them to play as a team, to play for the UP community. I love UP and I love the UP community. It's that love that I wanted to share with them.
DEBBIE: Before Game 2, I told the team to get it now, no more Game 3.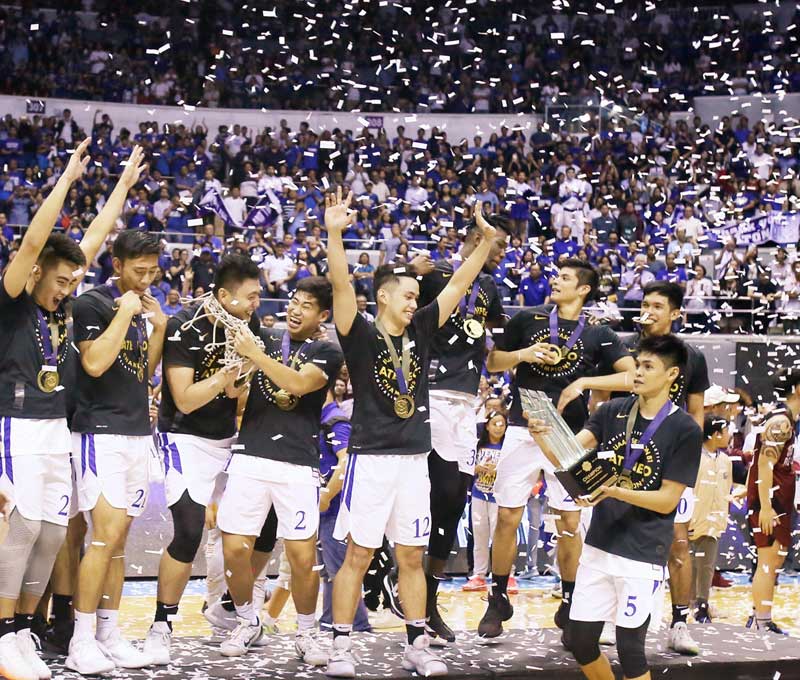 #OneBigFight #BEBOB
Did you ever doubt Ateneo would repeat after losing the first game of the season to Adamson?
DEBBIE: The loss to Adamson was good for us, it shook us up. But I knew what the team was capable of, I never doubted them. During the offseason, we played against tough teams in Greece and our showing in the Jones Cup was impressive. I knew if we stayed focused, we would win the championship. I knew if we just played our game, nobody could beat us.
With (husband) Perry Pe from La Salle, do you debate over which team is better at home?
ROBINA: When it comes to the UAAP, Perry is a henpecked husband.
Who's the unsung hero of your team?
DEBBIE: Our team manager Epok Quimpo, he works behind the scenes and deserves credit for everything he does.
ROBINA: Our captain Paul is our hero but our unsung hero is (Janjan) Jaboneta who's a quiet, hard worker.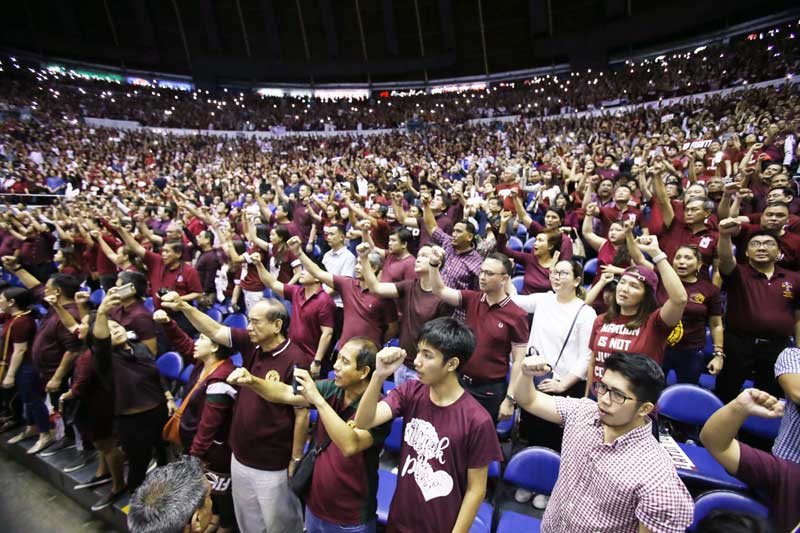 #UPNamingMahal #MaroonPride #NowaytogobutUP
What's the outlook for next season?
ROBINA: I'm always optimistic. Every year, I think we'll get to the Final Four even when we were 0-14 in my first year with the team in 2010, even when we were 0-14 in 2013. That's just the way I am. We're losing five players this year but we're gaining Ricci Rivero and Kobe Paras next season. I'll be as optimistic as I've always been. We're excited to move forward with Coach Bo (Perasol). We never experienced the culture of winning until Coach Bo came. In the past, it was like we were destined to always lose. Now, with Coach Bo and his staff, we're showing confidence that we can win.
DEBBIE: We're fairly intact next year except we're losing Anton (Asistio). We've got players in the pipeline but the challenge is to fill Anton's spot. Academics-wise, I think we're fine. Coping with studies and sports comes with great difficulty. I'm amazed how our student athletes do it. Some fans don't realize how hard it is for players to keep their spots because they need to pass first of all. They go to class, then practice from 6 to 9 p.m., study, do homework then it's back to class the next morning. We try to help them with their studies. We provide tutors as necessary. It's no pass, no play. We know basketball is their ambition, their career, but we want them to appreciate the value of a diploma. I attend every graduation of every player and it's very gratifying. Now that the season's over, we'll take a good rest. Last year, MVP (PLDT chairman and Ateneo benefactor Manny V. Pangilinan) took the entire team to Hong Kong where he spent time with us. It's special for the team to show our gratitude to MVP.