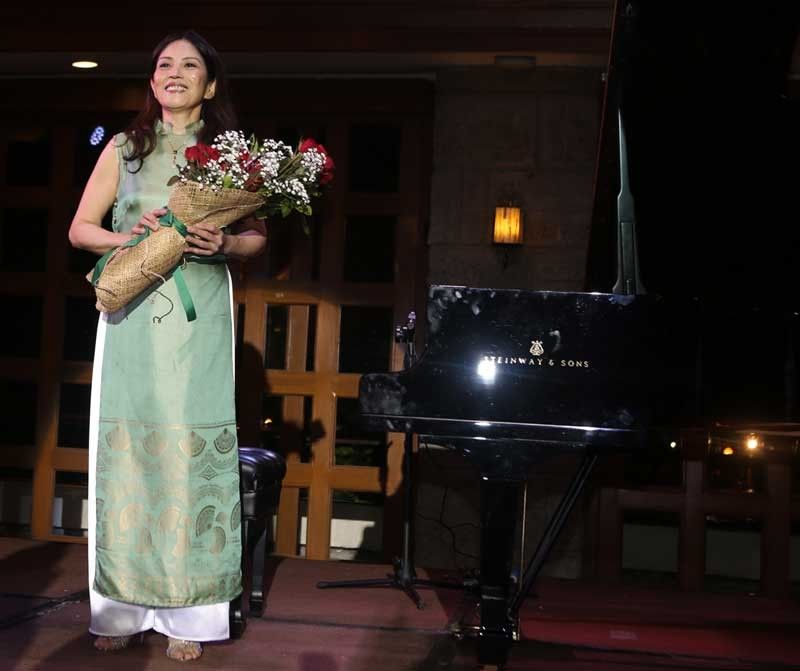 Cecile Licad acknowledges the crowd's applause.
Photos by Frannie Jacinto
Cecile Licad shows why Chopin is the 'poet of the piano'
Art patron and Philippine Philharmonic Orchestra Society president Nedy Tantoco's short introduction succinctly describes the musical evening: "What's in store for us is nothing short of a world-class performance by our very own. Among the many exceptional Filipino musical talents we have had, she stands out as one of the greatest solo concert pianists we ever had. Acknowledged and acclaimed in the international stage, in a city that nurtures the best and where the best critics abound. The New Yorker aptly describes Cecile Licad as 'the pianist's pianist.'"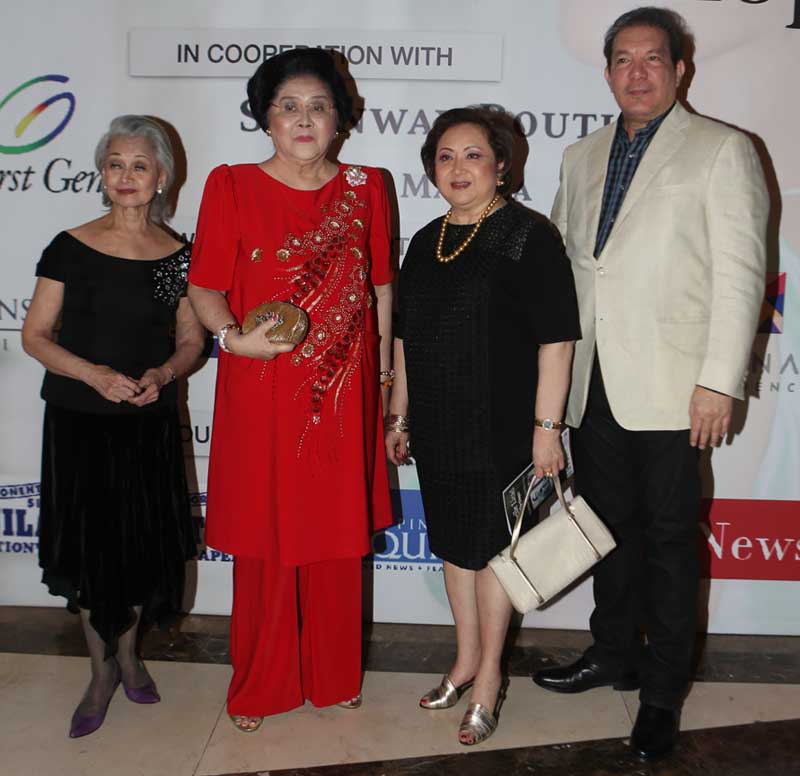 Gloria Angara, Imelda Marcos, Nedy Tantoco, Patrick Jacinto
Cecile Licad completely mesmerized the sell-out crowd during her recent concert at the Manila Polo Club that benefited the Philippine Philharmonic Orchestra and Childhope, a foundation set up by social worker Teresita Silva that has cared for over 10,000 street children since 1989.
Choosing an all-Chopin selection, the artist explained in the evening's program, "Frederic Chopin is aptly called the 'Poet of the Piano.' All of his 169 works are played and loved throughout the world. He appears universal in spirit for all people. I have chosen a program which represents Chopin in many ways — emotionally and in various genres."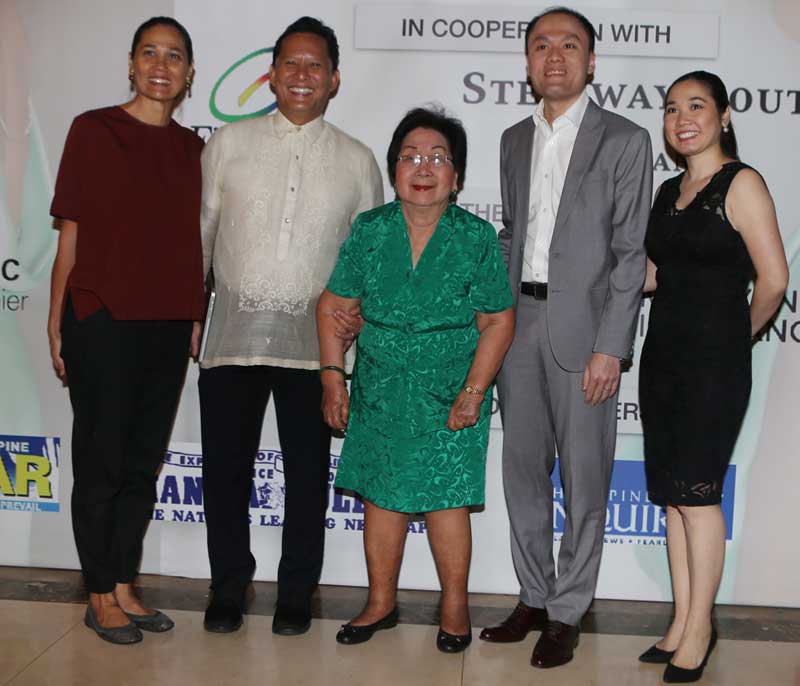 Aiko and Chips Guevara, Childhope founder Teresita Silva, Mario Katigbak, Mel Meer Sherwin and Jude O
One immediately noticed the artist's deep concentration, as she seemed to enter another realm. Solely from memory, Chopin's nocturnes and etudes were performed effortlessly. Immersed in her music with her eyes closed for most of the recital, Cecile's nimble and forceful fingers moved almost automatically as if in a trance and we were hooked.
"Twelve Etudes" was dedicated to the composer's good friend, Franz Liszt, including a classic turned into a commercial success No Other Love, wherein the audience could be heard humming along to this familiar romantic tune.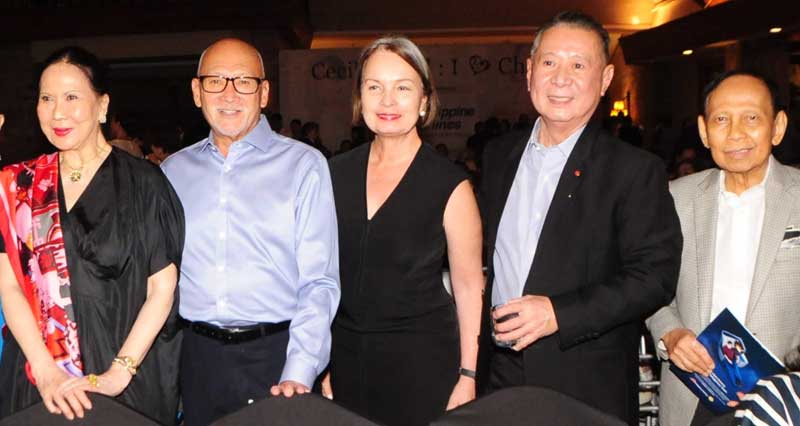 Babette Aquino, Ernest Escaler, Margie M. Floirendo, Mario Katigbak, Mel Meer
The riveting performance was easily viewed, no matter one's seat, thanks to large screens posted on each side of the stage as Cecile masterfully played on a Steinway concert piano especially provided for the evening.
To the crowd's delight, she played a couple of lively encores ending with the popular Larawan, a composition by her grand-uncle, the renowned Francisco Buencamino (1983-1952), educator, musician, pianist, conductor and one of the first to introduce Filipino folk music to public school children during his time.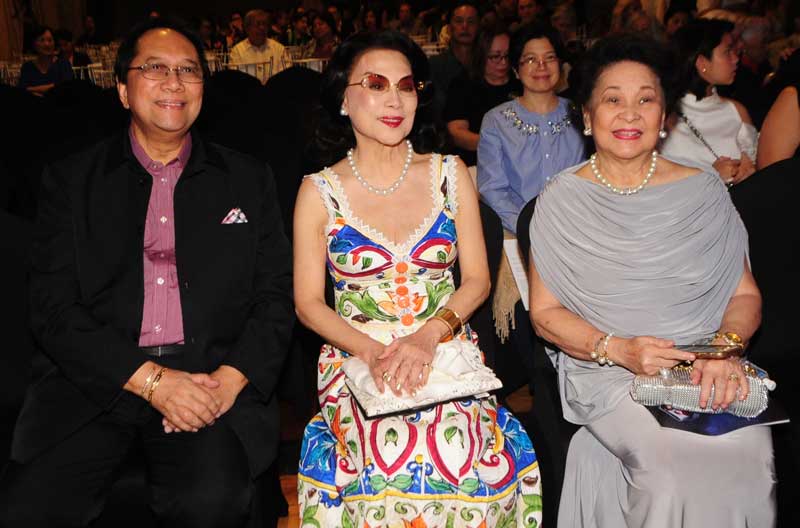 Danny Dolor, Vicky Zubiri, Amelita Guevara
* * *
For comments and ideas, please email jacinto.fa@gmail.com.