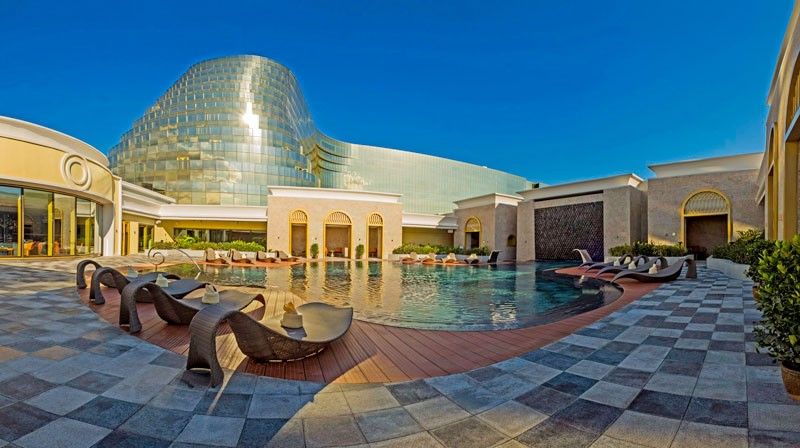 You're golden: The outdoor freeform pool at Retreat Spa facing Okada's gilted exterior is not just great for taking selfies — it's very relaxing for a post-treatment swim.
Of wave rooms and bespoke massages
MANILA, Philippines — Picture yourself in a cool blue chamber, lying on your back, watching calming blue waves undulate overhead, as though restfully reclining under the sea. That's the new Wave Dream Meditation Chamber at Okada Manila's Retreat Spa — the first of its kind in Southeast Asia, a chromotherapy treatment room that uses high-power LED projections and a transparent water basin to capture the sensation of relaxing under the waves. And it's just one of many stops at Retreat Spa.
Nobody wants to rush through a treatment at Retreat. The last word in luxury pampering at Okada Manila in Entertainment City invites a fluid schedule — you'll want to wander from the speakeasy-inspired men's barbershop or art nouveau-style salon to the Tonic Bar and Lounge, where you nosh low-cal treats (finger sandwiches, dried fruits, nuts and petits-fours) while awaiting your therapist; or hang out in the Relaxation Room, where you can do a sauna, steam room or onsen-hot Jacuzzi before treatment. There's the Retreat swimming pool, offering a relaxing swim before or after spa bliss.
Chromotherapy settings in the showers let you choose what color to shower in, and — our favorite — there's a bathing suit dryer where you can pop in your wet garments after a dip in the pool.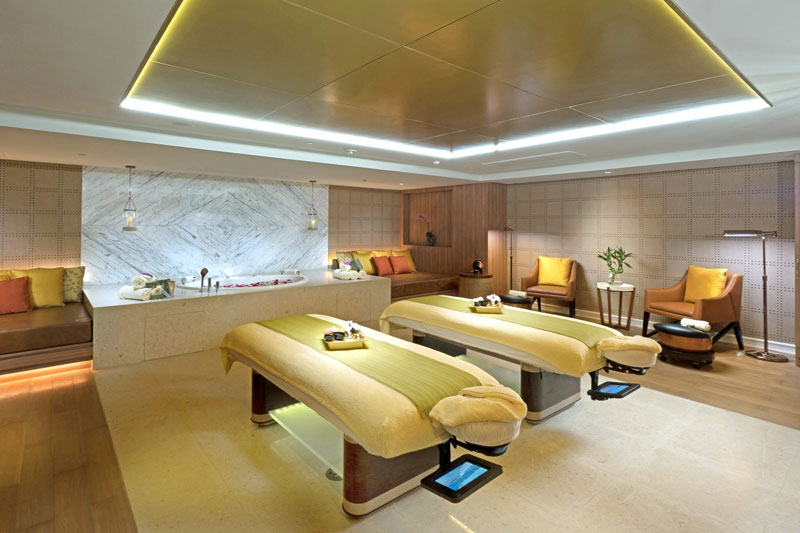 Our couples suite featured state-of-the-art Nuage Vector Treatment Tables for deep immersion.
The Retreat Spa isn't just a one-stop experience. These people really want you to relax. Located in the Pearl Wing, the 2,500-sqm spa complex includes a 24-hour state-of-the-art Fitness Center with free weights, fluid motion and cardiovascular equipment; a 650-sqm spa garden and free-form pool; a fully-stocked retail gallery where you can purchase the treatment products used in your therapy.
For ladies, one option before your massage or treatment is to visit the salon and hang out at the nail bar with floor-to-ceiling windows.
For the men, there's a real treat: the 1920s-style barbershop and whiskey bar, featuring warm wooden interiors, old-fashioned barber chairs, and exclusive hair and shaving products from Japanese brand Hommage. Yup, there's a bar, too: enjoy a glass of Glenlivet, Glenmorangie or other premium whiskies to while away the time.
Retreat Spa prides itself on bespoke pampering. With 10 indoor spa suites — including six singles rooms and four couples suites that feature Jacuzzis, Thai massage loungers, rain-shower rooms and special treatment tables — the emphasis is on matching you to your ideal therapy. A dedicated consultation therapist asks you which areas to focus on during treatment.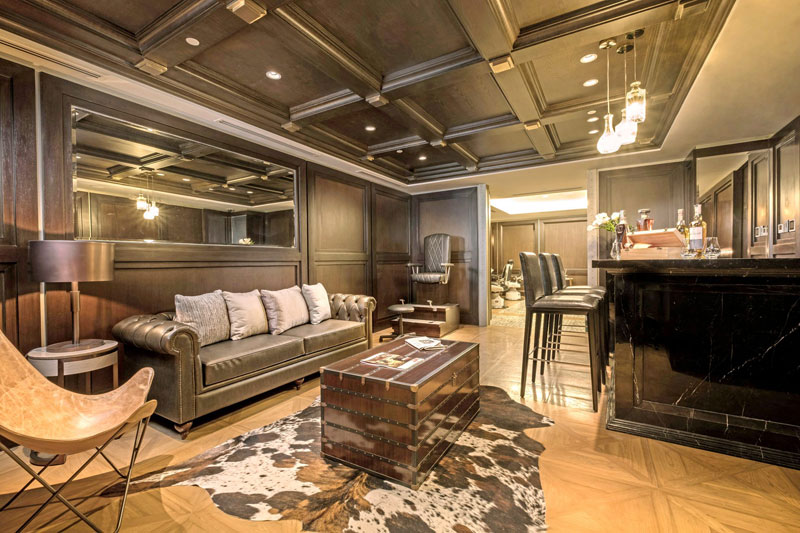 Man cave: The 1920s speakeasy-style barbershop and whiskey bar is a great place for a shave, shearing or shot of premium whiskey.
We were shown to the Panglao Room, one of four couples suites that are truly an escape from earthly stress. After a brief treatment consultation (all entered into a tablet device by your therapist), you're led to the advanced Nuage Vector Treatment Tables that are fully programmable, with embedded digital table warmers and personalized chromotherapy controls. They're big on chromotherapy here — color therapy that's supposed to balance whatever energy you're lacking through colored light.
Therese told her therapist to focus on her shoulders and back; for Scott it was lower back and feet. Our bespoke massages commenced with a dry brushing, a gentle exfoliation that alternated hand with brush strokes. Then we were asked to take in three deep breaths to inhale the soothing aroma of eucalyptus oil.
Therese said her massage was so therapeutic it eased away the muscle pains she'd been feeling from a bout with flu. Scott felt like there was not a single wasted motion in his massage: each stroke was fully intentional, calm and focused. We love when masseuses don't go on autopilot, as they often do at cheaper massage parlors, but know exactly what they're doing and actually care about their clients. You'll get that kind of service at The Retreat Spa.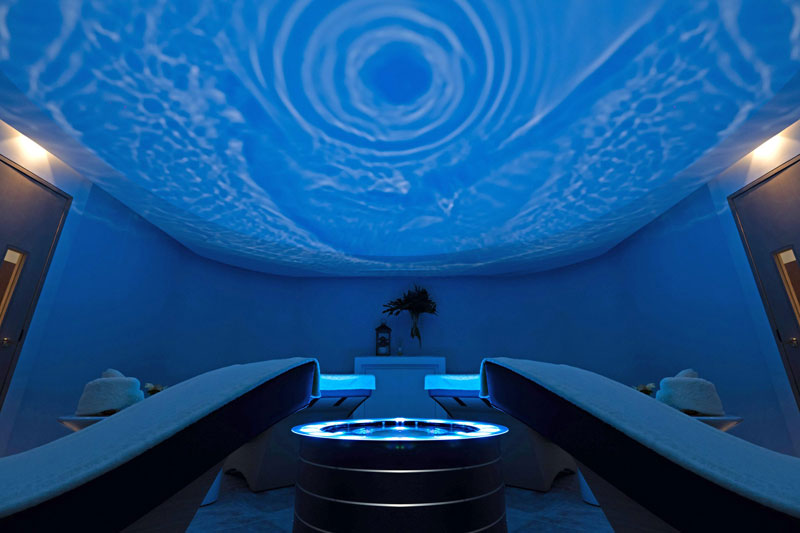 Retreat Spa's Wave Dream Room uses chromotherapy to relax you even more.
They control the heat of the beds according to your comfort, and after our backs were done, they adjusted the elevation as well for the face-up massage. After feeling the various kinks in her back, Therese's therapist Joy also thoughtfully applied heated herbal sachets underneath her neck and shoulders.
In all, both of us were eased into such a state of bliss during the massage that we both passed out at certain points.
When we were finally roused, we proceeded to the lounge for some hot ginger tea and healthy nibbles.
We ended our Retreat experience with a dip in the freeform pool, which is so beautiful the guests mainly use it to take selfies rather than swim. As a gentle Chopin piano impromptu flowed from the pool speakers, we knew we'd arrived at a true moment of bliss outside and above Manila's river of stress.
* * *
The Retreat Spa is located at 3rd Floor, Pearl Wing, Okada Manila, New Seaside Drive, Entertainment City, Parañaque. Contact 555-7555 or visit theretreatspa@okadamanila.com for bookings and information.