This Queen biopic will rock you
October 28, 2018 | 12:00am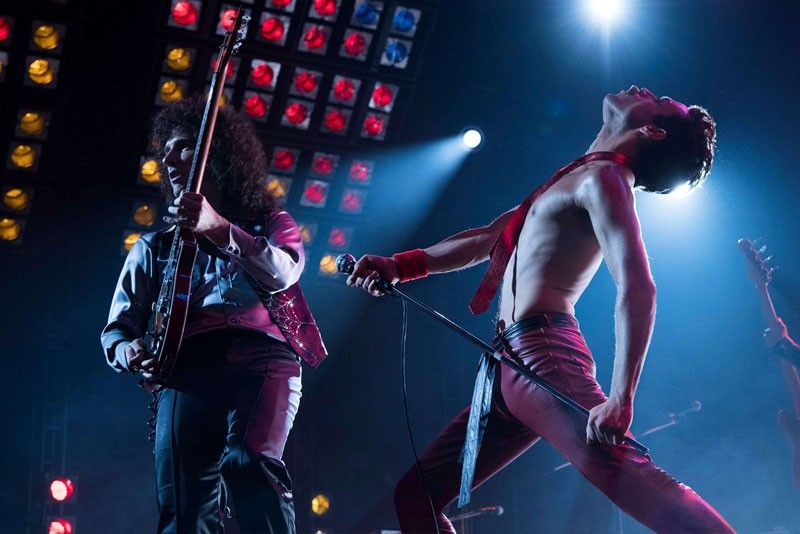 You see a lot of performance POV shots in movies nowadays: the camera follows a rock star from behind the curtains onto a spotlit stage, the better to capture the surreal magnitude of the crowd, and its fixation on fame. A Star is Born had director Bradley Cooper and Lady Gaga largely shot from that "inside the performance" perspective; so does Bohemian Rhapsody, Bryan Singer's tale of rock band Queen and its flamboyant force-of-life singer, Freddie Mercury, which opens in Manila Oct. 31.
Queen is one of those bands that just will never die, even if their lead singer's life was cut short (from AIDS) in 1991. They still tour, albeit with replacement singers like Paul Rodgers and Adam Lambert. Their music is regularly sourced for movie soundtracks and nightly karaoke jams. They had a long-running jukebox musical (We Will Rock You) on the West End for 12 years. The song Bohemian Rhapsody gets referenced constantly, not least by Mike Myers (almost unrecognized here as a shortsighted music executive), who reminds us, with an elbow to the ribs, that the song played a big cameo role in his hit movie Wayne's World.
Lighting the British band's eternal flame is without a doubt the mercurial talent of Farrokh Bulsara, a Parsi Londoner who dubbed himself "Freddie Mercury," in the process pushing the band beyond its early fledgling rock sound into something almost operatic.
Although director Singer was replaced during the shoot by Dexter Fletcher, what works best in this biopic are the stage and studio moments, where we see Queen become a band, made up of four distinct personalities: the nuts and bolts bassist John Deacon (Joseph Mazzello) who dedicates a love song to his sports car; drummer Roger Taylor (Ben Hardy) who is forced to overdub "Galileo!" some 26 times until his "balls are up in his chest"; and especially future astrophysicist Brian May (Gwilym Lee), whose throaty guitar was a gritty match to Mercury's gilded vocal stylings. They're as much a musical organism as the Beatles were, and that makes their scenes together, bad wigs and all, almost magical.
Of course, the central performance belongs to Rami Malek, whose Mercury fills almost every frame (literally filling the screen when shown at IMAX, where we previewed it). Malek, best known for his lead role in Mr. Robot, bores down deep into his Freddie, making him a feral piece of work whose confidence is matched only by his pursuit of perfection.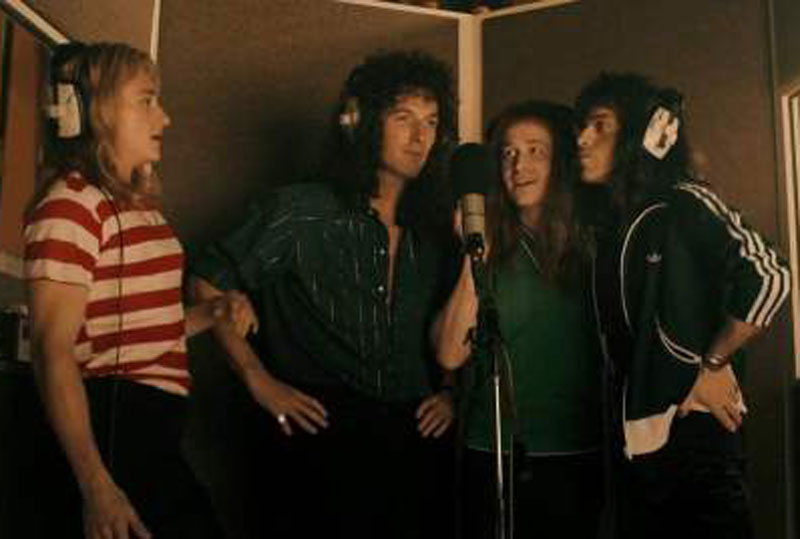 It's the band dynamics that makes this biopic almost Beatle-esque.
At least that's how it is in the first half of Bohemian Rhapsody — the salad days when the six-minute ballad without a chorus proved most music critics wrong, going on to become a worldwide hit. "Queen is whatever we want it to be," declares Mercury when he proposes an opera-themed album. Big worldwide tours follow, culminating in a huge Rio concert (the biggest in history at the time), and a last-minute inclusion at the Live Aid charity concert at Wembley Stadium, reaching a TV audience of 1.5 billion. As most VH1: Behind the Music Queen docs will tell us, this was a big comeback moment for the band, which had largely split up before 1985, when Mercury's proclivities had moved towards disco, nightclub life, and embracing his own sexual identity.
That's a big part of Bohemian Rhapsody, and it almost gets it right, but manages to tack on a morality lesson in the form of "you only find out who your real family is when you hit rock bottom," as Mercury falls under the sway of evil leather-clad gay partner Paul (Allen Leech) and forgets his true roots and path.
The other sketchy detail of Mercury's life is that he was actually married, to girlfriend/soulmate Mary Austin (Lucy Boynton). At one point he discovers — to absolutely no one's surprise — that he might actually be (gasp!) bisexual. I mean, come on, people; he named the band "Queen," for God's sake.
This moment — and later reconciliations with Mary, bandmates and family — are meant to show us that proper moral roots will see us through in life. It kind of ignores the choices that Mercury himself made, most of which he probably would never have regretted. That's the way of the true rock star, after all.
And Mercury, imbued with life (wonky prosthetic teeth and all) by Malek, is indeed a huge star. It's not surprising that Malek has to lip sync all of Mercury's vocals here; no one can really match the dude's pipes, though he has had countless imitators. (We learn it's an additional four incisors that enlarged Freddie's mouth and helped expand his range to four octaves.) It's those moments of pure joy in the studio, creating the massive guitar solos and vocal tracks for Bohemian Rhapsody, the Chic-clipped bassline for Another One Bites the Dust, and the foot-stomping, hand-clapping backbone of We Will Rock You, that bring this tale to life. And it's the final stadium performance at Live Aid (in a swooping tracking shot that really plays up the awesomeness factor) that allows Queen to take their final, big bow, and may actually bring a tear to your eye.
Because Malek may be the star of this occasionally by-the-numbers biopic, but the real star is Queen, and their music. You just can't kill off Queen. Like ABBA, that chunk of our memory never dies.