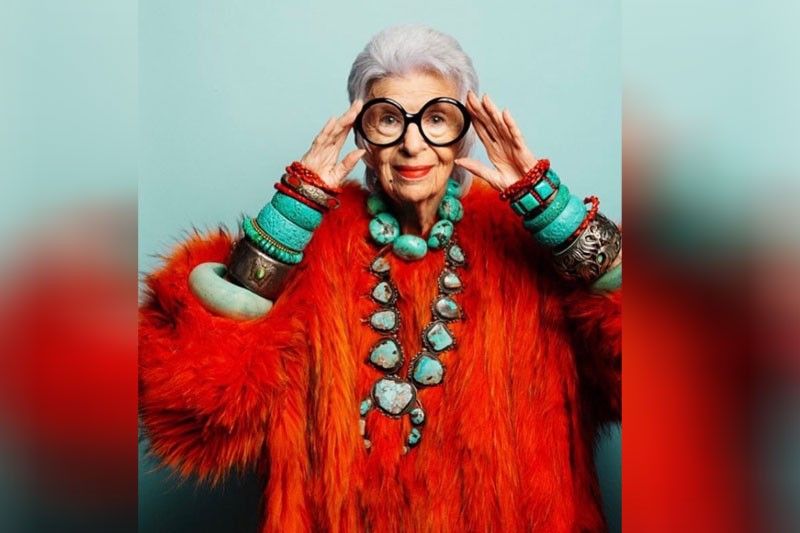 Happy 2018 greetings in her IG iris.apfel: ''I see myself as the world's oldest living teenager because I have such a good time, and because I try to get as much kick out of things as possible,''
How I Met The World's Oldest Living Teenager
Fashion icon Iris Apfel, 97, has worked with Estee Lauder, Greta Garbo, MAC, Swarovski and Bergdorf Goodman. She has done White House restoration projects for nine presidents, from Truman to Clinton.
MANILA, Philippines — I am often asked the secret to my longevity in the public relations business. It truly is the most flattering way of being reminded you're in your golden years. I suppose it's fair. After all, I have been in the fashion marketing industry for over five decades now.
Typically, when I read interviews of successful business people asked this question, they often say hard work, creativity, determination, and so on. Sure, all these are true. However, in my case, one thing has made all the difference. The thing I know for sure is that I have never abandoned my inner child. Every day when I awake, I burst with energy and enthusiasm, eagerly looking forward to something exciting to experience, something new to learn, or someone interesting to meet. New encounters elate me the same way candy does a kid. That sense of curiosity, fun, and adventure has always been my compass.
So when I first learned about Iris Apfel in the mid-2000s, after reading about her "Rara Avis (Rare Bird in Latin)" exhibition at the Metropolitan Museum of Art in New York; and later on watching her critically acclaimed self-titled documentary by Albert Maysles, I couldn't help but be intrigued — and eventually mesmerized.
In an early scene in the documentary, she was in a flea market captured giddy as a child when she found an interesting ring and said, "I get more of a kick out of this $4 ring than if my husband took me to Harry Winston." She went on, "I'm a hopeless romantic. I buy things because I fall in love with them. I never buy anything just because it's valuable. My husband used to say, I take a piece of fabric and listen to the threads. It tells me a story. I have to get a physical reaction…a coup de foudre, a bolt of lightning. It's fun to get knocked out that way. It's not intellectual. It's all gut."
Everything about her fascinated and amused me. And the more I read and watched her interviews, the more I became a fan. Suffice to say, I could relate. Her attitude and philosophy deeply resonated with me. She said once, "When we were small children, we all played dress-up and everybody had a good time. Why stop?"
Exactly!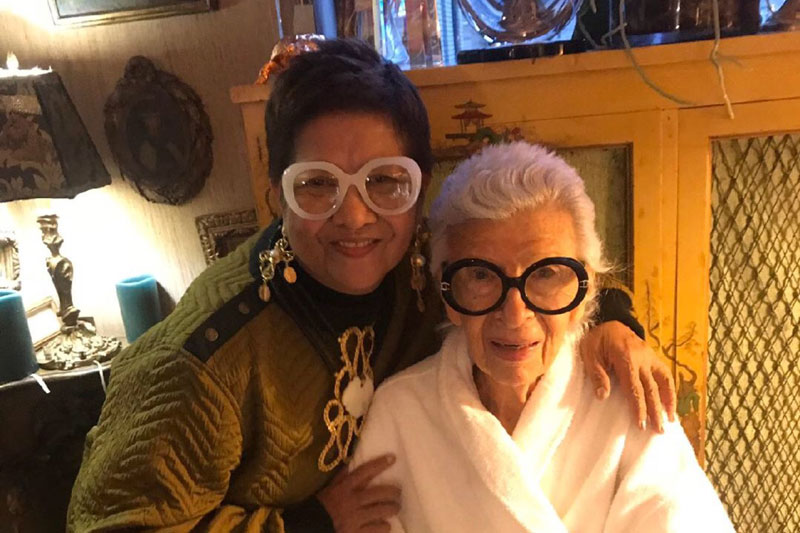 The author Susan Joven happily posing with Iris Apfel, both in their big eyeglasses
A lot of her quotable quotes ring true with what I have always believed, whether in fashion or life in general. And even today at 97, she remains passionate, curious, and perpetually inspired. She once said, "I see myself as the world's oldest living teenager because I have such a good time, and because I try to get as much kick out of things as possible. I just do what I want to do."
Anyone remotely interested in fashion knows who Iris Apfel is, or at the very least will recognize her famous oversized glasses. Apart from her countless exhibitions, she has also collaborated with brands like MAC, Swarovski, Tag Heuer and Bergdorf Goodman just to name a few. She has launched her own fashion accessories line and her own home décor collection. She was a visiting professor at the University of Texas, and is a much sought-after celebrity fixture in major fashion shows. She even has a Barbie fashioned after her.
Although quite known in the design and fashion circles, global fashion stardom didn't quite happen until she was well into her 80s. She wittily dubbed herself, at that time, fashion's only octogenarian sensation. This and more she annotates in her book Accidental Icon: Musings of a Geriatric Starlet, which came out earlier this year.
After marrying businessman Carl Apfel in 1948 and working as a decorator herself, the couple launched the textile firm Old World Weavers, and ran the company until 1992 when Stark Carpet made them an offer impossible to refuse. While at the helm of Old World Weavers, Apfel had worked with the who's who of American society including Estee Lauder, Greta Garbo, and Montgomery Clift; not to mention doing restoration projects at the White House for nine presidents — from Truman all the way to Clinton.
Regarded for her impeccable taste, Apfel traveled exhaustively in search of the perfect patterns and pieces. And if she didn't find what she was looking for, she designed them herself. Her penchant for beautiful things naturally paved the way for a love affair with collecting fashion and accessories. Throughout the years, and with a husband who supported her love for fashion, she amassed a stellar collection said to be unmatched in America.
Harold Koda, the former head fashion curator of the Metropolitan Museum of Art, heard about her impressive collection and invited Apfel to exhibit at least five of her favorite pieces. After a series of meetings, five became 300. And instead of Apfel just lending her pieces, Koda invited Apfel to style the exhibit, as she would put them together. "It was very rare," she once said, "for the Met to invite someone living to exhibit her personal collection. Typically, they'd show items of someone already dead."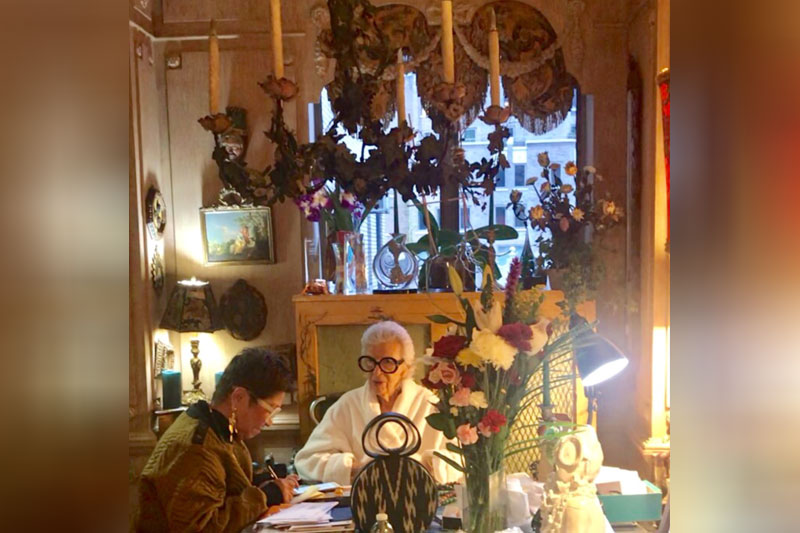 The author Susan Joven interviewing Iris Apfel in her Park Avenue apartment
With barely any promotion — banking heavily on word of mouth ­— ''Rara Avis'' became one of the Met's most celebrated events post-Diana Vreeland, and catapulted Apfel to the icon status she now holds.
In an interview during her book tour, she humorously shared the story of her nephew overhear women asking who was Iris Apfel during her 2005 ''Rara Avis'' exhibition. And one lady said, "Oh, she's probably dead." Her nephew went and told her what he had heard. Apfel said, "Next time you hear that, tap the lady on the shoulder, and say your auntie is very much alive. She's just walking around to save funeral expenses."
Whether they knew her or not that time, the strength of her aesthetic sensibility was undeniable. The avalanche of fame and recognition that came after had already been written. In her book, she said, "Everything that's happened to me, nothing had been planned. I've never had a business plan. I just kind of fell into it, and liked it, and I took the chance. I took a lot of chances in my life."
And that's what I did exactly.
I was recently in New York for a vacation with some friends, one of whom is celebrated Filipino jewelry designer, Ann Ong. For the past years, Ong has been traveling to New York as she participated in the New York fashion week trade shows. In one of her exhibitions, lo and behold, Iris Apfel happened to see her creations, and immediately fell in love with her work. Thus began the nice relationship between the two.
In her September show, Apfel ordered some pieces from Ann Ong. It was pure serendipity that my birthday vacation schedule perfectly coincided with her delivery time to Apfel. I told Ann meeting Apfel would be the best birthday gift I could possibly receive. But even after over a week in the city, without feedback from the beloved icon, the possibility of meeting my idol was slowly becoming distant.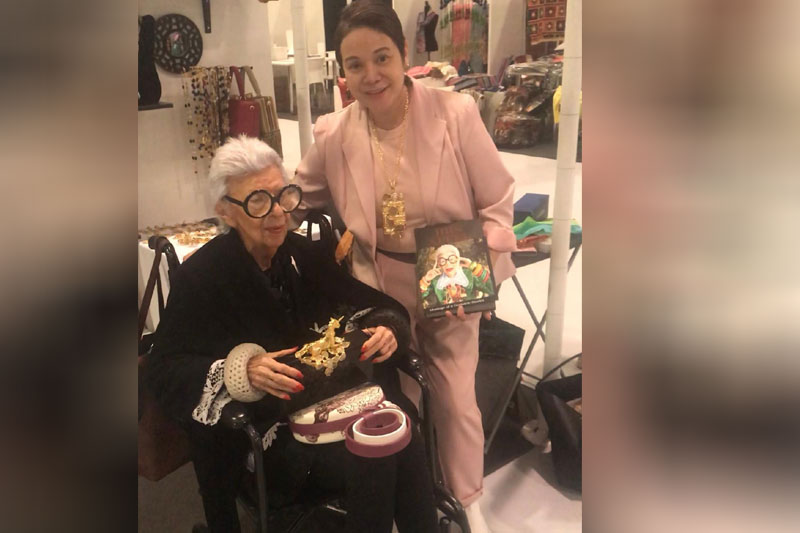 Apfel holding Ann Ong's one-of-a-kind minauderie, and on her lap the Gianinna round bag with bird design.
Then the call came. Ann screamed, "Confirmed!" I shrieked, jumped, and hugged Ann as though I had won the lottery! "Happy Birthday to me!" And even better, Ann said Apfel said she would be receiving us in her home.
New York City never fails in making magic happen.
So we headed to her Park Avenue apartment, and as we rang the doorbell, waiting for an au pair to lead us in, we were taken aback when Iris Apfel herself opened the door. She was ever so down-to-earth, congenial, and welcoming.
Passing through her living room is like visiting a museum adorned with whimsical and eclectic conversation pieces of antiques and exotic décor. Her collage of memorable photos framed beautifully gave a glimpse of her rich and colorful life. On her sofa was her collection of stuffed animals and dolls that revealed her youthful heart.
After offering us refreshments, she invited us to her working table, which was full of art pieces, books, letters, fresh flowers, and beautifully crafted accessories.
As Ong presented her accessories, I smiled: Could I ask her a few questions for this paper? And despite the fact that she wasn't feeling well at that time, she graciously indulged without hesitation.
What is your state of mind now that you're 97?
Happy, thankful that I arrived at this stage where I can do anything I want. I also thank God.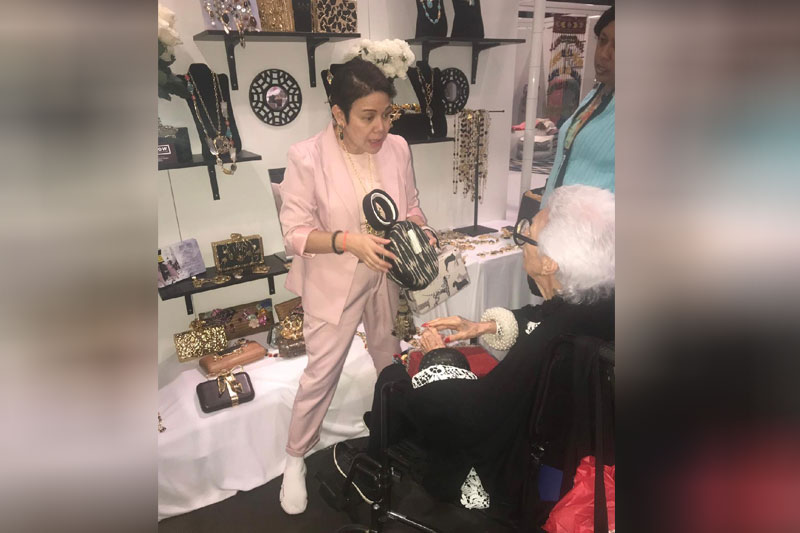 Apfel at Ong's booth at Javits Center last August.
What fashion accessory can you not live without?
Big eyeglasses.
What's the first thing you do when you wake up?
I thank God I woke up.
What makes you happy?
That I am able to help people, and make beautiful things, and have friends who are wonderful.
What makes you sad?
The state of the world and how young people are developing differently.
What do you think of millennials?
They live vicariously. They don't use everything that God created. They're more individualistic because of the opportunities out there. But they still have a lot to learn.
Who are your favorite designers?
I can't name one because they're all my friends.
What music do you like?
Frank Sinatra. Jazz. Mellow music.
What advice can you give Ann Ong?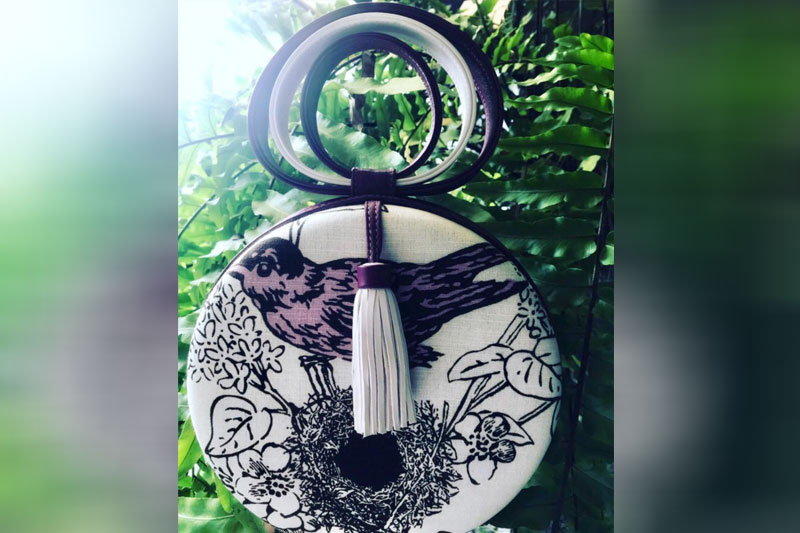 One of Ann Ong's popular round bags with bird design. This now belongs to Apfel.
Nothing because she's doing very well and I love her creations.
How do you describe your fashion style?
That's up for people to decide.
When do you say a woman is stylish?
The way she carries herself, her attitude, and how she looks as an individual.
What do you think of Asian style?
I've always admired Asian craftsmanship. I love antique Asian styling. I believe many of the new Asian designers are adapting and following in those footsteps.
Iris Apfel says...
"It's better to be happy than well-dressed."
"To have style, you have to know who you are. You don't find out who you are unless you work at it."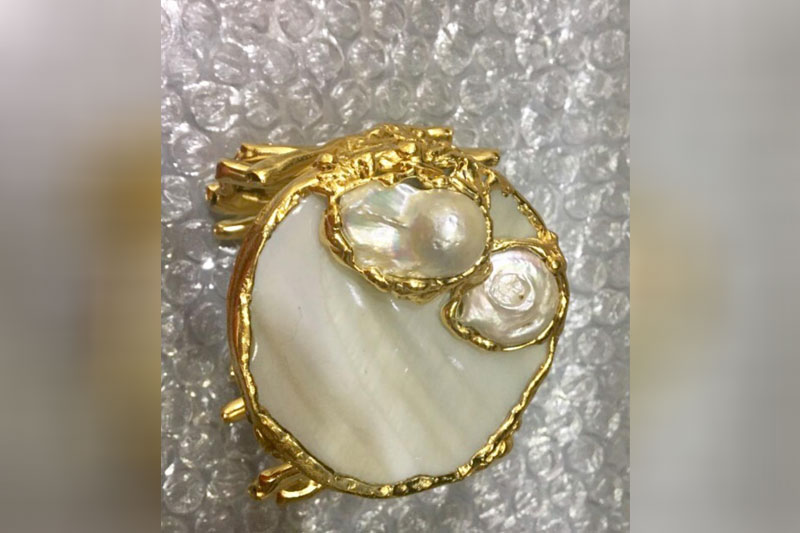 Ann Ong's big cuff made of mother of pearl caught the eye of Apfel. She ordered two.
"Being attractive is better than being pretty."
"When you don't dress like everyone else, you don't think like everyone else."
"The past isn't coming back, and the future isn't here yet. So live each day like it is your last. And one day, you'll be right."
"If you make a mistake in what you put together, the fashion police are not going to haul you into jail."
"I don't see anything wrong with a wrinkle. It's kind of a badge of courage."
"If your hair is done properly and you're wearing good shoes, you can get away with anything."
"If you're not interested, you're not interesting."
"Color can raise the dead."
"Never be afraid to stop traffic."
"You have to try it. You've only got one trip, you've got to remember that."
"I could give up shopping, but I'm not a quitter."
"I like individuality. Everything is so homogenized these days."
"Why do I wear big spectacles? I need these, the bigger to see you."
"Life is gray and dull, you might as well have a little fun when you dress and amuse people."
"There is no substitute for experience. You must have experience and be open to experience."
"To me, the worst fashion faux pas is to look in the mirror, and not see yourself."
"I'm not good at putting on makeup but you have to be a moron not to be able to put on lipstick."
"I don't have any rules, because I'd only be breaking them."
* * *
... AND WRITES
Last March, Iris Apfel released her book, Accidental Icon: Musings of a Geriatric Starlet. An extremely entertaining read filled with fascinating stories, wise advice, and witty one-liners; it's become my new bible. Here are some highlights and my favorite insights:
ON BEING AN ICON:
"I never expected to be called a fashion icon. I never expected museums to exhibit my clothing and accessories. I never expected that anyone would want to make a documentary about my life, much less have it nominated for an Emmy award."
ON FINDING THE PERFECT PARTNER:
"Everyone he ever touched knows he was truly a Gentle Man," Apfel writes of husband Carl, who passed away in 2015, three days shy of his 101st birthday. "His humor and generosity were legendary. We did almost everything together. His encouragement and unwavering support made this book possible. He pushed me into the limelight and then basked in my success. He got much more of a kick from the accolades I received than I did. I miss him madly. Sleep well, sweet prince."
ON AGING:
"There's nothing wrong with wrinkles. When you're older, trying to look years younger is foolish, and you're not fooling anyone. When you're 75 and you get a facelift, nobody is going to think you are 30."
ON STAYING YOUNG:
"When you get older, as I often paraphrase an old family friend, if you have two of anything, chances are one of them is going to hurt when you get up in the morning. But you have to get up and move beyond the pain. If you want to stay young, you have to think young. Having a sense of wonder, a sense of humor, and a sense of curiosity — these are my tonic. They keep you young, childlike, open to new people and things, ready for another adventure. I never want to be an old fuddy-duddy; I hold the self-proclaimed record for being the World's Oldest Living Teenager and I intend to keep it that way."
ON MONEY:
"If you're happy, have found love, are surrounded by good people, doing what you like and giving back to others, that's success. Selling your soul for a buck is not worth the real price you pay — not to me, anyways."
ON INDIVIDUALITY:
"I never tried to fit in. It's not that I went out of my way to be a rebel or do things that were not socially acceptable — unfortunately, I did have to learn how to play bridge when I was younger — but I learned early on that I have to be my own person to be content."
"If you have to be all things to all people, you end up being 'nothin' to nobody.' The way I dress may be 'different' or 'eccentric' to some who feel the need to label, but that's of no concern to me. I don't dress to be stared at; I dress for myself."
ON STYLE:
"You have to know yourself before you can find your own style. If I tell you what to do, it's not your style anymore. It's mine. Style cannot be bought or learned – it's in your DNA. Style is not wearing expensive clothes. You can have all kinds of money and have no style at all. It's not what you wear but how you wear it."