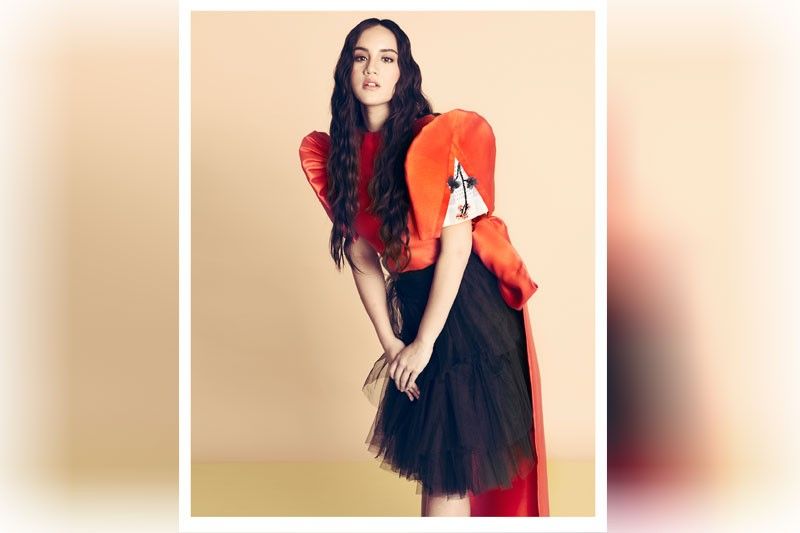 Juliana Gomez in Rosanne Casela: "I feel like getting married in one would be super-cool. However, I'm not thinking about getting married yet. Just saying that it would make a really timeless wedding dress."
Photos by RONNIE SALVACION
How Will Younger Generations Wear The Terno?
'It's a commitment, it's a legacy,' Ben Chan says. 'By doing a Ternocon, we are leaving a timeless legacy for the next generation.'
Up today in the prime out-of-home advertising spot of Guadalupe Bridge are the latest Bench billboards fronted by millennial endorsers Juliana Gomez and Gabbi Garcia wearing — not the latest iteration of jeans and tees that the retail giant has built its fortune on in the last three decades — but rather, ternos. The billboard is announcing Bench's Ternocon on Nov. 11.
"It's a commitment, it's a legacy," Ben Chan says. "By doing a Ternocon, we are leaving a timeless legacy for the next generation. Bench is a brand that follows ever-changing seasonal trends, but our advocacy is Love Local, which is timeless. It's beyond trends. It's even beyond Bench. It's about culture. We need to preserve our culture because it's an endless supply of pride and inspiration. I, for one, continue to be nourished and nurtured by Philippine culture. I believe it is my duty to give back to it."
Why Aren't The Young Wearing — Or Making — The Terno?
Ternocon project director and multi-awarded set and events designer Gino Gonzales answers, "You can't blame the young for it. A lot of the ternos are unwearable. Pang-festival. It's a design problem. It's not an attitude problem of the millennials. We don't have commercially available ternos, in terms of ready-to-wear for younger people. Meron pang-three years old. Costume sa Linggo ng Wika available sa lahat ng malls. Tapos tatalon to terno na pang-ninang sa kasal. Walang panggitna."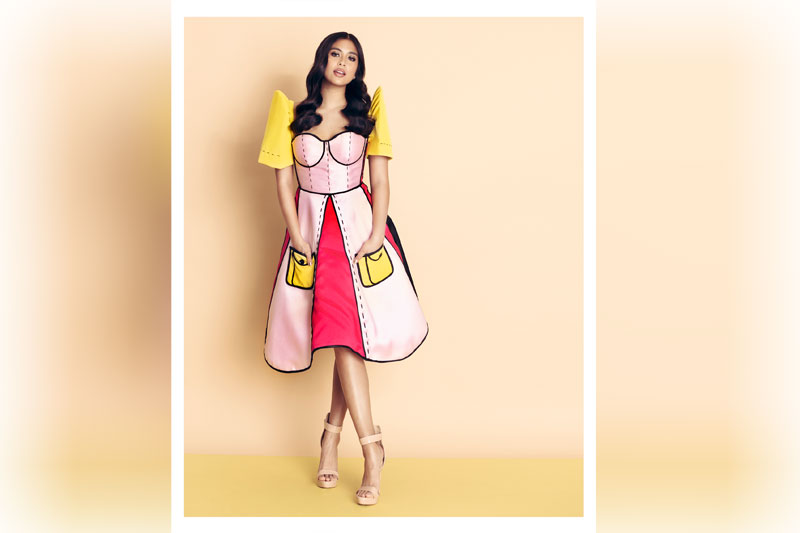 Gabbi Garcia in Jochebed Bawalan terno for the Slim's + Swatch exhibit at SM: ''I always thought the terno was very elegant. It gives you nice posture. It's so sosyal overall. I was surprised to see that now it's playful and experimental."
"What millennials don't want, from my observation, is to be covered too much," Gino adds. "The second problem is if you're going to make a terno, it doesn't necessarily have to be a fabric that's associated with it all the time. It doesn't always have to be jusi. It can be cotton in neon colors that infuse it with new energy."
The Ternocon billboard illustrates that this doesn't have to be the case. One of the country's top stylists, Bench's Noel Manapat, styled the campaign, and he explains, "Because the billboard targets a wide audience demographic, we wanted the terno to look accessible to all — easy to wear yet a style on its own. The ternos in the photo show some of these practical permutations: as a cocktail dress, as separates, and as formalwear that can be worn by women of any generation, including the next generation."
With Juliana and Gabbi fronting the Ternocon campaign, it's easier for younger people to project themselves wearing our national dress. Juliana wears an organdy circle-skirt terno by JC Buendia in the designer's conscious decision to veer away from "the usual beauty queen serpentina," he says, instead opting for a silhouette not unlike a youthful Audrey Hepburn in Funny Face.
Gabbi wears a very wearable embroidered midi — with the comfort of having two concealed side pockets — by Len Cabili, the Filip+Inna designer's very first terno, in the ultimate marriage of Filipino fashion from across our archipelago.
Other visual cues are to be noted, such as the way the hairstyles — long and in contemporary mermaid waves — are a far cry from the usual Imeldific up-do and reminiscent of the "Dalagang Bukid" as painted by Pablo Amorsolo yet brought to the present with an Instagram-worthy glossiness.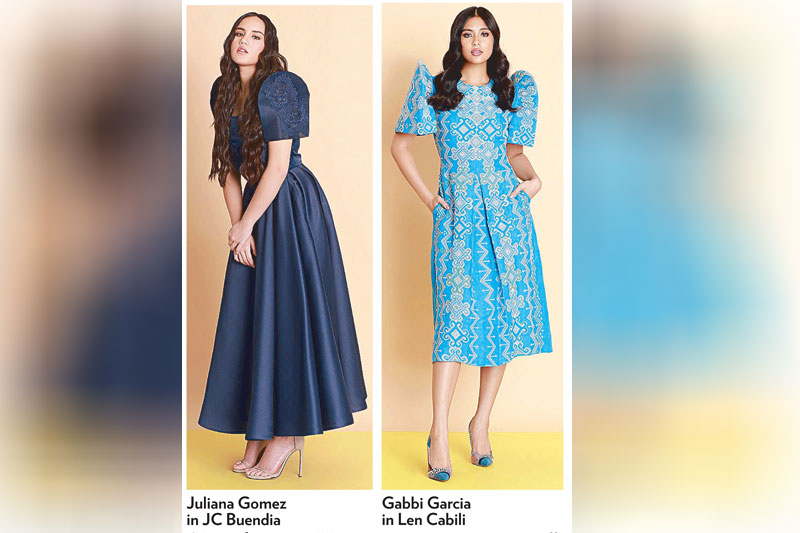 For all its stiff, uptight associations, young designer Marigrace Joyce injects a sense of humor into the garment without disregarding its components, switching the tapis with an enlarged playing card, as worn in another layout by Gabbi.
As for the designers? Renowned designer and chief mentor Inno Sotto says, "The problem is we don't embrace it, even the generation before, thus the tendency to tamper with it. The sleeves have totally changed to the point that people are making espresso-cup sleeves. The sleeves are the last bastion of the terno. What I am most concerned about is when we — as designers or the women asking the designers — try to change it so much to please ourselves. If you look at beauty pageants and the State of the Nation Address, what we see is only a suggestion of what looks like terno."
"What's good about the Ternocon design competition is there's a diversity of 30 designers from different generations who know how to make the proper sleeve," Inno continues. "Where to apply it in a proper dress, that's another thing. They are very good in handling local fabric like piña, jusi, piña-blend with abel, but when they had to use other fabrics, that's when we had a problem. We don't have an archive or museum to expose designers to see how fabrics like silk, organza, silk satin, and gazar are used. During the first day of my mentorship, I had to bring rolls and rolls of fabric like duchesse satin, silk gazar, and its local equivalents. It's about training the eye. Once you see it in terms of handling, you can relate."
Ternocon So Far
With the CCP (headed by chairman Margie Moran) as Bench's partner, Gino says, "I see the tension between the two. Bench has a very contemporary take on it, while the CCP represents the conservative. Without the other, it won't be successful. We are making it new but we also need classical culture a backbone. Kailangan sabay silang dalawa."
Ternocon attacks the challenge at hand from all its different aspects. Ben explains, "We have published the book Fashionable Filipinas (co-authored by Gino and Slim's Fashion and Arts School co-director Mark Lewis Higgins), which tells the story of the terno: its origins and its evolution. Next, we have been holding seminars for fashion designers around the Philippines to ensure that couture techniques in terno-making are passed on, from the butterfly sleeves to structuring to embroidery. Lastly, we are having a terno event this November where both established couturiers and up-and-coming designers will showcase their terno designs."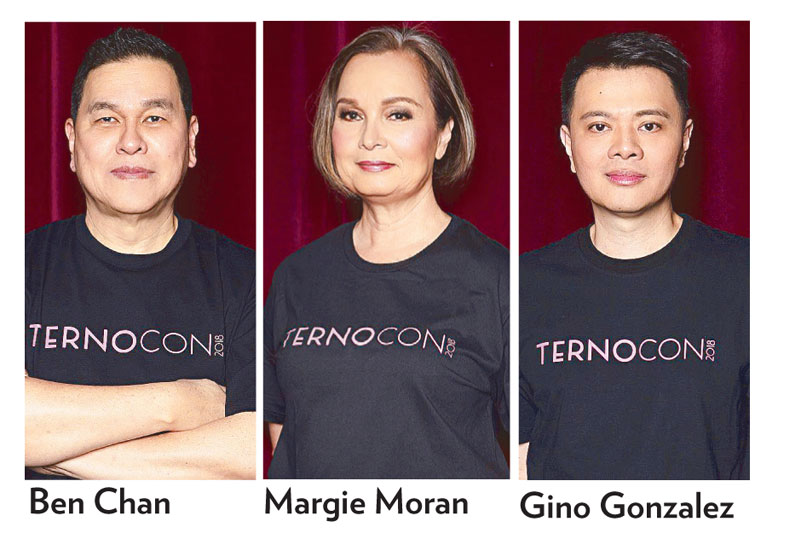 Gino also runs the Instagram account @fashionable_filipinas. "It takes awareness directly into the realm of millennials," he explains. As for the Ternocon, "We try to involve as many young designers as possible who hopefully speak the language of the young."
They also involved Slim's students behind the scenes. "The school has a program that requires its students to make the terno before they are able to graduate. They know how to make a sleeve well and attach it properly. With Mark at the helm, it helps them resolve it in terms of a design because not all silhouettes work with the terno. You have to find something that works with the butterfly sleeve."
Gino and the mentors Inno, JC for Luzon, Cary Santiago for Visayas, and Len for Mindanao, did not go easy on the participants. "Some are actually done while some are back to square one after we saw the completed garments. But they are enthusiastic to repeat. Some have fabrics that are still being woven," Gino shares.
The mentors are also showing a collection at Ternocon. Cary is in the process of creating and attaching some elaborate butterfly sleeves to his dresses, while JC is sourcing fabrics anew after realizing the Ilocos binakol's geometric pattern works so well with what he had in mind that he shifted gears. Len is in the last phases of embroidery, being handcrafted by different tribes throughout the country.
Expect important archive pieces to make an appearance in shoots. "The Ternocon project has given us the opportunity to see the works of various Filipino designers, from National Artist Ramon Valera to seasoned designers Inno Sotto, Len Cabili, JC Buendia, and Cary Santiago, to the new visionaries from Slim's graduating batch," says Noel.
"What this opportunity has taught us is that the terno's versatility is as limitless as our designers' creativity. Yes, you can wear it to the SONA, but also to an art exhibit opening, a book launch, a fashion show, or on any other occasion where you need or want to dress up," he adds. "In one of our shoots, we came across this vintage Ramon Valera terno jacket made for Elvira Manahan. It was full-length and cinched on the upper bodice with a ribbon and opens from there. It was originally worn with a long dress. But for this shot, we paired it with the model's own thrifted corduroy wide-legged pants, the same pants she wore coming to the shoot on a motorbike. The look became totally her own and showed that good design, terno or otherwise, can easily be styled to suit every personality in any age bracket."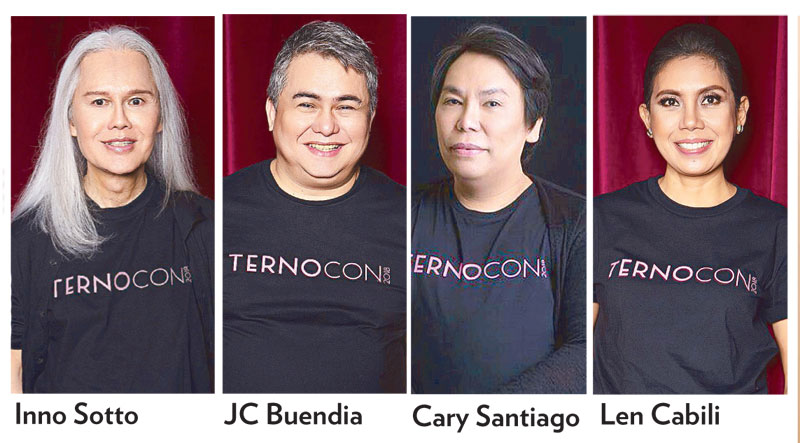 "We don't know if it's going to catch on, but at least there's a window of opportunity for it to continue," Gino adds.
Will The Kids Wear It?
Now it all boils down to the fashion girls of the next generation like Juliana and Gabbi.
"Even as a child I always found the terno pretty," Juliana says. "Maybe because my mom (Lucy Torres-Gomez) wears it quite a lot and I have seen old photos of my grandmother and great-grandmother wearing them and looking so beautiful. It is simple, yet its structured sleeves give it so much drama. I love that it is distinctly and originally Filipino. Through the years I have seen modern takes on it; the terno, for something so traditional, can also be quite flexible. That said, I still lean more towards the original version."
Adds Gabbi, "It's the epitome of classic, timeless sophistication. I always thought the terno was very elegant. It gives you nice posture. It's so sosyal overall. I was surprised to see that now it's playful and experimental."
But will they actually wear the terno? "I would wear it to any formal event," claims Juliana. "I feel like getting married in one would be super-cool. However, I'm not thinking about getting married yet," she laughs. "Just saying that it would make a really timeless wedding dress."
In between layouts during the shoot, Gabbi was cracking jokes. "Papunta na ako nang SONA," she would jest, but it's in no way a jab at the garment. It's simply that, aside from these traditional events, after all that's been said and done, there are simply no events for the terno. Until Nov. 11 at the CCP, that is.
Ben says, "We need more occasions to wear the terno, give it more media mileage, so that the younger generations can appreciate its beauty and uniqueness. I'd like to see more millennials wearing the terno, and I want to see more of it on social media and not just in archives!"