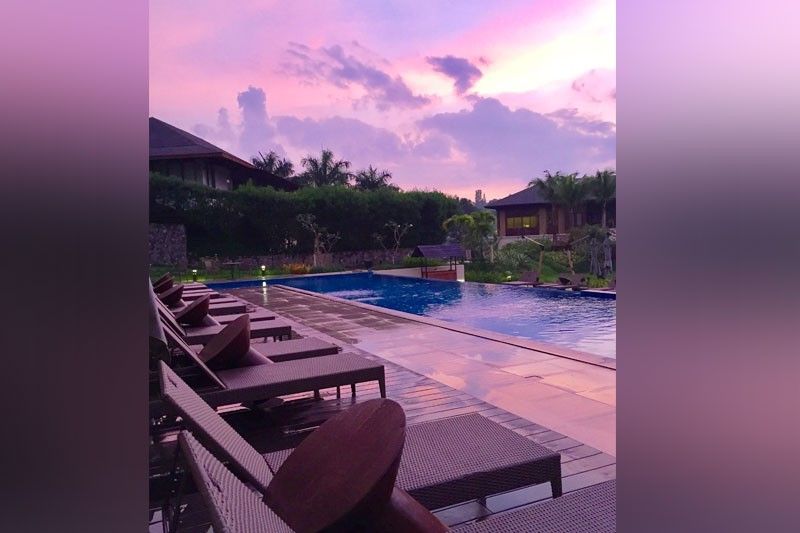 Sunset at Anya's pool area is a calming moment.
Your chill pill away from Manila's toxic chokehold
Driving to Tagaytay has become many people's idea of a weekend retreat. You get out of Manila's traffic chokehold for a two-hour drive south to something resembling nature.
Well, Anya Resort & Residences on Buenavista Hills Road in Tagaytay takes you even further away from the Metro. It's like a chill pill in the form of a 7.2-hectare development property set amid lush gardens and calming terraced hills. Eighteen beautifully appointed villas let you nestle in comfort, away from the stress of Manila. The property includes a spa, gym, several swimming pools, gazebo gardens and three restaurants that are maintained by French executive chef Jonathan Bouthiaux. General manager Mikel Arriet oversees daily details, keeping guests happy and operations smooth.
Developed by Roxaco Land Corp., a subsidiary of Roxas and Company, Incorporated (the same group behind Fuego Hotels & Properties), Anya Resorts & Residences opened in 2017 as the first luxury resort in Tagaytay. It houses 54 resort estates, 88 resort suites and 126 luxury, full-service branded residences with exclusive touches and luxury details.
When we arrive at Anya, tucked away into the back roads of Buenavista Hills, it's a bit like discovering Eldorado hidden in the South American jungles: Wait… you mean, this was here all along?
An expansive, well-landscaped driveway leads up to the lobby and parking area. Attendants on golf carts ferry your luggage to the lobby, and whisk you to and from your suite — a nice, luxe touch — though we (including our daughter, Isobel, along for the overnight stay) preferred to walk around the grounds.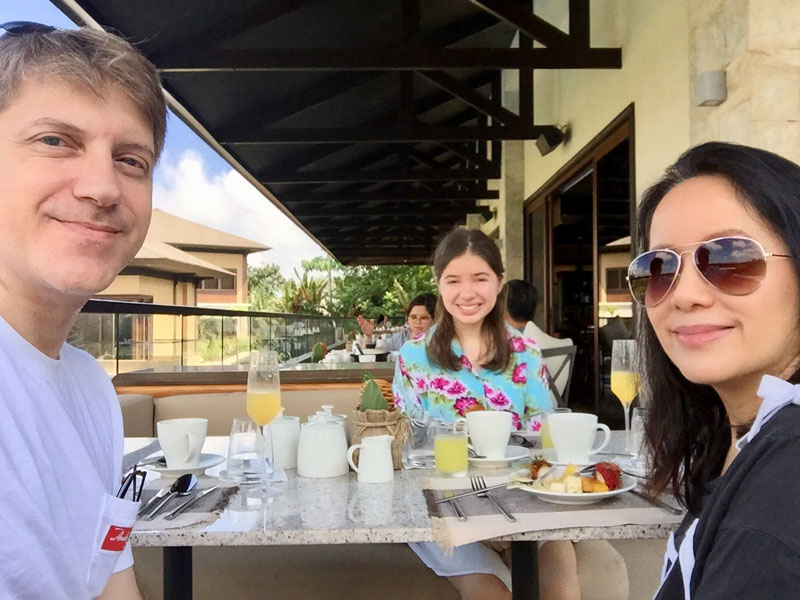 Breakfast at Samira, overlooking the resort, is a great way to start the day.
We settled in one of the villas, a 93-sqm. Veranda Suite with one bedroom, a king-sized bed, a living room with an ottoman, mini kitchenette and minibar, and two large-screen HD LED TVs featuring Cignal's over 100 cable stations.
It was Therese's birthday, so we entered the bedroom, and on the bed was a surprise: the staff had arranged palm leaves to read: "Happy Birthday Ms. Therese …and Welcome Home!" It's one of Anya's cheery catchphrases — "Welcome Home!" — along with a hearty "Great afternoon!" when staff greet you. There was also a framed picture of our family on the bedside table (sourced from our social media, we presume) that was, well, definitely a familiar touch.
The Wow Bathroom is itself a feature: a lengthy marbled bath area featuring separate sinks for three people, rainfall shower and bathtub.
As GM Arriet explains, Anya is designed for future expansion. In addition to the resort, there are permanent residences here, but that doesn't mean the place is ever overcrowded. There's an exclusive feel to Anya, like you've discovered a secret only a few know about.
In the future, nine low-rise, low-density condominiums on a higher parcel of back land will complete the development — a total of 140 one-, two- or three-bedroom units overlooking the brooks, lush gardens and property. All will be connected by nearby Emilio Aguinaldo Highway, we're told.
Soon after arrival, Therese and Isobel repaired to Niyama Spa for massages. For the 60-minute Tranquility Massage, the purest oil extracts are used to calm the nervous system and promote relaxation; Therese had the Traditional (Hilot) Massage, a deep-tissue treatment using virgin coconut oil. Heated bamboo wands are gently pressed into sore areas to relax mind and body.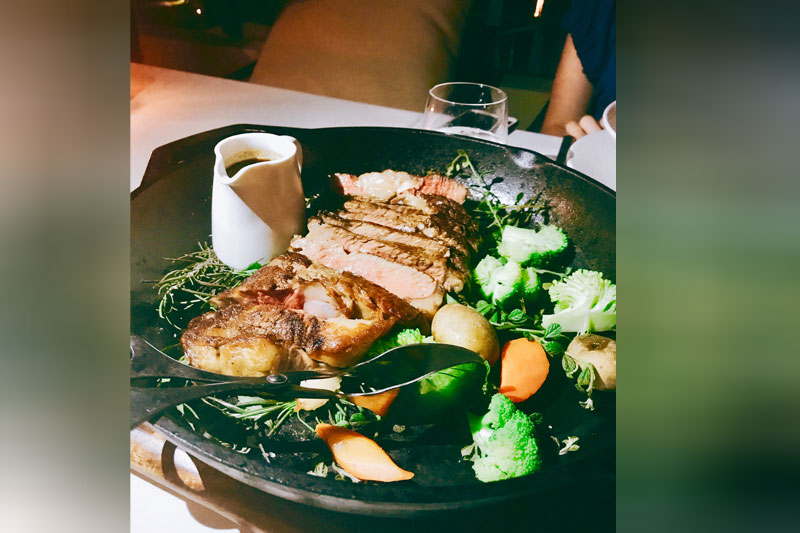 At Samira, we shared the 350-gram Australian grain-fed beef, with amuse bouche, appetizer, dessert and glass of house wine.
Scott got his Niyama Signature massage the following day, a deep-tissue treatment also with heated bamboo wands and aromatherapy oils, meant to promote blood circulation. The heated wands are rolled over pressure points; sore spots are gently finessed and stress melts away.
By nightfall, we found our way to Samira, the fine-dining restaurant with a balcony overlooking the lit swimming pool area. GM Mikel was extra attentive (did he know it was Therese's birthday?) and suggested the Australian grain-fed beef special, good for two (P3,100). It comes with amuse bouche, appetizer, dessert and a glass of house wine.
Our Australian beef was a massive 350 grams, sliced for sharing, on a bed of roasted vegetables and fennel. It was opened with a foamy potato cappuccino as an amuse bouche, followed by a delicious pumpkin soup, poured hot over croutons, bacon and crispy diced vegetables.
For dessert, Scott had a fantastic fluffy vanilla soufflé paired with pistachio ice cream, the likes of which are rarely found in Manila these days; Therese had a Paul Bocuse-style apple tart tatin.
Executive chef Bouthiaux worked in a Michelin star restaurant in France before working in Dubai for three years. Relocating to Anya and Tagaytay a year ago, he helps source fresh produce for the resort's three eateries from local farms, "not 100-percent organic, but we know the producers, we know how they run the farms." Seafood is generally 50 percent local (tilapia and Taal local catches) with the shellfish (lobster, scallops, mussels, sea bass and salmon) imported.
Think of Samira as Anya's European fine-dining choice, while next-door Amra serves tapas, sangrias and craft beers, and downstairs Anila offers more of a Filipino buffet selection.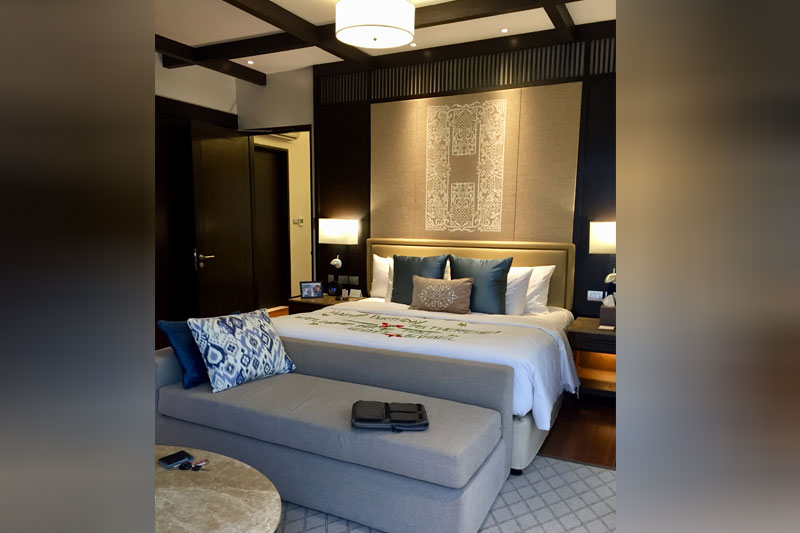 Welcome home: The 93-sqm. Veranda Suite at Anya, where our king-sized bed was decorated with palm leaves spelling out a welcoming message.
Bouthiaux is attentive to Samira's wine selection, mostly Australian and French wines, but with a good cellar of Chilean, Italian, Spanish, New Zealand bottles. (On our night there, a seven-course wine-pairing event was underway with a large Citibank group. Bouthiaux recommends their Margaux wine-pairing option as well.)
To top it off, Samira's mixologist Chico served up some Dark Spirits — rum, cognac and sweet vermouth, touched with orange bitters and a meringue on top. It was a delicious, frosty ending to an excellent meal.
A morning walk through Anya's paved pathways takes us to a cross-bridge with a water feature lined with lush flowers and greenery, more than a little suggestive of Giverny. As you can imagine, destination weddings are a thing here, and Anya has a dedicated banquet team that can arrange special events, conferences and parties on the grounds, or in its five upstairs banquet and conference rooms that can hold up to 200 people.
Anya Resorts & Residences offers something that more and more Manilans seek: an option to the city's chaos, a weekend retreat, and a reset button in the middle of Tagaytay.
* * *
Anya Resorts & Residences is located at Buenavista Hills Road, Barangay Mag-asawang Ilat, Tagaytay City. For inquires or reservations, call 657-1640, 0998-577-9999, or email tagaytay@anyaresorts.com.