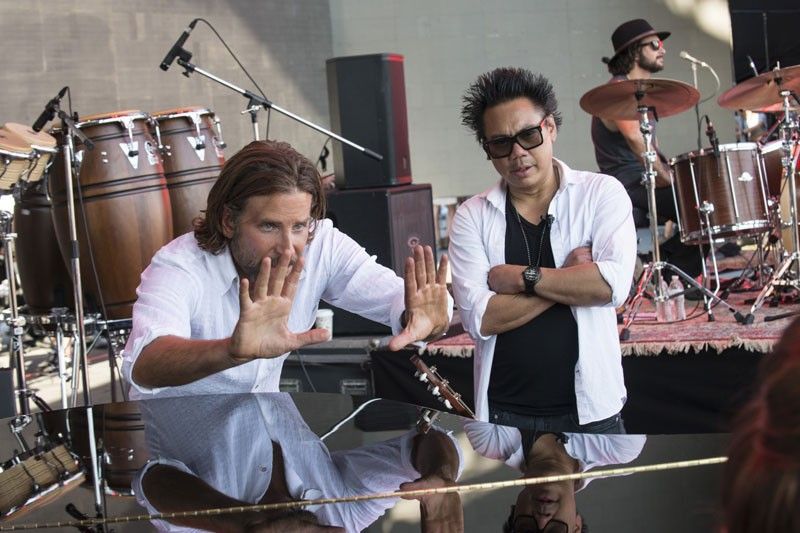 Bradley Cooper instructs cinematographer Matthew Libatique on a stage shot for A Star is Born.
Filipino 'A Star is Born' cameraman on shooting Lady Gaga and how J. Law introduced him to Bradley Cooper
MANILA, Philippines — He's the guy who lit Darren Aronofsky's darkest ballet fantasies in Black Swan, set off a POV shot like a bomb in Straight Outta Compton, and got deep inside Tom Hardy's inner alien ectoplasm in Venom. Born in Queens, New York to Filipino-American parents, he's a highly-sought, Oscar-nominated cinematographer who most recently worked with first-time director Bradley Cooper on the latest remake of A Star is Born — a film immersed in live concert footage, shot largely from the performers' stage perspective. Few cameramen get inside their subjects like Matthew Libatique. From his Burbank, California, headquarters, we wrestled some answers to questions about A Star is Born, Filipino directors and how Jennifer Lawrence introduced him to Bradley Cooper.
Working so much with Darren Aronofsky (Pi, Requiem for a Dream, Black Swan, Mother!), you've developed a certain shared language of film stock, textures and shooting choices. Can you compare it to working with Bradley Cooper, who says he wanted a first-person style, shooting "inside" the concert performances?
There was certainly a similarity between Bradley's "inside" intention for the musical performances and the subjectivity that Darren creates with the camera. I wouldn't say that we got into a great deal of reference for the look and texture of the film, as the look of the film evolved with the script and a sense of character. The light on the musical performances needed a movement in terms of palette to mimic the ascent of Ally as well as the descent of Jack.
Did you know Bradley before this project? How did you come onto A Star is Born?
I was referred to Bradley by Jennifer Lawrence who I worked with on Darren's Mother!. I still owe her a hearty thank you.
The last remake of this movie came in 1976. This one is set in the modern rock/pop world. Did you view the earlier movie for textural ideas or consciously avoid doing that?
Bradley and I studied all of the previous versions of the film and he paid homage to them in different ways. I would say that the Judy Garland/ James Mason version made the greatest impression.
You've shot a lot of rock videos and concert films. Is there a shooting rhythm involved in capturing the energy of musicians playing — onstage or off?
I've always loved having music to drive the image so it comes quite naturally for me to find a rhythm in the movement of the camera and the light.
What was it like shooting a professional musician like Lady Gaga, versus a novice non-professional musician like Bradley?
Ultimately, they were both actors in the film. On one hand you had an actor playing a musician, and on the other a musician becoming an actor. Their collaboration was a wonder to me as you could feel their genuine support and trust of each other. My responsibility was to create an environment for both of them that placed exploration and creativity as the priority. Lighting broadly and giving the camera freedom to react was essential and ultimately led to the atmospheric quality that exists.
Whose idea was it to shoot Bradley in one of the final scenes wandering through the garage from the waist downward — laying his hat on the workstation? (Symbolically, the hat only comes off when he's onstage, being fully honest.)
That was all Bradley, and yes, the hat on the workstation was an intended symbol.
What was Bradley's direction for the final shot, which echoes an earlier shot of Lady Gaga in closeup with a single tear?
That shot was at the very end of a take that we did on a techno crane. We had toyed with the idea of breaking language at the end of the film and showing Ally from the audience's perspective, but none of that was used, except for the end of this magical take where Ally's eyes make contact with the lens as the camera pushed into its final frame.
Do you admire any Filipino filmmakers or DPs? Any you'd work with?
I would love to someday work with my friend Raya Martin (Smaller and Smaller Circles, Manila).
Darren Aronofsky's Mother! got very mixed reactions. Does critical backlash affect how you decide to work on future projects?
It bothers me that Mother! was not well received, but I have to say it's my favorite film in my collaboration with Darren. I'm very proud of the film, as is he. I do not let critical backlash determine anything in future projects. My job is to make films using everything I've learned in work and life, so the opinions of people I do not know only go so far in terms of affecting me.
You prefer shooting with film to digital. Is it hard to fight for film over the cheaper digital alternatives? Especially with a relatively small budget for A Star is Born?
A Star is Born was shot on Arri Alexa Minis. Of course, film has become harder to fight for but this is mainly because the corporatization of the industry leads studios toward a streamlined workflow. It's not impossible though, and thankfully there are still labs that can process.
You've suggested that young filmmakers should get their look in-camera, not use post-production too much for texture. What are some tips to get a desired look with digital?
The alchemy of film is absent in digital, but there are ways to apply technique through your choice of lenses, primarily. The creating of look-up tables and systems like Live Grain help to display to editing people and all involved in post-production what your intention is.
How is it working with David Fincher who's also a cinematographer?
The man is a genius. Most of all, he has unparalleled visual taste.
* * *
A Star is Born, released by Warner Bros. Pictures, is currently showing.