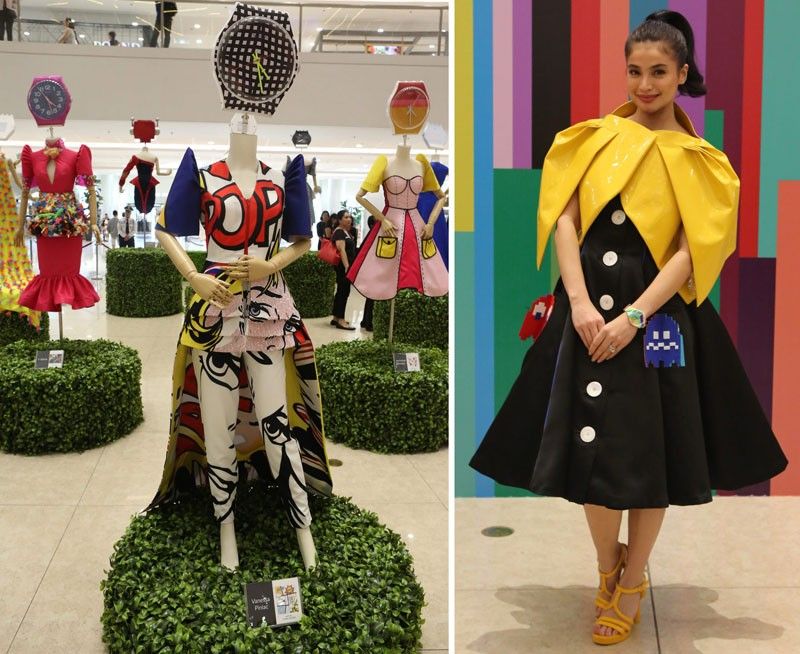 Laro tayo: A terno pantsuit with Roy Lichtenstein print "Comic Books" by Vanessa Pinlac (left) and Swatch Philippines endorser Anne Curtis in a two-piece look with a seamless vinyl cape "Pacman" by Claire Arguelles Francisco.
Photos by Walter Bollozos
It takes skills to play with Slim's and Swatch
'Slim's Fashion and Arts School and Swatch are both known for creativity and the arts. Both brands also have a relentless desire for perfection,' says Swatch Philippines' Virgie Ramos.
Slim's Fashion and Arts School and Swiss watchmakers Swatch have once again joined hands — this time in play, for Slim's annual exhibition of student work produced in this year's advanced classes aptly entitled "Laro" to show the fun side of design. They are all fantastical in concept, inspired by board games and arcade games, toys and nursery rhymes, but the execution is what fleshes them out for the real world.
"Slim's Fashion and Arts School and Swatch are both known for creativity and the arts. Both brands also have a relentless desire for perfection," says Swatch Philippines' Virgie Ramos. "What also makes me enjoy partnering with Slim's are Sandy and Mark Higgins, who are doing a great job of branding what Slim's is today." Slim's co-directors Sandy and Mark are the children of Salvacion Lim Higgins, who founded the school and developed the school's techniques with sister Purificacion Lim in 1960.
"It's our second year with Swatch, and they're much more involved this year. Other than SM Malls, we didn't really look for partners in the past because we didn't want something that was forced and irrelevant to what we were doing. But when Swatch came along, it's perfect. They're all about creativity and design. Their whole attitude towards that is very much in line with ours," says Sandy.

Salvacion Lim Higgins' construction techniques are part of Slim's Fashion & Arts School's trademark and are embraced by students to this day. (From left) Dinnes Obusan's "Chinese Garters," Jochebed Bawalan's "Paperdolls," and Marigrace S. Joyce's "Alice in Wonderland." Barong are created in the Saville Row bespoke technique like Damaris Chua's "Chinese Kites," Abdul Gaffar's "Marbles," and Marilen M. Maniulit's "Dragon Boat Race."
"We've had our theme 'Laro' for several months already. Coincidentally, Swatch's latest collection is 'Think Fun,'" Sandy adds. Select pieces from the Think Fun collection are recreated into giant watch faces that accessorize the customized dress forms called the Slim's Mold as its complementary heads.
"Once your vocabulary in fashion is adequate — if you know pattern making and design — it's good to stretch your imagination and push yourself to the limits sometimes and still work within the boundaries of good taste," Mark says of the theme.
"Laro" is a breath of fresh air as opposed to the more couture-centric, serious way Philippine fashion has been presented, like last year's "Slim's Inspires." Slim's notable alumni came in full force. Spotted was Chito Vijandre, a proud graduate of the school, with Ricky Toledo, examining each piece up-close. Any favorites? "We have too many!"
Crowd favorite — and also Swatch endorser Anne Curtis's pick — "Pacman" by Claire Arguelles Francisco is a two-piece look, its seamless vinyl cape a wearable version of the round arcade game character. "I did the lookbook photo shoot in Slim's, and the first thing that popped for me was the Pacman cape," model and photographer and Slim's alum Jo Ann Bitagcol says. "Very unusual yung shape niya. The use of material and the silhouette, I like. I could imagine ang hirap ng pattern because I studied also DM1 in Slim's. Saludo ako."

Courtney Liongson's "Playing Cards," Eliza Jane Miranda's "Slinky Toy," Banjo Cordero's "Paper Pinwheel," Moon Lei's "Jigsaw Puzzle," and Caress Caranzza's "Queen of Diamonds"
The Filipiniana featured prominently as the students' silhouette of choice. In Dinnes Obusan's "Chinese Garters," the elastic movement of the streetside children's game is conveyed by his use of 70 yards of printed neoprene, which he sowed into thin ropes using a zigzag method, one by one and by hand, to create a modern terno with a fringed skirt, accessorized with a Fountain of Colors watch head from Swatch. "It's cheap fabric, but he did wonders with it. If you look at it, you'd think you can't move in it, but he engineered it to allow you to move. Not everything is fixed, attached only at certain points. He really thought of the woman," describes "Laro" exhibit designer Gino Gonzales. Dinnes is a scholar and the only student with two pieces on display. The second look is a draped gown with a cape covered in gold buttons and pink feathers made to look like a fabulous "Sipa."
Also a product of Slim's is Joey Samson who singles out two tailored pieces embellished with playing cards — Courtney Liongson's "Playing Cards" and Marigrace S. Joyce's "Alice in Wonderland" — and a barong, Abdul Gaffar's "Marbles," as his favorites. "It's very modern. A lot of serious work goes into both pieces," he says.
Damaris Chua's "Chinese Kites" is also a barong constructed in the Savile Row bespoke technique, adorned with a hand-painted scenario in the Ming porcelain color palette, conveying an idea of fun that's not about excited shrieks but a more solemn kind of levity from finally getting your kite to catch wind and float among the clouds, the child and his best friend depicted in the front, the kite in the back. Slim's graduate Cesar Gaupo describes, "It's very subtle, even the colors. It's very wearable yet you can see the fun it in. What I like in the barong are the details and the way it's done." He also likes Moon Lei's "Jigsaw Puzzle," a floor-length cheongsam with hand-embroidered patches in the form of a jigsaw puzzle on the bodice.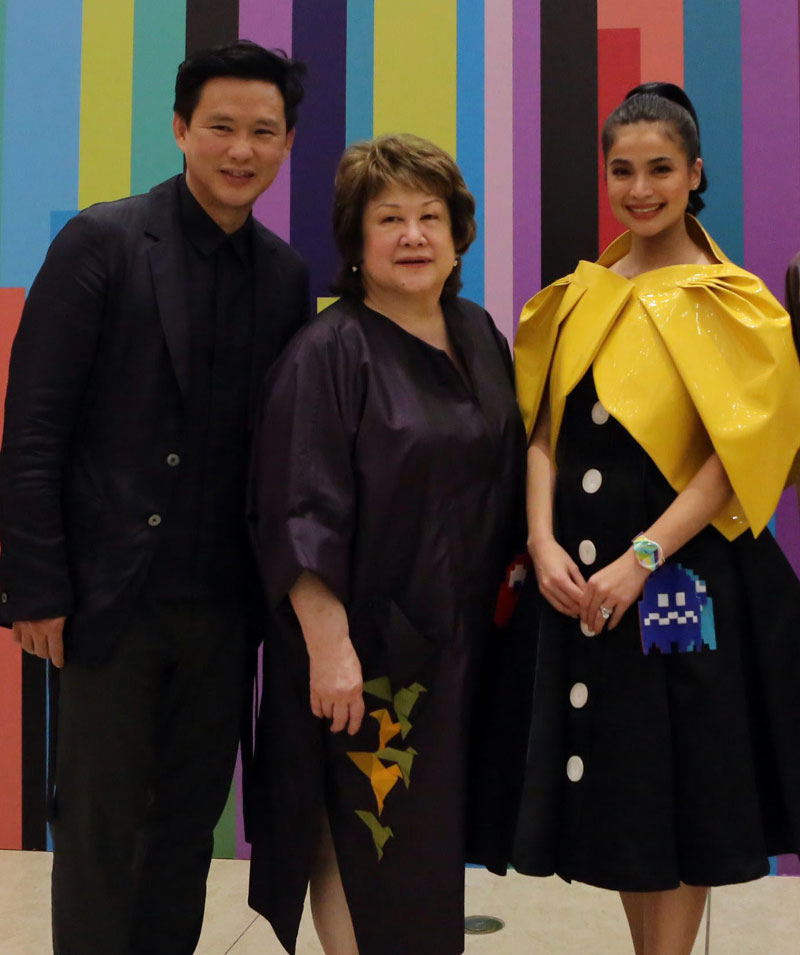 Swatch Philippines president Virgie Ramos (center) with SM Supermalls chief operating officer Steven Tan and Swatch Philippines endorser Anne Curtis
Student sketches are also on view. Je Valeriano drew a dress inspired by folding paper balls and shaded in Swatch's Think Fun palette. Jen Ortega designed a streetwear-ready robe and jodphur look inspired by galaxy games and its alien characters, like the one in the face of the Telefon Maison watch.
Both Swatch and Slim's begin with a shape and a silhouette that's tried and tested. The Slim's method begins with classic construction and finishing; the students create a sloper based on detailed measurements, while Swatch experiments with a wide array of color, graphics and materials within its timeless and ergonomic watch face and strap style. In "Laro," the students tap into nostalgia, their wit and sense of humor, and show off the techniques they've learned and are best in — techniques that take a lot of practice and hard work, but the fun of being able to do something you love shows in each whimsical piece.
In "Laro," all fashion renderings and garments on display are designed, cut and sewn by the students themselves, many employing complex construction techniques that have long been part of the school's trademark.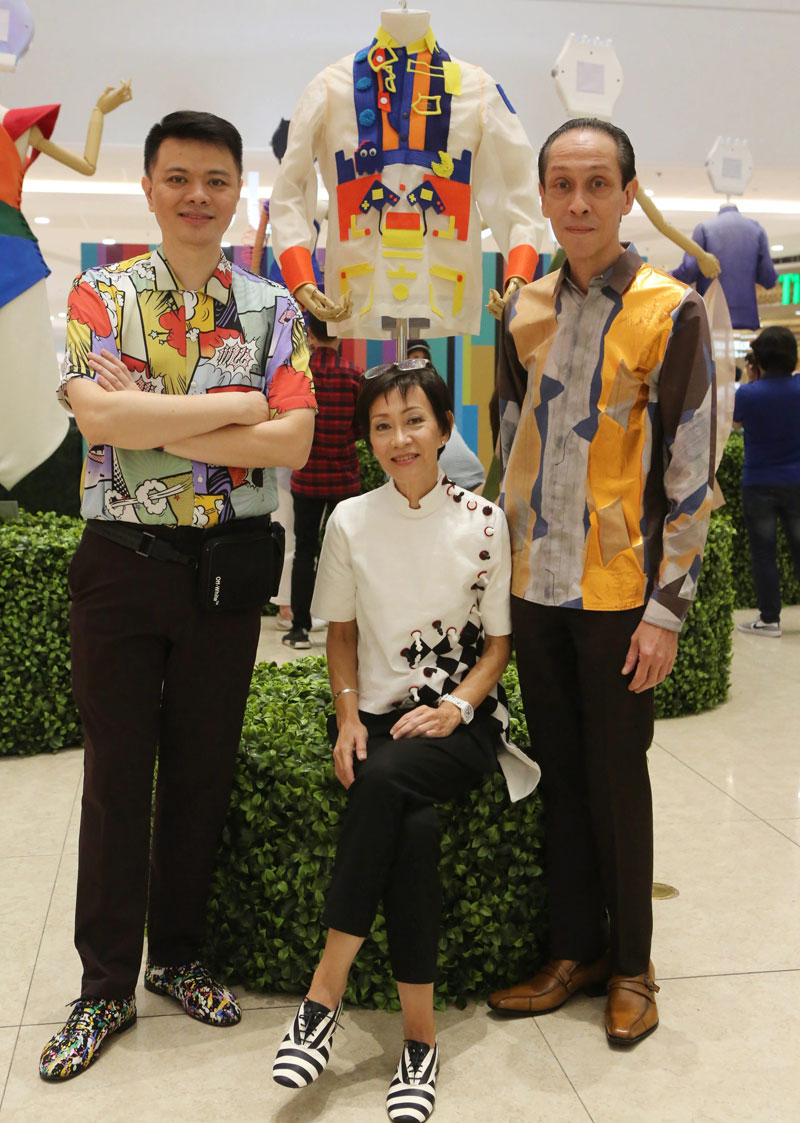 "Laro" exhibit designer Gino Gonzales and Slim's Fashion & Arts School co-directors Sandy and Mark Higgins
Other notable Slim's alumni include the late fashion great Joe Salazar, Michael Cinco and Albert Andrada.
Slim's gears up its students for the real world. "There is no infrastructure in place. A lot of established designers function independently. It's a tough environment for them, but in true Filipino fashion, they are remarkable because they keep going," says Sandy. "It's not a mature fashion industry by any means — surprising, considering that historically, the Philippines in the '50s, '60s post-World War was ahead of everyone else in terms of their fashion sense. It's a shame. But Slim's graduates grow up to be independent entrepreneurs, they find their way."
"Primarily, what we do is we make sure their skills have depth in design and execution," Mark emphasizes.
"Gone are the days where you can hire a good pattern-maker or good sewers," adds Sandy. "They've either gone abroad or are a little bit older. It's a lost generation. What we encourage our students to do is at least have that depth of knowledge so they can stand alone and train people. If you can do a fantastic design and your staff says it can't be done, that's the end of your design, but if you have the technical knowledge these students have, you can figure it out yourself.

Swatch Think Fun collection: Creativity and design are at play in these pieces that let you express your personality.
"Somebody once said Slim's is like the UP of fashion. We have students arriving by car, by jeep, by MRT, by walking. You don't have this mga barkada-barkada. The equalizer is their talent. That's it. And they're serious. Our courses are hard. Despite the ideas being katok, if you look at the execution, there's some serious construction going on. That's very Slim's."
* * *
Slim's exhibition of 2018 student work "Laro" will run until Oct. 3 at the Mega Fashion Hall, SM Megamall.