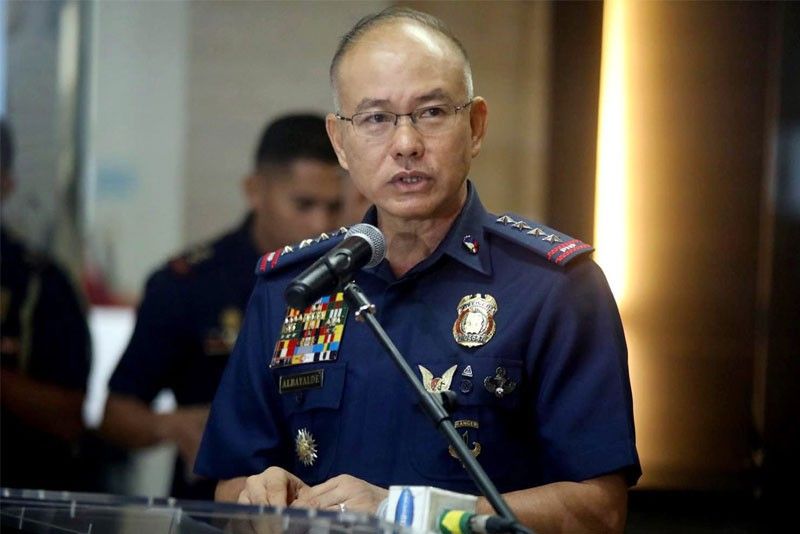 Gen. Oscar Albayalde: "I used to make surprise inspections of various police stations all over Metro Manila, from 12 midnight up to 6 a.m., yes, on my motorcycle and with two escorts."
PNP Gen. Oscar Albayalde on Duterte, Bato, Ping, human rights & anti-drugs war
After President Rody R. Duterte's Sept. 11 televised claims that his political foes are coalescing to plot his assassination on Sept. 21, this writer sought out the country's busy top anti-crime czar and the president's chief protector, 54-year-old Philippine National Police (PNP) Director General Oscar D. Albayalde.
It was his late father, Philippine Air Force retired master sergeant Fidel S. Albayalde, who enrolled him at Philippine Military Academy (PMA), but he died when his son was only in his third year. Oscar Albayalde would graduate from PMA class of 1986 with cum laude honors.
Without commenting on details of intelligence reports cited by President Duterte, General Albayalde reiterated that the PNP is "taking seriously" all threats. He agreed to grant the Philippine STAR this exclusive interview. Here are excerpts.
Philippine STAR: You said the PNP is taking seriously President Duterte's recent comments that there were direct threats to his life. What are his instructions to you on how to thwart the alleged assassination plot? Also, his instructions on the anti-crime and anti-illegal drugs war?
Gen. Oscar D. Albayalde: There were no specific instructions, he just told me: "Do what is right, just do your job." We the police are grateful for his strong support, giving us thousands of new mobile cars, modern weapons, new radios, new bodycams, helicopters, etc. Our morale is very high.
How is Duterte as a boss?
President Duterte is down-to-earth, he can level with you. He's very simple.
Among the top criticisms leveled at the Duterte administration concern human rights abuses, the supposed extrajudicial killings of suspected drug users and dealers. Your views on this?
We assure that our anti-crime and anti-illegal drug operations are done within the bounds of the law. We uphold human rights, the basic human rights of all people, including the human right to have peace and to live in peace. Everybody deserves peace.
Criminals are disturbing the peace. We are providing peace to every person and this is the time we have to work together (with) less politics. We have a good leader with political will.
How do you describe your predecessor, the colorful Gen. Bato dela Rosa?
He's a good person, he doesn't want people to be angry at him, he's a caring leader. He puts everything on his shoulders. He's often emotional and blames himself. He has a natural sense of humor. General Bato dela Rosa is honest — what you see is what you get. He's not pretentious.
How many police do we have in the Philippines?
We now have 190,000 police. We'll be changing the training for all police recruits, give them Special Action Force (SAF) training, no OJTs (on-the-job trainings). We have continuous reforms in the PNP, such as our continuous program of "internal cleansing." We're dead serious about reforms and discipline.
How do you react to some reports, especially in western media, that many thousands have been summarily killed in the war against illegal drugs?
Those numbers are inaccurate and unfair. They're giving a wrong image of the Philippines as dangerous, when the truth is the Philippines is only dangerous now for criminals and not for the majority of law-abiding citizens.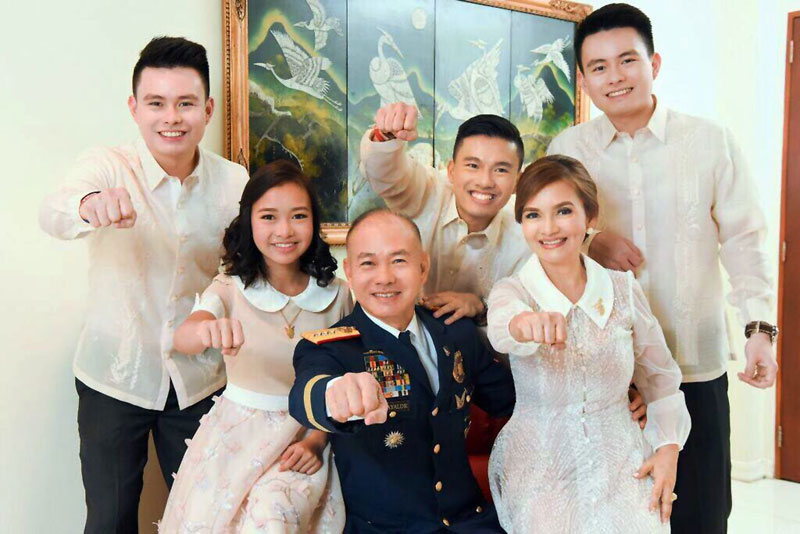 PNP chief Gen. Oscar Albayalde, wife Cherrylyn and their four kids
Your views on some western human rights groups that complain about alleged EJKs by police?
They should have evidence. We are working very hard and unrelenting in our fight against crimes, which we are doing within the limits of the law. The president has no hidden agenda, he just wants to fulfill his election campaign promises on better peace and order by fighting the scourge of illegal drugs and corruption, so I hope we will unite.
As a soldier or policeman, when was the first time you killed a person?
The first time was when I was second lieutenant with the SAF, I was then 23 years old, and we were fighting the Communist New People's Army (NPA) in Negros Oriental province.
Is it true that you love skydiving?
Yes, I used to skydive, starting when I was a lieutenant up to major, from 1989 to 1996. I was part of the skydivers during Independence Day celebrations in Rizal Park. I only stopped after my twin sons were born, when my wife Cherrylyn already got angry.
What's the highest you've jumped?
The highest altitude was 13,000 feet in Luneta, from a C-130 plane. If from a helicopter, I skydived at altitudes ranging from 6,000 to 8,000 feet.
Was there any fear in those jumps?
Wala, thrill 'yan (none, that's a thrill), the thrill of adventure. I used to go scuba diving too before, but stopped because I became dizzy. Up to now, I still ride the motorcycle, traveling from Manila up to Baguio back and forth for over 300 kilometers, through Marcos Highway. Riding the motorcycle is also a thrill, an adventure. You can see different views on a motorbike compared to just riding a car; the air is also different.
Is it true that you used to make late-night inspections on police stations riding a motorcycle, and that's why President Duterte liked your strictness and appointed you PNP chief?
I used to make surprise inspections of various police stations all over Metro Manila, from 12 midnight up to 6 a.m., yes, on my motorcycle and with two escorts. I'd catch some policemen sleeping in police stations, not in their posts or drinking alcohol at those hours.
Who's your inspiration or role model in terms of police leadership?
No. 1 for me is former PNP chief General Ping Lacson, especially how he was able to reform the police organization with his anti-kotong (anti-extortion) campaign, his firm decisions during his time. Our police officers and the rank and file were not allowed to have big stomachs; those whose stomachs were bigger than 34 inches had to leave the service. I was then superintendent in Pampanga when he was PNP chief.
What's your key to success as top PMA graduate and now award-winning police officer?
There's only one thing: it's determination.
* * *
Thanks for your feedback! Follow @wilsonleeflores on Instagram, Twitter, Facebook. Buy & read Pilipino STAR Ngayon every Friday for my column "Kuwentong Panadero" on inspiring stories.