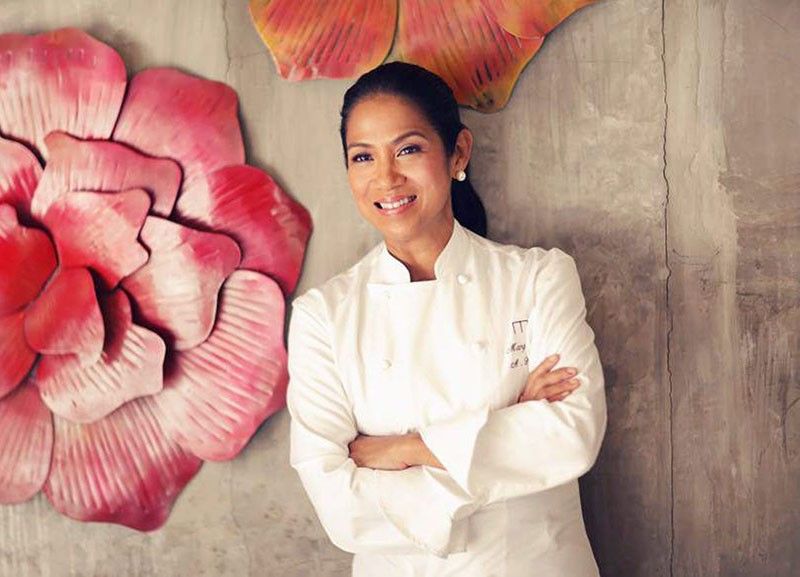 Our sense of national pride, our conviction in maintaining our national sovereignty, and our love for democracy is what makes us Filipinos happy.
Game changers in the restaurant industry
Margarita Fores - Founder, Margarita Fores Concepts & Style (Cibo de Marghi, Signature Caterer, Cibo, Lusso, Grace Park, Las Casas Manila, Islas Pinas)
What makes you happy? It makes me happy that we Filipinos are now proud and in love again with all things that are our very own, most especially our cuisine and produce.
What makes Filipinos happy? Our sense of national pride, our conviction in maintaining our national sovereignty, and our love for democracy is what makes us Filipinos happy.
What do you observe about Filipinos' eating habits and preferences today? Filipinos today get as excited about well-executed street food at weekend markets or at food halls as they do with the next new avant-garde chef's tasting menu.
What is refreshing and heartwarming to see is that Filipinos are now into Filipino food, whether traditional, or new takes on the classics, and that's a great thing for the industry. The Filipino farmer and artisan producer has gotten much help from this boom. A new preference for Filipino has caused a shift, from the previous usual favorite Asian choices of just Japanese and Chinese or Thai. This new sense of national pride in the industry is exciting.
The Filipinos' fixation for foreign food brands has added some vibrancy to the industry, since it has upped the ante and made local brands keep in step quite successfully with the challenge brought on by competition with these global brands that have peppered the food scene.
The new awareness and enthusiasm to consciously advocate sustainability and zero-waste practices in the trade has also given those in the industry a new platform, thus adding many new facets to the already stimulating and invigorated gastronomic scene.
What problems do restaurateurs face today? What changes do you hope to see to help solve these problems? The most immediate problem restaurateurs are feeling today is the pinch from rising prices, a real challenge for food costs. If the rise in labor cost follows suit, this will immediately require major adjustments. To whether this challenge, we need to anticipate the inevitable and have a game plan.
Another big challenge is the shift in marketing trends. The new game is now being played on social media. Dishes as well as interiors of restaurants need to be "Instagrammable." Ultimately, restaurateurs need to ensure focus on what tastes good as well as maintain high service standards and not just emphasize on what goes on social media, because the basics are what allow the business to endure. Hype will get your guests in the first time, but the excellent product quality and superior standard of service consistently delivered are what will make your clientele loyal.
Another welcome challenge is the huge growth that we see in the industry. The variety of concepts that we see opening has made the industry so vibrant and exciting. The quality of gastronomy in our food scene today has improved tremendously and has attracted a very global clientele, thus this allows us a tremendous opportunity to consciously start working on leveling up on our service standards as well.
What do you hope for your country? What I truly hope for in my beloved Philippines is a tomorrow that celebrates what we have yearned for through the years: a free Philippines that upholds gentleness and goodness, virtues that have been innate through the years. May we continue to be proud of what is truly ours, this innate Latin-Asian uniqueness that allows us to shine because we represent the best of these two worlds.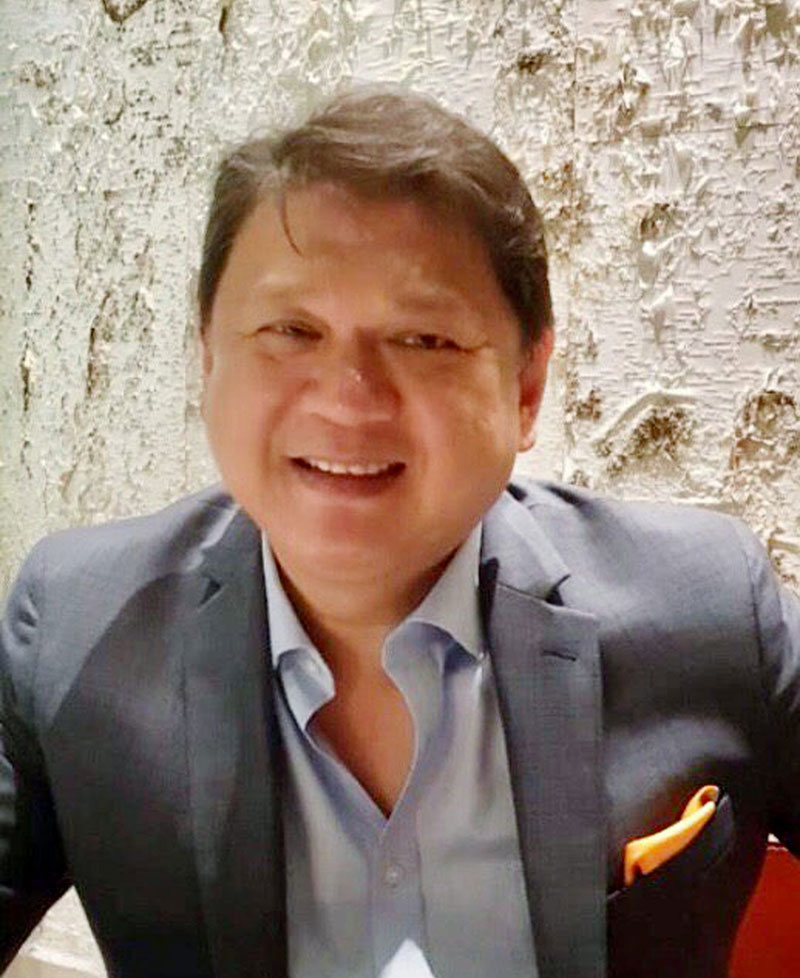 Rikki Dee - President and CEO, FooDee Global Concepts (Mesa, Tim Howan, Todd English, Foo'd, Kam's, Tsuta, Llaollao, Sunnies Cafe, Bench Cafe, Flaterrie, Pound and Hawker Chan)
What makes me happy is family. My grandchildren are my comfort zone. Our annual family retreat is something I always look forward to.
What makes Filipinos happy? A full stomach, I think we are naturally a happy people and we tend to just laugh things off.
Filipinos today are smarter. Very independent. We want value for money. We know how to enjoy life. We're resilient.We've been through catastrophes, wars, uncertainties. Currently we have heavy rains, flooding, no transport, and yet we are still happily taking pictures, eating, drinking, doing our favorite sports.
What do you observe about Filipinos's eating habits and preferences today? Filipinos are very sophisticated, due to social media exposure and frequent travels. Filipinos are conscious of brands, convenience , taste and right price. They have embraced food concepts from all over the world.
What problems do restaurateurs face today? There are just too many restaurants, although it is not a bad thing, because it prevents you from being complacent and keeps you on your toes and encourages you to outdo yourself. Unstable currency affects our margin and projections.
What changes do u hope to see to help solve these problems? In our almost 30 years in the industry, we have remained focused, continuously innovated and reengineered over the years . We have stayed prudent in our expansion program preferring organic growth . We are very sensitive with cost management to keep us afloat during challenging times.
I hope for sustainable growth and peace for all, a stable economy, and for us to be truly global.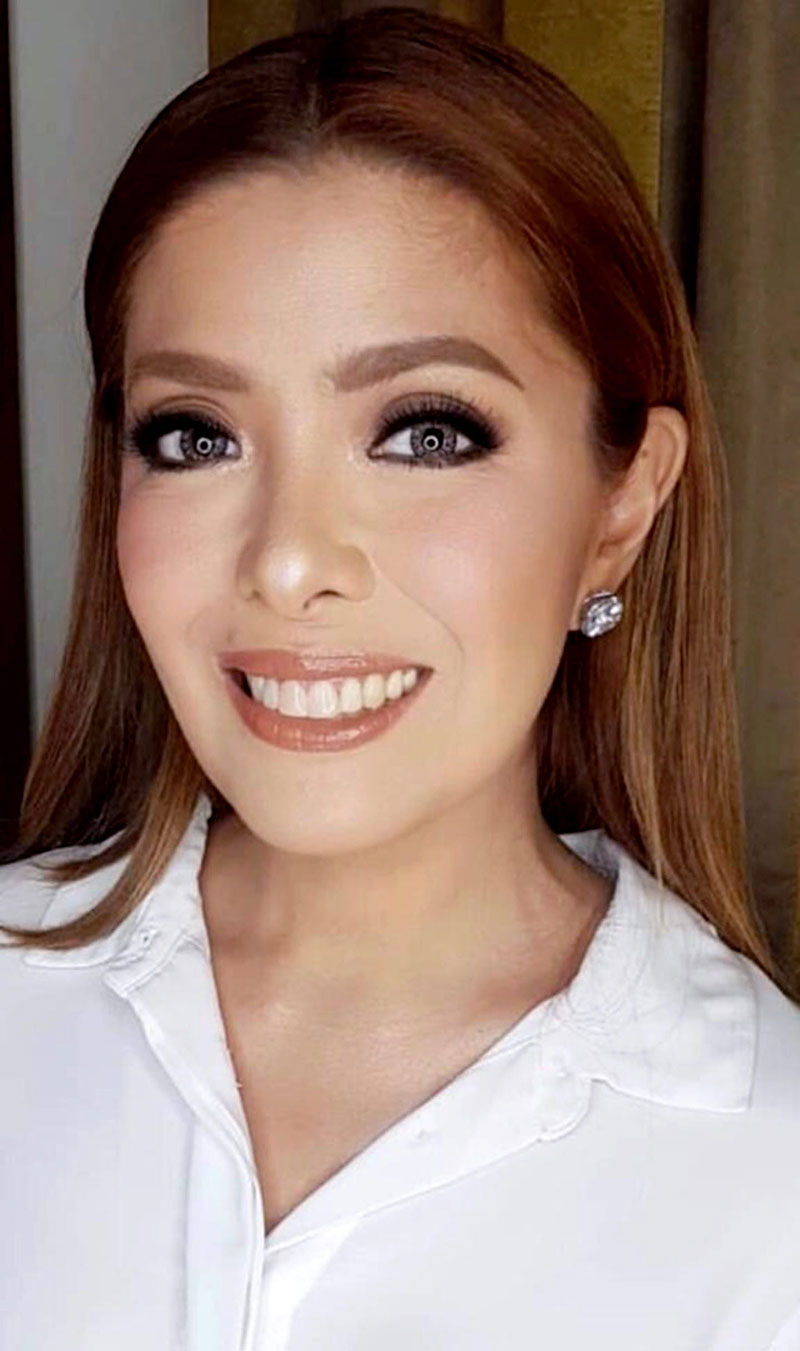 Happy Ongpauco-Tiu - Owner, Happy Concept Group (Pamana, Hawaiian BBQ, Bento Box, I Love Backyard Grill, Tsokolateria, Lè Chon and Private Dining by Happy Concept Group)
What makes you happy? Being around the people I love.
What makes Filipino happy? Love for their family and good food, especially lechon!
What do you observe about Filipinos today? Their strong spirit of resiliency — in whatever situation, Filipinos always bounce back and choose to be happy! It's an amazing trait!
What do you hope for our country? My dream for the country is for it to rid itself of the rampant corruption in our government — that way everything good follows: a better economy, less poverty, and happier Filipinos.
What do u observe about Filipinos' eating habits and preferences today? Filipinos are always on the lookout for new concepts. They love trying out anything new.
What problems do restaurateurs face today? Because traveling abroad is made easy due to all the travel fairs, Filipinos are given the opportunity to explore the world. Thus, their palates have become more sophisticated. More foreign concepts have been sprouting all over, which challenges us local restaurateurs. We have to be more creative and work double time to meet the expectations of our clients. Sad that sometimes Filipinos forget how important it is to patronize their own — they prefer the imported concepts.
Changes to help this problem? I think it's already a work in progress — if we push our fellow countrymen to support local, and patronize local concepts, then that will help the local food industry, at the same time our economy.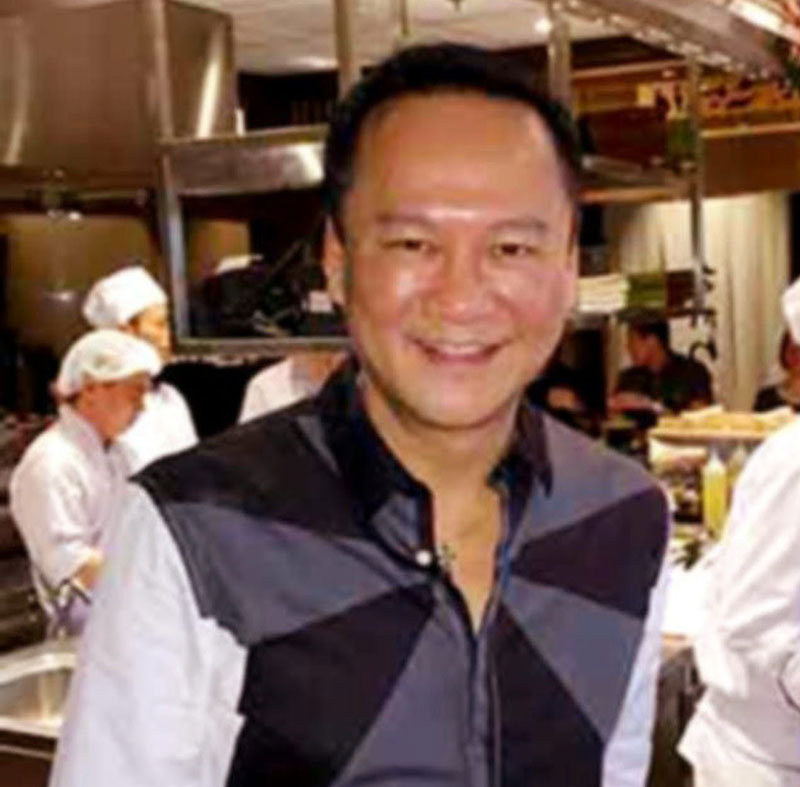 George Pua - President, No Limits Food Inc. (Ogawa, KPub BBQ, Modern Sichuan,Thai BBQ, OPPA, Sam Stew and Rico's Lechon)
I am happiest when I am with my grandchildren. They are my inspiration to work harder to be able to spoil them.
Filipinos are the easiest to please. As long as they have food on their table to share with their family, can send their children to school, have a decent job, have a little savings in times of need, they are already on Cloud 9.
The mobile phone has shaped Filipinos' new way of life today. I've observed that nobody talks to each other face to face that much anymore. Either they have their earphones plugged in, they're playing interactive games or they're busy chatting or browsing on their mobile phones. Nine out of 10 people in a restaurant are on their phones. Filipinos now are less involved with current events. Their thoughts? "I cannot change the system so I will just mind my own business."
What do I hope for the country? That doing business can be easier, that red tape can be eliminated. That allowing restaurants to freely import their ingredients will allow us have our own Michelin Star restaurants. I hope that one day the Philippines will be part of the "must visit" destinations for our culinary adventures.
Filipinos basically like value for money so the buffet concepts are very popular nowadays but there is still a small market that is very discerning, they do not mind paying as long as they get the quality that they crave for.
Restaurateurs have problems with high rent and utilities. Too much competition. Everyone likes to go into restaurants, thinking it is the easiest way to make money. So many new restaurants just pop up but few months after, they close shop.
Patience is a virtue, do not rush to leave your mark immediately in the industry. Be passionate in what you want, work hard for it. You can make your menu more cost- effective and be different in taste, in concept, in brand positioning. Be a brand that everyone will crave for.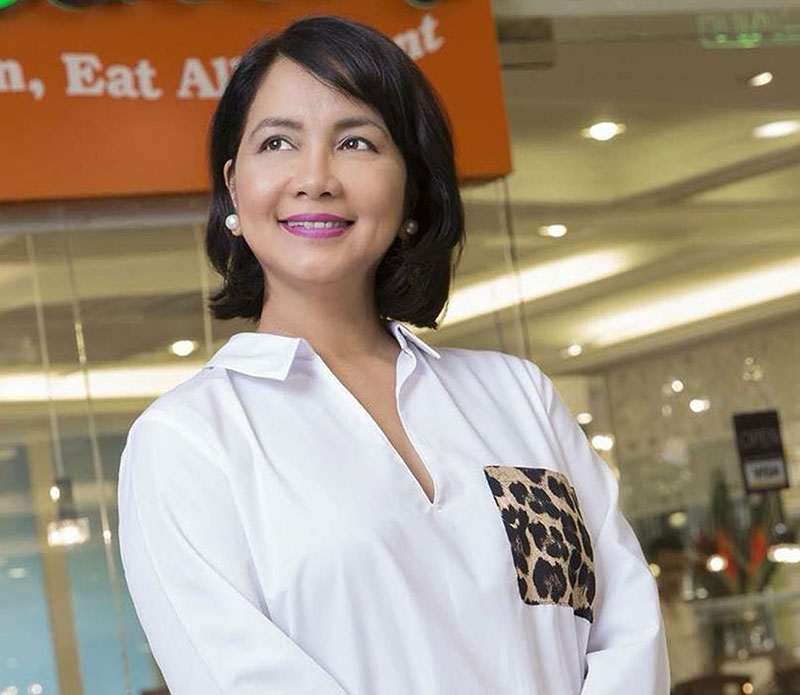 Maritel Nievera - President and CEO of Cabalen Group of Companies (Cabalen, Soi, Mangan, Ceveseria, BKK Express Eatspinoy and Salu Salo)
Travel, food, family and creating new concepts make me happy.
Filipinos are most happy when they are with their complete families — especially when sharing meals all together!
Filipinos want change in their country.
I hope that the change that is happening now will continue and will be felt by all Filipinos at all levels.
What do you observe about Filipinos' eating habits and preferences today? Filipino diners are now more health-conscious and look for more vegetarian dishes. Cabalen's adding a salad station was a hit.
What problems do restaurateurs face today? We face more competition from new local concepts and global brands of restaurants .
What changes do you hope to see to help solve these problems? Competition only inspire us to work harder in improving our system and reinventing our brands. We must learn to grow with growth, be willing to leave our comfort zone and be ready for change.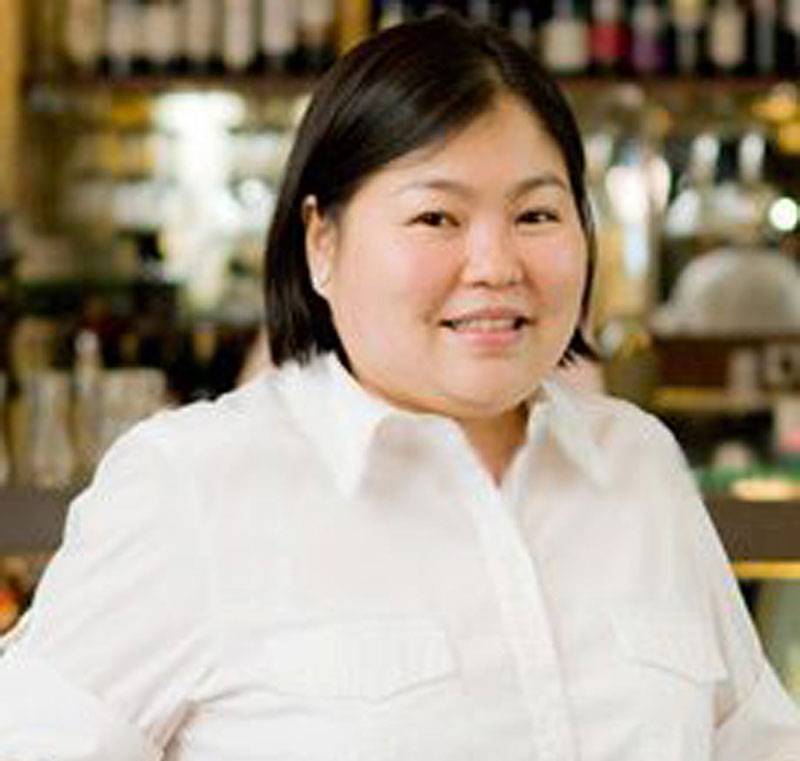 Florabel Co-Yatco - President and CEO, Florabel Group (Florabel, Felix, Crisostomo, Elias, Corazon, El Corazon, Mr. Franks, Market on 5th, Sisa Secret, The Cafeteria, Love A Bowl, Meralco Light House, 34th Avenue Food Market)
I'm happy whenever I'm with my family.
Simple things make Filipinos happy, like watching teleseryes.
The present-day Filipino loves to travel and explore different cultures.
I hope that our country will be recognized as a culinary hub in Asia.
More Filipinos eat out today and they're more adventurous in dining. The restaurant industry is becoming more competitive each day as the number of restaurants in shopping malls increases due to the closure of retail stores because of e- commerce. The only solution is for the government to increase spending power of Pinoys by implementing better economic policies and tax reforms for the marginalized sector of society.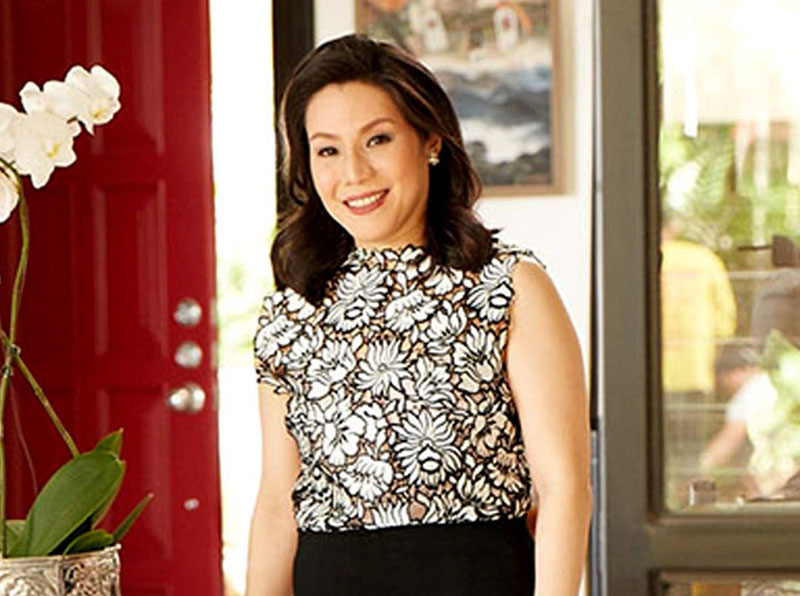 Ana Lorenzana-de Ocampo - President, Wildflour Bakery and Cafe (Little Flour Cafe, Farmacy Ice Cream & Soda Fountain, Pink Hotdogs and Hotel Bar)
Happiness is using the best of my passions and abilities to nourish people, whether that's literally feeding them something delicious or spending quality time, especially with my husband and two boys. Both, together, are even better: discovering a delicious dish while catching up with my family.
Being around other people, sharing lighthearted moments amid a festive atmosphere, is what makes Filipinos happy. We love to entertain, see other people laugh, sing around other people. For us, joy is best shared.
Filipinos today seem to be more empowered. Vocalizing one's thoughts and demands for social change have intensified thanks to social media.
I hope for better infrastructure throughout the nation and for all Filipinos to have better access to better education. Filipino diners are generally more aware and articulate about what they eat.
Apart from the rising cost of ingredients and stiffer competition , restaurants have to evolve and accommodate much more conscious customers, whether because they care about where food comes from or because they have dietary restrictions. What's exciting is that chefs are challenged to cleverly concoct dishes that take the locality and quality of ingredients, as well as originality, into consideration.
I hope to see our country's dining culture grow further with more thoughtful rather than faddish concepts rising across the nation.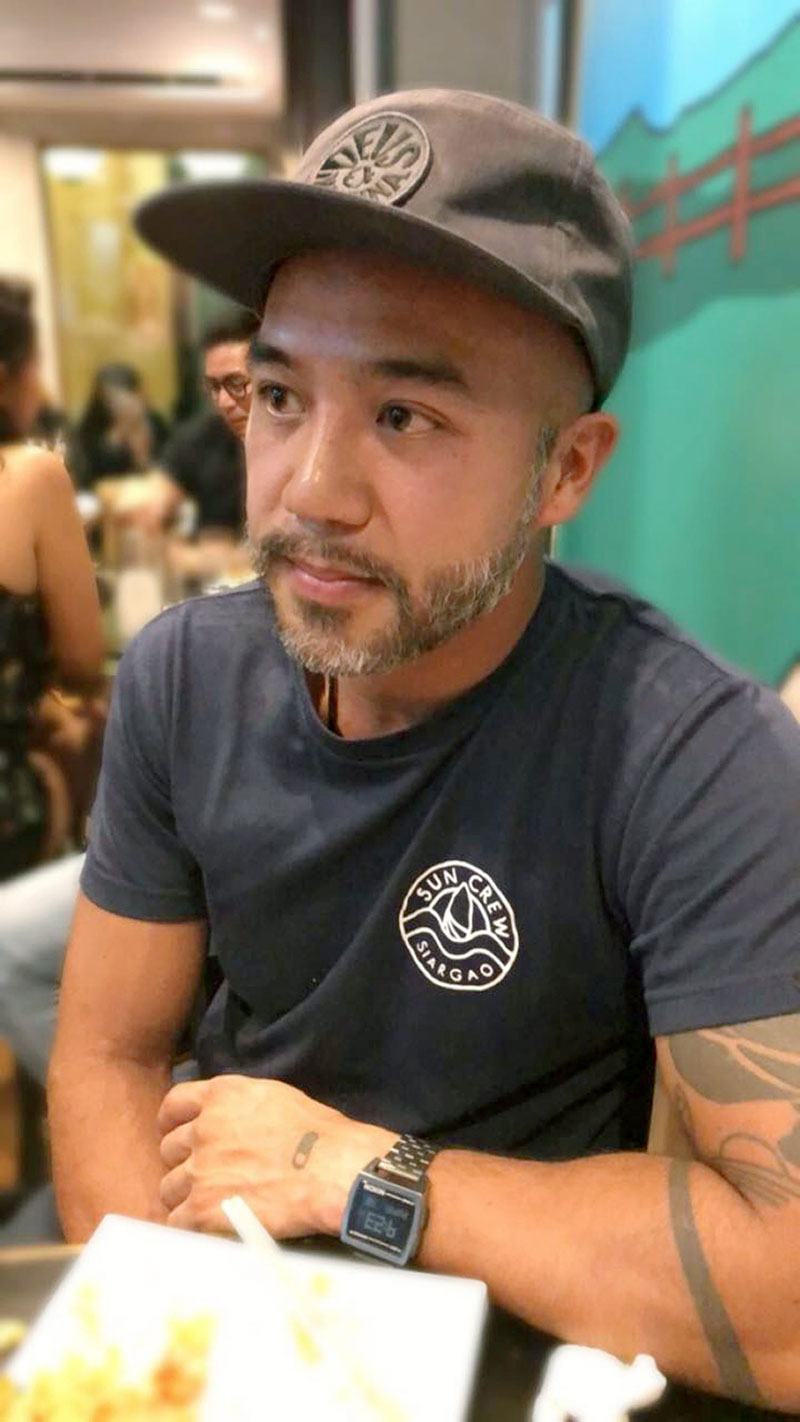 JP Anglo - Chef owner, Sarsa Group of Companies
Cooking for people, especially my loved ones, makes me happy It's my love language, it's the way I let people know that I care for them and my way of saying thank you. It gives me so much joy when I see them having a good meal and really enjoying themselves. Surfing makes me really happy too.
Being with family and friends makes Filipinos happy. We love being with each other, that's why when we're at the dinner table, everyone's laughing and enjoying each other's company, despite all the things that may not be going so well, around us. Also, the 15th and 30th days of every month make us all very happy.
Filipinos are very trendy. We easily get excited. Perhaps because of the five-year visas that the Japanese Embassy gives to Filipinos and because all the food in Japan is done well we like everything from Japan. We are excited to get everything from Japan because it brings back good memories that we had while we were there.
We also like anything that is successful globally and we are willing to give it a try when it gets to Manila.
There are three main problems that Filipino restaurateurs face: Steep overhead fees because of competiton. There are new restaurants that open almost daily. And, it's hard to find quality staff to train because they might move to the competition after training.
I hope to see a stronger economy and for Filipinos to have higher purchasing power.
What's wrong with us? We tolerate inconvenience because we are so used to it. We've become passive and very, very forgiving...
I hope we can all learn to be less selfish and think of the bigger picture first. With this, progress can start and we can all slowly live more comfortable lives. Lastly, I hope someday, Filipino food will finally have its rightful place in the global cuisine, that we will no longer just be "the next big thing." Mabuhay ang mahal kong Pilipinas.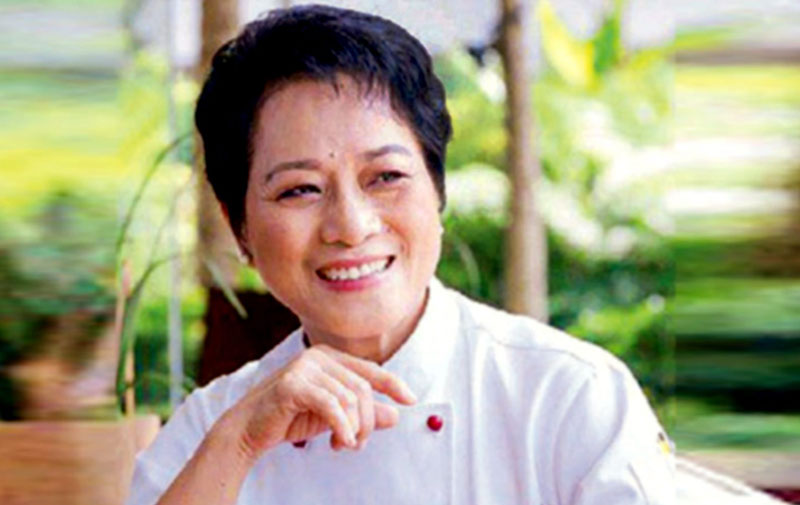 Jessie Sincioco - President and CEO of Chef Jessie Restaurants: (Chef Jessie Rockwell Club, Top of the Citi by Chef Jessie and Chef Jessie Grill at the Grove)
All the beautiful things and people around me, a peaceful heart and mind make me happy.
What makes Filipinos happy are wholesome food, family, a stable job, an orderly and peaceful environment, reliable, competent and honest leaders in government.
What do you observe about Filipinos's eating habits and preferences today? Our patrons at Chef Jessie are very health- conscious. They love eating the kind of food we cook. I always try to get the best ingredients I can find as I believe that best food can only be produced with the best and freshest ingredients.
What problems do restaurateurs face today? Aside from fierce competition from a lot of new restaurants opening and coming in, increase in the prices of prime commodities, local and imported and maintaining manpower are three of the biggest problems that most restaurants experience these days.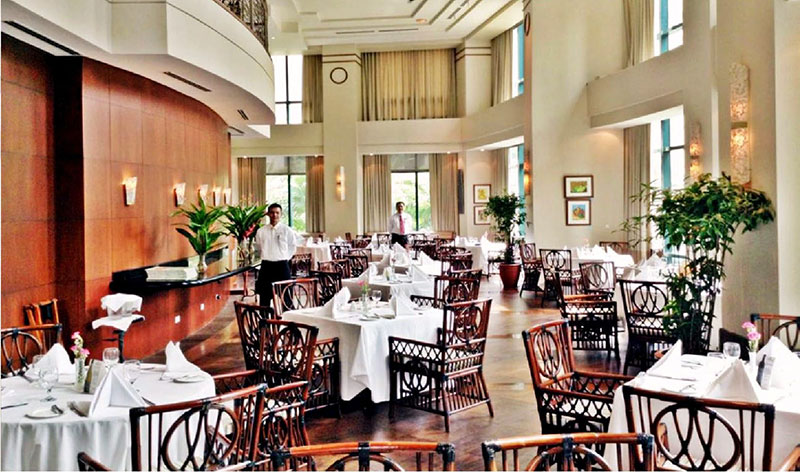 Chef Jessie at Rockwell Club
What changes do you hope to see to help solve these problems? I hope our economy will improve.
I hope that every Filipino will have affordable, substantial, nutritious food on their table every mealtime. Remember, we are what we eat.
I am fervently hoping that we will have leaders capable of leading our country. Leaders whose agenda is genuine public service and not self-interest. Leaders who have the heart and mind of God. Leaders who will really work for the good of everybody, especially those who the least in life.
Most of our fellow countrymen are somehow perplexed or at a loss as to where our country is going. There is no trust and confidence in our leaders. Sudden changes in decisions confuse us and make people hopeless.