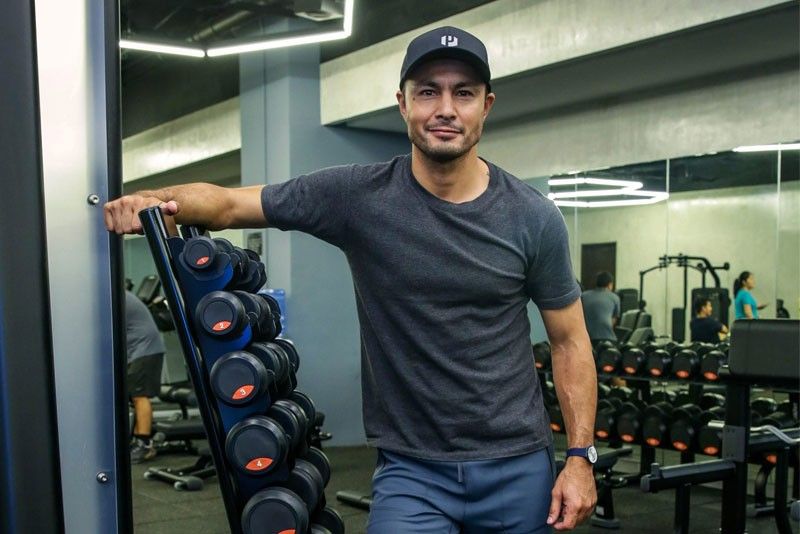 Derek Ramsay's latest business venture, Platinum Fitness, is a boutique gym equipped with the best brands in fitness equipment.
Derek on his love life, tattoos, nude scenes and his new gym
'If you love the person, hayaan mo siya kung saan siya masaya. If she is happy without me, it is painful, but I got to move on.'
Life, makes me happy," says Derek Ramsay.
And how could it not? His current movie Kasal, in which he stars with Bea Alonzo and Paulo Avelino, is now in its fourth box office week. The hit movie has earned over P100 million.
One of Virgie Ramos' chosen few Swatch endorsers, Derek recalls how reluctant he was to start his showbiz career because he had envisioned himself as a sportsman competing in the sports he loved like Ultimate Frisbee, basketball, football, cricket, swimming, golf and rugby.
"I think the only sport I did not get into was synchronized swimming," he laughs. "I remember when I was studying in London, and then later on in the US, I would come back to the Philippines to do a few commercials. Back then, I was always being asked to join showbiz but I didn't because my mom wanted me to finish my studies first."
Derek shares that when he decided to settle in the Philippines for good in 2004, he came back to play for Toyota-Otis in the PBL.
But, not wanting to live a life of "what ifs," he decided that he should give showbiz a try — "so that there would be no regrets in the future," he shares.
It was a good decision for him because he gives each role he plays on screen his 200 percent, much like the amount of sweat and tears he puts into each sport he competes in.
Follow your passion
Derek is blessed because he is able to juggle life between showbiz and the sports that he loves, both of which hold the same weight in his life.
"There are sacrifices that come with being in showbiz," he shares. "I couldn't compete in sports events where I was less than 100 percent because I did not get to train properly," the sportsman says. "I have those regrets but being puyat is part of the job — and it is really hard to balance the time between showbiz and competing as an athlete at the highest level."
Acting dreams
"Although I have acting awards and my movies have become box office successes mas kinikilig ako when someone approaches me and asks for my autograph because they know me as an accomplished sportsman," he says. "I get a lot of that in the Frisbee community. It always makes me happy that most of my endorsements have come from me being a sportsman and that I live a rugged life."
Derek shares that he dreams of playing Lapu-Lapu or a historical figure one day. Or perhaps be part of a war film.
"I have always liked watching period movies and war films," he says. "The Philippines has so much history and it would be great to go back and see how many countries abused and took advantage of our kindness. It would be great to go back to a time when the Philippines was a paradise."
For now, Derek has put his acting career on hold until after July where he will compete for Australia in the Ultimate Frisbee world cup as the Philippines is not sending a team this year.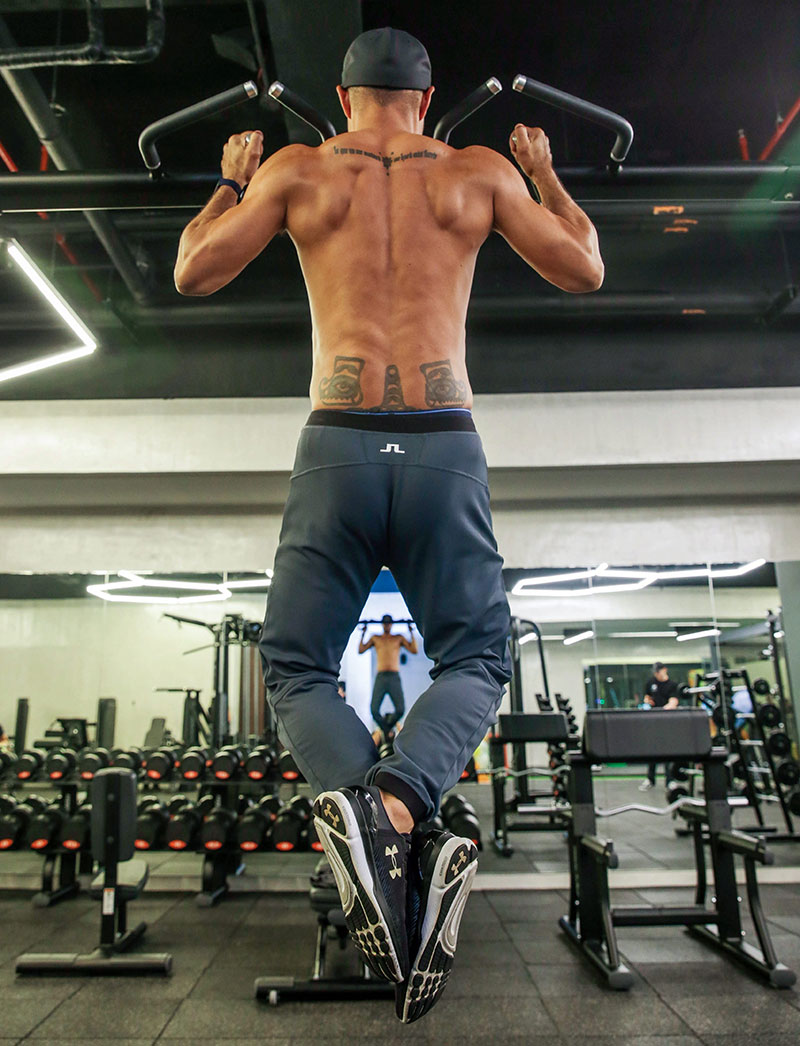 Derek's back tattoo, which he got after winning a big tournament, says, "What can't kill me makes me stronger."
Philippine Star: With a body like yours, in which movie have you revealed the most skin?
Derek Ramsay: In Kasal. I had butt exposure, but it was not used in the final edit of the movie because we would not get the PG rating if it was included.
It was an accidental exposure of my butt. I was doing a love scene with Kylie Verzosa and nahila ni Kylie yung boxer shorts — direk asked Kylie to do it for the scene. Nahila ni Kylie all the way down so kita yung buong puwet ko, hindi partial.
Would you agree to a nude scene?
It depends on the script. I wouldn't do a bed scene just for the sake of it. If the script doesn't call for it — then no. All the directors that I have worked with know that I express what I am feeling and what I am thinking. There was a scene in the movie The Escort where I had to doggie-style Lovi Poe. I questioned that because I felt that it did not fit the scene — we did nothing else. But, if it's in my character I will do it. However, if I have to do it just for the sake of doing it I won't. I don't want to do a scene so that it becomes the selling point of a movie.
Are you comfortable with your body?
I am very comfortable with my body so if a role requires for me to go nude — I would do it. In Kasal I had to kiss a guy — I am not comfortable with that — but I did it.
Advice for someone who just broke up from a relationship?
The best advice for me is, although it might make me sound cold — move on. There is so much more to life than a relationship. Isipin mo na lang kung mahal mo yung tao and pipilitin mo na mag stay with you, and it makes the person depressed then you don't really love the person. So, if you love the person, hayaan mo siya kung saan siya masaya. If she is happy without me, it is painful, but I got to move on.
How do you deal with a break-up?
When I go through a thing like that, I hit it face on and even if its hurts I got to move on. I am not going to waste time. Okay, so my attention was directed to this person for so many years, it didn't work out. It hurts, and now I will direct my attention to something else. Whether it's sports, traveling, something that is for me — and then someday things will fall into place for me.
But if you cry about it and put yourself down, drink, eat — when you are over the person you will have to work hard to get yourself back in shape. So, it is better to stay fit, cry about it, but don't let it affect who you are and your day-to-day life because that will really drag you down. And, not only you, but it will drag others who care about you down, too.
How many tattoos do you have?
I have six.
Does each of them have a meaning?
Yes. One says "Isip, puso, kaluluwa" which makes me complete. I have a special rosary that I carry around and one time I lost the rosary, which I eventually got back. So that I would always have the rosary with me I had a tattoo of the cross on it put under my right ear. On my back, I have the phrase "What can't kill me makes me stronger" which I had done after I won a big tournament for the Philippines that I trained hard for. I also have a Philippine sun and the English flag, which is a red cross — for my being half-Pinoy/half-British.
On my lower back there is a prayer— it is supposed to protect me. It is a Native American prayer that they say before they go to war to protect them in the battles. I have a lot of battles in my life and it is my protection.
I prefer not to talk about the last tattoo I have because I don't remember getting it. I was drunk when I had it done in Miami.
How's your love life?
Very good. It is nice that my partner is a workout freak just like me. She frequents Platinum Fitness, my newest business venture, more than me. Sometimes she will come here and work out twice a day since her brother is a personal trainer and they have this vlog on IG on healthy living where they do different types of meals and drinks that one can take for a healthy lifestyle.
What kind of diet do you follow?
I follow a "see food" diet. Every day is a cheat day. Since I live an active lifestyle I don't starve myself, which really affects my metabolism. I live an active lifestyle so I eat anything. This is not an endorsement for people to just go out and eat everything they see. But I know my body and I know my body can burn it.
Have you always wanted to own a gym?
Yes, but I was reluctant at the start because I wondered how I would compete against the big names. There are quite a few of these boutique gyms here. My business partners Charlie Temple and Max Johnson came up with this idea of a gym. I told them I believed that to be successful, location is key.
How did you pick your location?
Everybody is so busy nowadays so the location has to be convenient for these people. We targeted places where a lot of employees can come straight to the gym, workout to relieve their stress, go to work to build their stress and then come back to the gym to release their stress again. That is why we are here at Citi Plaza, BGC.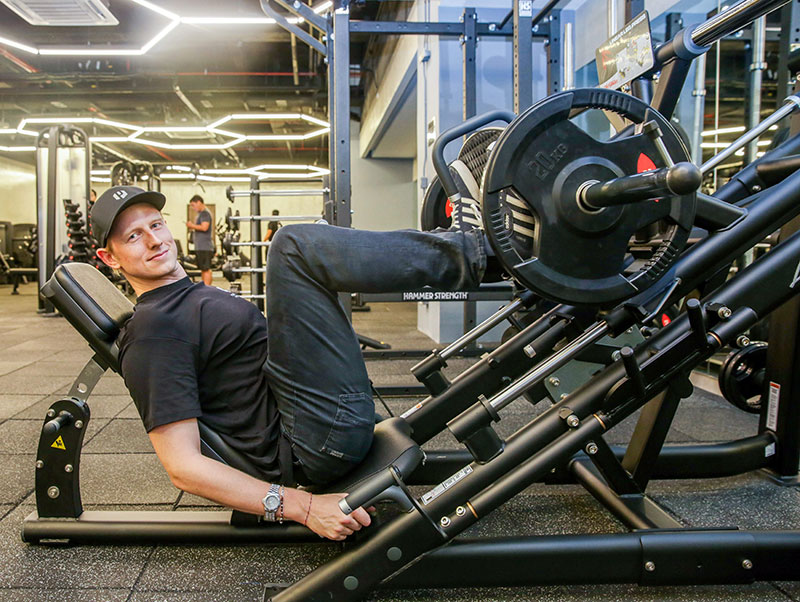 "We hope to have 10 gyms — a mix of owned, operated and frachised by the end of the year," said Max Johnson, co-owner at Platinum Fitness. "We are targeting more in Manila and other provinces like Cavite, Cebu and Davao."
How involved are you in the building of the gym?
I made sure that the gym had a modern look and is equipped with the best brands in fitness equipment. The whole style of Platinum Fitness here is all me, this style. I really hung around with these guys.
The gym has been open for four weeks now, with a total membership of 500 with a monthly membership fee of P2,500. It is a 24/7 gym where any member can enter the gym with their key fob and gain access to the gym.
Can members train with you?
I am willing to train with members for free if I am here at the gym. If they ask me if they can work out with me I will be more than happy to let them. If I am free I will definitely oblige them.
Is it better to work out with a partner?
It depends on the person. I like to work out with a trainer so that he can push me to do that last repetition. Sometimes that repetition is so important. But there are people who can work out alone, too.
What is more important, diet or exercise?
Diet. I can maintain my body with the right diet. I said I eat donuts, but if I did not live an active lifestyle that would affect me. I like to compare my metabolism to a flame — if I stoke it little by little it will grow big and the opposite will happen if I dump a big thing on it. Our metabolism is like that, it needs to be given a little food many times a day.
When your metabolism is good you can eat whatever you want. The first 30 minutes after a workout are very important — that is when you should consume your protein so that the nutrition goes into your body. The worst is to work out and then starve because you will only get weak and starve your muscles.
Having said that, one can lose weight if they go on a proper nutrition diet, but the results are so much better if it is combined with exercise.
* * *
Platinum Fitness is located at Citi Plaza Bldg., 34th St. corner Lane D, Bonifacio Global City. Call 842-1287, email info.citiplaza@platinumfitness.asia.
Derek's fitness and health tips
1. In the morning when you wake up, down a glass of cold water.
2. Thirty minutes later, repeat. This will kickstart your metabolism.
3. Know your body. This means that you stay away from foods that do more harm than good to your body. So, for example, you know that eating a certain food causes you to bloat, don't eat it.
4. Work out regularly. You can start with 15 to 20 minutes a day in the morning before breakfast.
5. Don't work out after breakfast. The best time to work out is before breakfast because the food that you ate for dinner is already converted into energy. And you can use that energy for the morning workout.
6. If you eat first then it will have to be converted to energy so if you eat breakfast it will only make you heavy for your workout.
7. Rest is really, really important. Seven to eight hours of sleep; especially if you train hard, you need to rest your body.
8. Do exercises that increase your heart rate if you want to lose weight.
9. It is better to do interval training on the treadmill than by just walking for 30 minutes straight. Interval training is better so one-minute walking and then sprint as fast as you can for 20 seconds and then return to one-minute walking and repeat for eight to 10 times. This way you are tricking your body and metabolism.
10. A 15-to 20-minute workout in the gym where you are constantly moving — walang pahinga is best. You get more results than spending hours at the gym with lots of rest in between.
11. Always set goals. Take note of your progress so that you can really challenge yourself.
12. An example of my workout would be 10 squats, 10 judo pushups and 10 burpees straight for 15 minutes or less. I jot down how many sets I was able to do and then the next day my minimum should be the maximum of what I did the day before.
Note: If you are not getting stronger it might be because of your nutrition, you lack rest or you are just not trying hard enough.