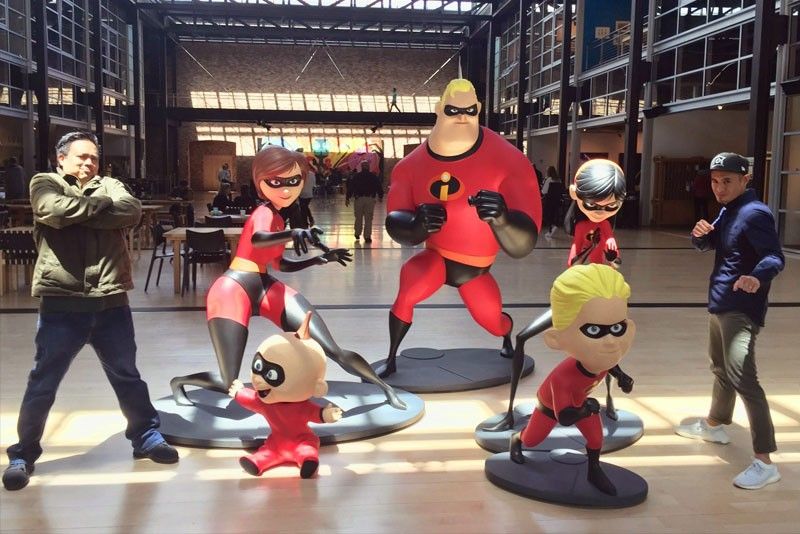 Suit up: Pixar artists Bobby Alcid Rubio and Paul Abadilla strike poses with Incredibles 2 figures at The Steve Jobs Building located at the animation studio's campus in California.
Star exclusive: Meet two 'Pixnoy' artists behind the scenes of 'Incredibles 2'
The last time I met Paul Abadilla, Pixar set designer, he was in Manila to attend a premiere of Finding Dory, which he had just worked on. Now I meet up with him and his fellow Pixar artist, Bobby Alcid Rubio, sitting in the cozy café area of the Steve Jobs Building on Pixar's campus-like studios in Emeryville, California. It's a long way from the Philippines, but they both grew up here, and being able to inspire Filipino artists back home is just a bonus of the job.
In fact, there are a lot Filipinos working at Pixar Animation Studios — whether employed as artists, animators, cooks, security or tech people — so many that they call themselves "Pixnoys."
"It was a group of Fil-Ams at Pixar that formed for social purposes but we're also trying to do something as a group to help the community at large and let people know about the Filipino presence here at Pixar, and also outside of Pixar," says Rubio. "I mean, Filipinos are like the third largest Asian group community in the US. So Pixnoy wants to get our images out there because it's rare when you see us in the media."
Well, we try to do our part. Rubio is an 11-year veteran of Pixar (he got a 10-year "Woody" statue last year) whose family hails from Ilocos Norte, but he was born and raised in San Diego. Abadilla is from Manila but grew up in San Jose, coming to Pixar in 2008 after an internship at Disney. Both earned BFA degrees in animation, and you can tell it's a gas working here.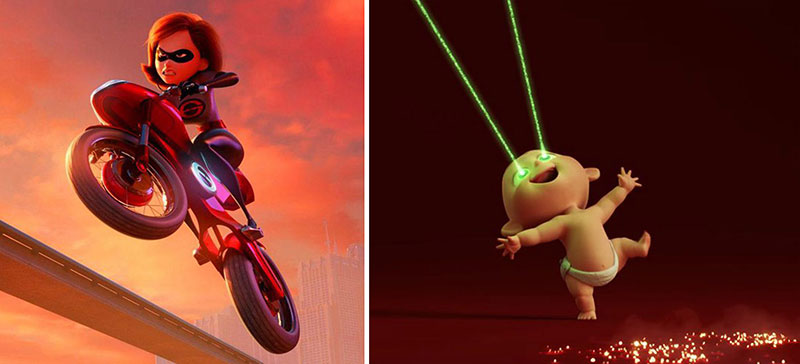 Helen Parr rides and Jack-Jack explores new powers in Incredibles 2
They just finished working on Incredibles 2, which comes out June 14. Abadilla did set designs on early drafts of the story, including the new Parr family home. He also served as a shader designer (providing color and surface info to the technical shader artists to ensure the digital lighting matches up). His drawings help provide the aesthetic "look" of the final film. He says collaborating and communicating are just as important as the many drawings he submits: early drafts have to survive rounds and rounds of story meetings to move forward, and this involves "draw-overs" and making sure his designs are "visually appealing, but not distracting from the characters in the scene."
Rubio is a story artist, so he works early on from the script to come up with drawings that the animators will work from. He says the most fun for him this time around was drawing storyboards for a dinner scene with the Parr family: "Bob and the kids are at a restaurant — and then drama and comedy ensues!"
A big part of the process is showing early work to director Brad Bird, who is known to be meticulous about his "look."
"The thing that was very different on this production is that our timeline was much shorter," says Abadilla. "We had to get the ideas out quicker and in front of Brad sooner." Fortunately, the Incredibles 2 script "was in a very good place" when Paul and Bobby started working on it, so this made the decisions moving forward easier. It helped that the different teams were in sync: "We work very closely when we have story reviews," says Abadilla. "The team pitches story sequences, and our department is really there to just be in sync with any new sets that might be needed or may need to be changed. We're definitely in a close working relationship."
Rubio adds: "That was great because we were working so fast, it was nice to have the art department there and then Brad to tell them, 'Oh, yeah, this character is missing now, don't even bother making that character.'"
They're both aware that many Filipino artists would die to get a job at Pixar or Disney: "I think if I was a youth now looking into a career in animation, and being able to see somebody that looks like me, realizing that dream becomes that much more possible," says Abadilla. "I think it's one of the missions we have at Pixar, to get that image out and inspire the next generation of artists. It is attainable, you just have to put in the time."
Rubio cites early Disney animators Ruben Aquino and Ronnie Del Carmen as Pinoy inspirations: "I was like, 'I want to be like those guys,' those guys were our heroes. And who knows, Paul, maybe somebody's looking at us now."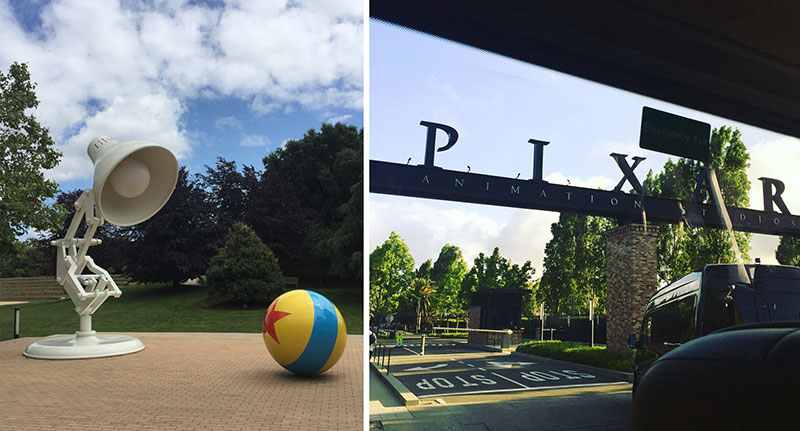 Outside the Steve Jobs Building, Luxo Jr. and Yellow Ball are part of the Pixar Animation Studios landscape.
Incredibles 2 does have a message about family that hits home with these Pixnoys: "It's really about family at its core, so I feel it has its (emotional) moments, because Filipino culture largely revolves around family and community," says Abadilla, whose favorite spot in the Philippines is Taal Volcano in Tagaytay — which, to him, resembles remote Nomanisan Island in The Incredibles.
Rubio, who has three kids, adds: "The movie's about doing what is necessary to help your family, sometimes the sacrifices you make in order for your children to have a more successful future and thrive. Those are elements that I definitely see in Incredibles 2."
* * *
See for yourself on June 14. Incredibles 2 is released by Walt Disney Studios.