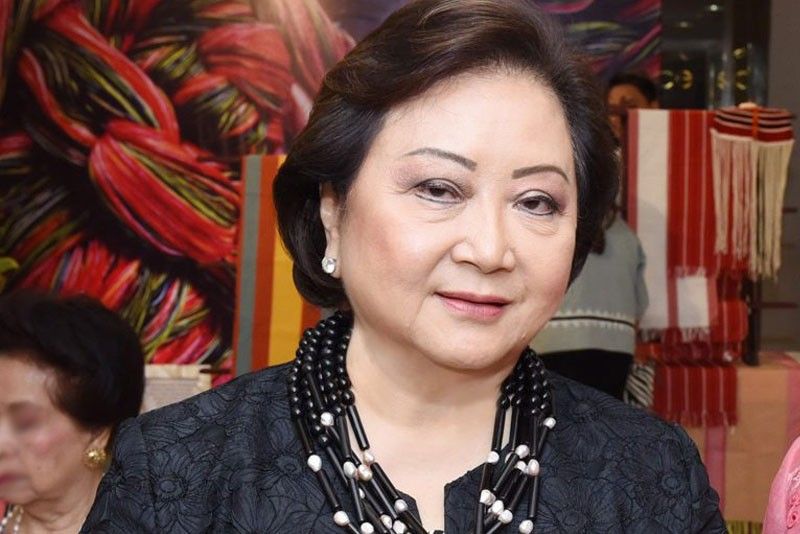 Rustans's chairman and CEO Nedy Tantoco: What is the one Filipiniana piece she would gift a foreign guest? "Silnag," Nedy says, referring to the Benguet accessories company. She's wearing one of theirs — a necklace made from carabao horn.
Nedy Tantoco: Rustan's scales mountains to bring our very own into the mainstream
Rustan's celebrates the country's 120th Independence Day and honors its founder Glecy Tantoco's vision of bringing the best of the regions to the people.
At the recent launching of "Celebrating the Finest of the Philippines," Rustan's chairman Nedy Tantoco wore a beautiful carabao horn and bone necklace by Silnag of Benguet. It was the kind of piece you'd find on the red carpet— something natural, shaped by hands that followed the organic bumps and contours of the material, and along with it comes the cultural history of an indigenous people.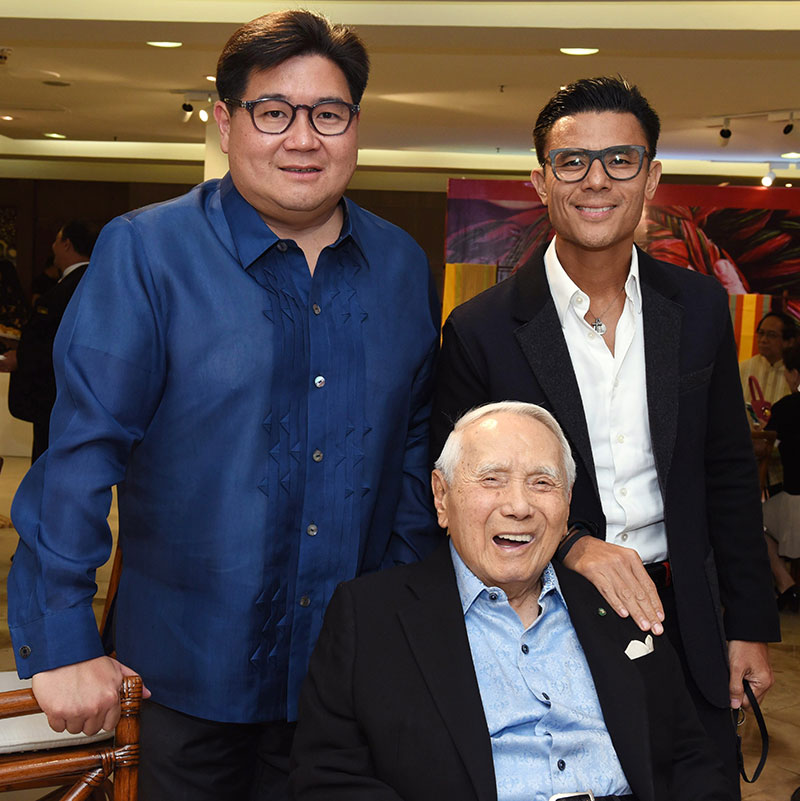 Rustan's founder Ambassador Bienvenido Tantoco with his grandsons, SSI president Anton Huang and Rustan's president Donnie Tantoco
In short, it was a piece of accessory that Nedy's mother, Rustan's founder Glecy Tantoco, would have loved, too, and been proud to wear.
As much as the jewelry piece was a stunning visual, there was also a more powerful statement behind it: a purveyor of high taste such as Nedy was wearing a food byproduct against her chest. It declared for all the world to see: "This is from our lands, from our mountains and plains, from our villages and farms whose thousand-year traditions are kept alive."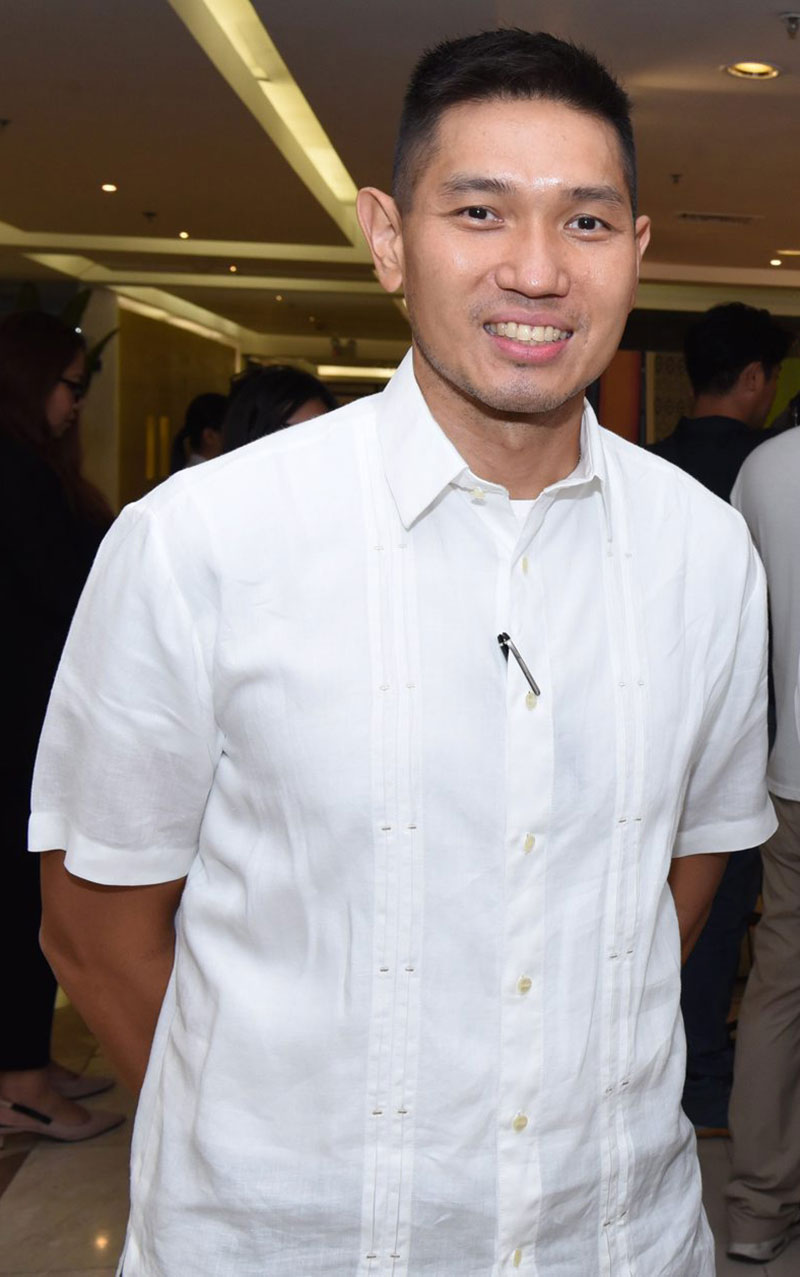 Rustan Commercial Corp. VP for store planning Michael Huang
It is Filipino artisanship in contemporary, stylized designs that won't be out of place in global showrooms.
And, indeed, both from a cultural perspective and a more commercial side, the significance of this Filipiniana festival lies in the very survival of these traditions in a time when they are seemingly losing the battle against the machine in modern times.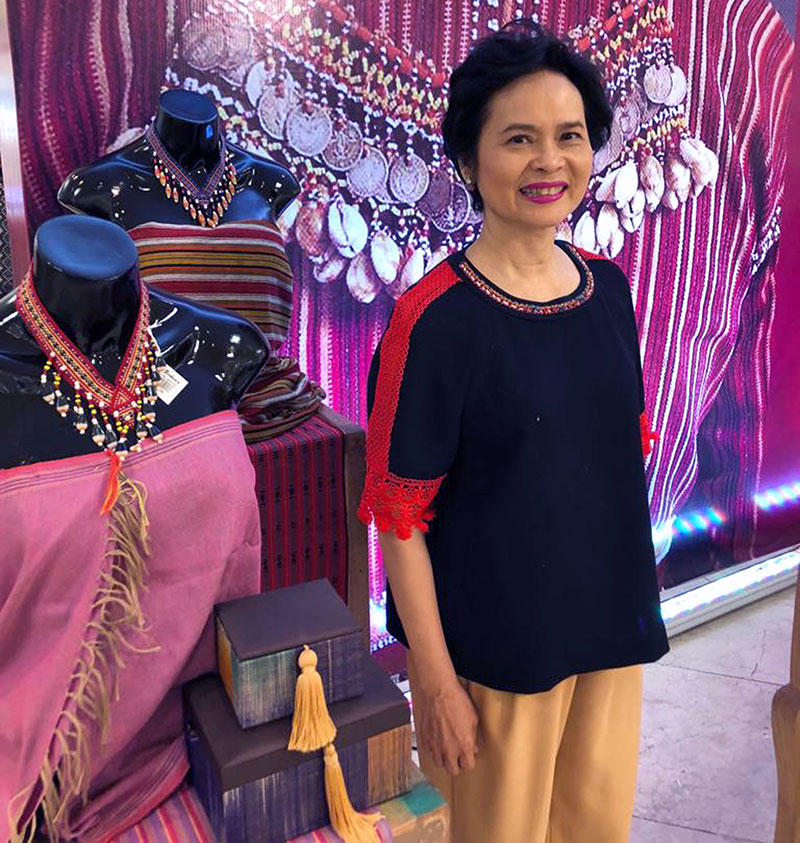 Marilou Tantoco-Pineda at the Cordillera section of the Filipiniana exhibit
"We are continuing my mother's vision of showcasing 'Our Very Own,' which was what she called our Filipiniana department," Nedy says. "For so many years, she and her team continuously traveled throughout the Philippines to search for merchandise suitable for our clients. Our Filipiniana is different because our pieces are of the highest quality, the kind you'd find in high-end department stores abroad and we're very proud of them."
For the whole month of June, in celebration of the country's 120th year of independence, the whole fifth floor of Rustan's Makati showcases Philippine products that you would normally find only in occasional regional trade fairs. Among those on display are woven shawls and blouses by Narda's from Baguio, carabao horn jewelry pieces by Silnag from Benguet, t'nalak fabrics from the weavers of Lake Sebu, black and white wooden home accessories from Palawan, wire figurines from Ifugao, chocolate from Davao and preserved mangoes from Laguna.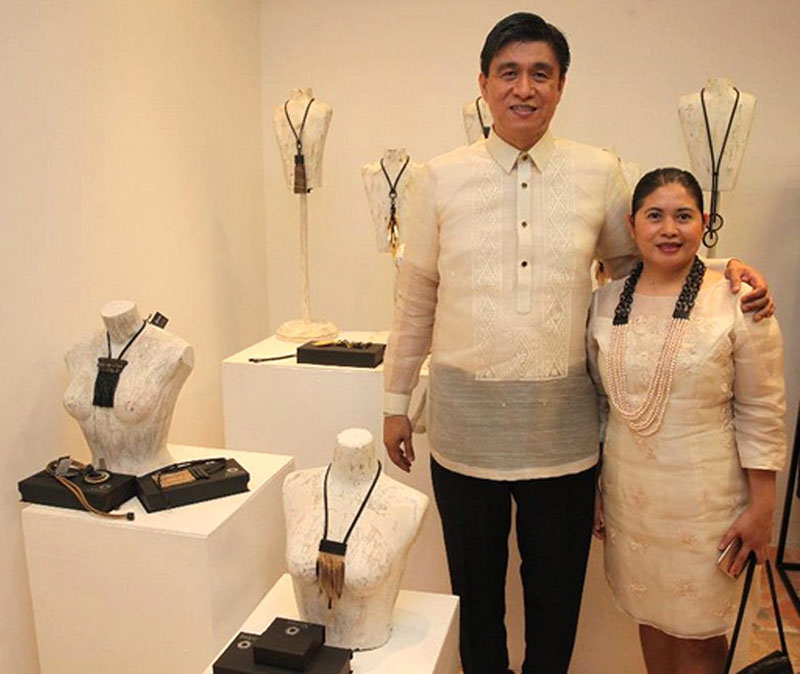 Silnag Horn Jewelry's John and Nida Danao
Walking through the exhibit is a lesson in Philippine geography and traditions. "We want to bring these products into the mainstream and make them accessible to our local buyers all year round," Nedy said. "In fact, we have doubled the size of our Filipiniana section on the fourth floor."
Nedy said that curating products was a skill she learned from her mother Glecy. "It's in our DNA. My parents would bring us on their semi-annual buying trips abroad, two children at a time. I was always paired with my brother but of course I wished it was my sisters because they were more fun."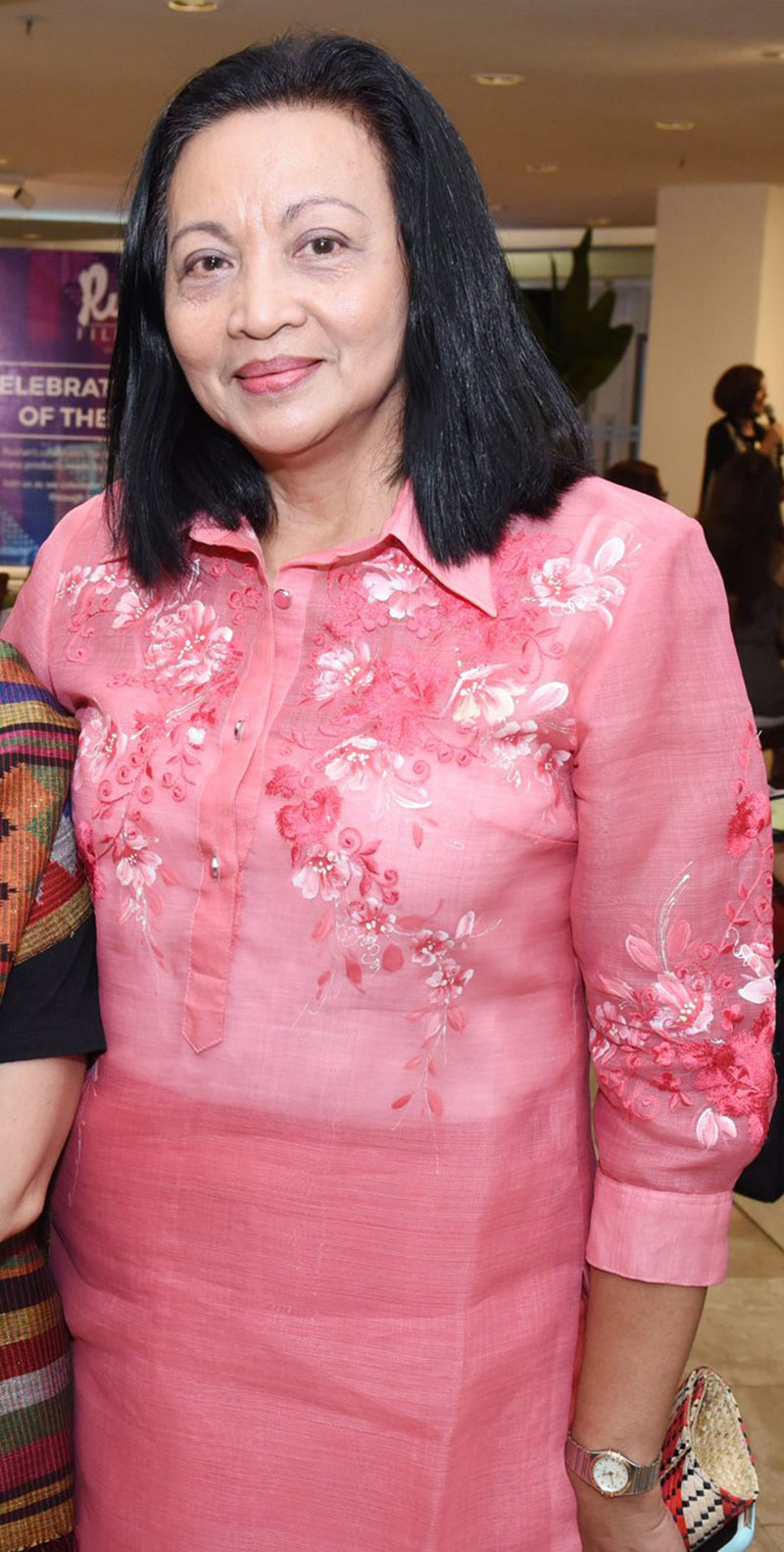 Our Very Own's Ising F. Enriquez
For Michael Huang, Rustan Commercial Corp. VP for store planning and expansion, it's the t'nalak that he likes best. "I love products from Mindanao because they're something we don't see very often in Manila."
T'nalak is the traditional textile woven by the T'boli women of Lake Sebu, often called "dream weaving." Its patterns represent birth, life, union, and are often seen in blankets and clothing used in wedding ceremonies and rituals.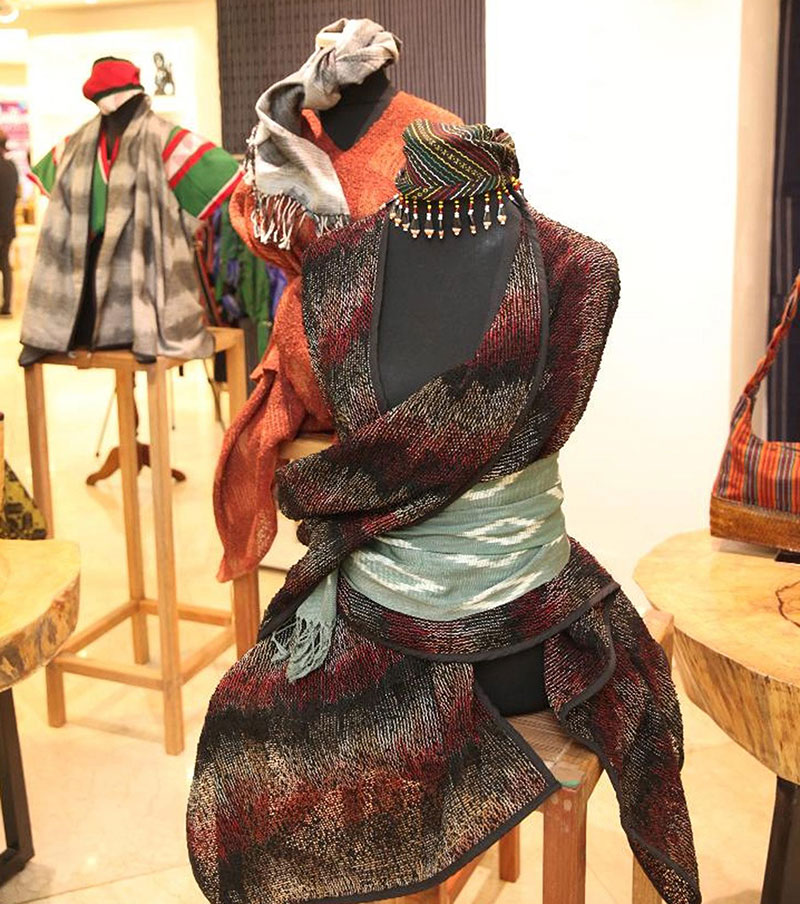 Shawls from Narda's are among Rustan's chair Nedy Tantoco's favorite local weaves: "The first was a gift from Senator Loren Legarda, which I liked to much, so I bought another one from Rustan's."
Ising F. Enriquez, who heads the buying team and was mentored by Glecy when she joined Rustan's at 17 years old, scoured the regions with the help of the Department of Trade and Industry (DTI) for two months.
Ising is now 69 years old. "She was a great mentor, she shared everything with me."
Ising traveled around the country for two months, she went from Manila to Abra (seven hours by road), and then from Abra to Banaue (another 12 hours). She crossed seven mountains to get to the villages in the north.
T'nalak from Lake Sebu, South Cotabato: Rustan's trains the spotlight on indigenous products and the rich craftsmanship of Filipino artisans in its Filipiniana festival at the 5th floor of Rustan's Makati this month.
"The trip from Abra to Banaue was difficult. Right and left was bangin. I don't think I can do that again. But you really have to go to the grassroots, otherwise you won't find these products. In Abra I went to the barrios and was so surprised that they were making these gorgeous bronze accessories. We help them with the packaging so that people can better appreciate what they are."
They are necklaces that invoke the will of the gods: for a child, for a good harvest, for prosperity. These are little-known traditions outside the villages — and what beautiful stories they are!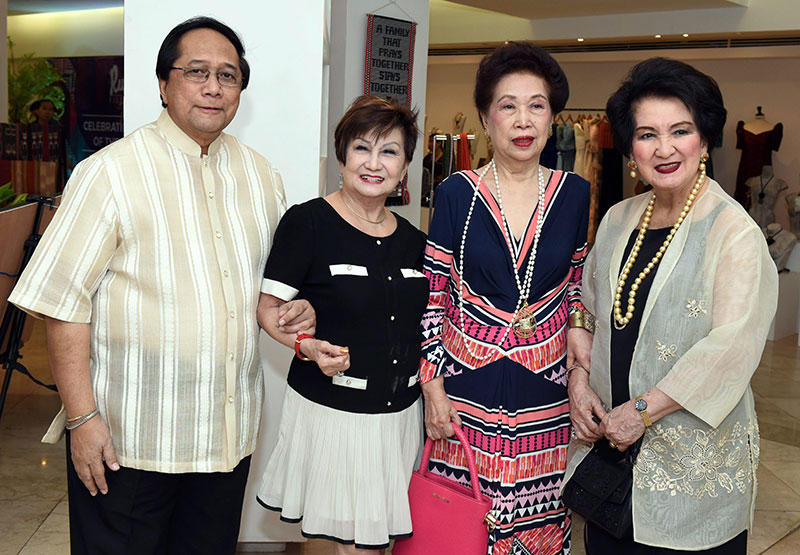 Danny Dolor, Marietta Holmgren, Lydia Reyes and Nene Leonor
For Nida Danao, who designs the gorgeous accessories of Silnag Horn Jewelry which she founded with her husband John Danao, their story starts in Benguet and goes all the way to Neiman Marcus and other high-end stores in the US and Japan.
"I grew up in Benguet where cañao, which is butchering carabaos (Philippine water buffalo), is part of our culture. My grandmother used to make accessories out of carabao horn, so I grew up around this. We didn't have Toys 'R' Us, so as kids we'd play with materials around us like twigs, wood, leaves and beads."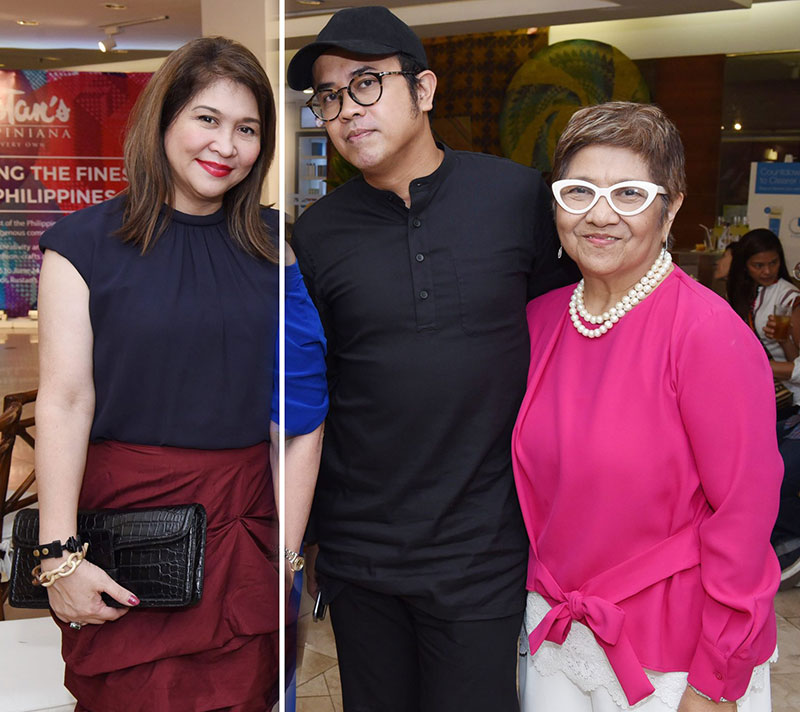 Mons Romulo, Lesley Mobo and Susan Joven
"Our materials are byproducts of food and farm trade, such as carabao horn, bone, mother of pearl, bulalo, and sheepskin leather," says John. "Our factory is in Bulacan but we source most of the materials from northern Philippines."
Nida and John started Silnag in 2006, joining an exhibit in New York and later CITEM shows in Manila. When they decided to make their products available in the local market five years ago, it made sense that it would be at Rustan's.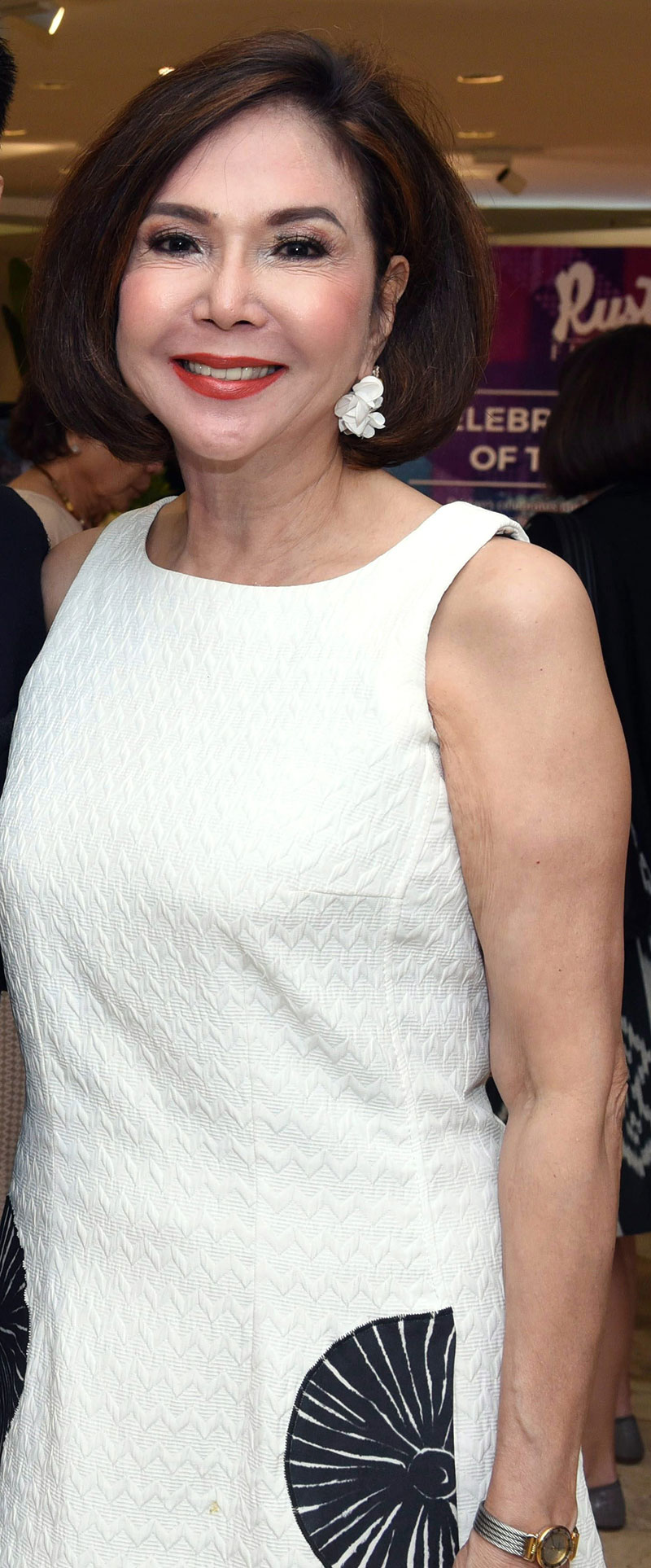 Fortune Ledesma
* * *
"Celebrating the Finest of the Philippines" is ongoing for the whole month of June at the fifth level of Rustan's Makati. For more information, visit rustans.com.ph.
Check out the author's travel blog at www.findingmyway.net. Follow her on Instagram and Twitter @iamtanyalara.