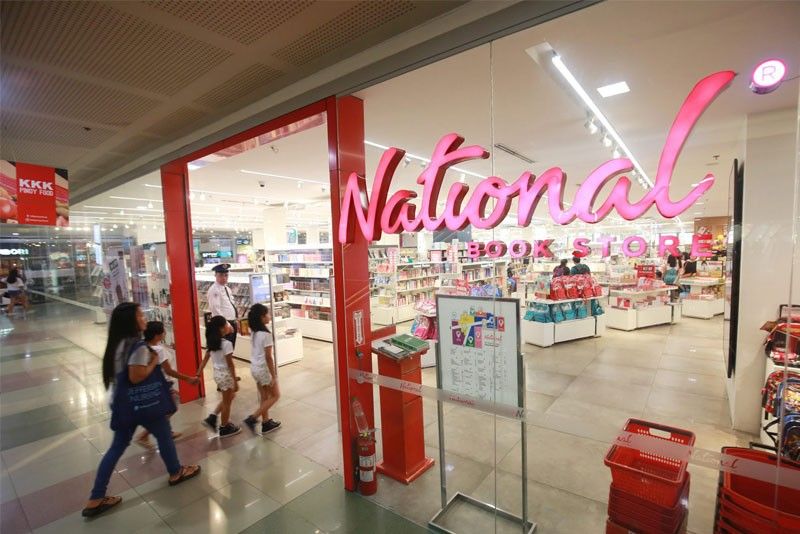 First in line: Excited back-to-school shoppers head to National Book Store North Edsa to get started on their school shopping.
Ace every class with National Book Store's back-to-school blowout
There's nothing like a fresh set of notebooks to make you feel like you'd love to go back to school again.
MANILA, Philippines — I may not be an Olympian, but I think I know how athletes feel the night before a big game: excited, unable to sleep, looking forward to the big day. That was always the mood I was in on the last day of summer, the last few hours before I had to wake up for the first day of school. While I dreaded the end of lazy days of doing nothing (who didn't?), my friends and I were excited for what was about to come. It was the start of a new grade, with a new set of teachers, and subjects that we had yet to learn. Going back to school felt like an annual adventure in that way, and I had to be prepared.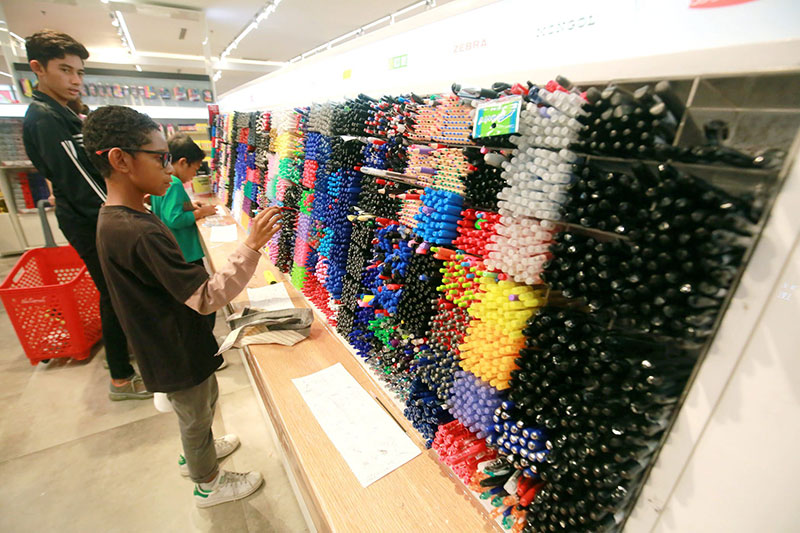 The pen is mighty: Students find the perfect writing partner at National Book Store's pen bar.
How did I do just that? With the right tools, of course. I knew it was time to start preparing for school when my mom would come home from a day of enrollment. Aside from a new set of uniforms and prescribed textbooks, she'd come back with my favorite thing in the world: a list of prescribed school materials. Illustration boards? Cartolina? Watercolor? Protractors? Whoa. My mind couldn't help but think of what our new teachers had in store for us, and what we'd be doing with all the things we had to bring. The trip to National Book Store to get all those things was, truly, a summer highlight. We usually did it during the weekend, and I was so excited for it that I didn't mind if I had to go with my mom to do her other errands before or after we went. (Check out that self-discipline. I feel you, Olympians.)
Times were simpler back then, but they were great. It feels a little nostalgic to think of those younger days, especially whenever I drop by NBS lately. The back-to-school buzz is infectious. NBS stores have designated back-to-school zones, where school materials are thoughtfully arranged for easy pick-up. For busy parents or older siblings who are looking for an in-and-out shopping experience, NBS now offers an array of Grab & Go packs, with each one specific to students' needs and grade levels. (They've got packs for grades 1-3 and grades 4-6, in both pouches and even backpacks.) To those who don't have time to visit the store, no problem. Simply visit nationalbookstore.com to get the best NBS back-to-school selections — best part is, with a minimum purchase, they offer free shipping nationwide. They also do express delivery, as long as the items you're looking for are in stock. Seriously, the possibilities are really endless — whether for the items you choose or the way you'd like to buy them.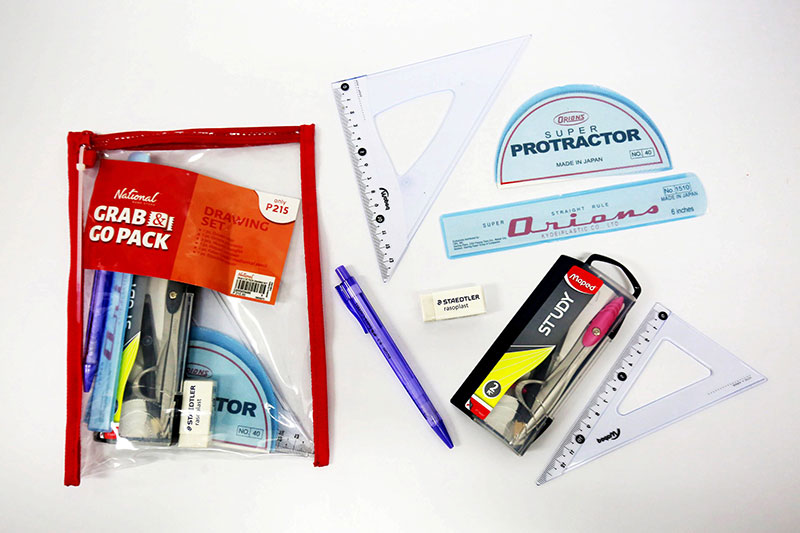 Drawn out: The National Book Store Grab & Go Pack Drawing Set is perfect for budding artists.
Like I said, it's practically an Olympic sport. And there's nothing like a fresh set of notebooks to make you feel like you'd love to go back to school again. Should this be a serious consideration, National Book Store now has a new place for budding minds. NBS College along Quezon Avenue is now accepting students, and offers six courses for a wide range of interests. With programs such as entrepreneurship, accountancy, tourism management, library and information science, computer science, and accounting information system, there's definitely something for everyone. They also offer a wealth of scholarships based on need or merit.
School happens every year, yet we still get excited for it. With the right mindset, the right tools, and a can-do attitude, there really is no stopping us from making the most out of the new school year. On days when we feel a little weary about all the homework we have to do, it's good to remember the feeling of starting fresh. The smell of brand new notebooks, the sight of that rainbow of markers, and the thought of making new friends and taking on an entirely new adventure… it's why we're excited to go back to school, and that's why we always get ready for it.
National Book Store's Xandra Ramos-Padilla on her best back-to-school shopping tips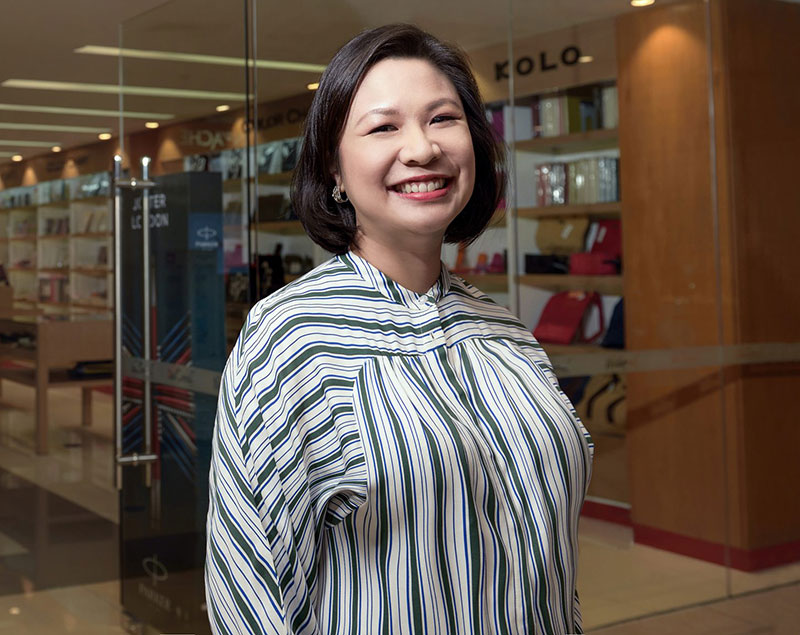 When's the best time to go back-to-school shopping for you—the middle of summer or towards the end of it?
It varies for everyone, but we made sure we're ready for all of our customers throughout the entire back-to-school season. We started the season earlier this year to cater to the needs of early shoppers. Our back-to-school zones, premium items like the Backpack to School, and special offers like the lunch bags, drawstring bags, and tote bags will be available in all of our branches nationwide until the end of June.
I personally try to shop early for back-to-school essentials and then I shop again once the checklist from my kids' schools come out, which is usually towards the end of summer.
How do you and your kids use back-to-school shopping as a form of bonding? What are their favorite school materials right now?
We go through their checklists first and make sure to talk about what supplies they will be needing for the new school year, and if they have special requests. My daughter always prefers something else from what I picked. I tend to select products that are design-driven and colorful but she has a simple and clean aesthetic. She likes personalizing her belongings. She loves paper and pens, and pouches. That's something she probably got from me. My son loves character designs from his pencil cases to his school bag. We love going through each aisle and spend time discovering new items in National Book Store. Everything for back to school really is at National Book Store.
Which school materials do you see at NBS now that you wish you had when you were a student?
I love having lots of pens as well as pouches to store them. There are also desk accessories and other organization products. There are so many stylish and functional options to choose from in National Book Store today that make me want to go back to school myself.
National Book Store came up with a brilliant idea to have Grab & Go packs and other easy-to-get school packs. As a very convenient option, what can parents expect in each pack?
We made sure that each of these packs have items that have great value for money, but also good quality. For the Grab & Go packs, we offer four kinds — one for Grades 1 to 3, another for Grades 4 to 6, a writing set, and a drawing set — so that parents can easily get whichever ones their kids need.
And for our Backpacks to School, there's one for Grades 1 to 3 and another for Grades 4 to 6. We filled these stylish bags with the basic supplies young learners need, like notebooks and pens. It's like getting a 10 percent discount on all of the items included, and you also get the bag itself, of course. It's really good value for money.