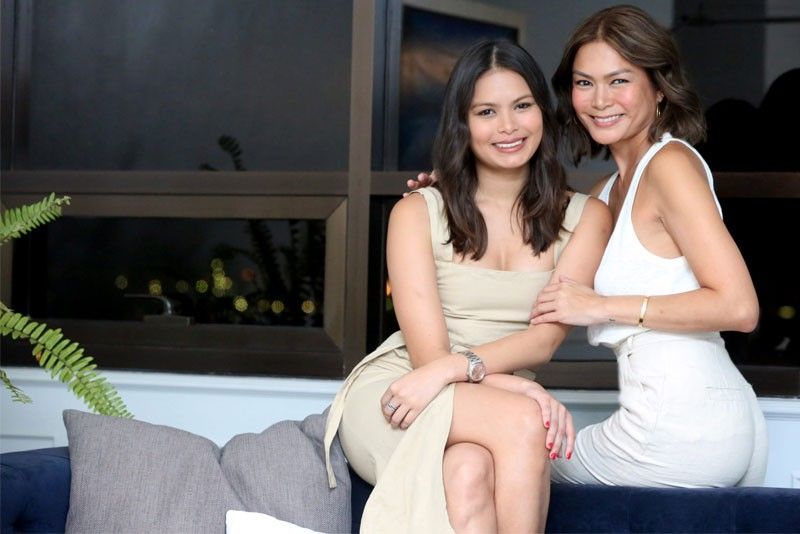 Apples Aberin with Samantha Sadhwani Sittings by Marbbie Tagabucba Photos by Walter Bollozos
Mother and daughter? Or sisters?
MANILA, Philippines — Yes, you are seeing double — and triple! We've gathered five generational doppelgangers of ageless moms and their daughters who are mini-me's no more. From sharing each other's closets and vanity contents to exchanging advice and jokes, they are also the bestest of friends. Isn't it a blessing to have a visual reminder of the bond you share with the most amazing woman in your life? That, and a lifetime of aging gracefully to look forward to together.
Apples Aberin with Samantha Sadhwani
True story: I've mistaken Sam Sadhwani for her mom Apples Aberin during one nightout. They don't only look alike. It appears chic is hereditary, discernible by Apples' urbanite glam and Sam's bohemian touches — plus both girls are the life of the party. You can't look at Sam without seeing her mom Apples at the beginning of her career, whether it's from Apples' supermodel days and now as Unilever head of public relations since Sam is also a model and PR and marketing head for fashion concept shop LCP. The pair's shared idiosyncracies only multiply the more you get to know them — for the only boy in the family Martin, it's twice the fun.
Apples
We are mistaken for sisters a lot — and I'm not sure she likes it!
My daughter acts mature for her age when she gives me advice in an objective, matter-of-fact manner. Sometimes, I feel like our roles are reversed. Gilmore Girls is the TV Series of our lives.
I realized my daughter was all grown up when she left to study and intern abroad for almost two years. It was time for her to find herself, learn to be more independent and spread her wings.
My daughter makes me cry when she's sad or when she's in a bad mood. That usually happens in the morning. I'm normally up early and quite cheerful but she's definitely not a morning person!
The best thing about having a daughter is that I have a best friend who loves me, and forgives me, and accepts me for who I am.
I wish my daughter would never stop caring for her brother the way she does, calling me when she has news to share, be it bad or good, and washing the dishes after every meal.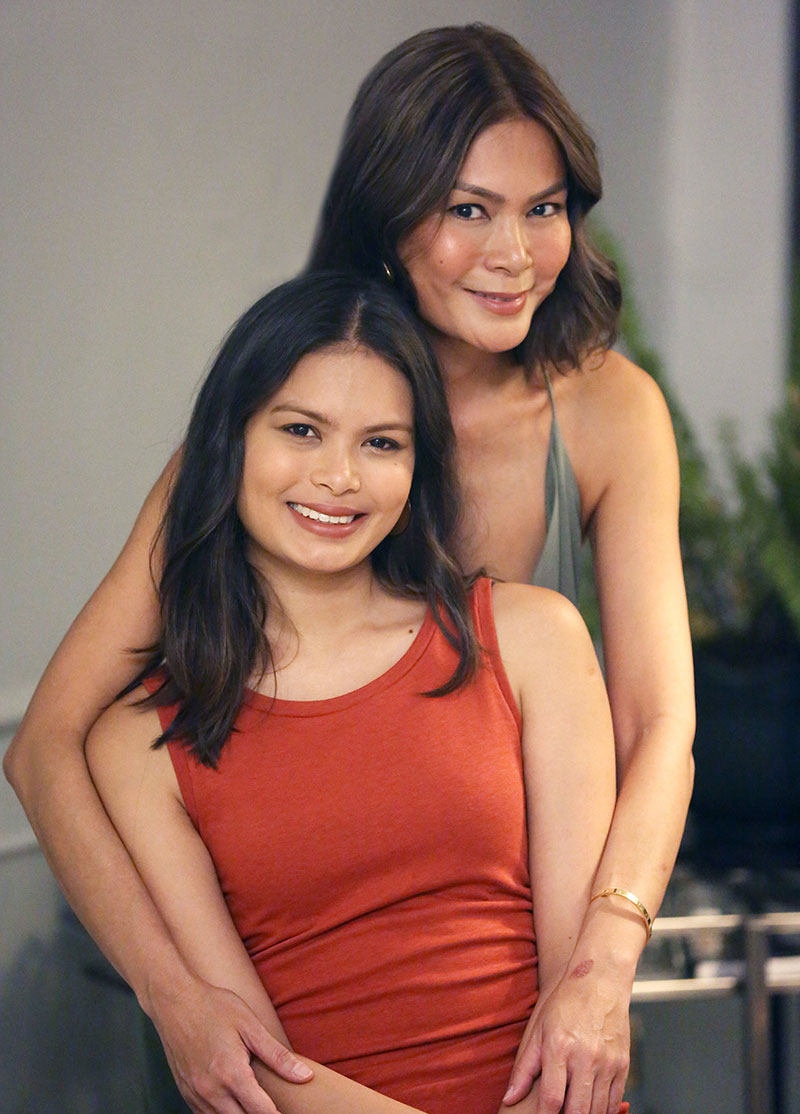 Samantha
I feel like my mom is my sister when we fight over clothes. It's an ongoing battle over who took what from each other's closets — and it's usually my fault!
My mom asks me for my advice about anything and everything! We're both very open with each other in all aspects of our lives.
My mom is so hip that I can take her out with me and my friends.
My mom forgets I'm a grown up when she treats me to our monthly salon dates and shopping sprees!
The best advice I ever received from my mom is to be kind.
I wish I inherited my mom's strength and grace. She's the strongest person I know!
My favorite item to borrow from my mom is... What's not my favorite item to borrow from her closet? Probably any of her bags!
Kaye Tinga with Kyle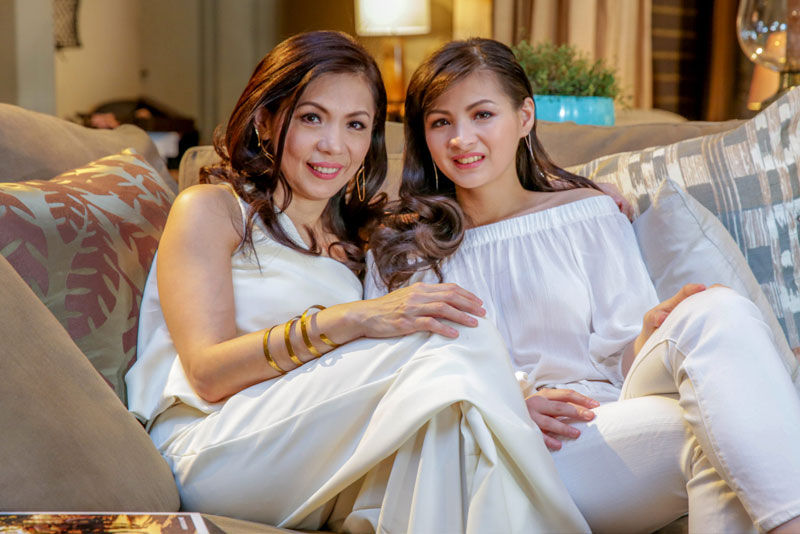 Kyle Tinga is a good sport, thanks to a goofy family with sister Kerry, younger brothers Kody and Kristian, and dad Freddie, but mistaking her mother Kaye as her sister is another story — not that it's a bad thing. Kaye is one of the country's best-dressed with a taste for the architectural, extending her sensibilities and skills to eclectic home concept W17 and as co-chair of the annual Red Charity Ball, but looking like Kyle's sister is the compliment she delights in most, partly in seeing the grimace on her eldest's face. Lucky for this shoot, she's in town, on break from her Urban Studies and Planning major in the University College London. (When Kerry learned about this shoot, she told Kaye, "It's your dream come true!") The resemblance is uncanny from a distance, only to be more evident up close, especially in the infectious way they swap funny anecdotes. You be the judge.
Kaye
Yes, we've been mistaken for sisters. Every so often, probably less than I think, and more than what my daughters think. We even get mistaken for each other, which always makes my day.
The best thing I learned from my daughter is how to be a better person in this new world we live in.
My daughter makes me laugh when she tells me everyday stories with her own funny perspective.
I wish my daughter would never stop talking to me, asking me for advice and giving me advice.
I ask for my daughter's advice when I need to understand something about this generation.
I enjoy spending time with my daughter most when we are both relaxed and have time to just shoot the breeze and talk about life in general.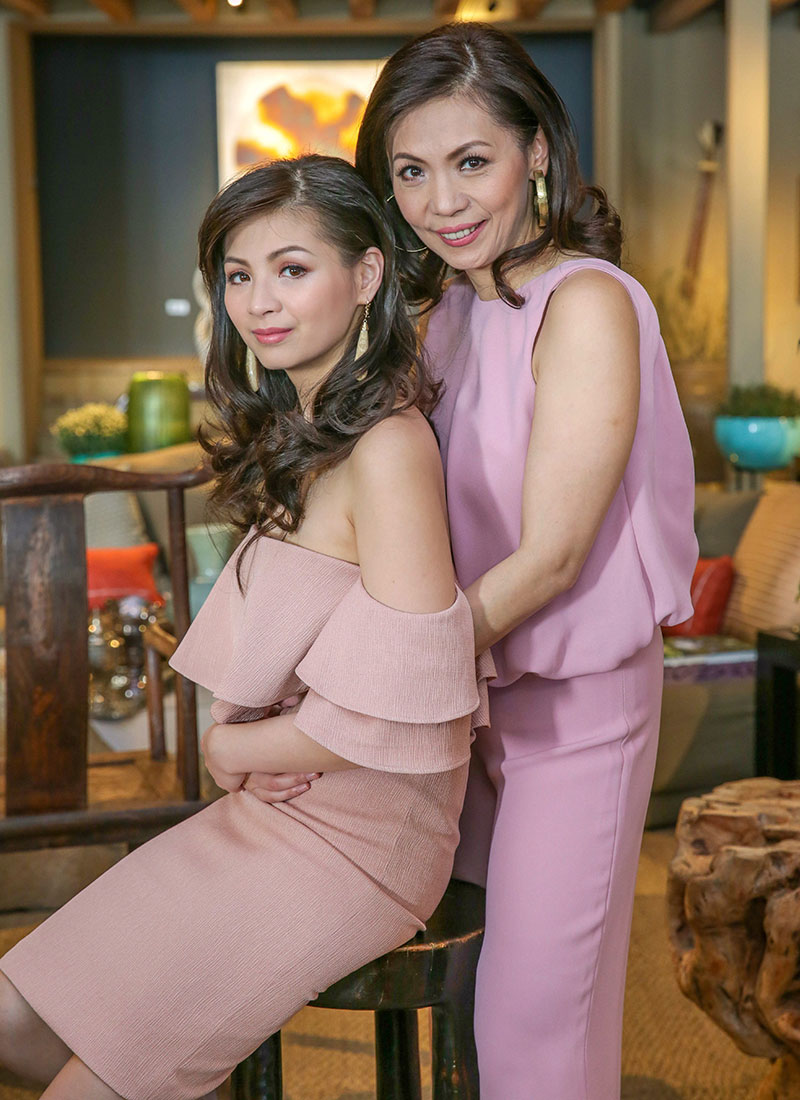 Kyle
I feel my mom is like a sister when I'm gossiping with her. She's easy to talk to about anything. Whenever I have questions or have something is on my mind, I can bring it up with her.
My mom is so hip that she's usually more up to date with pop culture and fashion than I am, so sometimes it feels like our ages are a little switched.
The best lesson I learned from my mom is to always be grateful for what you have and to be good to others who don't.
I wish I inherited my mom's sense of fashion.
I hate it when my mom calls us sisters in public! I love my mom but we're not sisters, and she loves to tease me when someone confuses us for each other.
What I admire most about my mom are her generosity and can-do attitude.
Tessa Mendoza with Alexandra and Danielle Daza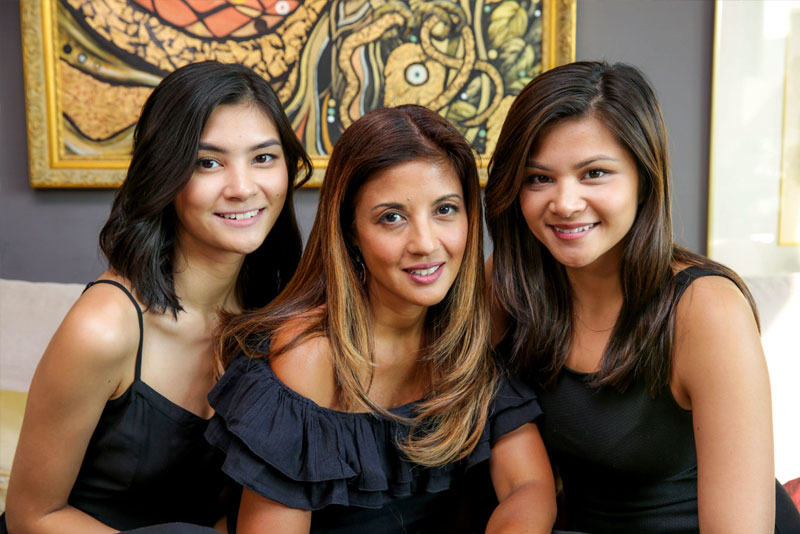 The artist Tessa Mendoza has put her modeling days behind in favor of her craft as a painter, but her superb bone structure and laissez-faire beauty approach remain – and have been passed down in equal measure among her daughters Alexandra and Danielle Daza. Born in alternating order to brothers actor Franco and Myx VJ Turs, fiery Alexandra is a Re/Max realtor and muay thai enthusiast while the baby in the family Danielle is a graduating English major from Ateneo de Manila. All together, they balance each other out and share a bond where they constantly learn from one another — from nurturing their spiritual lives to picking the right Instagram filter because between mother and daughters, it's always #nofilter.
Tessa
Sisters? Yes, we've been mistaken for sisters. There was a time when I had to go to the Administrative Office in their school in Vancouver and the staff thought I was an older sister.
My daughters inspire me. Danielle inspires me to be calm, gentle and kind, to learn a musical instrument and that inner strength and discernment are important. Alexandra, or Ali as we like to call her, inspires me to be more mindful and compassionate towards animals, not just pets but all animals. She has a big heart this way. She is also practical, honest and brave. I wish I had Alexandra's courage to go out, take the bull by the horns and just get things done.
One advantage of looking like sisters is we get to share makeup!
My daughters make me laugh when they playfully mimic my quirkiness.
I wish my daughters would continuously nurture their strong relationship with Jesus Christ. Nothing would make me happier than to see all my children loving God with all their heart, soul, mind and strength.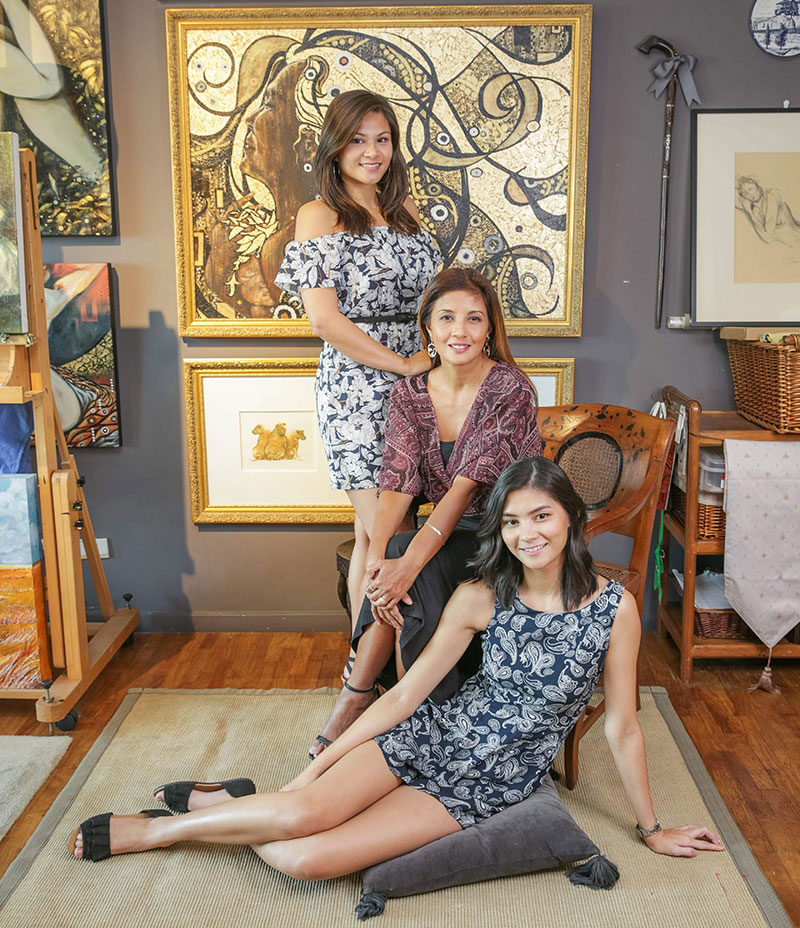 Alexandra and Danielle
I feel like my mom is like my sister when...
Alexandra: We talk about boys.
Danielle: We hang out and relate to each other. We help each other with our makeup. We give each other fashion advice. We're more or less the same shoe size.
My mom is so hip, she...
Alexandra: she plays the ukelele and she still wears bikinis.
My mom asks for my advice...
Alexandra: When she's painting.
Danielle: For what to wear to brunch.
I wish my mom would…
Danielle: Take us out for drinks.
Alexandra: Paint a portrait of me.
I hate it when my mom…
Alexandra: Asks me too many questions or makes me utos!
Danielle: Ha ha! I'd say the same thing!
The best lesson I learned from my mom is...
Danielle: Always put God first. Always nurture your spiritual life.
Beng Dee with Erika and Cheena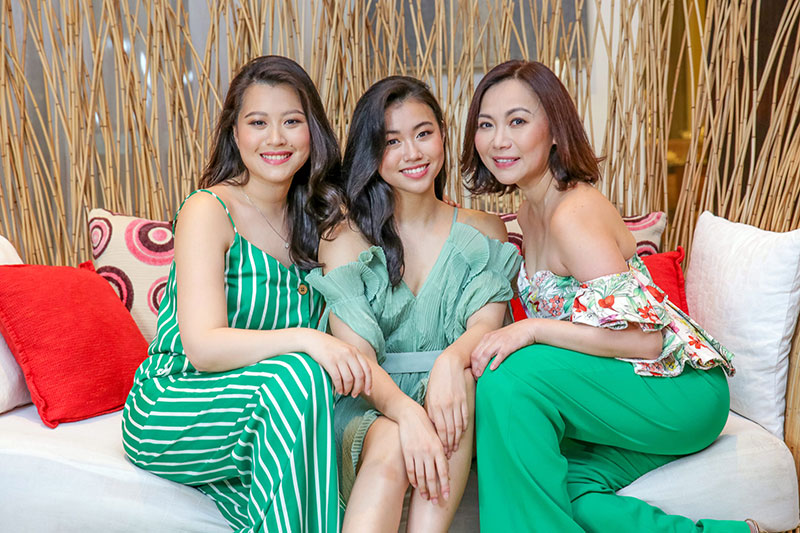 Sure, they look alike and aren't that far apart in age Foodee Global's youthful Beng Dee married at 18 and had her eldest at 19, but the banter between mother and daughters is no different from a barkada's. Statuesque Erika is the family business' managing director while the youngest Cheena, an Ateneo de Manila colegiala, is the more mischievous of the two. "Carino brutal" is how Beng describes the 15-piece family's language of love even with her husband Rikki and older sons Cheeno and Eric Jr. — perhaps except while chewing, savoring Michelin-starred eats during their quarterly food-oriented travels. Even the most heartfelt declarations of love are sandwiched by teasing and sarcasm, especially among the girls. Care to join in on the repartee??
Beng
One advantage of looking like sisters is we get to share the same things, especially my clothes and shoes – which makes my shopping expenses worth it.
My two daughters are like my mini-me because we laugh together at the same random stuff. They are my greatest joy.
I wish my daughters would never stop spending most of their time with me. It's my greedy wish.
My daughters make me cry when Erika got married and moved out of the house. It is something I'm still working on. And please not the thought of Cheena moving out, too!
The best thing I learned from my daughters is to be selfless because of them.
The best thing about having daughters is having instant best friends!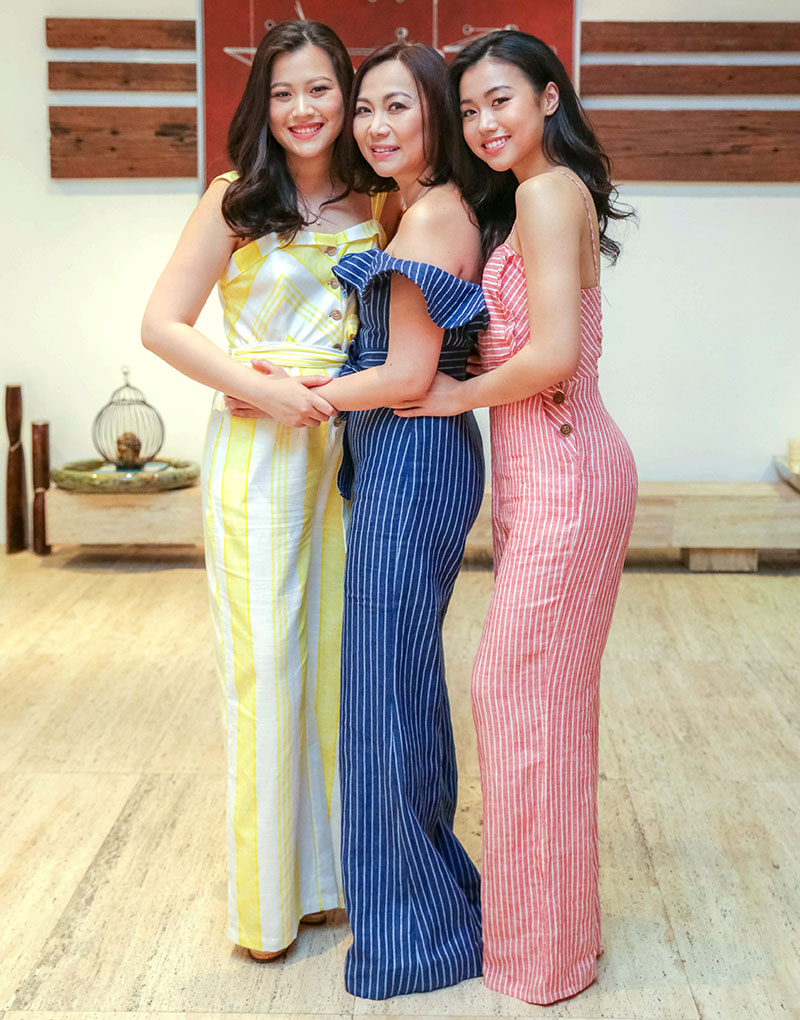 Erika and Cheena
My mom is so hip that...
Erika: I can party with her, I can drink with her. And she self-invites a lot.
Cheena: she's the biggest Insta mom out there. She insta-stories more than I do. She knows her angles.
The best lesson I learned from my mom is
Erika: Everything I know, I learned from mom. She's my mentor. We're together every day. She teaches me about work cause we work together and now shes been teaching me how to be a wife. And soon to be a mom. Hopefully.
Cheena: Cringe! Mine's how to dress up. Erika's sounds so deep!
My mom asks me for my advice when:
Cheena: My mom likes dressing up randomly even if she's not going out that day but she prepares her outfits beforehand. Sometimes she goes into my room and asks, 'Do I look fat? No honestly. Is it gross for my age? Are my arms gross?'
Erika: Do I look like I'm trying hard in this outfit? She's always like that.
I hate it when my mom...
Erika: Sis, ikaw ulit.
Cheena: There's a loooong list!
Erika: I hate it when my mom thinks she's fat. I'm fatter than her!
I wish my mom would...
Cheena: This feels like a trick question.
Erika: Sis, don't say 'allow me to go out every day!'
Cheena: ...allow me to go out twice a week.
Erika: I wish my mom would be young in the face and at heart forever and thin forever because she loves eating.
Cheena: We sound superficial...
Erika: I wish my mom would be my best friend forever because she really is.