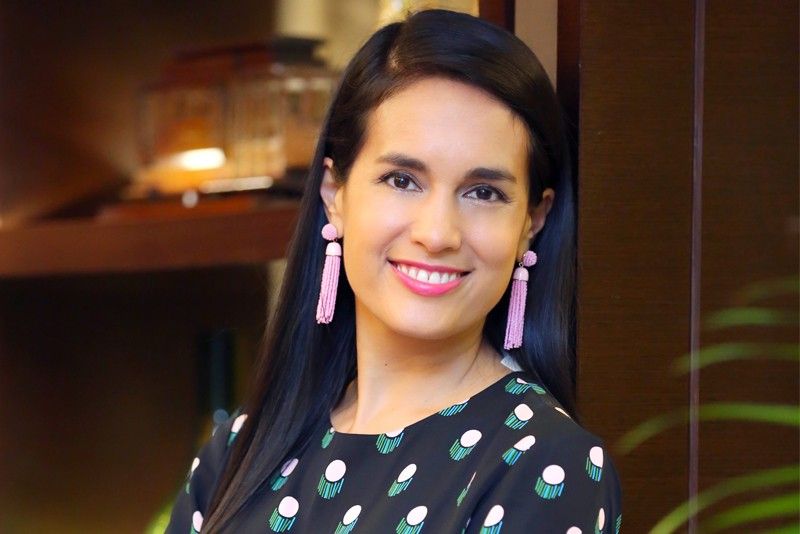 Journalist Kristie Lu Stout, CNN anchor for News Stream and On China: "I like Twitter as a journalist, Instagram makes me happy, but I kind of laugh that I'm big on LinkedIn." Photos by Walter Bollozos
Kristie Lu Stout on fashion, being a half tiger mom and her awkward encounter with Lady Gaga
'Really keeping my eyes fixed on North Korea. Kim Jong-un and Donald Trump — those are the brains that we need to pick right now.'
As a longtime CNN viewer, I got to know Kristie Lu Stout by her distinctive style of delivering the news and unique look. The award-winning news anchor became a familiar, reassuring voice of reason guiding viewers through shows like World Report and the current News Stream. The fact that she is half-Asian (Han Chinese on her mother's side) made her even more interesting and relatable.
They say you should never meet your idols because they're bound to disappoint, but meeting Stout had the opposite effect on me: away from the news desk and standing at her full height of 5'11", Kristie looks less like a seasoned journalist and more like a fashion model, albeit a highly articulate one. Don't let her striking looks deceive you, though: she founded a speech-and-debate club in high school and holds both undergraduate and master's degrees from Stanford University, in journalism and media studies, respectively. She also speaks Mandarin, having studied it at Tsinghua University in Beijing, and the depth of her knowledge on Chinese issues makes her uniquely qualified to host the monthly CNN show On China.
Last week, Stout flew to Manila from her home base in Hong Kong — where she lives with her husband, Malaysian-Chinese lawyer Seung Chong, and nine-year-old daughter Arabella — to talk at CNN Philippines' "Leading Women to #PressForProgress" summit on March 17.
It's her third time in the Philippines: her first was to cover Typhoon Haiyan, and then she returned for the launch of CNN Philippines in 2015.
"At #PressForProgress I'm going to talk about the Me Too movement, about pressing for progress — it will be a personal account about the important women who helped to shape my life at work, at home, among my friends, where women in the world stand today, where we are underrepresented in positions of power, how we are underpaid compared to men, even under threat in many parts of the world," she says. "How we can make the world a little bit more equal between men and women, so I'm going to make some suggestions at the end."
While she's interviewed countless world leaders and media personalities, Stout herself is an engaging interview subject: the self-described "media junkie, China nerd and geek mom" is open, friendly, extremely quick on her feet and breathtakingly intelligent.
Here are excerpts from our interview:?
The Philippine Star: Which news stories are you most transfixed by right now?
Kristie Lu Stout: Oh, my goodness, there are so many. Really keeping my eyes fixed on North Korea, whether the summit is really going to take place between the South Korean president, Moon Jae-in, and the North Korean leader, Kim Jong-un; whether that planned meeting between Donald Trump and Kim Jong-un is going to take place. It's very strange because Donald Trump accepted this meeting, but North Korea has yet to officially say anything. But we're still waiting. The meeting is supposed to take place end of May. I'm planning to fly to Korea if the meeting takes place there to cover it live for CNN.
Where are you in your own story: personally and professionally?
This is my 17th year at CNN. At the end of this year I will have worked at CNN a total of 18 years, and it goes by so quickly. I remember when I started at CNN I was very young and inexperienced, and I really benefited from mentorship and, internally, from producers, colleagues, other reporters, news managers who took me aside. Right now it's about looking forward and how I can find opportunities to be a mentor to people inside the newsroom.
You used to be a teen model. Are you still interested in fashion?
I love fashion. When I was a model I was interested in fashion but that wasn't the reason I was doing it. It was a way to get interesting experience, make some money for university, but I think fashion is a fascinating way to be able to express yourself.
One thing about fashion right now that excites me is the return of the power suit and also the popularity of flats. I'm wearing my kitten heels today but I love wearing my trainers over the weekend, and I think it says a lot about where we are socially. Women are saying, "Look, we want to be able to wear clothes that are comfortable, that we can be taken seriously in, and be able to run from one place to another." And the fashion world has caught up.
I love the pink tassel earrings you're wearing.
My earrings are from J. Crew; I just bought them online. I don't have that much time to go out shopping, but when I have a moment to go online and see something, a very quick way to be able to recharge your wardrobe is to find a new accessory so you can still wear an old dress, like my shift dress, but you can wear a different necklace and transform it into something else.?
Do you do a lot of online shopping?
I do. All my daughter's clothes are from online shopping. I have a nine-year-old daughter (Arabella) so every couple of months, it's like, what, you're busting out of your shoes again? So thank goodness for online shopping.
Do you have an exercise regime?
I do. I have a personal trainer who is an Asian-American, US military veteran. He fought in the Iraq war, he is tough but he is a teddy bear so he's the perfect personal trainer for me, because he punishes me but then he has this beautiful smile, so I can't beat him up.
I try to see him at least once a week and then I try to walk as often as I can — I like to do hiking and then if I have time I go to the gym, but at least I have that one session once a week. But I enjoy hiking through Hong Kong because I think the Hong Kong country parks are underrated; the greener part of Hong Kong is very beautiful.?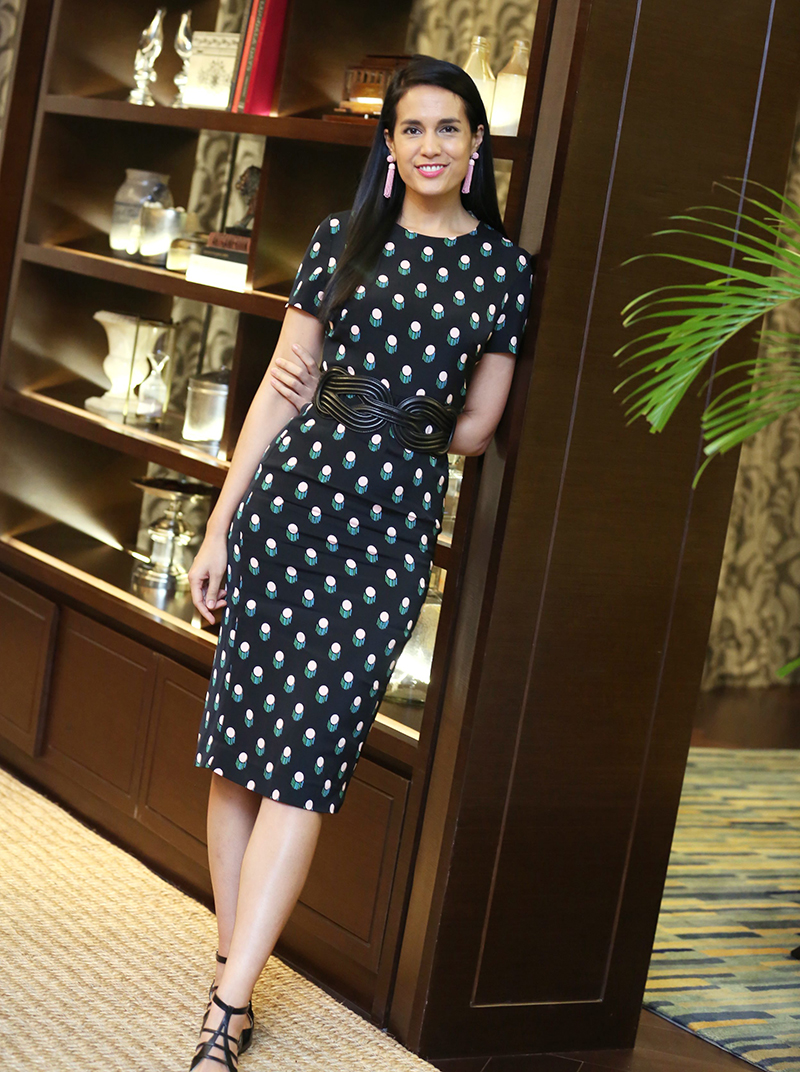 Kristie Lu Stout, standing tall at 5'11": "One thing about fashion right now that excites me is the return of the power suit and also the popularity of flats."
You said before that you wanted to write a book. Have you started on it?
No, absolutely not. I just don't have the time. I think you really need to sit down and carve out time for the research. At the moment any time that I would have for research would be put towards an interview segment that I'm putting together, or a story, or as we call it in our industry lingo, "a package," so I don't have enough hours in the day. I think I would have to take a sabbatical from CNN, but that's not happening anytime soon (laughs).?
So far who has been your most memorable interview?
Oh, my goodness, there's been so many. I was just talking about an encounter with Anna Wintour in Beijing that was very memorable; interviewing Elon Musk when he was in Hong Kong — that was fantastic. Even Lady Gaga, and it was a very interesting moment because it was right before her career took off, when Just Dance was just released. So her star was just beginning to soar, and it was a bit of an awkward encounter because I wanted to talk to her about fame and celebrity. I thought it was interesting that she called herself "Fame Monster." She had such a strong sense of persona that was at the level of someone who was seasoned in the business for decades, like Madonna. And I asked her the question, "Do you have the fear that you'll lose the instant fame that you've cultivated so far? Because you're really setting yourself up here." And she did not like that question at all. But then again she was at a very early and raw point in her career.?
Speaking of awkward moments, who has been your most difficult interview?
I recently interviewed the chairman of the Federal Communications Commission, Ajit Pai, who's under fire for ending rules that would protect the principle of net neutrality. A number of consumers and Internet companies have spoken out against it; even Burger King did an ad that went viral about net neutrality, and he did not like being questioned about that. It was a prickly interview but it was a good opportunity to hear from him. I wished that he was more receptive to listening to my questions and answering. He did come across as being defensive, but I think it was important for me to prod him on the issue.
You grew up in Silicon Valley. What is the biggest tech story coming out of there right now?
There are a number of big tech stories. One is the industry coming to grips with the fact that tech addiction is a big problem. It was fascinating that one of the co-inventors of the iPhone, Tony Fadell, came out and said we have a problem: we are addicted to our devices, screen time is an issue, we need to figure out a way to hardwire these devices so that after a certain number of hours it clocks off and gives you some sort of nudge to say, "You've spent too much time on this device." So in Silicon Valley, whether it's social media giants or hardware giants, understanding the unintended negative consequences of technology.?
What is your favorite social media platform?
I have so many and I love them. It's funny because I like Twitter as a journalist because it's fast, it's fit for breaking news, and a lot of other journalists, newsmakers, politicians and CEOs like to use it. Donald Trump uses it, so news breaks there all the time.
Instagram, though, makes me happy because you can catch up instantly, see what your friends are up to, it's very visual.
But I kind of laugh that I'm big on LinkedIn, because I have so many followers on LinkedIn, and now it's mushroomed further, and LinkedIn is not as sexy a social media platform at all. You don't want to go around saying, "I'm big on LinkedIn," but the funny part is, I'm actually big on LinkedIn.?
As a mom with a nine-year-old daughter, what age is appropriate to give her a device??
It's a tough discussion. She already has a tablet device, it is hooked to Wi-Fi but she does not have a cellular connection. She's not using any social media or email accounts. If she uses the TV or iPad she has to ask for permission first, and she's limited as to when she can use it.
She's starting to ask when she can have an iPhone; I'm thinking she doesn't need one right now. We can revisit it when she's 11 years old, and even some of her friends are asking for Fitbits and Apple Watches, which I find totally ridiculous, and I just said no, absolutely not.?I was pushing back on this at my daughter's school. I asked the teachers, if you don't mind, I would prefer any assignments would be given in paper form and not online because I'm trying to limit her screen time. The instructor's response was, "Oh, but it's optional, you don't have to do it." And I said, no, I am half tiger mom. My mother is tiger mom, I am half tiger mom, she will do the optional homework assignment, but I just want it off-line. And she said, "OK, understood."
What do you do in your free time? What movies, books, and music do you like to listen to?
Right now I'm reading Little Fires Everywhere by Asian-American author Celeste Ng. It's a nice fiction work, very beautifully written. And I find myself bingeing on Netflix shows and at the moment I'm loving RuPaul's Drag Race. I'd never seen it before and someone told me to watch it, and I watched it and thought these men are so talented. These drag queens are such beautiful individuals and so multitalented, and RuPaul is a legend and a master of presentation.
I think the last movie that really knocked my socks off was Three Billboards Outside Ebbing, Missouri, which is really powerful. And I also liked that moment when Frances McDormand stood up to accept the Academy Award, and she asked, "Can all the women who were nominated please stand up?" and you're watching the footage and there are not many women. Because it's not just Best Actress and Best Supporting Actress, there's also Best Cinematographer, all these other categories, and women are still not populating those categories enough. So I thought that was a really powerful moment for her to stand up and acknowledge the women, but there still needs to be much more gender representation here.
Who do you still dream of interviewing? Whose brains would you like to pick?
Kim Jong-un and Donald Trump — those are the brains that we need to pick right now.
CNN has been repeatedly called out by President Trump for reporting fake news. Has CNN done anything different in its news-gathering since he took office that would cause Trump and others to label you as fake?
No, absolutely not. And I think what's remarkable here is we're just doing our jobs, so credit especially to the bureau in Washington, DC who are tirelessly covering the story because it's nonstop change coming out of the White House. I think CNN has always been about accuracy, balance, credibility, giving people the truth, and oftentimes holding people to account, holding organizations to account, asking uncomfortable or tough questions. CNN is a news organization. We're not a PR firm.
* * *
Follow the author on Instagram @theresejamoragarceau, Facebook (Therese Jamora-Garceau) and Twitter @tjgarceau.