In turbulent times, Art Fair Philippines celebrates the power of photography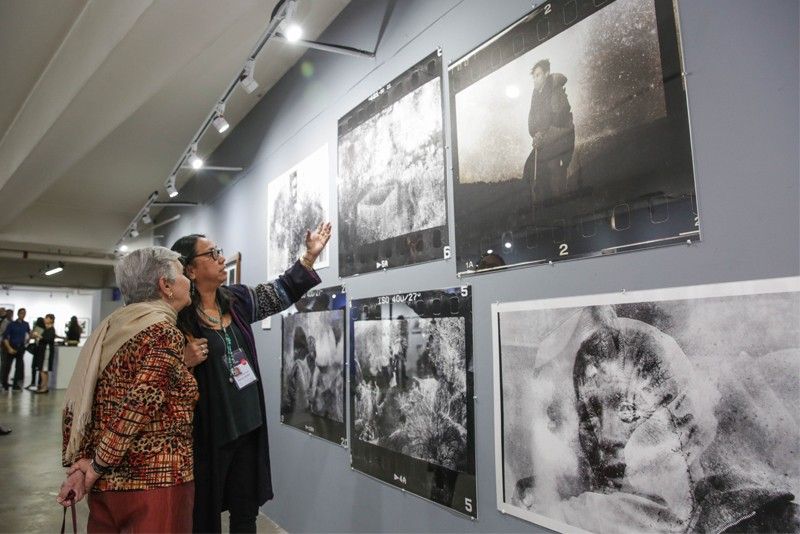 If there is something that Art Fair Philippines reiterates every year, it's that the boundaries have blurred between art and everything else.
One thing about putting documentary photographs in an art fair: they are hardly ever as Instagrammable as any richly colored wall-bound painting. Case in point, Neal Oshima's portraits arranged in a straight line like a spine against the wall, compel us to come closer, to look rather than to shoot.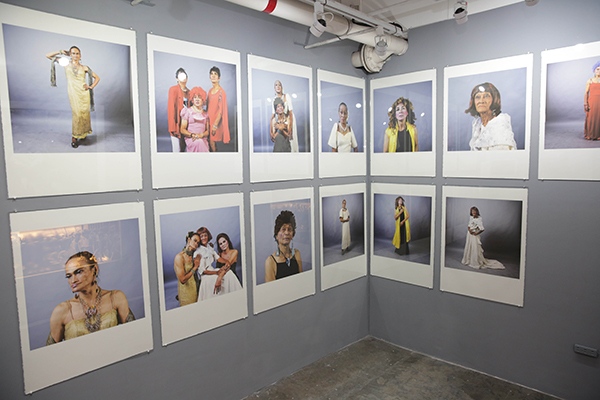 "Reynas Delas Flores: Manila Golden Gays" by Geloy Concepcion
Starting from the first year that Dindin Araneta, Trickie Lopa, and Lisa Periquet staged Art Fair Philippines, the event has grown to over five times bigger in terms of the audiences it draws. Now occupying all floors of The Link, the fair shows us, as it always does, the inexhaustible range of what contemporary art now constitutes: paintings, texts, videos, politically-charged installations, more paintings, booths encouraging participation, sculptures of all sizes, and now, photography.
Exhibits of photographs were clustered together in one new section, and it's interesting to see the images, taken from different places and periods in time, converse with one another, or how they have influenced one another. Beyond discussions about mediums and materials, what we are invited to enjoy is the eloquence of detail — photographs that have succeeded in simply seizing a moment.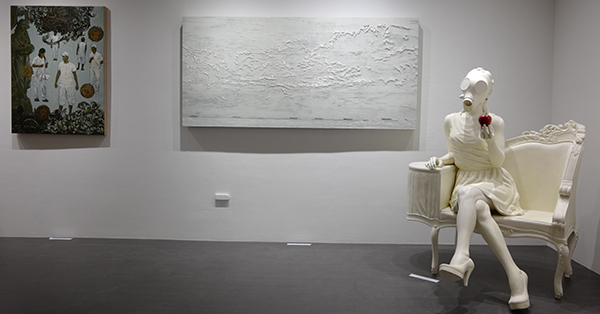 Tin-aw Gallery
The works of Weegee, on loan from the International Center of Photography in New York, were taken from the '30s and the '40s. Photographs deploy the grit of the street in the wake of a crime, the glamour of society, or a kiss in a movie house. The section provided what curator Carina Evangelista calls "a chapter in the historical arc of photojournalism."
Works from Julius Baer and Silverlens showed fine art photography midway between abstraction and documentation, providing another layer to how we view the captured image. Prominent documentary photographers Neal Oshima and Eduardo Masferre had portraits of indigenous tribes in the Philippines, showing a photographer's obsessive forensic interest in detail to capture the ties that bind their subjects.
These practices and ways of seeing, in turn, have made an influence in today's younger generations of photographers — a survey of which is the focus of the show "Provocations," curated by Oshima and Angel Shaw.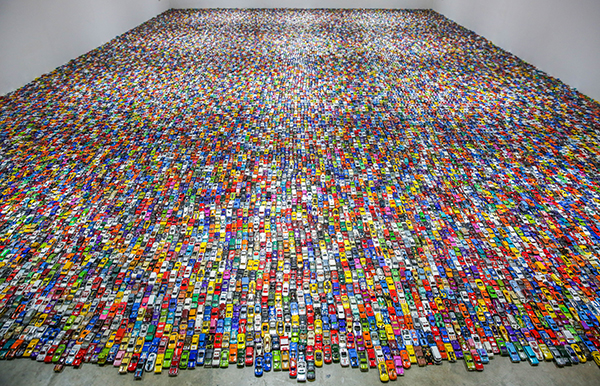 Nilo Ilarde's installation of die-cast cars.
Possibly the most important achievement of the section is how it drives the interplay not only of art and photography but art in the context of journalism. "Provocations" features photographers not affiliated with galleries but with newspapers and magazines. "In press photography," says Neal Oshima, "the photo that gets chosen is the one that's glib. It just goes out at you. But we're looking for images that are much more enigmatic — a little ambiguity, controversy. They don't make just the simple statement."
The photographs arrest and confound. Jose Enrique Soriano's subjects from a mental health institution stare out at the frame, their gazes both menacing and human. Jez Aznar captures war and conflict in Mindanao. Veejay Villafranca shoots communities displaced by typhoons. Then there is the show "Everyday Impunity" curated by Erwin Romulo, displaying photojournalist Carlo Gabuco's shots of orphans of the drug war and a video where a child narrates the killing of her father.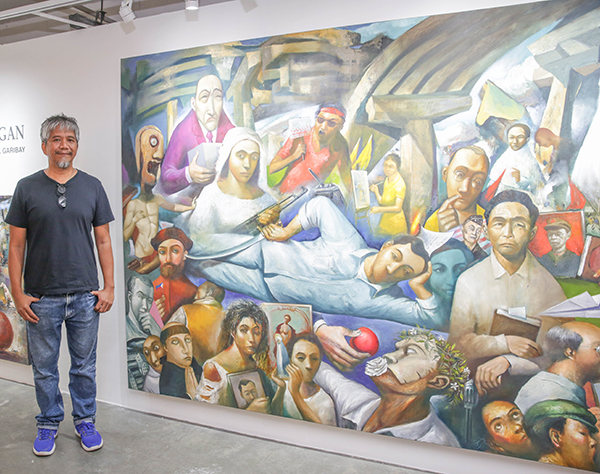 Manny Garibay
Messages like these in the past, however powerful, tend to get drowned out by the multiplicity of mediums present at the fair, but a photograph with its indisputable truths will always make its mark. While the motivations for highlighting photography this year have more to do with broadening the range of contemporary art that can be collected, documentary photographs also feel particularly relevant at this moment where words, news, and facts can be faked, and photos become the greatest means to testify.
Beyond the photography exhibit, the fair expectedly provided a cornucopia of covetable objects. There was of course the much-talked about yellow dick by Richard Gomez, next to Jeff Koons' equally phallic balloon animals at Secret Fresh. There were the paintings of Manny Garibay crowded with characters from all walks of Philippine life. Undoubtedly one of the biggest productions of this year's fair was Daniel dela Cruz's "Imaginarium" — a whimsical room where man, beast, and musical instruments combine, and surrealism meets steampunk. Some booths, however, care less about the suspension of disbelief than about putting the mess of a gallery office right in the middle of the fair — which is exactly what Tin-Aw Art Gallery did.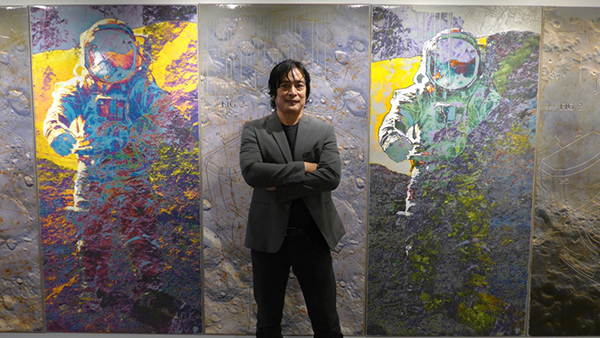 Tony Leaño
Galleries from Malaysia, Singapore, Japan, Taiwan, and Spain also set up their booths at the fair, giving collectors and audiences a taste of art beyond the local scene. Lyra Garcellano, one of the artists commissioned to do a special project, meanwhile, questions our obsession to be recognized in the international arena, and the outdated image of the Philippines that art has sustained since the time of Amorsolo.
Lastly, one of the most memorable works is Nilo Ilarde's installation of 24,124 die-cast cars which is, more than anything else, about the art fair itself. Cars congest Ilarde's booth, just as art objects crowd the fair, and intrude in all aspects of visual culture — from furniture, fashion, architecture, to toys.
If there is something that Art Fair Philippines reiterates every year, it's that the boundaries have blurred between art and everything else. In its sixth iteration, however, with the slew of political issues happening beyond The Link, the boundary between art and life also tends to collapse. More than ever, yes, art is relative, but fact, truth, and realities—the one that gazes through a photograph — simply aren't.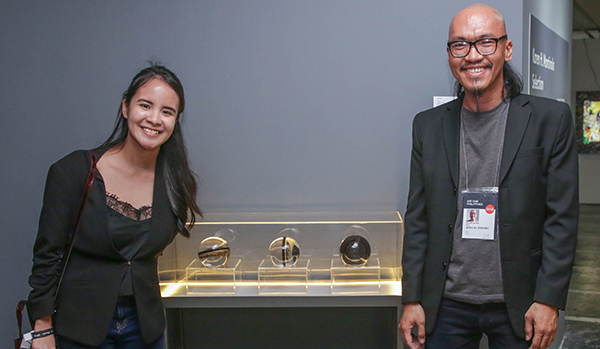 The author Pristine de Leonand Alvin Zafra
* * *
The Philippine STAR is the newspaper partner of Art Fair Philippines 2018.