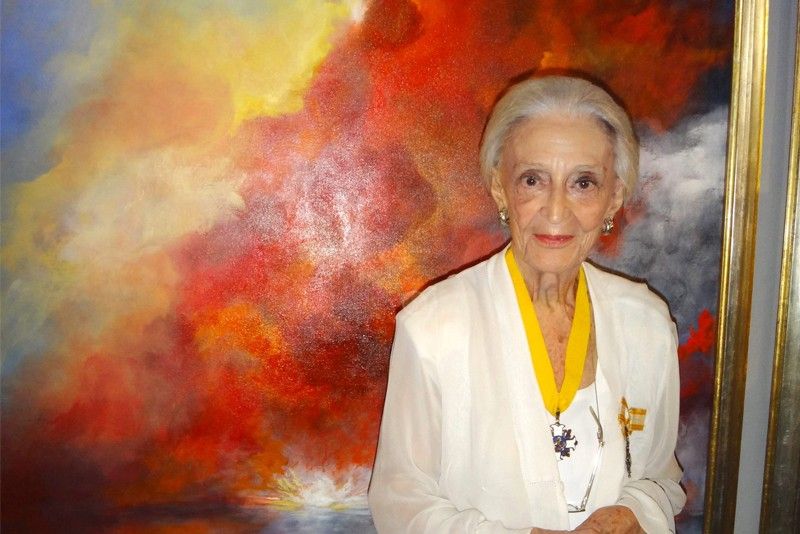 Betsy Westendorp poses in front of the large diptych paintings that she donated to La Salle during her recent book launch.
Betsy Westendorp: 'Painting has always helped me endure the pain'
As young teeners living in Spain in the late 1960's, my sister and I would often visit the family of then Philippine Ambassador Luis Gonzalez and his wife Vicky Quirino. Even then, Betsy Westendorp's paintings were visible in their well-appointed piso (apartment). Her portraits were a favorite of European royalty, nobility and high society and would often be visible in their palatial homes when they were featured in the popular Hola magazine.
She fondly remembers that her most memorable subject was "a three-year-old little boy, knowing that one day he was going to be the King of Spain (King Juan Carlos 1 who reigned from 1975 until his abdication in 2014 in favor of his son, Felipe VI)."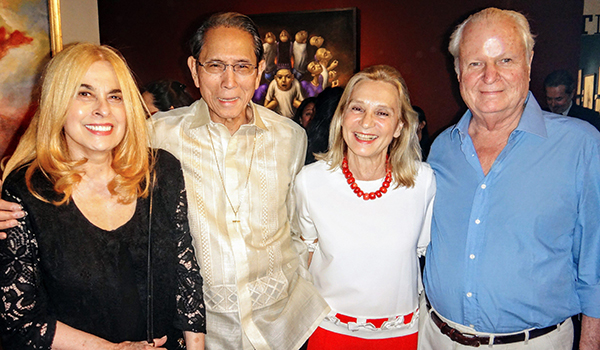 Stella and Jorge Araneta, Esperanza and Alejandro Padilla
Five decades later, she is still going strong. Betsy Westendorp's collectors become not only her avid fans but also end up loving this beautiful lady who is muy simpatica y graciosa; continuously busy with her art as she turns 90 years young. Through good and bad times, which include the passing of her beloved daughter and grandson, she wistfully states, " Painting has always helped me endure the pain."
Taking inspiration from nature's beauty, she looks forward to including the breathtaking Tianzi Mountains, located in Zhangjiajie in the Hunan Province of China as part of her future collection.
A multi-awardee by Spain (Lazo de Dama de la Orden de Isabel la Catolica was bestowed by King Juan Carlos) and the Philippines (Presidential Medal of Merit for Art and Culture given by President Gloria M. Arroyo), it is interesting to note that the Spanish-born Betsy has more paintings in Malacañang Palace than any other Filipino painter.
During the recent book launch at the Metropolitan Museum, Betsy accommodated everyone who wanted to have selfies and photos with her. When a chair was offered by a family member so she could take a breather, she refused. Not once did she sit down as the cameras and cellphones clicked away with fans of all ages milling around her. I later found out that Betsy is used to standing when she paints. Whether big or small art pieces, she is upright and if the painting is a huge mural, she uses a roller to turn the canvas as she skillfully works her magic.
The heavy two-volume coffee-table book simply entitled Betsy Westendorp is filled with a lifetime of the artist's captivating floral paintings, portraits, seascapes, strikingly colorful sunrise and sunset cloudscapes.
Art collector Nene Quimson mentioned that she has 11 of the artist's works in her Quezon City and Ascot (UK) homes, which never fail to draw compliments from her guests. One of her very first Betsy was a 1976 portrait and it remains Nene's favorite piece.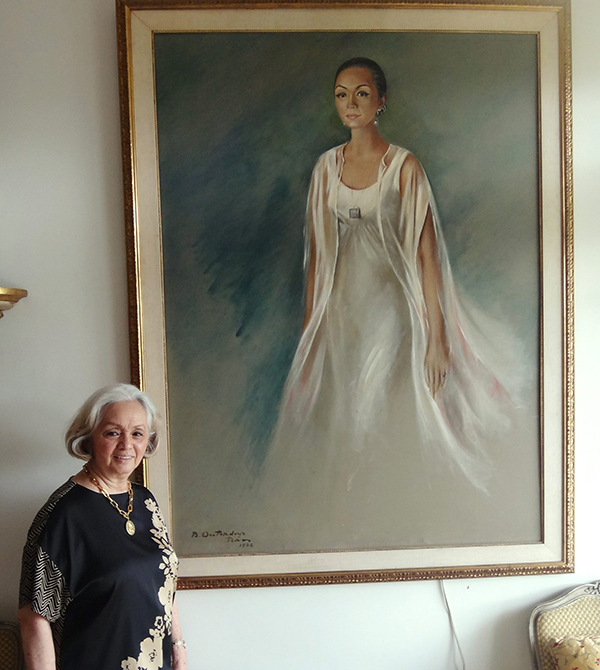 Nene Quimson poses with her 1976 Betsy portrait.
Good friend Conchitina Sevilla Bernardo (her husband Lani Bernardo was the Philippine Ambassador to Spain in 2001 to 2008) reminisced, "I really got to know Betsy when she did my portrait in 2003. I would sit for her in her Aravaca home. Then we would often lunch, or go to a zarzuela or just have coffee. We were usually a threesome—with Marquesa de Valdeolmos, Patsy Vidal, a beautiful Filipina who married a nobleman or what they call Uno de los Grandes Marques families of Spain. We became very close friends ".
Rita Ledesma, the book's editor, remembers, "In May 2016, I was looking for an interesting book project when, by a stroke of serendipity, Betsy and I met at a benefit show. Approaching her, I asked rather simply, 'Has a book been written about you?' Her direct 'No' was the beginning of a challenging and creative adventure that took us till February 2018 — and was launched in celebration of her 90th birthday!"
As Betsy thanked the La Salle University Publishing House and the coffee-table book team — famed art critic Cid Reyes, photographer extraordinaire Bengy Toda, Spanish graphic designer Iñigo Cerdan and project director Lea Gonzalez — she enthused, " I am so grateful and happy. It is a dream that has come true. The La Salle vision for education includes not only developing the mind, but awakens the soul."
* * *
For more information on the Betsy Westendorp coffeetable book, email: riddick.recoter@dlsu.edu.ph