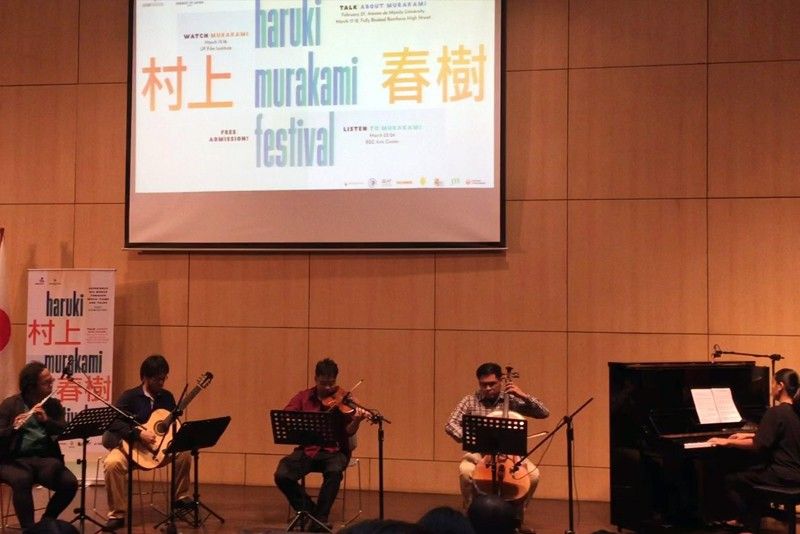 Isn't it good?: Pianist April Dawnena Merced-Misa and UP players offer a somber version of the Beatles' Norwegian Wood at festival opening.
Talking about, listening to and watching Murakami
We are living in a fake world. We are watching fake evening news. We are fighting a fake war. Our government is fake. But we find reality in this fake world. So, our stories are the same; we are walking through the fake scene, but ourselves, as we walk through these scenes, are real. The situation is real, in that it's a commitment.— Haruki Murakami, 2010
MANILA, Philippines — Music. Discussion. Movies. The only thing missing from Japan Foundation Manila's Haruki Murakami Festival coming in March is an opportunity to run a 5K with the elusive Japanese author.
The Japan Foundation Manila hosts a Haruki Murakami Festival this March, with live performances of classical and pop music featured in his books (worldwide bestsellers like Norwegian Wood and Kafka on the Shore), lectures from Murakami experts and screenings of two films based on his works (Tony Takatani and Norwegian Wood).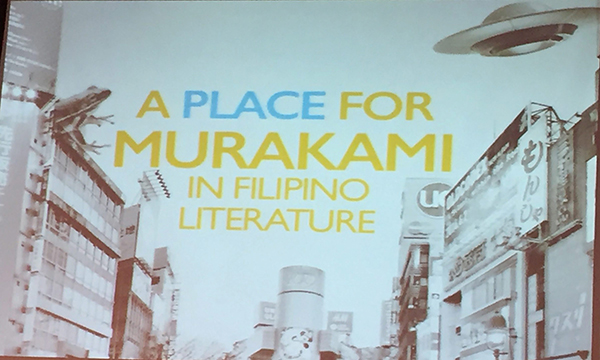 Murakami's books remain best-sellers among Pinoy readers.
UP Film Institute at Diliman will offer a screening of Norwegian Wood (directed by Anh Hung Tran with music by Radiohead's Jonny Greenwood) on March 15, 7 p.m., followed by a showing of Tony Takitani (directed by Jun Ichikawa, music by Ryuichi Sakamoto) on March 16, 7 p.m. Screenings are free; early registration is encouraged.
Next, Fully Booked in BGC will hold "Talking About Murakami" with talks by Mary Thomas, John B. Labella and Luna Sicat Cleto from 2-4 p.m. on March 17; and "Murakami: Running and Writing" featuring Frank Cimatu and Achilles B. Mina from 2-4 p.m. on March 18.
And finally, immerse yourself in the music that inspires Murakami's characters and plots with two special concerts of jazz, classical and Beatles music performed by Hiroko Kokubo Special Trio, 1966 Quartet, pianist April Dawnena Merced-Misa and Aliw awardee David Ezra (performing "narrations" of Murakami) at Globe Auditorium, Maybank Performing Arts Theater, BGC Arts Center on Friday, March 23 and Saturday, March 24, both at 8 p.m. This free concert has been well received in Tokyo, Singapore and Seoul, so pre-registration online is encouraged.
At the festival opening night held in Ateneo last Tuesday, Japan Foundation Manila director Hiroaki Uesugi underlined the global influence of this author, who writes about Japan but leaves out the "Japan-ness," who is translated into 50 languages and is always found on local bookstore shelves.
We heard from Ateneo professor Alona U. Guevarra who spoke of Murakami's background — coming up during Japan's economic decline in the late '80s and early '90s — and how it shaped his view of Japanese identity. Murakami's writing channels western pop culture — jazz, pop music, devices and brands — as much as it does Japanese details, and Guevarra suggests his work reaches global readers because of a disconnection many feel in a world of "rapid capitalism." The urban world — which is increasingly all of the world, but especially Asia — is equivalent everywhere. Even our values become a game of "mix and match." "Philosophy starts to look like business administration," Murakami writes.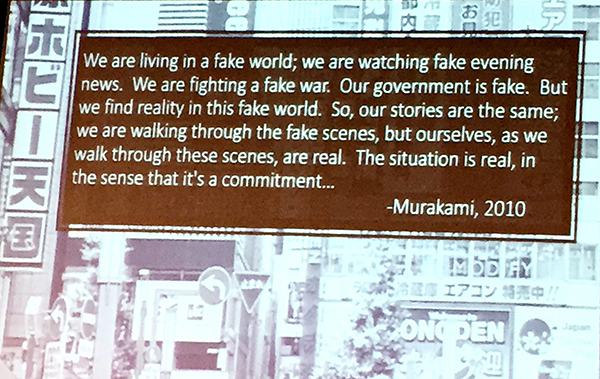 Fake it 'til you make it: Haruki Murakami often seems prescient, ahead
of the future curve — as with this 2010 reflection on our "fake" times.
Long before we realized we were living in a fake world with fake news and fake leaders, novelist Murakami was already planning his next incursion into that world; with each new novel, the Japanese author invites us to see our culture as a shimmering projection, a distraction, where we must navigate our own souls and consciences.
If all the world is a pop experience, Murakami's characters walk through a dreamlike daze, almost floating at times. They recognize the contradictions of urban living — the intersecting worlds of the banal and the fantastic — and remark on how strange it all is, but offer no historical bridge back to meaning. As lecturer Julz Riddle remarked in her look at Murakami's place in Filipino lit, there's a "placelessness" to his characters, despite so many pop signifiers. All the more reason Murakami's heroes — such as they are — cling to some level of personal commitment (or a "personal code," like the characters of his literary muse, Raymond Chandler).
A few questions remain. Why do so few film adaptations exist of Murakami's work, which is not so much unfilmable as flooded with hallucinatory detail?
Why pick March for the Murakami Festival?
And was that really Murakami spotted running at UP Diliman campus?
Good guide questions for the upcoming lectures at Fully Booked.
* * *
For more details on Haruki Murakami Festival, visit Facebook.com/jfmanila and www.jfmo.org.ph. To register for "Listen to Haruki Murakami" concert, visit murakamiconcert.eventbrite.com or email murakamiconcert@gmail.com.