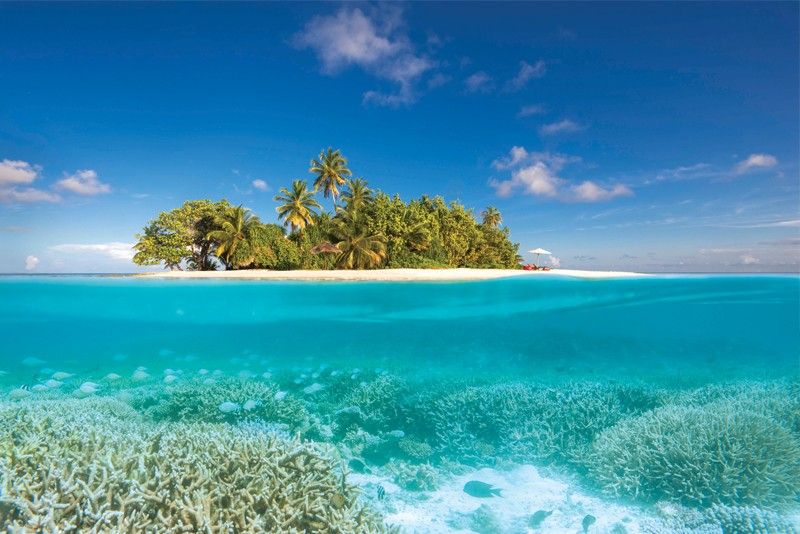 Gaathafushi Island, the W's private island you can visit for special barbecues or getaways to have that real luxe Robinson Crusoe feel.
Detoxing (and retoxing) in the Maldives
I won't lie. It took long to get there. A plane ride to Singapore, an overnight stay at Changi, another plane ride, an unexpected detour, plus a two-hour boat ride, as I had missed my seaplane. I was exhausted before the trip had even started. I asked myself, what on earth was I thinking trying to do a quick turnaround trip? Why go all the way to the Maldives when I had paradise right in my backyard? Was it worth all this trouble?
Yes. It most definitely is. That distance, that romantic feeling of being on a tiny dot in the middle of nowhere, the figurative and literal "cut off" from reality, even for just a fraction of a second… It is worth it.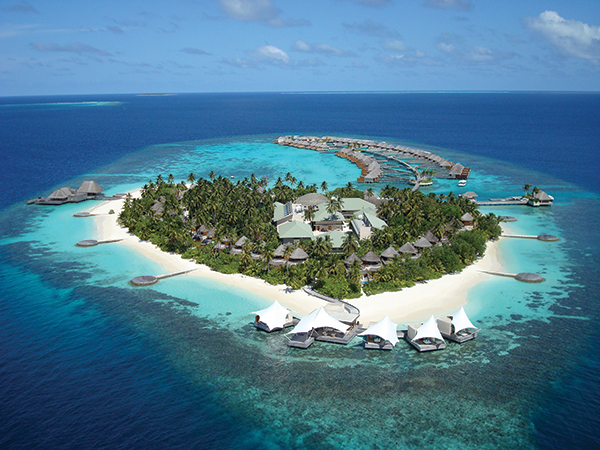 There's nothing more romantic than knowing that you are on a tiny dot in the middle of the vast Indian Ocean.
As soon as I finally touched down in Male, the amazing staff of the W Maldives had sorted out a speedboat for me so I wouldn't waste a night in the capital. I boarded the boat right before sunset and, as we sped off, I looked back at the busy airport dock shrinking slowly to the size of nothingness. It was a symbolic representation of all my stress, disappearing bit by bit. I smiled and faced forward, welcoming the golden soft sun, the sea breeze and the endless openness of the vast Indian Ocean.
A superlative stay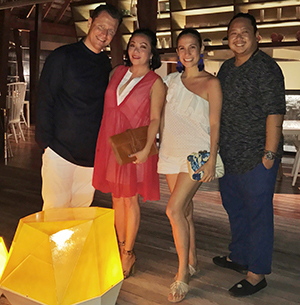 With GM Thomas Vaucouleur de Ville d'Avray and his wife, W Boutique consultant Antonia Chang, and chef Aaron Isip
The W Maldives is a rather spectacular resort — equal parts fun and laidback, hip yet homey, coupled with amazing, personalized and attentive service. I loved all the little details, like having chill house music piped in everywhere — from the buggy at the pier to the wooden walkways that lead you to the ocean villas, you have a perpetual soundtrack to your vacation.
The villas are fabulous. This is not a word I use often (for fear of sounding at best flippant!) but there really isn't any other superlative I can find to aptly describe them. They are all well appointed with spa amenities, a Nespresso machine — perfect for a languid wakeup — a complimentary fridge, full bar and barbecue pit! I wished I had company so I could order up some gorgeous prawns to grill on the deck. It's that "make yourself at home" attitude that I loved so much.
The most valuable asset the W has is the house reef: reef sharks, turtles, Technicolor parrotfish, abundant coral life, all accessible with just a mask and snorkel. Even the most inexperienced of swimmers need not plunge too deep nor fin too far to access all the beauty the reef has to offer.
Detox. Retox. Repeat.
My sole intent on this getaway was to recharge, to reconnect with myself in mind, body and spirit. Armed with a freshly downloaded set of meditations from Headspace and the will to reprogram my body, I set out to detox for the entire time I was there. It's amazing what one can accomplish in a day when you owe nothing to anyone; when you get a solid 24 hours entirely to yourself with absolutely no obligations.
I had started my day at sunrise with a quiet cup of coffee on my terrace overlooking the dreamy ocean, followed by fresh green juice readily available at Kitchen and a flurry of wellness activities. I attended morning yoga followed by a leisurely breakfast, a bit of relaxation by the pool with a book and a good snorkeling session circling around the entire house reef.
After a power lunch I had a private boxing training session with Mark, a kababayan and the in-house fitness instructor. More nothingness in the afternoon followed by sunset yoga on the beach.
This moment right there was pure heaven — one of the most incredible experiences of my life. Completely undocumented, no Instagrammable proof, just pure, mindful living.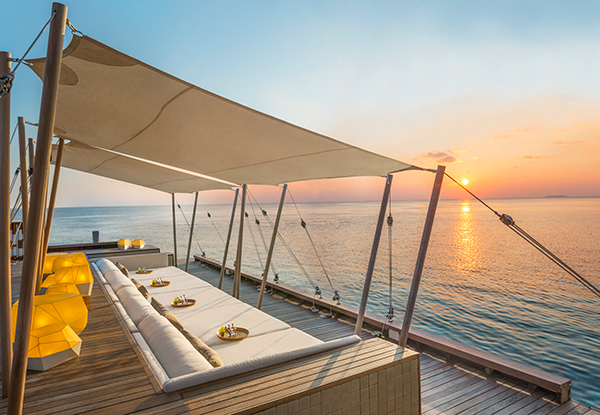 Sip is the perfect spot for sunset cocktails accompanied by chill-out tunes from their resident DJ.
At the tip of the beach on pristine white sand, a few of us practiced peacefully, flowing gently through different asanas, taking the time to truly sink in and deepen into each yoga pose. The sky and the sea melted together into a powdery pastel, Rothko-esque canvas, not glaring like the fiery sunsets of our shores, but a tableau of infinite calm. The breeze was delicate but cool and everything was quiet.
For someone who practices Ashtanga and pretty much lives in an extremely fast-paced world, this slowness was delightful. To spend long, deep breaths in one pose, not rushing into the next. It was a teaching moment. That from sunrise to sunset is, in fact, an incredible amount of time. If we remove all distraction and noise, there is so much that can be achieved. How much time have we wasted mindlessly looking at our phones and checking social media, allowing stress to permeate our lives rather than being positive, determined and persevering? It was a true luxury to be able to recalibrate my sense of time and being.
The day ended aptly with one of the most delicious massages ever. My therapist was from Bali and, coming from the land of P250 home-service massages, I'm always dubious about premium spa services. I was thoroughly impressed. After a day like that, whatever little stress was left in my knotted muscles was eased completely away.
In true W fashion, the detoxing didn't last very long. The GM Thomas and his wife Antonia wined and dined us at Fish. Lobsters, white wine, dessert and more wine… Who was I kidding and why am I blaming the W? How can someone be in such a paradise without having wine? It's almost a crime. Plus, how could I say no? It was my journalistic duty to try their in-house Champagne. It's a tough job but someone's got to do it!
The delightful lightness of nothing
Needless to say, the next day I skipped morning yoga. It was also my last day and I wanted to relish every moment I had in the overwater villa. The sun had come out and I had woken up to an endless sea and sky of blue. I sat quietly on the deck for a moment, taking it all in. Enjoying the luxury of doing absolutely nothing, to just be still.
This carried on till cocktail hour, during my last moments in paradise. As I sat there alone on the beach, the glorious sun setting, casting everything in the same rosy shade as my glass of wine, I was filled with an immense gratitude. What an incredible opportunity. What a splendid moment to pass on the eve of my birthday: in paradise, in the middle of the ocean, with one of my best friends, Aaron Isip, personally cooking for me, my family waiting at home to celebrate with me. My rosé was cold, my tummy was full, and so was my happy heart.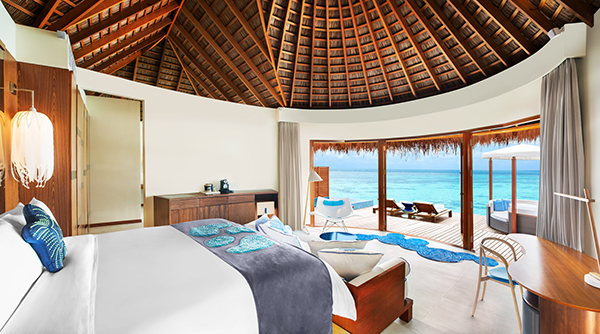 The Fabulous Overwater Oasis lives up to its superlative name. It is the ultimate Maldivian experience. Plunge straight into the turquoise waters and swim among the corals. Nothing beats waking up to that endless blue.
* * *
To learn more about chef Aaron Isip's cooking stint in the Maldives, read my full feature on him in the next "Food & Leisure"!
* * *
The W Maldives has an ongoing promotion: book four nights and only pay for three with free in-room breakfast and daily three-course dinner at designated restaurants. For more information on the W Maldives, visit www.wmaldives.com.