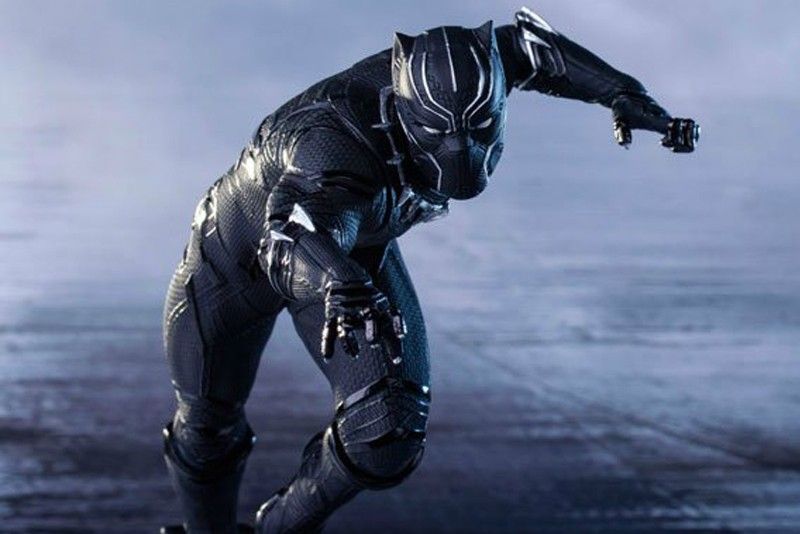 Like a boss: Chadwick Boseman pounces in Black Panther.
'Black Panther' rips through box office
It's nice to live in an era where barriers are coming down all around us — in Hollywood, that is. Last year saw a major push for female directors and protagonists with the huge success of Warner Bros.' Wonder Woman; now women are wearing black to Hollywood award ceremonies and announcing #TimesUp.
And we're also seeing huge box office generated from something Hollywood never believed was bankable: a black-directed movie with a black cast about a black hero. A superhero, at that.
That's not to say that Marvel Studio's Black Panther is riding the wave of some kind of hashtag campaign or affirmative action program. One of the nice things about a film doing this well is that it owes its success to itself alone; not to good intentions. Nobody can mess with that.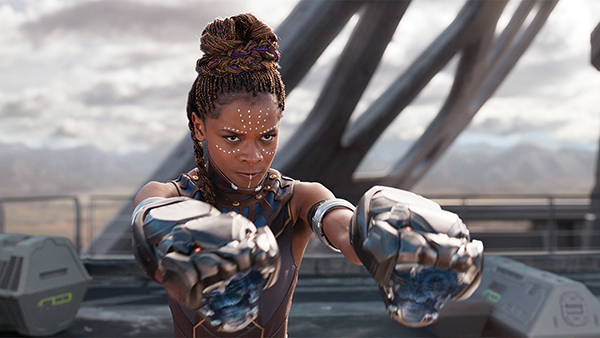 Wakanda is a stealthy African nation that's technologically advanced, thanks to vibranium. (Shown: Letitia Wright as Shuri)

Directed by Ryan Coogler (Creed, Fruitvale Station) and starring Chadwick Boseman as T'Challa, the rightful heir to the throne of Wakanda, a technologically advanced African nation disguised as an impoverished land of dirt farmers, Black Panther works as an origins story, setting a lot of its action in an alternate-reality Africa in which the cradle of mankind and civilization remains at the forefront of cutting-edge technology. That's all thanks to a meteor depositing a mother lode of vibranium — a super-strong metal that allows rapid technical advances — smack in the center of Wakanda.
There, in present day, we find T'Challa returning to assume the throne after his father, T'Chaka, is killed in an explosion (previously shown in Captain America: Civil War). Not only does he have a ceremonial role as Black Panther, uniting most of the country's tribes, he also has some pretty cool gadgets and a powerful vibranium-fueled suit that converts attackers' blows into kinetic energy: what doesn't kill you only makes you super strong. These and other advances are demonstrated to T'Challa by his precocious kid sister Shuri (Letitia Wright), who takes on the Q-like role to T'Challa's black Bond.
These scenes are part of the fun of Black Panther, as are scenes set in a secret casino in Busan, South Korea. (The movie has a vibrant, neon-lit look that serves it well in some scenes; other scenes are — literally — shot too dark.) More than 007, though, what comes to mind are '70s action flicks like Super Fly, where African-Americans, albeit in stereotyped roles, were largely in charge. Setting up T'Challa as a kind of reborn Blaxploitation kingpin, a Shaft for the millennial set, may rub comic book purists the wrong way; but it definitely positions Black Panther as a Marvel entry that isn't about to take its visual cues from whitey.
Or is it? There's an underlying similarity between Wakanda and, say, the Asgard vibe of Thor (recently retooled to great effect by Thor: Ragnarok), a kind of Eden that needs to set itself apart from hostile outside powers. It's practically a comic book staple: an advanced culture or planet, such as Krypton, trying to understand a universe that largely wants to make war or destroy everyone else in sight. No wonder it keeps a low profile.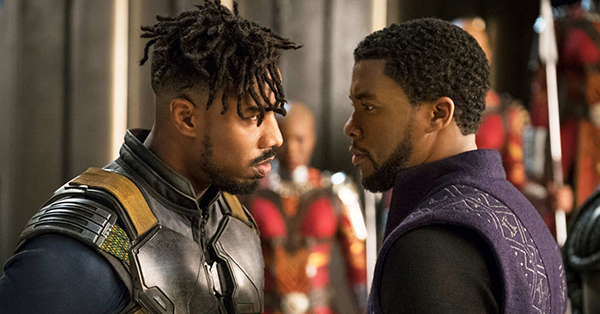 Black on black: Killmonger (Michael B. Jordan ) and T'Challa
square off.

Wakanda owes its continued existence to passing as a struggling Third World country; it goes about the business of United Nations meetings and diplomacy without divulging its true power. At the same time, the elephant in the room is that it never bothers to share that power or knowledge with other, actually poorer African nations around it — or the rest of the world, for that matter.
This is guide question for the whole movie: Will T'Challa finally realize that keeping such technological advances for Wakanda alone is a selfish move? Will he find a safe path to sharing that power?
Geopolitically, that's a pretty big question to inject into a Marvel superhero movie, but Coogler and his cast make it work within a well-functioning story (though, arguably, 15 minutes could have been shaved from the 2:15 running time). Not only does the movie raise questions of who has the power, where does it draw from, and how can it be shared equitably, but there's an underlying pride in black achievement that pushes the story (even if Wakanda is fictional). Wakanda itself is a CGI marvel: a mix of street-level bartering and trade overlaid with futuristic handheld devices, space-age flying cars and waterfalls. But like the hidden island of Themyscira in Wonder Woman, Wakanda is a controlled paradise, and the control comes from tradition, a recognition of ancestry. (Plus plenty of vibranium, of course.)
And like Themyscira, women play a strong role here: there's Lupita Nyong'o as Nakia, T'Challa's would-be queen and a spy for Wakanda; Angela Bassett as a strong African queen; plus a phalanx of bald-pated generals (led by The Walking Dead's Danai Gurira) who protect T'Challa and are as badass as the Amazonians of Wonder Woman.
Of course, any Marvel movie has its antagonists, and for a while the main one, a white Afrikaner arms dealer played by Andy Serkis, threatens to steal the movie. T'Challa don't play that, though, and even the appearance of a well-meaning if clueless white CIA guy (Martin Freeman's Agent Ross) fails to snatch away the power from black hands in this vehicle.
A more formidable adversary is N'Jadaka, aka Killmonger (a lethal Michael B. Jordan), who has payback in mind, not advancing civilization; he plans to wrest power from T'Challa in the only way that Wakandans will approve: an old-fashioned mano-a-mano challenge, sans weapons and superpowers.
There's a lot here to chew on about black pride and white colonization and how all of this is going to fit in with the Marvel Cinematic Universe (we'll find out soon enough when Avengers: Infinity Wars appears in a few months). Some backlashers are calling out Black Panther for being "too militant," but that's just racist noise; they said the same thing about Shaft when he went to Africa, but the difference back then was, those '70s Blaxploitation movies were typically helmed by white directors; Black Panther is a solidly Afrofuturist enterprise, and it's high time the reins get handed over.
The thing that Black Panther does is upend the history of colonization — outside intruders robbing continents of their precious minerals and resources, natives left powerless or in chains — and place it in the hands of a potentially world-changing black empire. That's heady stuff for any Marvel fan, black or white, to contemplate.