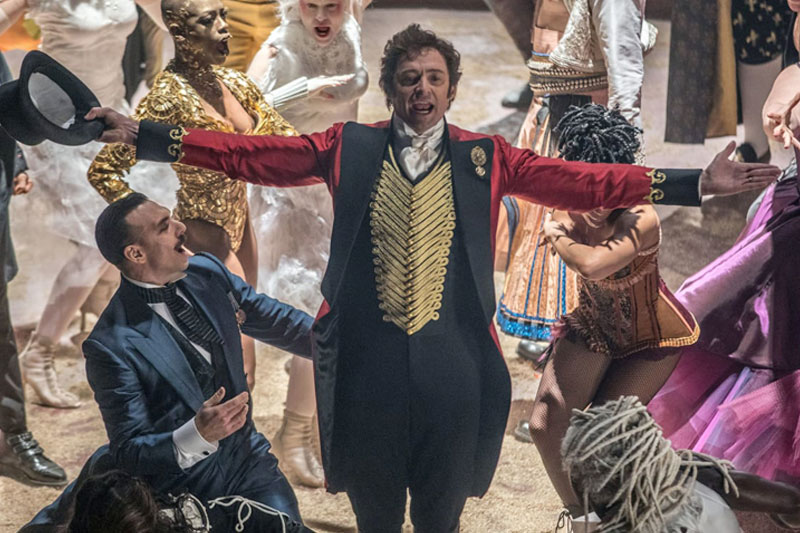 Join the circus: Hugh Jackman dons top hat and tails for modern musical The Greatest Showman.
One of Hugh Jackman's talents is that he pretty much steps into whatever role he's playing. Whether donning sideburns and Adamantium claws for Logan, or sideburns and a top hat playing the American circus impresario P.T. Barnum in The Greatest Showman, you have no doubt Jackman's committed to the material. This is good, because The Greatest Showman is not exactly committed to a gritty sharing of Barnum's tale.
Rather, what it delivers is the kind of razzle-dazzle that Barnum promised in his tent shows — human oddities, people with peculiar talents, some song and dance, and a touch of pathos. Directed by Michael Gracey with an anachronistic soundtrack of hip-hop numbers cooked up by John Debney and Joseph Trapanesse, it's squarely aimed at an audience just looking for escapism at the movies (and God knows, that's in short supply these days). That means a typical screening of The Greatest Showman is filled with people settled in with their extra-large buckets of popcorn, nachos and super-size drinks (just like at the circus), while others are vocally channeling their Spotify playlists, warbling along with the movie.
We live, after all, in an age that wants history to be retold through Hamilton's Broadway swagger and literature to be reduced to Leo DiCaprio blinging it up as Jay Gatsby. So you have to swallow a whole lot of hooey to thoroughly let go and enjoy The Greatest Showman, silencing the part of you that wants to know the "real" story, minus the hip-hop beats.
If The Greatest Showman reveals anything to us in this post-truth era, it's that a man with a gift for hyperbole — Phineas Taylor Barnum — could also be inclusive, loyal to friends, and essentially honest in his dealings. Compare this gift for humbug to the divisive, disloyal, shady shenanigans of a certain current US president who is often likened to P.T. Barnum (once quoted as saying "There's a sucker born every minute") for his apparent ability to bamboozle people, yet in truth utterly lacking the circus showman's humanism.
Indeed, Barnum was more complicated than all that. And while The Greatest Showman strives to set the record straight on the guy who sewed a monkey skeleton to a fishtail and marketed it as "The Fiji Mermaid" to rubes, it only seems to scratch the surface (a rumored fling with "Swedish Nightingale" Jenny Lind, played by Rebecca Ferguson, is whitewashed). Casting Michelle Williams — a straight-up dramatic actress — as yet another long-suffering wife and not giving her much to do (besides lament a lot in song) seems like kind of a waste. Jackman has better chemistry, it must be said, with Zac Efron, playing young circus backer Philip Carlyle (a composite of the "Bailey" character from "Barnum and Bailey's Circus," his name excised from the script perhaps for legal reasons) who develops a cross-racial relationship with trapeze artist Zendaya. There are bearded ladies (Hawaiian Keala Settle who bashes out the Oscar-nod hit, This Is Me) and famous dwarves (Sam Humphrey, playing brassy General Tom Thumb), and a crew of unlikely people all held together by Barnum's apparent interest in providing them a living, if not 100-percent total human dignity.
Held together with the verve and glitter of a Baz Luhrmann acid flashback, The Greatest Showman does its job, ticking off the box-office boxes and leaving an empty trail of popcorn boxes in its wake.
Do I have to spell it out?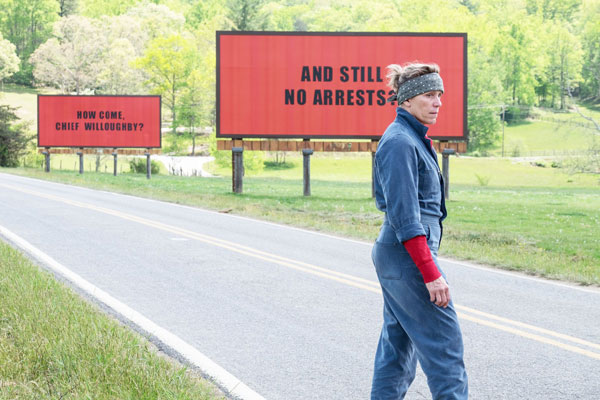 Cracker barrel: Frances McDormand plays Mildred Hayes, a very angry mother, in Three Billboards Outside Ebbing, Missouri.
Of all the Oscar nominees I watched this year, Three Billboards Outside Ebbing, Missouri left me the most disappointed. I wanted to like Martin McDonagh's broadside at American redneck culture — the equivalent of shooting fish in a cracker barrel — but found its tone off-putting, and somewhat tin-horned.
First, there is Frances McDormand, who is likely to bag another Oscar but here plays a less-well-drawn, less-sympathetic character than the stalwart Deputy Marge Gunderson that won her accolades in the Coen brothers' Fargo decades ago. She still burns as an actress, but her bitterness — about the local sheriff's failure to find her daughter's rapist and killer, and her ensuing stubborn revenge — seems less grounded in humanity and more captivated by a scriptwriter's willingness to inflict pain on the ignorant and ugly in her midst.
There was the problem, for me, of McDonagh's overuse of the "C" word, which I'd wager doesn't pop up as much in rural Missouri breakfast table conversation as he believes. It's a word that perhaps rolls more easily off a British tongue, at least as an insult.
Otherwise, we are woven into a semi-spell by some standout performances by Woody Harrelson (cutting back on weed seems to have given him a new focus in life) and especially Sam Rockwell, the fireplug actor who can imbue even a slimy, loathsome, violent, hillbilly deputy with a touch of humanity. Kudos to him. And good ironic use of ABBA music.
But while 3 Billboards wants to suggest it's taking on a wide range of social issues — racism, sexism, domestic violence, "African-American torturing" in small-town America — the black characters exist merely as minor reflections of the white anger brewing around them. At the same time, McDormand's character herself seems a figure of impotent white rage (the kind that turned so eagerly to Trump) as much as she is a beacon of social protest. The signs are confusing either way. The arrival of a deer in a meadow doesn't exactly spell redemption, or depth.
But is it redemption we're seeking here? Or is it simply the voyeurism of brutal and creative revenge that seems to hover over the proceedings until it all starts to seem like another Coen brothers outing, minus the wit and irony? If it were me reading the signs…
* * *
Follow me on Instagram (@scottgarceau).