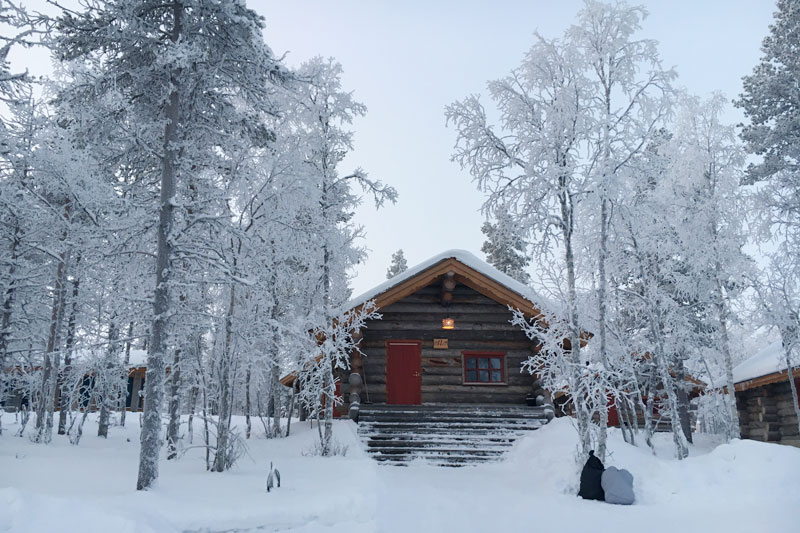 A warm cottage, large enough for four adults, complete with its own kitchenette, fireplace and sauna. A welcome refuge from the freezing weather outside.
Dashing through the snow, chasing the Northern Lights and meeting Santa Claus
It took us an unbelievable 16 hours to travel from Paris to Lapland, Finland. The other members of our family came from Manila, logging about 36 hours travel time, including stops. At 1 a.m., 13 Pinoys, used to tropical weather, finally found their respective log cabins at Kakslauttanen Arctic Resort, in minus 28-degree Centigrade temperature.
Located right at the edge of the forest, this postcard-perfect winter wonderland is 250 kilometers from the Arctic Circle. It is the perfect setting for appreciating the sheer beauty of wintry, blue-white snow, trees laced with crystal icicles, frozen ponds, snow-covered rooftops and bridges.
Lapland has snow seven months of the year and resorts are open only during winter, and every activity related to snow is available at that time.
Kakslauttanen has warm cabins and igloos and exciting but exposed-to-the-cold winter activities. A husky farm located nearby houses 250 dogs that bring people on a mushing experience. Six energetic huskies pull a sled for two people —one seated, and one driving. Dogs faithfully and tirelessly follow the route, running at 10 kms per hour — except when one dog decides it wants to head to a tree for a pee stop; then all the other five dogs follow suit. Driver and passenger may change after 30 minutes. The driver uses a wooden pedal at the rear to slow the huskies down or apply a full body weight to stop them. Of course, in this temperature and despite the leather mittens and coveralls provided by the company, fingers are frozen numb!
Lapland (specifically, Rovaniemi) claims to be the home of Santa Claus. Every resort of every size presents a meet-and-greet Santa and his reindeer herd. On Christmas Day (truly!) our elf/tour guide led us to Santa's cozy home and we had a few minutes with him — not too long, because he looked tired from his schedule the night before. We looked for Mrs. Claus and were told that she was busy. He told us that the national bird of Finland, the Whooper Swan, is monogamous and is faithful to its mate until its death.
We stayed in a glass igloo for one night. It only has two beds and a toilet (showers are in a separate building). It is a cool experience to be warm and cozy in this extreme weather, and be able to look up at the stars from one's bed. With luck and closer to midnight and early hours, the aurora borealis might make an appearance, and one does not need to put on all the layers of clothes and run out of the igloo!
The supreme experience!
We hired an aurora chaser.
At 8 pm, Jouni Mannisto and his wife picked us up in two vans, drove for about 40 minutes, and made us walk on a frozen lake. We were safe, he said, as long as we followed his steps.
Under a clear, dark, starry night, the elusive Aurora Borealis or Northern Lights appeared in all its glory.
The dancing movement of the aurora happens when charged particles from the sun hit the earth's atmosphere. These particles are carried by the earth's magnetic field, and wispy curtains of green, purple and red dominate the sky. Intensities differ: sometimes these are slim and long, at times they dominate the lightless sky. Our tour description: "The aurora occurs at a height of between 80 km and 300 km above the earth's surface. Each display of the aurora in the North will have a twin display in the Southern Hemisphere. There are many types of aurora and intensities. You'll find arcs, curtains, bands, veils, rays and coronae. These will pulsate, flicker, stream or glow." And that night, the different types were certainly active and made the whole trip worthwhile.
A visit to Lapland in the middle of winter may only be for folks crazy enough to purchase efficient overcoats, baklavas, fleece, woolen underwear, ski pants, snow shoes, thick gloves or mittens, warmers (the ones you pop open and tuck into gloves or stick on undershirt). But what a singular experience — an item on one's bucket list ticked off. And while we were trudging around in -28 degree weather, somehow, we decided that next year's family trip might be in Hawaii.