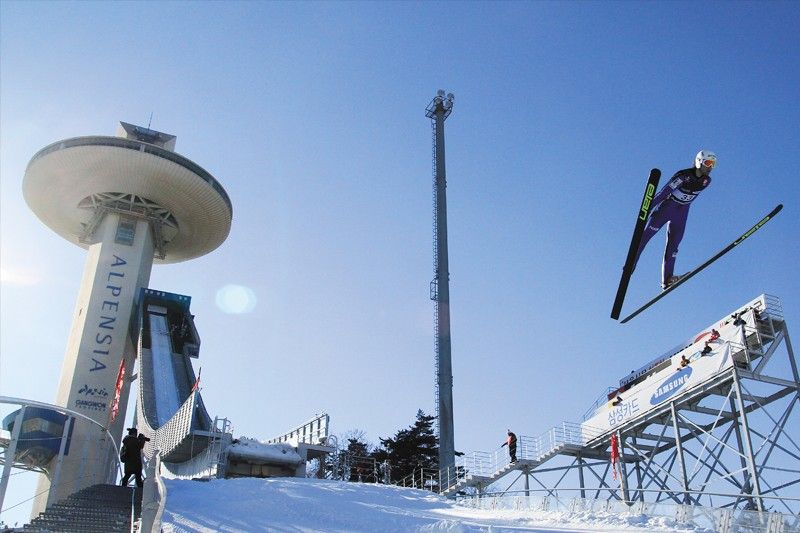 The filming location for the 2009 South Korean film Take Off, Alpensia Resort's Ski Jumping Center will be used as the ski jumping stadium for 2018 PyeongChang Winter Olympic. (Photo from POCOG)
Winter (Olympics) is coming to PyeongChang, Korea!
So when did you experience your first snowfall? I had mine a month ago. I was in a bus from Seoul to Gangwon-do province, one of the quieter regions of this busy and modern country, when I saw what looked like tiny balls of cotton falling down from the sky.
Home to mountains and ski resorts, Gangwon-do is a place to which locals and tourists are lured by fresh mountain and sea air, and the chance to engage in winter sports.
And when winter arrives in Korea, icy cold winds come with it. As I stepped out of the bus — wrapping my coat around me — I just stood silently, letting the chilly air circulate in my lungs. Snow is beautiful and yes, magical, but it is cold. How can one engage in sports in this freezing weather when I couldn't even move my hand to wipe my runny nose?
Let the (Olympic) games begin
I was part of the group (composed of journalists and travel agents from around the globe) invited by the Korea Tourism Organization Manila Office for a familiarization tour of Gangwon-do province, home of the 2018 PyeongChang Winter Olympic Games.
From Feb. 9 to 25, more than 4,500 athletes, along with local and foreign spectators, are expected to converge in PyeongChang, elected the host city after three bids, to participate in and witness this biggest sporting event. The games will also be held in Gangneung and Jeongseon, both located in Gangwon province.
Figure skater Michael Christian Martinez, I think, is the only Filipino athlete who has earned a slot in the 2018 Winter Olympics.
While winter sports don't appeal much to Filipinos, Pinoy pride and snow do! PyeongChang 2018 is the perfect time to travel to Korea not only to root for ourkababayan, Michael, but also to enjoy the Olympic festivities, experience the various activities and get a taste of what Koreans eat to keep their bodies warm during the winter season.
Fans of Korea novelas can visit the locations where their favorite soaps are filmed. Better yet, go skiing, sledding, even snowboarding — just like we did.
All that skiing in Korea
Our host, the Korea Tourism Organization (KTO), took us to these top ski resorts located in Gangwon province — home of the Olympic Games PyeongChang 2018 — for some ski, sled and snowboarding sessions so we could get into the Winter Olympic spirit before the games begin on Feb. 9.
Alpensia Resort. Alpensia Resort's Ski Jumping Center, the filming location for the 2009 South Korean film, Take Off, will be used as the ski jumping stadium for 2018 PyeongChang Winter Olympic. Situated 700 meters above sea level in Daegwallyeong, Alpensia Resort offers six slopes for skiers and snowboarders to enjoy. The "Foxtrot" and "Echo" slopes are advanced courses certified by the International Ski Federation, so first-timers like us (journalists and travel agents from the Philippines, Indonesia, Malaysia, Singapore, Turkey, among others) were taken to the "Bravo" slope for Skiing 101.
Ski gear and togs were part of the tour package so we didn't have to worry about keeping warm.
The introduction was quite brief and covered the basics: how to lock in and out, form, how to brake — and how to fall. Skis are heavy so I didn't get to move that much. And before I knew it, it was time to go. Trying a new sport like skiing, though tough, is a welcome break from shopping and dining.
Vivaldi Park Ski World. Only 45 minutes from Seoul, Vivaldi Park Ski World is the closest ski resort from Seoul and the first one to offer night skiing. The park is massive. One day isn't enough to experience this winter wonderland, which is divided into five zones: the Ski World, Ocean World, Vivaldi Park, Equestrian Club and Snowy Land, a snow-themed park which is thrice the size of a soccer field!
This family-centered resort has something for each member of the family. Here, the slopes are mostly designed for beginners and intermediate skiers. Those who aren't into skiing can take a dip in the outdoor hot spring and Jjimjilbang (Korean sauna) located at the park's Ocean World; join the horse-riding programs at the Equestrian Club, the most luxurious riding club in Korea; or play golf at any of its four 18-hole golf courses.
Elysian Gachon Ski Resort. This ski resort is connected to Seoul by subway, allowing skiers and boarders to enjoy the snow without the hassle of having to go through traffic. The resort operates a ski and snowboard school for beginners, and offers condo-type lodging. There are 10 slopes with the most popular being "Pegasus" at 1,045 high and 300 meters steep.
High 1 Resort. This resort is the busiest ski hub we've seen during our ski resorts hop, organized by the KTO. What draws the fun and thrill-seeking snowboarders and skiers to this place are the difficulty levels, which vary from beginner to the dizzying heights of an International Ski Federation-certified course; the advanced lift systems and gondola, which transport enthusiasts to the different courses; and the safety measures in place (an emergency phone is available on the edge of the slope with accessible First Aid supplies in case of emergency).
* * *
The PyeongChang Winter Olympics 2018 is slated from Feb. 9 to 25, followed by the XII Winter Paralympic Games on March 9 to 18.
Related video: