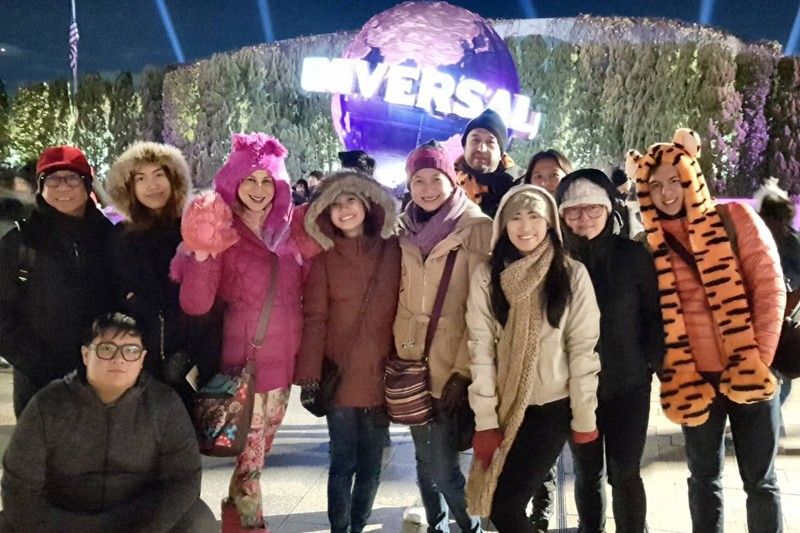 Our group posing in front of the Universal Globe. (From left) Mike Mina, Matthew Dayrit (seated), Alexandra Dayrit, Michelle Dayrit, Carin Romualdez, Yvonne Romualdez, Mark Dayrit, author Christine Dayrit, Samantha Dayrit, Mylene Dayrit and Vincent Soliven.
Memories created with the family are always special. They are cherished forever because they're the solid constitution that glues family members together.
In Osaka recently, my siblings, their families and I created beautiful memories to welcome in 2018. These memories reminded us of how lasting the love of our parents is, as exemplified when Mama Mila and Papa Ting brought us to Osaka when we were kids to educate us about the beauty and value of pearls. After all, our jewelry business started in 1966 when Dad brought Mom loose pearls from Japan as pasalubong for his beloved wife.
Because the city is always memorable for me, Osaka, Japan's second-largest metropolitan city after Tokyo, occupies a special place in my heart.
Osaka is located on the island of Honshu in Japan. It is a large port city and commercial center popularly known for its nightlife street food and modern architecture. Osaka, previously known as Naniwa, is the economic powerhouse of the Kansai region. The city also happens to be home to several amusement parks, nature parks, shrines, temples and other historical landmarks.
It was a 3.5-hour ride from Manila to Osaka via Cebu Pacific. Upon arrival, we took a comfortable bus from the airport to our Airbnb called Asahi Plaza in Shinsaibashi. If you're a food aficionado like my family members are, you will love this neighborhood. We were welcomed by the aroma of takoyaki, savory seafood balls served with teriyaki sauce and creamy mayonnaise being cooked in outdoor stalls on the side streets.
After a good night's sleep in our cozy units, we were up early the next morning. Believing that the early bird catches the worm, we woke up at 5 a.m. to take the train to Universal Studios. Jumping for joy upon our safe arrival, we were one of the first groups in line for The Wizarding World of Harry Potter, a magnificent area reproducing the world from the Harry Potter stories on an overwhelming scale with meticulous attention to detail.
First, you venture into Hogsmeade, a village where wizards reside. In Universal, this corner is home to an array of shops selling every type of Harry Potter merchandise and souvenir you can imagine. At the end of the main street is the magnificent Hogwarts Castle — the most iconic feature of the Wizarding Word of Harry Potter. Through the massive castle gates, you enter Hogwarts School of Witchcraft and Wizardry, Dumbledore's office, the Gryffindor common room and the Defence Against the Dark Arts classroom before departing on a thrilling ride on Harry Potter and the Forbidden Journey, which uses state-of-the-art 4K3D technology for an experience of unparalleled realism.
After this exciting adventure, we lined up for warm Butterbeer, which was so perfect for the cold weather.
Next on our wish list were the cute Minions. So off went the adults to Minion Park for a 140-minute queue to experience the Despicable Me Minion Mayhem, while the daring youngsters did the rollercoasters — Space Fantasy, Hollywood Dream, and Flying Dinosaur. Michelle, who is terrified of roller coaster rides, sat peacefully inside the Jurassic Park's Fossil Fuel Restaurant underneath the roller coaster enjoying the cuisine, sipping hot chocolate while greeting the dinosaurs that would pop into the café.
Meanwhile, my nephews and nieces enjoyed the exhilarating ride that's like flying through the sky, brought together by the originality and cutting-edge technology of Universal Studios Japan and the world's leading roller coaster manufacturer is now running… backwards! Unbelievable! After being pulled up in reverse to a height of 43 meters, you dive down with the back of your head looking at the sky. The ultimate thrill is being unable to see where you're going or predict what will come next. It's a shock that makes you want to grab onto something. Gusts of wind blowing on the back of your head will tell you how fast you're going.
After Universal Studios, we ate dinner in an okonomiyaki restaurant in Dotonbori. The restaurant recommended by my nephew Matthew who acted like our official tour guide did not disappoint. The okonomiyaki was cooked fresh on the griddle and served immediately for us to dig into with gusto.
Matthew also took us on a walking tour of a famous landmark known as the Osaka Castle. The grand Osaka Castle was painstakingly built in the 16th century. The castle is surrounded by a picturesque moat that made us feel like royalty protected from prying enemies. The sight of duck ponds, and full-grown and mature peach, cherry and plum trees makes it an expansive garden to enjoy any time of the year.
We also toured the Umeda Sky Building, one of the tallest and most recognizable buildings in Osaka. It consists of two 40-story towers that connect at their two uppermost stories, with bridges and an escalator crossing the wide atrium-like space in the center.
Nearby is the HEP Five, a shopping complex with specialty shops geared for young people. It boasts Kita's most recognizable symbol: a bright red Ferris wheel on its roof. From an air-conditioned gondola at the top of the wheel 106 meters above the ground, you can get a splendid view of downtown, of Osaka harbor, and all the way out to Mount Ikoma.
Adjacent to HEP Five is HEP Navio, a fashionable shopping complex that also features a cineplex and restaurants. A highlight was the youngsters dancing atop the red Ferris wheel as they enjoyed breathtaking views of the city below.
When we went to Namba Park, my sisters did not expect it to be a shopping center. At Namba Park, designed to resemble a canyon, you can take advantage of its several floors of stores ensuring plenty of chances to engage in retail therapy. On the upper levels, grab a bite at one of restaurants serving both local and international cuisine. The gardens located on the top floor make this complex an ideal spot for relaxation — without leaving the building, you can enjoy a shopping spree, a great meal, and a walk through the park. A theater and an amphitheater, which host cultural events, provide additional onsite activities.
Matthew soon introduced us to Denden Town and Shinsekai, a great place to buy electronic gadgets and souvenirs. There are less tourists here and it has retained more of its local character than Dotonbori. It's so worth walking through. The seven of us remained walking in Denden Town and we were able to get to explore the nice electronic stores, and the stores for mangga and appliances. Shinsekai, aside from souvenirs, is also a food trip destination. The kushikatsu they enjoyed was such a delectable dish. A Sumo-themed restaurant served sumo-sized family dishes great for sharing.
We were so thankful to be able to hear New Year's Eve Mass in the Grand Cathedral of the Immaculate Concepcion of the Blessed Virgin Mary on the feast of the Holy Family.
We celebrated New Year's Eve toasting Shoyu, a Japanese lemony liqueur which is my sister Yvonne's favorite. Matthew prepared some katsudon and Samantha hosted fun family games on how well do you know each other? We laughed and cheered and loved each other even more. We had our New Year's brunch at a very charming family restaurant called Eggs 'n Things in Amerikamura, a very famous breakfast chain from Hawaii that serves delectable pancakes, waffles, and corned beef and more. My sister-in-law Mylene said she had the best pizza of her life at the nearby Pizza Bar Fullhouse, listed as one of the top pizza places in Osaka.
A magical moment on our last day was enjoying the Tsukemen Suzume, ramen restaurant across the hotel. We felt warm and satisfied by the savory broth and perfectly cooked udon noodles in a big bowl served with melt-in-your-mouth pork belly and creamy yellow duck egg. We enjoyed our meal even more because when we looked outside the window, there were snowflakes falling on the sidewalks.
These and more are the memories we will keep for the rest of our lives. Each of us is thankful for the gift of family. That moment, in Osaka, we knew Dad and Mom were smiling at us from heaven. We have kept our promise to them: to take care of each other even after they are gone.
* * *
Email me at miladay.star@gmail.com.