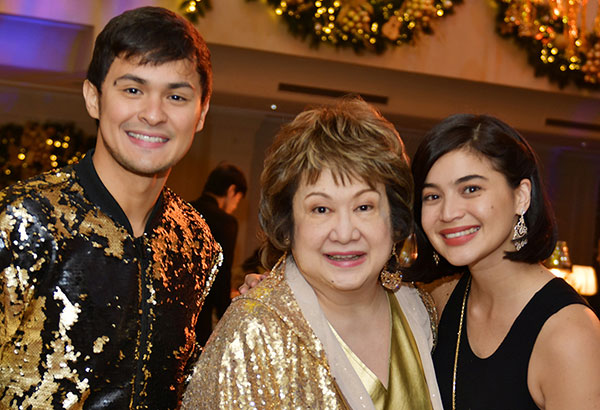 Swatch Philippines president Virgie Ramos with brand ambassadors Matteo Guidicelli and Anne Curtis
Swatch Christmas: Best and last party for 2017!
­­­­MANILA, Philippines — Anticipation. Every time Tita Virgie (Ramos) puts a party together at home, you know it's going to be special, and that's just what happens: anticipation.
You're told to wear black to a party themed "Gold" and it doesn't really make the most sense until you hear Tita Virgie say she will take care of the rest. It's just what you need at the height of Christmas rush, almost zero wardrobe stress, the promise of Tita Virgie's finishing touch, PLUS knowing that the food and the company will be amazing.
You finally arrive after braving a sea of red taillights. You walk in the main door and turn towards the pool, take the steps up until the large doorways are within view and peer into them like a giraffe excited to see what that familiar space looks like this time because it's never the same. Always comfortable, but never the same.
The large room is filled with merry faces you've seen many times before. Chatting, laughing, eating, greeting and everyone with a splash (or more) of gold! The room though, filled with all things gold, enough to make a child's jaw drop in awe. This is what Christmas is supposed to look like! Great job, Gino (Gonzales)!
And what is a Filipino Christmas party without an absolute feast with all the holiday food and sweets that tell you it's Christmas? There's lechon, three kinds of jamon, bibingka, puto bumbong plus prime rib, turkey, a giant apple pie à la mode, a gold candy bar and even eggnog.
The night got even better when a live band started performing the tunes that were hits in those years we used to spend Christmas nights in Tita Virgie's living room, not leaving until close to dawn.
It all might sound as though the glitter of gold alone would have made this party a social event, but it really just felt like a bunch of people (100, that is) getting together to celebrate the holidays. It was fun to say the least, and as always, there was an air of calm and contentment just sitting at your table, watching, listening, clapping along to Tessa's best ever (you would never guess she was lip-syncing her portion, even Vice Ganda was amused).
The Christmas memento this year has intrinsic value because we all experienced putting together our own Swatch. Everyone went home happy and looking forward to next year, with much anticipation.