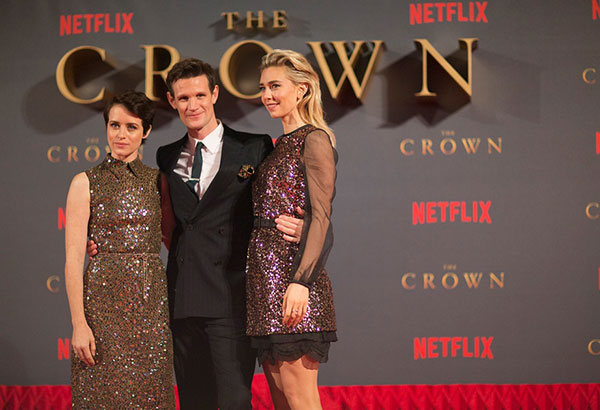 Claire Foy, Matt Smith and Vanessa Kirby on the red carpet of The Crown Season 2's world premiere at the Odeon Theatre in Leicester Square, London, United Kingdom.
I went to London to visit the Queen
LONDON, United Kingdom — Hot off the heels of two royal milestones — Queen Elizabeth and Prince Philip's 70th anniversary and the engagement of Prince Harry and actress Meghan Markle — comes the release of Season 2 of The Crown on Dec. 8. In case you haven't been on Netflix, the Golden Globe and SAG award-winning series is a biographical drama about the reign of Queen Elizabeth II. In true Netflix 'n Chill fashion, I binge-watched the entire unaired second season before flying off to London for its world premiere, which was held on the day after the anniversary. Impressive timing on their part — everybody was just feeling the royal energy on the Odeon Theater red carpet — and, unbeknownst to yet many, it was also the perfect juxtaposition of what season two holds (Drama! Gossip! A marriage on the rocks!) and the long and happy marriage of THE royal couple.
As the show's creator Peter Morgan told us on the red carpet, "I want to write a marriage in all its complexities, but let's all be clear, it's been a triumphant marriage. If you're looking for an angle, there really isn't one. They're still married and they're happily married." To which I said, in my head, who is satisfied with just knowing the ending? Watching The Crown is like getting a behind-the-scenes look at a story we've been following for decades, and getting all the salacious, heartbreaking and lavish details — it's not the most expensive TV show ever made for nothing.
The day before the red carpet premiere, The Philippine STAR got to talk to the stars of the The Crown: Claire Foy, who plays Queen Elizabeth, Vanessa Kirby, who plays Princess Margaret, and Matt Smith, who plays Prince Philip. Inside the press holding room of Corinthia Hotel in Westminster, the royal corgis (Lily and Prince in real life) kept me company while I waited for my turn.
Elizabeth: 'The great fallacy is that she has any power at all.'
Those who have seen The Crown's first season know that the show likes to zoom in on Claire Foy's face. Elizabeth doesn't yell or grimace — all her emotions are communicated through her big, blue eyes. I guess I had gotten so used to her on-screen face that seeing her in person turned out to be such a shock. I was star-struck to the point of forgetting all my questions, and if she didn't notice, then this would be me explaining all the fumbling and grasping for coherent thought. I really did feel like I was in the presence of royalty.
The Crown Season 2 covers 1956 to 1964 in the reign of Queen Elizabeth II. It's also Claire Foy's final season with the series, which has always been the plan, as the series will be jumping forward in time on its third season. Claire knew from the day she signed on that she was only going to be in two seasons; moving forward, Queen Elizabeth will be portrayed by actress Olivia Colman (Broadchurch, The Night Manager, Murder on the Orient Express), covering the time of Prime Minister Harold Wilson.
"I think whenever you do a long-running series, no one knows when it might not get picked up and you can't play an endgame like that. You can't think that you'll be doing the same thing for seven years. For me, as an actor, I wouldn't ever sign on for anything for seven years. I feel very lucky to be doing this job and challenging myself is what seems to be the most important thing at the moment," Foy says.
In her final season, Foy plays an Elizabeth who is juggling the pressures of the Crown and her own marriage. Philip leaves for his Commonwealth tour and there are rumors of infidelity. The show doesn't go as far as showing actual cheating — it's only ever implied. But implied or not, it poses real consequences on their marriage. Throughout the season, we see them behave as any married couple would; they would have good days, bad days, and sometimes they would even have a laugh. In the end, you still root for them.
"In the beginning, they haven't been communicating. They haven't been seeing each other. And then all of a sudden, they had to deal with all these marital issues. I think the bravest thing they do is face up to the fact that neither of them want to be in the marriage, but that there's no way out. So, tough. Some marriages survive because both people don't want to get divorced at the same time. Their marriage changes and evolves, and they're people, so they have to keep changing the marriage. And I think that's a very true depiction. That's what marriage is," she says.
Elizabeth's growth in the second season is not just an emotional one. In season one, a scene shows her concerned and bothered by the fact that she felt less educated than the men in her company. She comes to the Queen Mother for advice, and she tells Elizabeth she has all the education she needs. "I think after that episode, when she thought she wasn't as educated, she realized the gifts that she had and that the things she had to bring to the role weren't about being learned and educated. They were about having an insight into people." She adds, "I think she's got a very strong instinct about people, and about being a vessel for people to put their opinions in. She doesn't have to own them or take them on. The great fallacy is that she has any power at all — and she doesn't. The only power she has is what people place in her, so she has to use that to the best of her abilities. As time goes on, she becomes the most educated person in terms of being political and knowing what people want from you and what they want you to be. It's a different kind of education. She does know what she knows very, very well."
The actress has always said that she would hate the idea of Queen Elizabeth watching the show. "I would never want her to watch it and hate what she sees or be offended. But I hope that she would know that that's not the show's intention. Also, that you've just got to trust, as one human being to another, that they're going to understand what the show is. If anything, it might be nice for her to see certain things, to see her own coronation again. I feel very lucky that I play her, a good 50 years ago, as opposed to present-day. It feels like enough time has passed," Foy says.
* * *
Philip: 'A lot of his history is quite tragic.'
In 1957, the Duke of Edinburgh, husband of Queen Elizabeth II, was formally made a British prince. In season two, we see the heartbreaking details behind this occasion, among the many other heartbreaking things we will come to learn about the Prince. The Crown likes to create moments for characters surrounding the Queen, especially those who either influence her actions or affect her emotionally. Season one's Episode 9, titled "Assassins," focused on Prime Minister Winston Churchill, and his controversial portrait by English modernist Graham Sutherland. In the upcoming season, we'll be seeing a similar treatment for Philip's backstory, which includes his childhood. Matt Smith, who plays Prince Philip, thinks it was particularly important for his character to have this moment. "It's quite interesting. I think a lot of people have preconceptions about Prince Philip that aren't necessarily true. I think he's much more interesting, sensitive, educated and vulnerable than people give him credit for. All the research that I did about him, I found him to be very compelling and someone I greatly admire," Matt says.
Having been portrayed as the "wild spirit" in The Crown's most recent trailer, it's about time the mystery of Philip was explained, at the very least through flashbacks. The same clip highlights one of the main conflicts of the season, his marriage to the Queen. He says, "This season, we really focus on how difficult and how tense this relationship has become. I think it was important to tell the truth about it. Any marriage goes through ups and downs, particularly ones that's lasted 70 years."
I asked the actor about one of the most exciting events in season two's timeline, the Queen and Prince Philip's meeting with the Kennedy's, with Michael C. Hall playing JFK and Jodi Balfour as Jackie Kennedy. "It was lovely, Michael is a wonderful actor. It's very interesting to have that particular family enter the palace and see what that does — the protocol, to see how the English and the Americans don't quite know how to gauge one another. And Philip is very excited — she's (Jackie) very pretty and interesting and glamorous."
Amid all the seriousness of The Crown, Smith, who appears to be a really chill guy (he was rocking a casual, all-black look during the interview), keeps it light on set with co-star Claire Foy. "Me and Claire, we have a laugh. We just eat chocolate really. There's an element of the ridiculous, because you're playing the Queen and Prince Philip and you're in these very opulent costumes. We try and keep spirits up and try and have a laugh, and then take the work very seriously," he says.
Season two is, likewise, Smith's final season in The Crown. "It's quite interesting for the show that every two years, they push the story forward with different actors. I think it renews the energy that the show can take on. I thought it was a very clever move on behalf of Netflix and Peter Morgan."
* * *
Margaret: 'I don't think she'd be on social media. She's too cool for that.'
Margaret, being Margaret, gets a lot of attention in season two of The Crown. After last season's major heartbreak (she was forbidden by The Crown — not her sister! — to marry Captain Peter Townsend, who may just have been the love of her life), she meets a new man, Antony Armstrong-Jones a.k.a. Lord Snowdon, then a photographer, played by Matthew Goode (Downton Abbey, Allied). Vanessa Kirby, who plays Margaret, shares what it was like shooting the memorable episode of their meeting: "It was amazing, we had the best time. I don't know if you could tell. It was amazing working with Matthew Goode, whom I adore. It was like shooting Margaret's film."
It's in season two that Princess Margaret gets to have more fun — mainly of her own doing, as she makes even more of an effort to escape. Still reeling from heartbreak, she makes an attempt to meet new people and bumps into Tony at a dinner party. "I think she thought at this point, she was really tired of the establishment. 'I need to get out, I can't stand my mother, I can't stand my sister.' And she finds her escape through Tony," she shares. But is she over Peter? Kirby doesn't think so. "I don't know how you could be. It's not like you've fallen out of love with somebody — you've literally been told you can't marry somebody because of crazy reasons, institutional laws. And that breaks my heart. She waited for him for three years. I think she does love Tony, but it's a completely different thing."
Kirby is just as vivacious as her character, although she does wish she were as fabulous. "I like her strength of character. I like her vividness. I like that she's a real presence, and I love that in characters. I like her fire. Sometimes, when I was playing her, I was maybe more outspoken than I probably would be because I felt her courage. In this season, she says 'I want to be a woman for the modern age,' and that is really important today."
In many ways, Margaret is that woman. In the show, we see her doing what she likes, and constantly trying to push the monarchy forward. "Somebody that has that force of character and can't necessarily do the things that other people do — some people she would have been a ballerina or an actress or a dancer, she wasn't able to do that because of her position. Today, she might have similar frustrations because she also always felt that the monarchy should always keep moving forward and she was a driver of that. She's very passionate that the monarchy should change and evolve," she says. "I don't think she'd be on social media though. I think she's too cool for that. We'd see her in all the clubs and she'd probably be even more vocal today."
Princess Margaret, who has come to be known as the original "royal rebel" and a fashion icon, is portrayed on the show exactly as such. In season one, we saw her challenging her sister Queen Elizabeth and The Crown — in some of the most fabulous outfits. This season's costume designer, Jane Petrie, made sure that this season's looks do not disappoint. "My favorite outfit was quite a simple one," the actress shares, "It was the one that she wears in Tony's flat in the end of episode four. It was a little pencil skirt with this blouse that we chose because it was lace. When I was talking to Jane, I said I really want something with a hint of sensuality that she hasn't had before. Something that indicates that she's trying to be available. So we worked really hard to find something simple, not trying too hard, but something that suggested sex. I loved wearing that because it felt really intentional."
* * *
Season 2 of Netflix original series The Crown streams Dec. 8. For information, follow @TheCrown on Twitter and Instagram or visit netflix.com/thecrown.
5 things we can expect from 'the crown' season 2 (1956 to 1964), according to history
• Prince Philip's World Tour. In 1956-57, Prince Philip embarked on a long and ambitious Commonwealth Tour that separated him from his family. He also opened the 1956 Olympic Games in Melbourne as the Queen's representative.
• Prince Philip's coronation. On February 22, 1957, the palace granted the His Royal Highness the Duke of Edinburgh the title of Prince of the United Kingdom of Great Britain, North Ireland and Whitehall.
• The meeting of Princess Margaret and Antony Armstrong-Jones. Princess Margaret met photographer Antony at a dinner party in 1958 and were wed in May of 1960, with the approval of the royal family. Tony was a commoner and the first one to wed a king's daughter in 400 years.
• The first and only meeting of Queen Elizabeth and JFK. John F. Kennedy and Jacqueline Kennedy met the Queen and Prince Philip at a dinner party Buckingham Palace in 1961. It was not an official state visit.
• Prince Charles goes to school. In 1962, the then 13-year-old Prince of Wales attended Gordonstoun, a public school in Scotland, which his father, Prince Philip Duke of Edinburgh attended as a child. Photos courtesy of James Gillham/Netflix