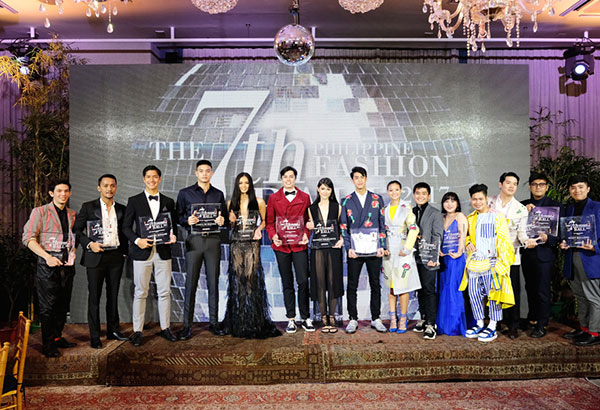 (From left) RJ Santos, David Milan, Santino Rosales, Joshua de Sequera, Kylie Verzosa, LA Aguinaldo, Maureen Wroblewitz, Donny Pangilinan, Hannah Pangilinan, Dee Gee Razon, Jennifer Contreras, Jaggy Glarino, Raymond Ang, Onin Lorente and Lex Celera
All lit up: La Aguinaldo, Santino Rosales, Donnie and Hannah Pangilinan
Leah Puyat
(The Philippine Star) - December 2, 2017 - 4:00pm
It is the fashion world's obsession: what comes next? Many fashion insiders, whether they are aware of it or not, have a common affliction. Attention deficit disorder may be seen by some as a hindrance, but the hunger for newness fuels the fashion world. Perhaps the explosion of fashion as a popular mainstream career choice among millennials came about because fashion doesn't see youth and audacity as setbacks. Fashion welcomes new ideas, young blood and untested concepts.
For the 7th Philippine Fashion Ball, it was all about looking forward. The invite was a music video; the graphics and awards were all about those who have brought a fun and fresh feel to our local scene.
And so the awards for the night recognized those who were LIT. Urban Dictionary says that "lit" refers to: "something turned up or popping; amazing in any sense; fun, overly exciting, pumped up." But you don't need a definition when you see the honorees this year. Their work is enough of an explanation.
David Milan of the Philippine STAR's YStyle was recognized for providing "an avenue for fresh names and up-and-coming celebrities." Scout magazine was cited for being a beacon of youth culture.
Photographer Onin Lorente, who has worked with Alek Wek and Dylan Sprouse and has lensed covers for Esquire Singapore, and L'Officiel India and Indonesia, was applauded for his fresh and sharp perspective on fashion.
Young male models and athletes Joshua de Sequera of the College of St. Benilde and Santino Rosales of the Colegio de San Agustin football team were honored for being runway standouts in the Ayala Malls Style Origins series and the Red Charity gala as well as being featured in fashion outlets both in print and online. Joshua, the night's Lit Model to Watch, just happens to be the progeny of modeling legend Marina Benipayo; while Santino, Lit Youth of Instagram, is the son of actor Jericho Rosales.
The winners of the Bench Design Competition who proudly flew our colors in Tokyo Amazon Fashion Week were aptly awarded and also worn that night by the Fashion Ball's style savants. Jiggy Glarino and his Eroplanong Papel collection served up childhood feel-good vibes with oversized silhouettes and fun fresh colors. RJ Santos of Randolf Clothing presented an idiosyncratic urban feel. Jennifer Contreras dubbed her collection Problem Child and mixed collage elements with graphic prints.
The talents that command massive online followers were duly acknowledged, of course. The Lit Blogger award went to Dee Gee Razon. And It Boy and newly minted vlogger LA Aguinaldo was recognized for his videos that showcase the world's wonders as well as his more mundane adventures, such as convincing a friend to try boxing. Brother and sister team Donny and Hannah Pangilinan were also awarded as Lit Influencer and Lit Female Blogger respectively.
Our international achievers who have brought honor to the country added, in equal measure, glamour and gravitas.
The first-ever Filipina winner of Asia's Next Top Model Maureen Wroblewitz, who with her quiet strength against her catty and judgmental opponents and fierce model poses became an anti-bullying heroine, was justly applauded. And the night's Woke award was given to our most recent Miss International Kylie Verzosa for her advocacy for mental health.
The Shookt the Scene award was given to the modeling squad of Juls Culas, Jach Manere, Hannah Locsin, Lou Yanong and Kenn Bosch who sported the Igolot collection of Darryl Maat, which stood out for its reinterpretation of Igorot costumes, elevated with intricate beadwork and crochet details. Andre Drilon in his Jaggy Glarino outfit was also cited for his unabashed love of individual style.
Top model Jodilly Pendre made her DJ debut with a playlist of dance tunes that spanned all partying eras. After all, even when fashion looks to the future, references to the past remain alive and well.