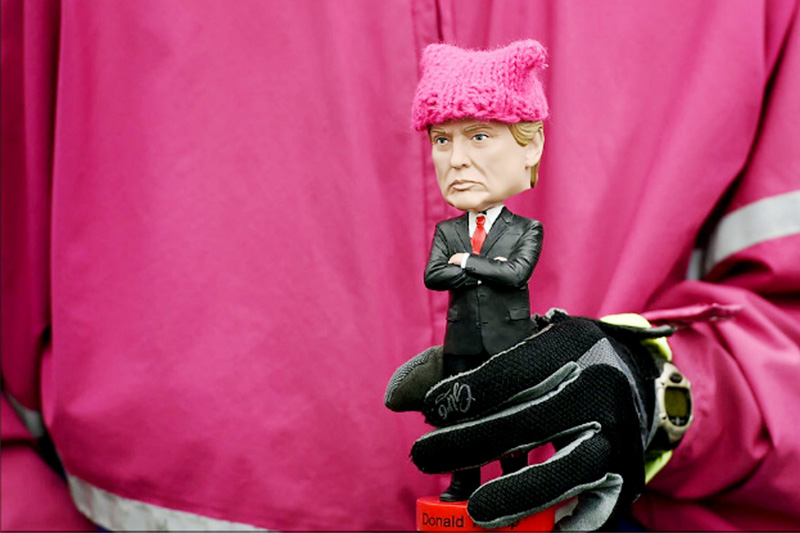 Has the USA become the land of the red, white and pink? Does Trump look pretty in pink?
Fashion report from Denmark: Cool Vero Moda; How donald trump became an accidental fashion influencer
Pink is the new color of female empowerment, the symbol of rebellion in these 'dark times'
Donald Trump is not a fashionable man in himself, but he has influenced fashion quite a lot.
On his first day of office last January, some 500,000 women — including celebrities like Julia Roberts and Emma Watson — marched in Washington wearing pink pussy hats. The USA thus became the land of the red, white and pink.
Trump's sticking his little hands into big issues like women's rights made him an accidental fashion influencer. Pink has become the color of rebellion, the symbol of empowerment among women who felt debased by his offensive remarks and stance against females.
"In the fashion industry, this is what we would call 'dark times,'" says Annika Moller Henry, trend and color manager of Vero Moda. "We're in dark times because we have a man like Trump in power, a Europe without Britain, and a political right tone in the western world. And so women are breaking out of the box, and are becoming more bold and colorful."

Protesters included Julia Roberts and her daughter Hazel and Emma Watson.
Pink is the new color of feminism. A year ago, women would not dream of having a pink item in their wardrobe. "With female empowerment, we go a little more daring than pink and go for fuchsia and magenta. We are combining pink with orange, and purple is also a big color now."
Female empowerment is also bringing power suits back in vogue, as well as statement T-shirts.
Here are more trend forecasts from Vero Moda:
• Next year, yellow will be the new pink. P-Noy followers will like this. But will we hear a howl of protests from Duterte fans?
• Rebelling and deconstructing continues with asymmetric hemlines, the off-shoulder, deconstructed gowns, sheer fabrics over jeans.
• The current fashion movement looks back to the '70s with a show of more daring and color. The celebration of femininity rises with the incarnation of everything sexy and exotic à la Latina with red lips and a focus on the waist.
•There will be a '70s LA rewind, but this time for a more sophisticated glam girl who wears heels and loves drinking cocktails.
• The '80s also have a comeback with power shoulders and power suits.
• The robe is forecast to take over the kimono. There will be an Asian feel to the prints.
• Ruffles are still here for many seasons and will be broader and more layered. Embroidery, heavy laces and fringes are still strong.
• There will be sporty references but we don't want to be too sporty.
• Looking back to roots, American history blossoms again with a feminine take on the New West, with a flower dress topped with a denim jacket. Or a feminine top with boyfriend jeans. The English uniform check will be there along with prints, roses and ruffles.
• The secret garden blooms with prairie and chambray. Summer browns come in with neutrals.
• For dress-up occasions, lingerie looks and asymmetrics are in. A more blinged-up look.
• The Pantone Color of 2018? Vero Moda is not saying yet. Meanwhile, some 12 colors are on the list for London Fashion Week S/S 2018.
* * *
Follow the author on Instagram and Facebook@milletmartinezmananquil. Email her at mmmananquil@philstarmedia.com.