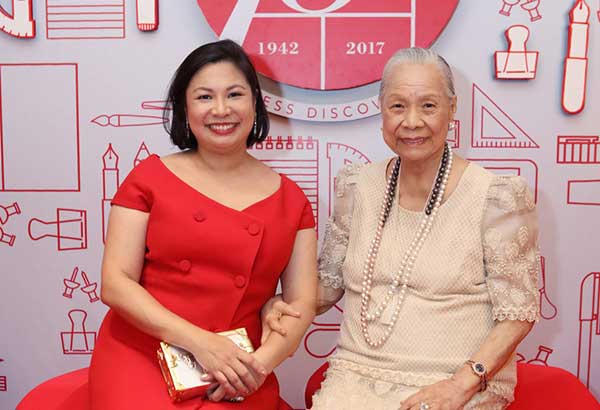 Girls generation: National Book Store managing director Xandra Ramos-Padilla with her grandmother, National Book Store founder Socorro Ramos, or Nanay Coring. NBS celebrates its 75th anniversary this year.
National Book Store: 75years with no signs of stopping
MANILA, Philippines --To run a good business, some would say, is to focus on the bot- tom line. Think of it as a machine fueled by efficiency, in which eliminating human error ensures that it runs as smoothly as possible. Think with logic, focus on the numbers. Good business, they say, is all about the mind.
But in the 1940s, a young woman and her husband began what would defy such norm. Renting out a small corner space in downtown Manila, they set up their first retail bookstore selling novels, textbooks, and supplies. It was just like any other store on any other street in Manila, one that could have been swept away by the devastation of World War II.
This humble store, however, eventual- ly became the most successful bookstore in the Philippines, one that not only with- stood war, but prospered for 75 years. Socorro Ramos, fondly referred to as Nanay Coring, and her late husband Jose Ramos were the brains behind National Book Store, turning their humble dream into a haven for millions of Filipinos. It was Nanay Coring who embodied the ideals that made the bookstore chain such a success, emphasizing that sipag at tiyaga(hardwork and dedication) were key to what made a business successful. Many who have written about Nanay Coring's life have often said that her attention to detail is peerless; during her active years in the business, the head of NBS herself would ensure that the book displays were attractive, that customers were being at- tended to, and that even the floor looked impeccable. (And if it weren't, she would sweep it herself.)
In fact, Nanay Coring's own grand- daughter Xandra Ramos-Padilla, Na- tional Book Store's managing director, recalls how her grandmother's lessons are integral to how she runs things today. "I did the management rotation program, where my Lola let me work in different departments. It allowed me to meet a lot of people in the company. So actually now, I let the newcomers go through the same thing. They have to spend a few days in the store and visit different departments," Xandra explains. "In my own experience, I had to spend a few days in the Megamall branch, so it was very busy. I even remember cashiering."
Nanay Coring gave a new definition to what it meant to have a family business: she not only treated her staff like family and welcomed her family as part of the company, but she saw her customers as her family, too.
It's hard to believe that such close attention to detail wouldn't lead to obsession, but Nanay Coring managed to steer the company with grace and aplomb. She gave a new definition to what it meant to have a family business: she not only treated her staff like family and welcomed her family as part of the company, but she saw her customers as her family, too. It's been said that Nanay Coring always wanted to make sure that Filipino readers always got the best deals, so when she would speak to international publishers, she would make sure that books could be sold locally at prices that are friendly to Filipino pockets.
That is perhaps the success of Nanay Coring's business formula. Even with hundreds of branches and thousands of employees, she still treated NBS like a small business — one that wasn't just motivated by good numbers, but also by a good sense of advocacy. She wanted to sell books because she knew how impor- tant it was for many people to keep on reading. She was, in her own way, raising a nation of readers.
In her decades in the book business, Nanay Coring has become a captain of in- dustry. She has become widely respected for her tenacity and her honest to good- ness desire to create a community of book lovers. (In fact, her many nuggets of wis- dom can be read in her latest biography, An Open Book, written by her daughter Cecilia Ramos-Licauco and published by Anvil Publishing.) National Book Store, with its 75 years and more than 228 branches, can attribute its success to many factors, but no one can deny that Nanay Coring had been instrumental to that. And with her typical business-savvy, she made sure the future of the company would be in good hands. She knew that her granddaughter, Xandra, would be the woman for the job.
FUTURE-PROOFING
According to Xandra, she had always wanted to follow in her Lola's footsteps. Even while she was young, she had al- ready looked up to how her Lola ran the business, and realized in due time that her grandmother was right: there was no elevator to success.
Xandra knew that to keep National Book Store as successful as ever, it was integral to found her leadership with Nanay Coring's values at its core. "The biggest challenge for me as a leader is to build the culture founded on Lola's teaching," Xandra says. "From there, how does it relate now? We have a lot of new people. Fifty-percent of our employees are millennials, both in the stores and at the head office. A lot have joined in the last five years, so it's about mixing the old with the new. It's about making sure everything works synergistically."
And when it comes to mixing the old and the new, Xandra also wanted to bring something new to the table, something that she could add to the legacy that her lolastarted. "This has always been part of the company, but I really promote a team-oriented culture. It was part of my training at Kellogg [School of Manage- ment]. You really get to work with people of different cultures and backgrounds. I also encourage learning within the team, and developing a love for books. I believe that it's very important to have a vision for the future, to future-proof the brand. We want to make sure we always have good customer service. We always want to curate the products, and focus on the customer experience."
To further emphasize the importance of the National Book Store customer ex- perience, the company decided to revamp its stores — starting with their SM North EDSA branch, one of their busiest stores. They're also looking to renovate their SM Megamall branch, another pedestrian-heavy store, next. "We wanted a seamless integration between books and stationery, where the products were laid out in such a way that you could easily search for an item," says Xandra.
It was up to Xandra's brother Anton Ramos, who handles business develop- ment for the brand, to take charge of the creative conceptualization of the new store design. Not only did Anton ensure that their NBS gets a makeover, but he also helmed the company's new specialty stores: Art Bar, Noteworthy, and Work Station. Xandra says that her brother even consulted with artist friends to make sure that their stores are conducive to the needs of professionals and enthusiasts, and that the right products are stocked to indulge every passion.
NEW SPACES
An even deeper focus on the cus- tomer experience is perhaps what led to National Book Store embracing the digital age more and more. They may be selling old school paper and print, but make no mistake: they have prime real estate in the digital space, too. The brand's popular social media platforms, @nbsalert, are engaging younger audi- ences with campaigns such as their Read Out Loud Challenge, which en- courages people to read their favorite books and post it online. For every 75 videos posted, National Book Store pledges to help set up a library in a public school. They're currently past the halfway mark, and aim to amass more than 7,500 videos to be able to give 100 public schools library makeovers.
They also try to keep up with pop culture all over the world, bringing not only classic books but also those that are defining the zeitgeist. "Whatever is going on in the online world, we try to bring in books related to those interests. Or for example, there was the Harry Potter play, or Hamilton... we wanted to bring in products related to that because we knew our readers would appreciate it."?
With over 200 stores (the latest of which opened at SM Puerto Princesa), it seems that National Book Store is every- where. But with the growing popularity of e-commerce, the store launched its own e-commerce site in 2012, catering to an even wider audience of readers. This year, they're further developing the site, making the customer experience even more seamless by adding new features. Xandra also shares that a mobile app for National Book Store is also in the works.
But going beyond just ensuring great customer service, National Book Store marked its 75th year by staying true to one of Nanay Coring's original advocacies, which is to educate Fili- pino students. The National Book Store founder has always been committed to the mission of educating Filipinos by making books and school supplies as affordable and accessible as possible. National Book Store is now entering the education industry by creating its own tertiary education institution called the NBS College. "We're going to offer courses like BS Accountancy, BS Entrepreneurship, and BS Library and Information Science," shares Xandra.
The school is located at the National Book Store building on the corner of Quezon Avenue and Sct. Borromeo, and is easily accessible, given its proximity to EDSA. The college will initially focus on six courses: BS Accountancy, BS Ac- counting Information System, BS Entre- preneurship, BS Computer Science, BS Library and Information Science, and BS Tourism Management. With almost 5,000 square meters of space, the school will initially have seven classrooms, two computer laboratories, a business simulation room, a full-service library, a multi-purpose hall, a cafeteria, as well as support offices and facilities.
Seven-five years is a long time, and National Book Store has proven that it pays to be productive. Not only have they made strides in becoming a market leader in the book busi- ness, but they have, in many ways, become part of every Filipino's life. To be a National Book Store customer is to become a member of its family. And much like how they run things in-store, Xandra and her family remain as involved in the business as Nanay Coring was, many years ago. Xandra's other brother, Adrian Ramos, is the company's chief financial officer. And even during their busiest days, the Ramos family never fails to have lunch together in the officewhere they take opportunity to consult with their dad Alfredo Ramos, the president of the company.Xandra's mom,Presy, brings food from home. When asked how their family manages to make it work, Xandra infers that it is perhaps over a shared love for what they do.
"I don't know yet the perfect recipe to a successful family business," Xandra admits with a laugh. "Obviously, we're not gonna agree on everything, but we want the same things. It's a matter of talking and threshing it out, and figuring out what's best for the company."
Businesses come and go, but the successful ones withstand time and trials for different reasons. National Book Store, it seems, thrives because it's run by passionate people who treat it like home. And that is perhaps why everyone grew up with National Book Store, why everyone has a National Book story close to their hearts. For the last 75 years, we could never resist a visit to National Book Store. After all, it's always nice to visit family.