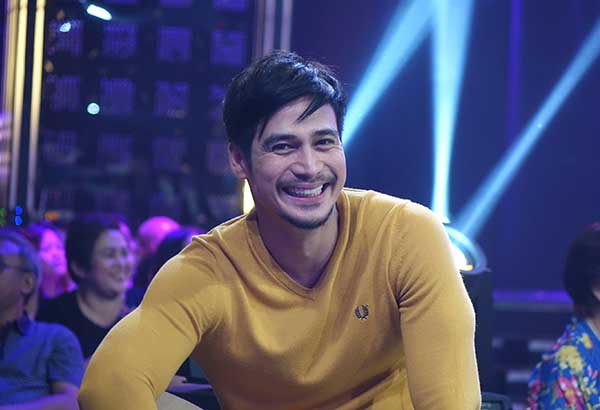 Piolo Pascual: 'I already know what I want in life'
(The Philippine Star) - August 26, 2017 - 4:00pm
With his hair still wet from playing badminton, he comes to the interview, not with an entourage of assistants, but with his son Iñigo. He sincerely apologized for being only five minutes late. "Just water, please," he tells the server. He's fasting.
He is idolized by millions for his looks, talent, and what he has done in showbiz. But he is so much more than just an actor. Here are 10 things you might want to know about Piolo Pascual, off-cam.
1. On the saying "Life begins at 40": "I already know what I want in life."
"Life got more exciting. Because you're wiser, you're a better person, you're more aware of your environment and yourself," says the matinee idol, who turned 40 this year.
He describes his 20s as a time when he was "really hungry, struggling, and didn't want to stop." In his 30s, he was "slowly realizing and accepting" himself for who he was and what he could do.
"For me, my 'midlife' happened earlier, because I started my life really early. I had to deal with professional and personal issues a couple of years back, so by the time I turned 40, I was set."
2. Before going back to the Philippines to try his hand at acting, Piolo took on different jobs in the US, one of which was being a security guard at the Oscar Awards.
"That was the year of Titanic. I saw all of them, the actors, the winners. I remember taking a nap behind the Oscar statue because I was the graveyard shift. After that, I would go back to the hospital," says Piolo, who also worked as an admitting clerk in a hospital ER. "What I realized back then was, tao rin pala sila! Some of them even looked smaller than me. Even if they're blown up on the big screen, in person, they're also regular Joes."
"I knew for a fact that I wasn't cut out for an 8 to 5 job. I was feeling, in my core, this is not where I should be. I told my mom that I wanted to go back to the Philippines (to try acting.) That if I don't do this now, I'll be 40 and look back and regret not doing what I wanted to do."
3. On producing the film Kita Kita: "I've never seen any of my films more times than I've seen this."
"We had FGDs, we went through a lot of editing and cutting, we poured our heart and soul into it," he says about Kita Kita, which is now the highest grossing Filipino independent film of all time.
"The story there is… less risk for us was to do MMFF. But the MMFF had a deadline last year, and we ended up rushing into editing and the final product. So at the last minute, we pulled out because we were not quite sold on the film, to make it more beautiful. We waited for a play date. Then Wonder Woman happened. Then all the summer movies came out. We were stuck with a play date wherein we were sandwiched between Star Cinema films and the Pista ng Pelikulang Pilipino. So we said, as long as we have one week, then we're good." The film went from being shown in 60 cinemas and earning only P2 million on their opening day, to going to as high as 220 cinemas nationwide and earning P320 million in just four weeks. "The universe conspired for it to be the kind of film it is now," Piolo says.
4. He would run from his home in Makati to work in Quezon City and back. Yes, run.
"I wear a mask, to avoid the harsh effects of the sun," he says smiling. "I run through Makati Bridge, then Mandaluyong, San Juan, then Quezon City. I swim at home, I bike in the village the moment I wake up, or I run. Even if I'm working, I bring my stuff to the set, even my trainers! I don't believe in off days. It's become part of my lifestyle, my daily routine. If I have an early call time, I'll work out during lunch time. I'll find a way. Sometimes, I go to the set from my house on foot. I'll run."
Joining a marathon has been on his bucket list, and upon the prodding of the CFO of Sunlife who is turning 50, he is finally running his first full, 42-kilometer marathon in February next year. "I couldn't say no because he's 50, and I'm only 40!"
5. He once thought about becoming a pastor.
"I've always been religious. I've always been curious about faith and spirituality," he says about his short course on Theology in Oxford University last year. "I just wanted to know where I should be, if I could be a pastor or if I should continue being in the business. That was when I was going through a transition.
"If there was anything else I would want to take up, it's real estate. That is my other business. All these years that I've been working, I put aside money for that. You cannot rely on entertainment all your life, I'm well aware of that."
6. It was Rep. Vilma Santos-Recto who influenced Piolo to get into real estate.
"When we were doing Dekada '70, I was just starting out in the industry. Mommy Vi told me that she got into film production and all sorts of things, but what saved her were the properties she bought. Since then, what I would do, when I would get a big paycheck, I would buy a piece of land. I never (take out a) loan. I only did one time for my car because I didn't have enough. Then when the recession hit the States, we got into US real estate," Piolo recalls. "Now we're in stage two, we're partnering with different companies for commercial businesses. We're building."
7. On his son Iñigo joining showbiz: "I did everything I could to stop him from getting into the business."
"I've always tried to brainwash him to not like the business. Because it's hard. And every Father's Day he would give me a card, then ask me, 'Pa, can I join showbiz? And I'd say no, 'Give me a degree first.' Until offers came, and I said to make sure he finishes school," he shares. Piolo takes every chance to spend time with his son, including bringing him to school to enroll. "I like the fact that I am still able to send him to school, literally. I'd like him to value that. To make him feel that I'm there for him, no matter what."
8. On his new home in Alabang: "I moved in with my mom, my sister, and my son has a room."
"I know it's a bit odd. Usually at 40, you're starting a family of your own, married, with kids," he laughs. "My mom cooks for us, that is what I missed. I look forward to waking up and knowing that she's there. How she joins us for breakfast even if she's already eaten. When I would come home I would always go to her room and greet her even if she's already asleep.
"I wouldn't be where I am right now if not for my mom," says the youngest of six siblings. "My mom worked hard to make sure we had food on the table, that we had an education, even if she had a hard time. So I just want to do things that will make her happy. She forgot herself to be able to give us a better life. Now, I tell her to enjoy life, that she doesn't have to think about us anymore."
9. His mom Amy is not afraid to ask girls, "May boyfriend ka na ba? Etong anak ko, single pa."
"On the plane, to flight attendants, yeah," Piolo reveals. "Or even in restaurants when she meets with her kumares. 'O, the daughter of my kumare, she's single, she's a Christian, you wanna date her?' Or she'd tell me, 'Anak, magka-baby ka na," he says laughing.
"My pastor would always tell me, 'The more you delay it, the more you enjoy being single,' and that's what's happening right now. Not for anything, but I have my hands full. And I believe that it will happen in God's perfect time," Piolo says about settling down.
Piolo's advice to those at the start of their own careers, in any industry: "Even if you want to be the best that you can be, you have to be compassionate and know there are other people who want to be successful as well.
"It is never just about you. If you want to co-exist, you have to make sure that you can adjust. You have to learn to make way for other people to shine as well," Piolo explains. "I grew up competing with myself. I never had any problem with peer pressure, or if somebody's becoming more popular or getting more adulation. It's applicable to all the things that I do. To advance in life, you compete with yourself. Because you're bound to hurt yourself if you compare yourself with another person's success."
* * *
Just like the Hollywood stars he once saw up close, talking to Piolo about his life and learnings makes you realize he is "just human, too." How does a superstar stay grounded? "When you start thinking too highly of yourself, you become detached from the real world. That saying in the Bible, let God promote, because God opposes the proud and gives grace to the humble. I live by that saying. It has given me so much confidence knowing that I'm a superstar in His eyes. I don't have to beg for validation."
* * *
Photos by @bubsie_24 and Piolo. Special thanks to Kat Lanto and Star Magic. Message the author @iamsuperbianca.
Piolo Pascual in numbers:
42: Number of countries he has traveled to. "I realized I'm not even halfway of my goal to do 100!"
2009: The year he put up Spring Films, the company that produced Kita Kita, with partners Joyce Bernal and Ericsson Raymundo
7: Number of bikes he owns. "One mountain bike, four road bikes, 2 time trial bikes."
7: Number of races he's joined. "I've only joined Ironman, and this is my seventh year." He joins the relay, where he has done the run and bike leg.