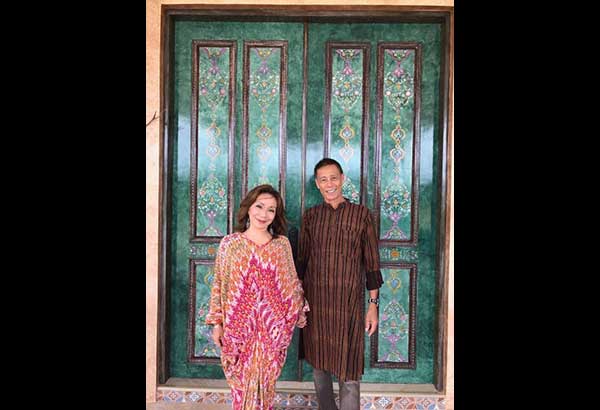 Maritess "Tokie" Tantoco-Enriquez and Renato Enriquez combine elegance, resourcefulness and practicality to produce a house where history, art and culture mix with the organic.
Renato & Maritess Enriquez in their Moroccan house of memories
LIFE & STYLE
-
Millet M. Mananquil
(The Philippine Star) - August 19, 2017 - 4:00pm
The words at the entrance say it all: Kasbah Habibi. Or "House of Love."
This is a house built with love as its foundation. It is filled with happy memories of another place and time: Morocco, in the '80s and '90s.
The owners, gentleman farmer Renato Enriquez and Rustan's board member Maritess Tantoco-Enriquez, met in Manila. "But I started courting her in Paris," says the amiable Renato, whose vivacious personality fills the house with mirth. Their marriage was enriched by fascinating years in Morocco where Renato and Maritess developed a deep appreciation for Moroccan art, cuisine, culture and history. They eventually left Morocco but Morocco never left them.
So when they decided to build their house back home, it was definitely planned with fond memories of Morocco. "This is the first home of my own," says the humble and gracious Maritess (or Tokie, as she is fondly called) who grew up in her parents' European-themed home. "So this time, I wanted something really different."
For Renato and Maritess, it had to be something that would remind them of magical sights in Moroccan places: Tangier with the splendor of colored houses. Fes with its potters and artisans. Marrakech for its souks (local markets) teeming with luscious food and local wares, and its plaza by night brought to life by spontaneous shows with animals, especially snakes.
Marrakech, also for Yves Saint Laurent's famous Majorelle garden which was a fave place of the late Rustan's founder Glecy Tantoco, who personally knew YSL and other fashion designers of that time.
But it was in Casablanca where Glecy and Ambassador Bienvenido Tantoco really found time to relax away from work. "It was in Morocco where we had a lot of bonding time with my parents," says Maritess. Some details in Kasbah Habibi, are in fact, dedicated to the memory of Glecy.
It took five years for the house to be built. Why?
"Because Renato, who took care of the construction, is so meticulous," says Maritess.
"There are a lot of challenges to face in building a house in the countryside," explains Renato who enumerates them, starting with logistics. His patience and hard work, plus the couple's ingenuity and cost-saving resourcefulness, paid off. "With Maritess' elegant vision always there," adds Renato, "we did it!"
Many of the furnishings are things they had used in Morocco: carpets, artworks, tapestries, side tables, plates, tea sets, candle holders and tea lights.
Many features in the house have that Moroccan feel, but they were actually done using Philippine materials and Filipino artistry. The Moroccan-looking fountain in the courtyard, for instance, is actually made with marble from Romblon. The doors and columns with handpainted details were done by a local artist.
"See our stairway with tiles? That's me!" says Maritess who found machuca tiles to recreate tiled stairways she saw in Morocco and southern Spain.
"See the beautiful gazebo on our rooftop? That's Renato's creation. Actually, his surprise for me!"
Their beautiful front door was inspired by Jia Estrella who was in the business of selling doors. Their long dining table was made possible by cleverly connecting two Moroccan wooden doors with intricate details.
"With the help of interior designer Andrew Laurel and creative painter Alfred Galvez, we were able to recreate the Moroccan house we envisioned," says Renato. The house has domes in three bedrooms. The intricate ceiling in the sala is an eyecatcher. It also lets in natural lighting for the house.
"The original plan for the house, done by a Malaysian architect, was too big, we had to downsize it by half," explains Maritess.
What makes Kasbah Habibi throb with added life is the menagerie of animals they care for. There is Nemo, the dog that follows Maritess wherever she goes and who loves wandering about. "It freaks me out that Nemo disappears in the talahib where there might be snakes," explains Maritess. There is also Summer, the mini-horse; Peppa the black pig; Magellan the ostrich; and George the goose. "By the way, we forbid the slaughtering of animals with names," says Renato.
If the air here smells fresher and the land looks greener, it's because the couple grows a lot of fruits and vegetables. "Luckily, I do have an agriculture degree, but we acquired the land with existing fruit trees," explains Renato. "We have mango, avocado, papaya, santol and mulberry trees, for instance. And we have ampalaya, eggplant, okra, squash and corn. The enjoyable part is when we share our harvest with family and friends."
Maritess adds: "Whatever we have grows naturally here. We like organic. No spraying, no pesticides."
For lunch, the couple harvested some veggies for their delicious Moroccan spread which included kofta meatballs served with Arabic bread, harira soup which is usually served after fasting during Ramadan, tagine with lamb, and couscous with chicken.
Trust Maritess to add a touch of our very own to their Moroccan table, by putting fans designed by Paulo Olives (of Monchet Olives' famous fan line) as giveaways for the guests.
For the teapot, Renato just had to pluck tarragon leaves growing in their garden for a fragrant brew.
Love and laughter also grow naturally here. As you leave the place, you can hear two mirthful voices chirping in unison. Another day well spent in celebrating Morocco in their hearts, nobly working with their hands on soil, taking care of nature, and giving gratitude for God's blessings.
And yes, searching through the bushes, they were happy finding Nemo.
* * *
Follow the author on Instagram and Facebook@milletmartinezmananquil. Email her at mmmananquil@philstarmedia.com. Photos by Millet M. Mananquil