Richard and Juliana: Two peas in a pod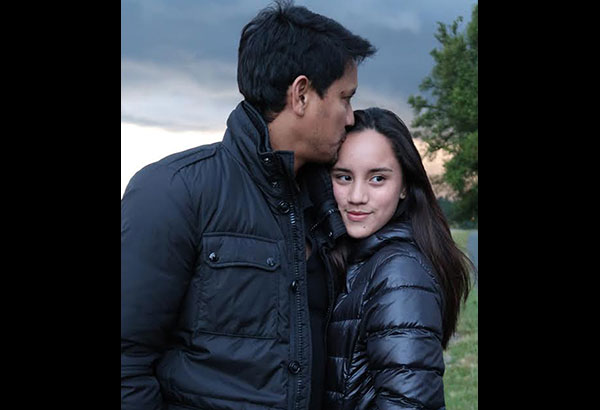 On weekends he will come straight from the airport into the car and enter our bedroom door, hair tousled, strong and sturdy and always oh-so-handsome. If I'm asleep by the time he arrives I will wake up to him nuzzling my neck or showering my face with a thousand little kisses. But their ritual is different: when she sees him enter the door she will rush to him for a bear hug, or if she is far enough still she will run and leap into his waiting arms like a happy little monkey. Then they'll catch up and plot their time together. I say "plot" because for the most part I get nervous with their antics.
See, I grew up in a home where Mom and Dad were always cautious, maybe overly so. The yaya always had to make bantay, so we did not fall and scrape our knees or hit our heads. We had to always play in long pants, play safe, and never when it was too hot or rainy. We could play as much as we wanted, yes, but nothing dangerous that could potentially break bones — skateboards, climbing trees, rollerblades and the like; these were no-nos.
Richard's childhood was more carefree, and it is that kind of backdrop maybe, unburdened by over-caution or fear, that has shaped much of his childhood. It is that same environment, or maybe a version of it, that he wants her to also have. I remember when Juliana was maybe four years old, eyes glowing and cheeks flushed after a stunt her Daddy guided her through (if I remember correctly it was to skip the last two steps in our staircase and jump into his waiting arms) she stated happily and proudly to me: "Me and Daddy, we do danger!" And that was that, a declaration of absolute joy and freedom from our then-little bundle of joy! Who was I to burst her bubble?
Once, I heard them talking about how they would climb to the rooftop of our home. I cautioned them not to, saying the roof might be slippery or there may be scary scampering little creatures to be found. They nodded and said yes like obedient schoolchildren, and later that same day they sent me a photo of the two of them up on the roof, arms spread out, beaming with joy and naughtiness. I sighed and laughed despite myself, resolved to just do my part and cover them in prayer. Yup, those two, they do "danger" — sliding down stairwells, riding their bikes (with helmets on, yes, but still). My siblings and I were never allowed to play in the pouring rain, because we might catch a cold, so each time Juliana asked me I would say no. Because: colds, cough, fever, the flu. But Richard is all about experiencing the full joys of childhood. "Honey, you have to relax a bit, they're only young once." And with that, off she goes with a "yes" from her Dad, on many a rainy day, dancing under the downpour, sliding through the muddy grass-covered garden, squealing gleefully. And when her Daddy joins in on the fun, their happiness is complete. I watch them, laughing, all my worries still very much intact, yes, but my heart full. They are a joy to behold, lit from within, full of energy and life. I think they are my everyday dose of multi-vitamins.
But the carefree streak notwithstanding, it is with her Daddy that Juliana feels most safe. This can perhaps be best explained in this one instance at the height of Typhoon Ondoy. Richard was out of town for work. Juliana was glued to the TV screen monitoring the typhoon's effects and she was so scared that the flooding would also affect our home. By then she had seen dozens of residents in Manila wading through the flood and/or being rescued from their rooftops. "Mama, the city might be underwater, like in Noah's time." "No, Juliana, God will not allow that to happen. Remember, he showed Noah the rainbow as a promise." She would be appeased for a bit, only to come back a few minutes later. "But Mama, our garage is wet already. There is a little water already coming in — this much, Mama (she showed me how high, holding her forefinger and thumb about an inch apart). "But of course it's wet, Juliana, because it's raining." By this time she had written the emergency numbers flashed on the TV screen on the palm of her chubby little hands. I continued filling up boxes with things to give away, not worried we had to evacuate, too, and she finally plopped beside me with resignation in her voice. "Mama, I wouldn't be afraid if Dad were here because I know he will get us up to the roof to safety. But you, Mama — oh, Mama, you will just pray." This sent me into fits of laughter; it still does whenever I remember it.
The time we spend together now as a family is so fragmented. At best, we are all together for two nights and three days, as if we were on vacation in a package tour, and then he has to leave again for work. Weekends are sacred, now more precious than ever, and though I am not, can't, and shouldn't complain, I will be the first to admit it is not always easy.
I am thankful, though, for small mercies, foremost of which is the fact that we did spend a lot of time together as a family in the past, our little bundle of three, and we've created so many memories together and we have a whole treasure trove of those to dig into when we miss each other. Plus, there is always FaceTime to be had at day's end.
Today being Father's Day, I'd like to wax nostalgic on Juliana's relationship with her dad. They are two peas in a pod, alike in so many ways, and they have an alliance all their own. I say "alliance" because my parenting style can be quite different from his, and I would like to think he tempers mine in the same way I probably also do his. That said, maybe, just maybe, she will have the best of both worlds.
Recently one weekend, Juliana paddled across the hallway to our room because of a scary movie that had freaked her out. She crawled into our bed and snuggled beside her sleeping daddy. I woke up because suddenly the bed seemed too small. I looked at them, each other's best friend and ally, sleeping soundly beside each other. I went back to sleep with much gratefulness in my heart because, in that tangle of limbs, I have all I want, all that matters.