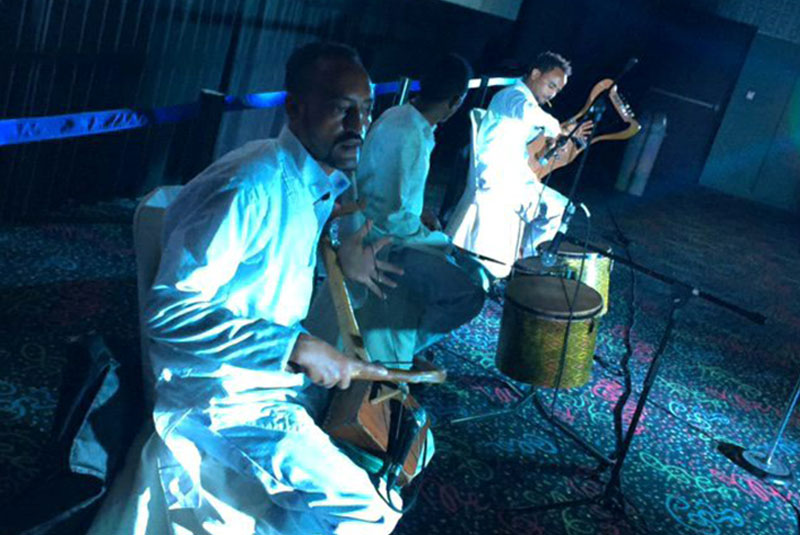 Ethiopian musicians jammed on the masenqo and krar as guests enjoyed a cultural — and literal feast — at Shangri-La Plaza Cineplex.
Find your African roots in new season of 'Asian Air Safari'
MANILA, Philippines - It was a night of Ethiopian enera and false banana, strong coffee, music produced by the masenqo and krar, and dancing and singing like the birthplace of hip-hop — but mainly it was an event to showcase the latest season of ABS-CBN's Asian Air Safari held at Shangri-La Plaza's Cineplex.
Ethiopian Airlines hosted this lively event that featured Ethiopian Ambassador Shiferaw Jarso and Ethiopian Airlines country manager Solomon Bekele, who welcomed guests with opening remarks.
"We've been flying to the Philippines two years, and our routes are important to bridge the gap between the two countries in terms of culture, trade and economic partnerships," said Bekele, "but we believe our mission is beyond just selling tickets." He lauded the new episodes of ABS-CBN's series starring real-life pilot Capt. Joy Roa, who hosts Asian Air Safari, the only aviation-themed show in Asia. The program featured two episodes focused on Ethiopia's culture and people — A Cradle of Mankind and A Land of Diversity — undertaken with the assistance of Ethiopian Airlines. "The team captured very impressive material on Ethiopia's culture, history and its people," added Bekele.
Scientists say all human life emanates from the Ethiopia in the Horn of Africa — from the discovery in Hadar of the 1.5 million-year-old remains of "Lucy," the earliest human ancestor — to modern-day Ethiopian Airlines, which offers a brand new fleet of 787s to transport Filipinos to this vibrant cultural destination.
Earlier, the assembled fans lined up for cocktails and a variety of Ethiopian fare, including the spicy beef-based stew called enera, kocho (false banana, from a plant that resembles banana), ayib cottage cheese and doro wet (spicy red chicken sauce). After consuming platefuls, traditional Ethiopian coffee was served — of course, Ethiopia is the birthplace of coffee as well as humankind, so you can imagine it was strong and good.
Capt. Roa took the audience through visits to Adis Ababa and outlying Ethiopian villages, revealing just a glimpse of Ethiopia's rich, life-affirming culture. Plus, performers from the country were flown in to warm up the audience, who stuck around for a raffle rewarding one winner with a pair of round-trip tickets to the country via Ethiopian Airlines.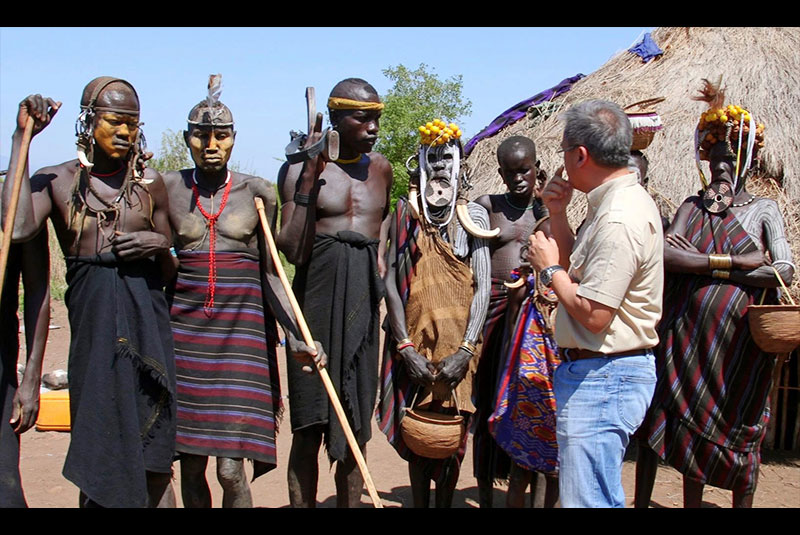 Captain Joy Roa comes face to face with the Mursi people, Ethiopia's most isolated tribe, in 12th season of Asian Air Safari.
* * *
Asian Air Safari has visited over 250 cities in more than 65 countries to discover the world's most fascinating places and cultures, meet with friends old and new, and to share experiences that make life meaningful.
Season 12 premieres Sunday, June 11, 8:30 p.m. on the ABS-CBN News Channel, with replays every Saturday at 2 p.m. Follow Asian Air Safari on Facebook and Instagram for more updates. #AASAdventures.