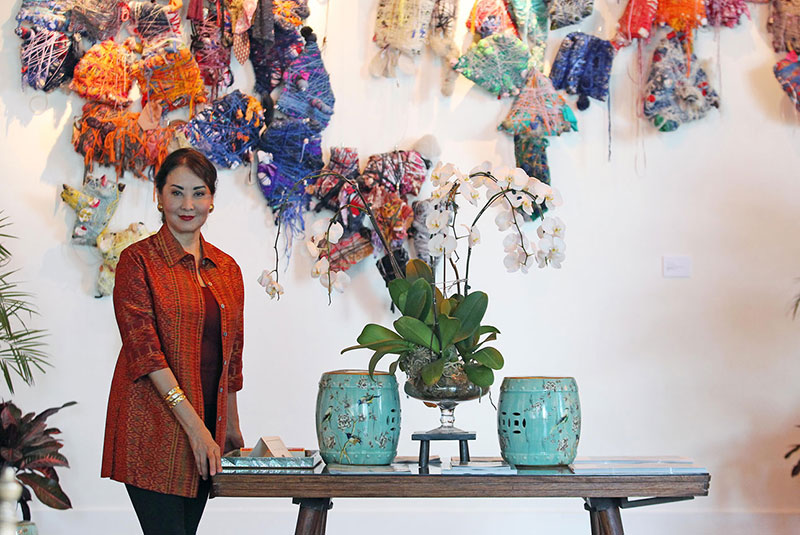 Former journalist, activist and beauty queen Gemma Cruz-Araneta: "As a parent you want to pass on to your children discipline, love for work, love for country, for social justice — don't cheat anyone, always be righteous, obey the law. Love for culture and history." Photo by JUN MENDOZA
Gemma Cruz - Araneta looks back on mothering in exile
(The Philippine Star) - May 13, 2017 - 4:00pm
When asked how Gemma Cruz Araneta — former beauty queen, journalist, politician, author and conservationist — celebrates Mother's Day with her family, her short answer is, "We don't."
For every short answer in this interview, there is a long one hiding somewhere. In this case, it is her son Leon C. Araneta who fills in the gaps. When her children Leon and Fatimah were growing up in Mexico City, Mother's Day was waking Gemma up with flowers and breakfast. It was cards scribbled by tiny hands in a foreign country that would eventually become their home.
This is a story of spending 20 years in exile and raising two children singlehandedly, of a struggle in unfamiliar terrain — one that was very different from the privileged life in Manila where she was born to journalist Carmen Guerrero and Ismael Cruz (Gemma's father died during World War II), and later in San Juan with her mother and stepfather, architect and city planner Angel Nakpil.
And then coming home to a country that was so different from the one she had left behind.
Gemma says, "I went on exile because I was picked up by the army for interrogation during martial law. Fidel Ramos, who was then a brigadier general, told me, 'Oh yes, you can continue writing, but you have to show me first what you're going to write.' I thought, oh dear, mahirap na yata yan. So I decided to leave the country."
The story is also about three generations: Gemma's mother Chitang Guerrero Nakpil; Gemma herself; and her two children, now also both parents.
It's Leon who tells the stories behind the stories — the ones that Gemma wouldn't say whether out of a sense of propriety or privacy. Not once does she use the word "sacrifice" when describing being a single mother abroad (by then she and her husband Tonypet Araneta had already separated).
No parent, it seems, wants to talk about the hardship of motherhood in front of their children — or at least not Gemma.
Leon might not have known it then, when Gemma seemingly magically produced everything he and his sister needed, but he knows it now and wants to talk about it.
"I realize that at the time, my mom didn't have the means to put both children in a British School in Mexico, but she made it possible because she was working two jobs — she was working as an English teacher and modeling on the side."
He adds, "My mom might not know it, but I celebrate Mother's Day every day. On many occasions, I find myself to be very grateful for the things my mom taught me or things that she brought into my life. I'm very grateful to her that she brought me to Latin America when I was a small boy. I lived there for 26 years. My formative years and as a young man were in Latin America and that has become a key part of my identity and my personality."
Gemma's own identity was largely influenced by her mother Chitang Nakpil, now 94 years old.
What was it like growing up with a famous mother? "I just loved basking in her shadow," she says.
Chitang, says Gemma, was a strict disciplinarian. "You couldn't go out of your room without being dressed properly. You couldn't go to the table in your nightgown or uncombed hair, and she didn't like me wearing shorts even at home. But she was always barefooted in the house, so I could do that too."
Also inside this sphere of influence was the Guerrero clan, which includes her mother's brother Leon Maria Guerrero, lawyer and diplomat and best known for his translations of Jose Rizal's Noli Me Tangere and El Filibusterismo.
When Gemma won the Miss Philippines-International in 1964, "Uncle Leony" sent a cable from Spain to Chitang, which read: "Basta barbaridad!" (Stop this barbarity or nonsense!)
Has Gemma had reason to say the same thing to her children? "Not yet!" she says. "But I'm really lucky with my children, I must have done something right."
"I was just never caught," says Leon, laughing.
Gemma is now a grandmother to Fatimah's children Tekwani and Aurora Yol and to Leon's daughter Uma.
You can see the love and affection between mother and son as they talk about their lives, leaving and coming back to one's country for Gemma, and for Leon, discovering his.
Excerpts:
THE PHILIPPINE STAR: You were in exile in Mexico during the martial law years. What was life like then?
GEMMA CRUZ-ARANETA: Fatimah was only eight and Leon four. Fortunately my uncle, Leon Maria Guerrero, was the Philippine Ambassador to Mexico. So I figured he would be able to help me with all my papers. It's not really easy in any country to settle or get the permissions but Mexico was like the Philippines, if you know the right people, you can get things done.
I went to Mexico first and told him I had plans of bringing the children and settling there. He knew the Minister of Interior and he said there was a big diplomatic affair and he would attend only for me because the minister would be there.
When he came home, he told me the minister had said, "Send her to my office tomorrow and I will give her all the papers she needs."
Your uncle was an ambassador, so he was essentially part of the Marcos government from whom you were going into exile.
Tito Leony was undersecretary of Foreign Affairs under Magsaysay. He made a speech at the Manila Law School about Asia for Asians. That was in the late '50s and the Magsaysay government was heavily influenced by US policy. That was the time the Embassy in London was going to be upgraded —I don't think we had an embassy yet — so he was the first ambassador to the Court of St. James. He stayed there for seven years. I noticed he was never called back home. I guess they didn't want trouble from a person like him.
Did your activism start before martial law?
Oh yes. Towards the end of Marcos' second term, the times became very turbulent. That's when the student activists emerged. I was — still am — a member of Makibaka (Malayang Kilusan ng Kababaihan). I was with Lorena Barros, who died in an ambush.
What was it like growing up with a famous journalist mother?
I just loved basking in her shadow. Di ba many children of famous people reject it? I didn't.
Tell us about your childhood.
It was a very happy childhood, very stimulating because my parents had many interesting friends. My mother was a journalist, so all her friends were very vocal, intellectual, and people with principles. They were interested in culture, art and history. So the conversations around them and in our house were really very stimulating.
I interviewed Renato Constantino a year or two before he died and he showed me old pictures when he was a journalist. He was wearing an all-white suit! I said, 'Journalists dressed like that before?'
Renato Constantino was a contemporary of my mother. They were all very properly dressed then. Eh kung yung mga kutsero nga naka long sleeves. I think he was the president of the association of campus writers when they were in college. He was the editor of the UP Collegian and my mother was editor of the newspaper of St. Theresa's.
Going back to your childhood in San Juan. Was it a big family?
Oh, yes. Mommy and Daddy Nakpil had three children, and Daddy Nakpil was also a widower, he had two daughters. So I had two stepsisters, two half-brothers and one half-sister, you must know her, Lizza Nakpil.
Yes. So even then, it was a modern, blended family.
My stepsisters, unfortunately, did not live with us. They would just visit us on weekends because their lolas did not want to let them go.
Did you have a good relationship with your stepfather?
Yes. His influence was very benign. He stayed in the background. He probably felt, "I'm only the stepfather, so I really can't impose my will." He was a very cultured man. So we would always have classical music at home. He inherited a lot of paintings from Ariston Bautista, his uncle.
Paintings by?
Juan Luna, Resurrecion Hidalgo. Actually that Juan Luna that Lizza sold to the GSIS, my stepfather inherited that from Ariston Bautista, who was the husband of his aunt, Petrona Nakpil. He was a wealthy man, a friend of Jose Rizal. When Andres Bonifacio was murdered, of course all the Katipuneros close to him were being hunted. He harbored them all. Julio Nakpil was the aid of Andres Bonifacio. So they were living there in Quiapo under the wing of Ariston Bautista and all the brothers of Julio Nakpil like my stepfather's father. Ariston Bautista was childless and treated my stepdad like a son and he was the one who sent Daddy Nakpil to Harvard to study architecture and urban planning.
Growing up with a long lineage of people who were important in history, did that bear a weight on your shoulders or was it something you didn't think about? (Jose Rizal was Gemma's great-granduncle.)
It did bear its weight because you had to be careful with the way you behaved. You were not told to behave a certain way just because you were a relative of these people, but you sort of feel that you had to.
Did your mom want you to become a journalist?
Well, she didn't say she didn't want me to become one. She just said. "You're not going to earn a living like that."
How old is your mom Chitang Nakpil now?
She's 94. She has her own flat, so I visit her almost every day. She's bedridden and she doesn't know me anymore…since four years ago. She had a series of mini strokes. When she talks it's difficult to understand her now.
Leon, what was it like growing up in Mexico? You look like you can easily pass for a Latino.
LEON C. ARANETA: Yeah, it even went into my physicality. I'm very proud of that background, which is not my DNA or logical background, but is my cultural background. We stayed mostly in Mexico City but on weekends we'd go on road trips outside the city.
In the '70s, I still remember walking to the school bus for 10 blocks as a five- or six-year-old boy holding my sister's hand. It was still okay. Now, my friends who have children can't have their kids out of sight. Times have changed. I was in Mexico City at a time it was still very gentle. Things changed rapidly in the '90s.
Did you go to an international school or a local one to assimilate right away?
Leon: It was the equivalent of the British School here. My mom didn't have the means, but she made it possible.
Gemma: That's why I had to model aside from teaching.
Should I even ask, which paid better?
Gemma: (laughs) The modeling! It happened quite accidentally. I had a friend named Anita who was half-Filipina. Maybe she heard about me through the embassy, she went to our condo and she said, I need a partner for a modeling shoot. I said, I'm not a model. I found out, oh wow, just for this modeling shoot, I earned as much for a week of teaching from 7 a.m. to 7 p.m. I said, I think I'm in the wrong profession. Then this Anita suddenly disappeared and her agent was so desperate because she had left so many jobs behind. So he called me up. I combined modeling and teaching, which were both flexible jobs.
You were the first Filipina and Asian to win Miss International in 1964. Tell us about that experience.
Gemma: It was very exciting. I was very happy that I won because I could see how delighted Filipinos were. I didn't realize that it would be so important for them. We were coming home from Long Beach, California, at 7 a.m. I thought, I don't think anyone's going to wake up and go to the airport to see me. But when I looked out the window, oh my god, ang daming tao! The mayors of Manila and San Juan were there. The Boys Town Band was there. There was a red convertible where I sat with the mayors.
What was your mother's opinion of the whole beauty pageant affair?
I didn't ask anyone's permission. Two of my friends were the ones who gave my name to the Miss Philippines organization. They said they needed a tall candidate and I said, sige na nga. Sabi ng mommy, "Hay naku, if you think you're going to win this contest, you're wrong." But I did and then went to California. In fact, I had a scholarship to Mexico. That was the Philippine-Mexico Friendship Year and I was awarded a scholarship to study Museology. I really brought two extra suitcases with plain clothes that I could wear to Mexico for my studies. The other maletas were gowns that mommy was supposed to take home after my defeat. She said, "We'll go home for two weeks and then we'd go to Mexico." Hay, naku, di na ako nakabalik.
Leon is very tall, it's obviously the genes.
Leon: They always ask me why I got so tall. One, I point to my mom, and second, I always say that in Mexico there was an abundant amount of vitamin T, which is taco, tequila and tamal.
Leon, your mom made sacrifices taking you to Mexico as a single mother. Describe everyday life in Mexico back then.
Leon: Oh, now I can get even (laughs). I only knew that she was going through a hard life much later in my life, when I myself was an adult. I remember arriving back from school and having C grades and she would get so upset. I was like, sorry. But now, as a parent, I realize the feeling when your kids get such poor grades. I would have worked harder because I'm sure she had the same experience with her mom.
Gemma: Oh, yeah, definitely.
Leon: But as a young boy I only remember having a lot of friends.
Where were your friends from, Mexico or expats' kids?
Leon: I had friends that were the kids next door, so I would play on the streets and bike the whole day during summer and we had karate lessons the whole day. I had a very happy childhood. In school I had international friends. I had the best of both worlds — the international school background and being in touch with the Mexican culture.
But not in touch with Philippine culture?
Leon: But my exposure to it was only on Independence Day or three times a year and those were the times I was made to wear barong tagalog.
Did your grandmother visit you in Mexico?
Leon: Once or twice.
Gemma: She visited but the altitude bothered her. I think it's twice the height of Baguio, just Mexico City not all the country.
Leon: I think everything bothered her.
Gemma, did being a teacher and a model in Mexico bring a lot of suitors?
Leon: Oh yeah, she had a lot.
Okay, you tell the story!
Leon: I remember so many men calling up my mom. There were no cell phones then, so I would pick up the phone. My mom also worked in the UN and economic think-tanks.
Gemma: That was after the modeling, then I got this job at a presidential think-tank.
Okay… back to the suitors.
Leon: She had many men calling her on the phone. She had male friends and all were very nice to me. I do remember feeling that my mom was a very beautiful woman, and she was so different from the other ladies around. When we would walk, men always turned their heads to look at her. Once, we went to a government office and my mom had to park the car and she had the papers. The person behind the counter was literally closing the windows and when he saw her he opened the windows again.
I remember that she was unique in that way. Even when we went to apply for the school, even there she'd make a statement. She was just that type of woman without wanting to.
Were the suitors all Mexicans or UN type of guys?
Gemma: Most were Mexicans. They're very outgoing. You don't need a DI because they all dance salsa.
Did you go out on dates with them?
Gemma to Leon: Did I go out on dates with them?
Leon: (laughs and shrugs) I was just a boy sleeping after eight p.m.
I think this is the time to tell us what you did on Friday nights while your boy was knocked out.
Gemma: (laughs) I didn't. Well, you know, when you're bringing up two children, you just don't have enough time to have a series of boyfriends because they might feel insecure.
But did you have a relationship with a Mexican señor? Sige na, para masaya ang kwento.
Leon: This is your interview, Mom.
Gemma: Well, yes, I had to have a surrogate father for the children. I realized that Leon needed a masculine image, and so did Fatimah; daughters also need that.
Leon: And then, mom, and then?
Gemma: (laughs)
Was he good to the children? Did he influence you in a positive way?
Leon: Yes, he was. And we're still in touch.
(Mother and son look at each other.)
Gemma to Leon: So, you're still in touch ha? He was a good influence on the children.
How long did you stay in Mexico after school?
Leon: Four to five years. My mom had gone back to the Philippines by then, 1989. I still remember the day she left. It was very sad. She had been feeling and expressing that she was curious about going back to the Philippines. Ninoy had died, Cory had come in. Things were changing and moving.
What pushed you to make that move, just curiosity after the revolution or homesickness as well?
Gemma: Both. I felt that I really belonged here.
Leon: I can tell you what she was probably feeling. It was, "If I'm going to make a difference it has to be now." She felt that it was time to go, that's my country, that's my home whatever condition it's in.
Why did you decide to stay, Leon?
Leon: After I was graduated from university in Mexico, there was a big financial crisis. It was very hard to get a job, especially as a new graduate. I had assistant-level jobs in companies and everything was about doing business with America. Ninety five percent of it was like that — buying from the Americans, getting screwed by them or trying to not get screwed by them. And a little bit about Europe. I felt there was more to the world than being dependent on the Americans. I felt the Philippines…it was the Asian Tiger. I went here for a year then I thought, well, I'll stay another year.
What was it about being here, among Filipinos, that surprised you the most? Did you feel alienated or did you slip right back into the culture?
Leon: When I was in Mexico, I was always asserting my identity as an Asian, as a Filipino. Many people, even to the day of my graduation, did not believe I was. But I always held on to my Filipino passport. I could have applied for a Mexican passport but never did. When I came back here to the Philippines I felt I was just not Filipino at all. I was not blending in. They'd tell me, "You're Mexican." I think the first eye-opening situation was I was a lot more Mexican than I thought.
And how did that make you feel?
Leon: Very surprised. I felt like blinders had been lifted off me and realized I was indeed more Mexican than I had thought.
Gemma: Well, you were only four years old when we went there. I guess Fatimah feels the same.
Leon: Fatimah's not only Mexican, she's like mountain Mexican!
Gemma: She lives out of town, off the grid. Early on, when her father gave her a gift, she bought a piece of land outside the city with a forest behind and a cornfield. She took up architecture and switched to urban planning, so she built her own house. She had solar panels before it became easy to have them. She designed her house so the roof collects rainwater and there's a cistern underneath.
When you look at your two children, do you see them as being very different from each other?
Gemma: No, not really. Just different lifestyles. Leon is more urban.
What do you think you passed on to them in terms of attitude?
Gemma: As a parent you want to pass on to your children discipline, love for work, love for country, for social justice — don't cheat anyone, always be righteous, obey the law. Love for culture, history.
Leon: She has. I could say the first big learning from her was sacrifice for country comes first and foremost. Your loyalty to your nation. I picked up discipline, finishing things. If you start a book or a project, finish it, do your best. I picked up very important values. I remember being at home as a young boy and thinking, "Why can't I be in my pajamas the whole day? I'm at home." And she said, "Exactly. It's because you're home, you should respect it the most."
Gemma, this is from your mother?
Gemma: (laughs) That's right!
Leon: I have a daughter and I tell her the exact same thing. She also wants to be in pajamas the whole day. I say, no!
How is Gemma as a grandmother to your daughter?
Leon: She's not one to change diapers.
Gemma: Because I already changed yours.
Leon: She's the grandmother that will converse with your daughter about significant matters. Mom's not the type to spoil them with gifts either.
What was your relationship with your grandmother, Chitang Nakpil, like?
Leon: My biggest regret in my relationship with my grandmother is that I was never able to have a drink with her. When she was out and about, I was too young; and I'm at that age now.
Do you drink, Gemma?
Gemma: Of course! It's a vice of the Guerrero family; the Cruzes don't drink.
Leon, what was your relationship with your dad?
Leon: When I was living in Mexico, he would invite me for summers or vacations. He was always reaching out, always very generous in bringing us here and taking us to the beach. Summers mostly and a couple of Christmases Fatimah and I were here. He never wrote us off.
Gemma: We never wrote him off either. We remained friends.
Do you miss Mexico?
Gemma: Oh, yeah, I do. My life there was very different. People didn't know anything about me.
Do you miss a certain señor?
Gemma: He's still there anyway (laughs).
Leon: El señor!
Gemma: Sounds like a tequila.
What are your thoughts on today's beauty queens?
Leon: Mom, be nice.
Gemma: (laughs) Well, I really wonder whether they know that these things don't last. I'm lucky that my mother would always whisper to me that things don't last. I wonder if the beauty queens of today have such strong influence from their parents. If you rest on your laurels and then you realize they've all dried up, then it's hard to cope. Fortunately, I was warned about this, that there are more important things in life. If you win a beauty contest, that's a lot of responsibility because people look up to you. So you'd better be a good example.
What was it about the late '60s or early '70s that beauty queens became activists?
Gemma: There was me, Nelia Sancho and Maita Gomez. They both went to the University of the Philippines and Maita told me that's what opened her mind. I suppose that's what also happened to Nelia. I picked it up at home, because I never went to UP, I went to Maryknoll College. When you become aware of the social conditions, you see the inequalities and injustice, you become an activist.
* * *
Visit the author's travel blog at www.findingmyway.net. Follow the author on Instagram and Twitter @iamtanyalara.