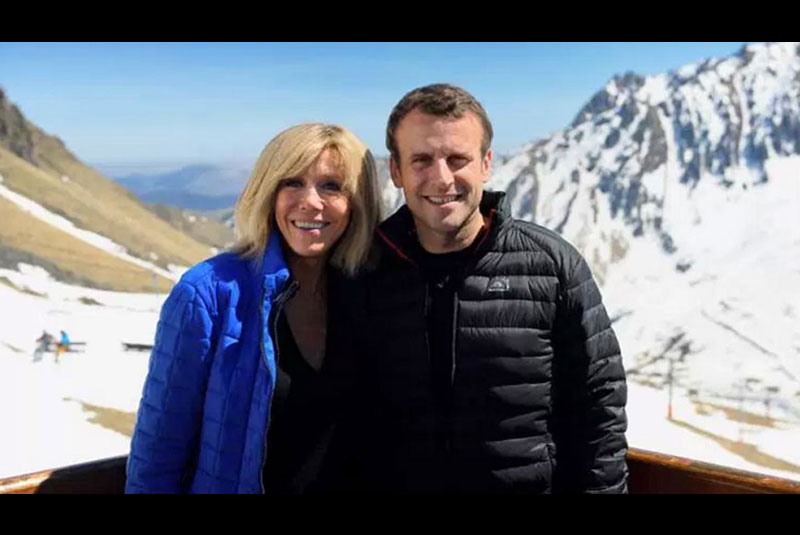 New French President EmmanuelMacron with his older wife Bibi: So what's 25 years age difference between a happy couple?
So France has a new president, Emmanuel Macron. So what? So his wife, Bibi — short for Brigitte, as in Bardot — is 25 years older than he is.
Really, so what? I absolutely do not understand why there's such a fuss about their respective ages. I thought only the Philippine press was making a fuss about it but no, it looks like the worldwide press has made some kind of noise about it, too, some of them saying that it is a duplicate of the Donald Trump-Melania marriage (in reverse, of course). Melania is 24 years younger than Donald. But Melania is the woman. Everyone knows the woman should be younger than the man. I don't care what everyone else thinks. I have my own point of view.
So Donald Trump is 64. In a man's world his prowess is on the wane. He is no longer the stud he was in his 20s or before. He might be more skillful when he puts his mind to it but if they've been married for more than four years, he probably is beginning to get boring in the bedroom.
Melania, at 39, probably has had enough experience but might be going through a phase where she doesn't care too much about the physical stuff. Just take a look at Trump. If you tell me he turns you on, I think you should have yourself examined.
But Manu and Bibi are a different matter. Manu is 39 and he is attractive enough. Bibi is a wonderful 64. She looks just a little bit older than he. She is vital, intelligent, very much alive. She rereads his speeches and counsels him as he practices and attended his meetings when he was Economic Minister. She knows more about life than he does and he knows it, so he probably listens to her. They make a good, admirable team. Nevertheless, most people eye the age difference.
As if that were a big thing.
According to Google: "There's an old and storied tradition of older women holding sway over happy younger men in France. They include Napoleon's Josephine (seven years older); Louis XIV's last wife Françoise de Maintenon, a portly 49-year-old with whom the 45-year-old Sun King two-timed the flamboyant Marquise de Montespan; or Diane de Poitiers, 20 years older than King Henri II, to whom he remained loyal to the day he died: he was fatally wounded in a jousting tournament in which he carried her colors in preference to those of his young wife, Catherine de Medici."
They say the French want their women to be chic, witty, charming. Those words are not typical descriptions of young girls. They are descriptions of older, more experienced women. Young men are attracted to older women who can enrich their life experience, add a veneer of sophistication, make them look a lot smarter than they actually were. Whether you call it a "cougar" relationship, or the desire for someone who has the wisdom of a mother figure, that is the attraction of an older woman.
Well, you may say, the French have always been more sophisticated than Filipinos. Maybe. But in France there is a saying among old farmers: "C'est dans les vieux pots qu'on fait les meilleures soups." Literally translated: "You make the best soups in the oldest pots"!
If you doubt that, ask people who have had an older woman-younger man relationship. Maybe it did not end in marriage like it did for the Macrons but you will see a wistful smile, a twinkle in the eye, signs of precious memories, recollections that stand out, incidents that are totally unforgettable.
My great-grandmother Maria Rizal Cruz married my great-grandfather who was eight years younger than she. He was a good-looking mestizo chef in demand for the Laguna fiestas. They say his galantina was outstanding, that he had designed his own instruments for deboning chicken. Unfortunately she left him and became more successful than he ever was.
I have an aunt who also married a man eight years younger than she. I know of a 60-year-old lady having an affair with a man in his 30s and they have a wonderful relationship, which they conduct discreetly because we live in the Philippines where people don't understand and talk a lot. But I think the need for discretion sort of stokes their fire, so I'm happy for them.
Google says Parisians now think there's hope for a Frenchwoman at any age, and for any young Frenchman, too. I say, wait a minute, is this only for the French? No, of course not. Relationships of that nature exist all over the world.
Suddenly I realize I am probably hoping for the wrong thing. I keep wishing to meet an older man who might like me. Maybe I should reverse the premise. Let me hope for a man in his 50s who might like me. After all I am chic, witty, charming, have a great sense of humor, and I'm in my 70s. Anyone interested?
Happy Mother's Day!
Please text your comments to 0998-9912287.