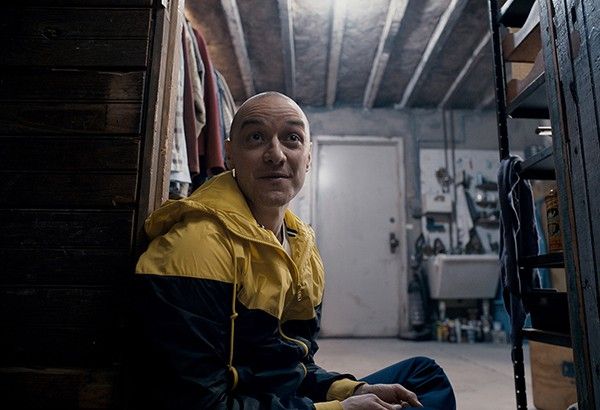 James McAvoy goes full creepy in M. Knight Shaymalan's Split.
M. Night Shaymalan does 50 shades of cray-cray
M. Night Shaymalan is up to his old tricks in his latest film, Split, a surprisingly effective psychological shocker that allows James McAvoy to explore the full range of his personality — and more.
Yes, McAvoy, beloved for playing kindly Professor Xavier in those mutant hero movies, is now allowed to go deeper and get creepier than ever before onscreen. We first see McAvoy as a buttoned-up nerdy type, perusing a mall parking lot. It seems he's in the market for more than grocery items, though. With an incapacitating spray can at the ready, he soon transfers three teenage girls by car to an underground domicile that we've seen in many, many horror movies over the past decades.
Is there a word for the film genre that flips a clichéd setup on its head besides "postmodern"? That doesn't quite cover the unexpected turn of events in movies like Room, Don't Breathe, 10 Cloverfield Lane and Split. It's as though we've been conditioned so well by the dark basements of Silence of the Lambs and Hostel and Saw to expect the obvious, that the game for filmmakers now is to rewrite this tired trope into something that holds our attention.
McAvoy — appearing in a doorway with close-cropped hair, wearing a ladies' sweater, necklace and high heels — definitely qualifies.
That the actor gets to jump through so many hoops, all the while doing backflips and mugging furiously for the camera, is part of the energy and fun of Split. It's a role that calls upon reservoirs of physicality, nuances of voice, as well as the tiniest facial tics and fluctuations.
The other fun, suggested in pre-promotional materials, is that Split ties together with an earlier Shaymalan movie, Unbreakable. You will recall that one featured a virtually unkillable Bruce Willis battling a dangerously bewigged Samuel Jackson Jr. It was a take on the superhero genre, and Split has this in mind, as well as other, more literary, allusions.
His teenage victims include popular, privileged and protected girls Claire (Haley Lu Richardson) and Marcia (Jessica Sula), and troubled loner Casey (Anya Taylor-Joy). Taylor-Joy won raves for her role in 2015's The Witch, and gives a central performance here as a girl who's learned how to be the hunter, not the prey — or so we think.
Betty Buckley shows up as an elder psychologist studying the phenomenon of DID — Dissociative Identity Disorder — and her presence immediately puts us in mind of the well-meaning but ultimately wrong-headed gym teacher she played in Brian DePalma's Carrie back in 1976. (You know you shouldn't have pushed that girl into going to the prom, Miss Collins!)
But the guy who deserves multiple attention is the screwball playing Kevin: McAvoy goes for (roughly) 50 shades of loony here, and it's a CGI effect all its own. Whether he's lisping "et setewa" like Elmer J. Fudd or doing the most demonic Kanye West dance moves ever, McAvoy earns his potatoes here.
Can we say much more about the film (which opens in Manila on Jan. 18) without giving away its game? Probably not, though it's no spoiler to say that director Shaymalan does give himself another comic cameo as a security guard addicted to Hooters buffalo wings. He's on good form here, with a taut script that recalls the thrills and surprises of Signs and Unbreakable, indulging in some of his favorite camera tricks — handheld or roving POV shots that hide as much as they reveal, uncomfortably close close-ups and suspenseful long takes. And there is a subtle reference to William Butler Yeats, whose poem "The Second Coming" has been cut and pasted online endlessly over the past year to account for our troubled times, in which we wait to see "what rough beast, its hour come round at last, slouches toward Bethlehem, waiting to be born."
Seeing McAvoy peering into the camera, eyes flickering madly, teeth gleaming with blood, definitely qualifies.