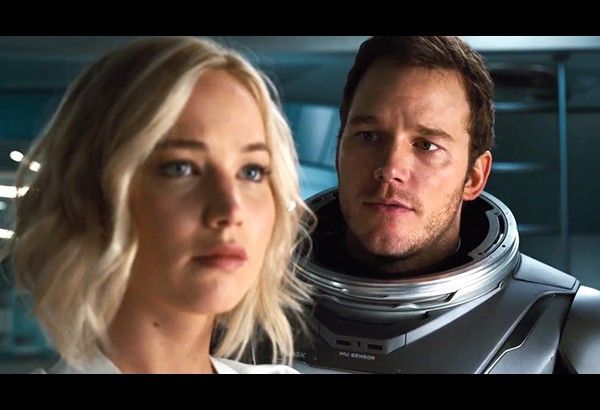 Jennifer Lawrence and Chris Pratt are lost in space in Passengers.
Love in the time of zero gravity
One thing you notice right away about big Hollywood sci-fi romance vehicle Passengers is that it looks very expensive: gazing at the lavish space pod sets and concourses and medical labs and deep, inky blackness where the Avalon floats listlessly along, I was thinking: $250 to $300 million budget, easy. Turns out director Morten Tyldum brought it in at under $110 million, which in today's Hollywood terms, is a bargain.
Also consider that its two stars — Jennifer Lawrence and Chris Pratt — are already A-listers, thanks to Silver Linings Playbook/Hunger Games and Guardians of the Galaxy/Jurassic World, respectively. So this one has a lot riding on it, besides the fate of 5,000 passengers on a spaceship heading to off-world planet Homestead II. We are in the foreseeable future, where Earth is getting a bit rundown, overpopulated and very expensive to live on, so the Avalon passengers choose to leave their home planet and help colonize the new one, bringing their respective skill sets. Pratt is mechanical engineer Jim Preston, so he obviously can fix things, and Lawrence is writer Aurora Lane, so she can obviously… er, well, it's not really clear what her big addition to colonizing a planet would be, other than inciting Preston to undertake rash actions in the name of love, or at least stalkerish affection. (And by the way, those names? Just adorable. They sound so completely made-up!)
What Lawrence and Pratt obviously bring to the party is star power, enough to make this Robinson Crusoe/Garden of Eden parable float higher than it possibly might with lesser lights (though it still hasn't made a profit and received mixed reviews). The two stars are both young and perky and charming, and that makes this one of a breed of movies we're likely to be seeing more of in future seasons: the space romance, or "spromance," sowing the seeds of love in distant galaxies. Maybe Gravity got there first, with its Clooney/Bullock pairing, though they were strictly platonic: Lawrence and Pratt, meanwhile, look like they're born to repopulate the planet (a caucasian one, that is), so it's only a short time after Preston's hibernation pod unexpectedly pops open 90 years too early that we see the dilemma he will face, since he's the only one who got an early wakeup call, and the ship's computer-run systems are mysteriously clueless about what to do if you've still got 90 years until touchdown and just wanna go back to sleep.
Being an engineer, Preston tries all the usual can-do scientific approaches that worked so well for Matt Damon in The Martian, but he ends up with bupkis. Soon, he starts drinking too much, leaning too much on the Avalon's android bartender Arthur (a droll Michael Sheen) for companionship, and letting his beard grow out to Will Forte levels in Last Man on Earth, Season 1. Like Forte, he eventually craves a human mate, and when he spots hibernating passenger Lane and reads up on her back story, he's transfixed; he must make a momentous decision.
This is one of those "Black List" unproduced-yet-promising scripts (by Prometheus scripter Jon Spaights) that gets kicked around Hollywood for years and years before somebody actually pulls the pin and makes it, and you can see the appeal of the premise: it's a little bit like Cast Away — if Tom Hanks had something much more loquacious and curvaceous to talk to and interact with than a Wilson volleyball — crossed with Titanic (the "cruise" element), set in space. Lawrence is typically an actress in motion, whether jogging in her sweats and sports bra or doing laps in some kind of fashionable meshy maillot swimwear of the future; she's best when she's pissed off, but can also be engaging when just sitting down for a glass of wine with Pratt.
Pratt, playing an engineer, seems pretty dumb about finding solutions to his hibernation problem, though he has little difficulty figuring out how to break one of the damn pods open. It's this kind of plot hole that threatens to drag Passengers into a black hole of implausibility all its own.
But wow, the Avalon itself? Pretty sweet. Imagine a cruise ship with cabins that run from steerage-class hovel to lavish suite, food-dispensing machines that serve 16 types of artisanal coffee, big video game rooms for Just Dance marathons, movie theaters and basketball courts, great picture-window views of endless space, and a retro-luxe bar that looks just like the one in The Shining.
You can even take a tethered walk in space for kicks, which is just what Preston and Lane do in one of the movie's more romantic moments.
Of course, as surely as Hollywood scripts must follow the bible of First Act, Second Act, Third Act, you know that this Eden-esque environment will encounter some rough roads ahead, and Passengers does follow the patented screenplay formula. Forgive us for guessing most of the landmines in advance, but these two crazy kids just seem a little too in love with their early-stage dating. Before you know it, he's wifed up nice and good, and she doesn't seem to care that they're likely to end up a pile of dusty bones before the Avalon ever reaches Homestead II.
The movie makes you savor this premise: would you like to have a world all your own, like Adam and Eve, knowing you'd never see other humans ever again? Also, would you disturb someone's centuries-long slumber just because you felt like chatting somebody up, knowing that you're administering an early death sentence? It kind of makes you think, in a watercooler/comment thread kind of way, and this type of "big idea" movie has been in short supply in Hollywood since Adrian Lyne stopped directing decades ago.
Yes, Passengers is sort of goofy — a spromance that at times becomes a sprom-com spoof — but it's entertaining enough as a date movie, in its own spaced-out kind of way.