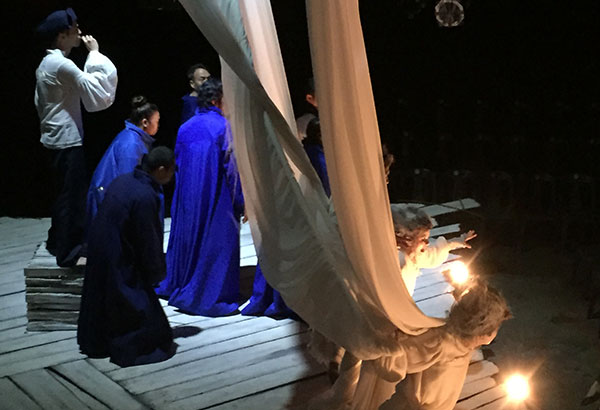 Shelter from the storm: The cast of PETA's The Tempest Reimagined simulates typhoon Yolanda onstage.
Tags-speare and 'The Tempest' rebooted
It's become a "thing" to redo Shakespeare in modern ways, giving the Elizabethan text a modern twist by casting, say, Leo DiCaprio and Claire Danes as Romeo and Juliet and throwing the whole thing into an LA pop blender. Sometimes, inspired mash-ups result, and The British Council, collaborating with the Philippine Educational Theater Association (PETA), surely had this in mind in reimagining one of Shakespeare's final plays — a comedy — as a fantasy set on a Philippine island lashed by typhoon Yolanda.
The Tempest Reimagined, as directed by Nona Sheppard and written by Rak of Aegis and Care Divas playwright Liza Magtoto, simplifies the play, bringing it in at a relatively swift 90 minutes by jettisoning all kinds of character ballast and infusing it with local content — even a couple of songs and dances.
In the original play, Prospero is a sorcerer set adrift at sea, taking refuge on an island with his daughter, Miranda, whom he raises without human contact — and definitely without any boys in the picture. Another ship is swept ashore by a storm, containing Alonso, king of Naples, and his coterie, including his son Ferdinand. All kinds of mischief ensue as Ferdinand and Miranda fall in love, plots brew against Alonso and Prospero's sprites weave spells upon the newcomers.
The PETA version sails freely away from the original text. We have a Filipino fisherman (Jaime, ably played by Norbs Portales) narrating the events from a celestial perch — or dock, as it were; he weaves together a plot that folds in the horrific effects of Yolanda on Tacloban (or whatever its stage equivalent is). The cast features quite a few seasoned pros, including C.B. Garrucho as Prospero, Jenny Jamora in dual roles (Alonsa/Alina) and Topper Fabregas (Trinculo/Master/God of Outside Aid 3). This seasoning helps a play that pitches wildly from tragedy to comedy, often within the same scene.
The inhabitants of the island are lashed by brutal storms, apparently swept up by Prospero to shipwreck Alonsa (a gender switch in this version, just as with Prospero's casting) and the crew. Delivered in Tagalog, these recollections of anguish and disaster ring true — fathers losing entire families in the floods and storm surges; businesses, schools and towns wiped out in an instant; no fresh water for months on end; rats everywhere.
The task is to integrate this subplot into a play about the machinations of a master sorcerer — someone who plays whimsically with people's lives. This the text does, though not always smoothly. We hear resentful charges leveled at Prospero by his deformed slave Calaban (John Moran) about raising the earth's temperatures through his spells — surely not a wide concern during Elizabethan times, but inserted here for modern effect.
The conceit is furthered by the presence of three Gods of Outside Aid, who arrive at the storm-smashed island — amid a hail of campaign fanfare music — offering the usual bromides and political ineffectiveness from their balcony perch. So, satire meets tragedy, much as it often does with Philippine political discourse.
The set design of the play helps us immerse in the fantasy. Stage trapdoors open to reveal newcomers bathed in light, or sprites presenting food, water and treats — only to swiftly snatch it away from view. The lighting and use of billowing curtains to suggest the random lashings of Mother Nature are effective.
What's a little harder to swallow — for me, anyway — was the constant switching from English to Tagalog, Taglish to Shakespearean text, as though language itself has been tossed into the blender. We can totally understand the need to update the story to make it more relatable to modern (a lot of them school-age) Filipino audiences, but there's something to be said for preserving the language of Shakespeare intact. Though it takes a while to pick up on the rhythms and double meanings, one eventually immerses and surrenders to the Bard's inventive language; that experience should be respected.
Here, in The Tempest Reimagined, it's a bizarre crossfire of dialects and texts onstage. Perhaps modern audiences appreciate the rapid-fire wordplay more than older patrons. Call it Tags-speare for the modern crowd.
The young audience certainly appreciated the occasional hookups between characters like Ferdinand (Brian Sy) and Miranda (Yeyin Dela Cruz) — which elicited hoots and trills. And that, after all, is the final purpose of The Tempest, which ends with a wedding, as most comedies of Shakespeare's time do. Here, reimagined, it takes a bit of overexplaining at the end to bring the tragedy back to a lesson that all Filipinos can learn from.
* * *
The Tempest Reimagined runs at PETA Theater Center, No. 5 Eymard Drive, New Manila, Quezon City until Dec. 4 (last show tonight at 8 p.m.). Contact PETA, www.britishcouncil.ph or ww.ticketworld.com.ph. Other partners include the Royal Academy of Dramatic Arts (RADA) and Japan Foundation.