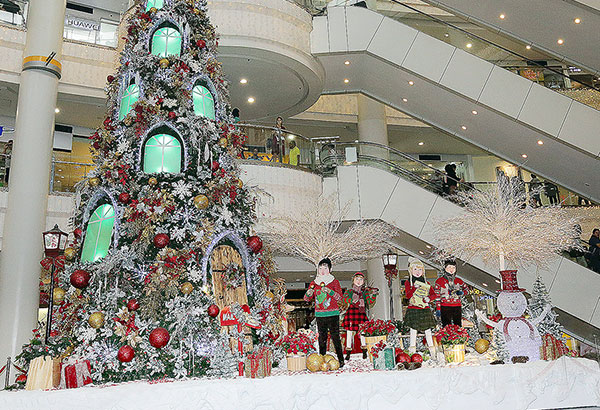 'Sparkling Holidays' at Robinsons Malls
O, Christmas Tree! O, Christmas Tree!
There's definitely no stopping Christmas at Robinsons Malls as it takes Christmas tree design to a whole new level. Each mall comes up with its own theme for the holiday tree that keeps on giving.
You know it's Christmas when the air is nippy, people are extra generous and happy, and when the entire family flock to the Robinsons Malls despite the horrendous traffic and even when the red (sale) sign is off.
To spread holiday cheer, Robinsons Malls decks its halls with glittering decor, bright giant Christmas trees, and holiday installations for a spectacular "Sparkling Holidays."
Robinsons Place Manila
The Midtown Atrium's Christmas attraction is the 40-foot Christmas tree with lighted windows that gradually changes in color. Life-sized mechanical child carolers — garbed in their winter's best plus a jolly snowman complete the wintry holiday feel.
Dressing up Robinsons Malls for the holidays is no mean fete. It takes the design team several months to prepare as they conduct research, meet with foreign consultants and brainstorm to be attuned to the latest trends.
"Christmas is the time of year most of us look forward to. At Robinsons Malls, we make sure you'll feel the holiday spirit the moment you step inside your favorite mall," enthused Arlene Magtibay, general manager, Robinsons Land Corporation commercial centers division.
Forum Robinsons, Robinsons Place Antipolo, Robinsons Place Las Piñas
Glittery snowflakes, shiny silver balls, and giant poinsettias and snowflakes adorn these elegant Christmas trees.
Robinsons Starmills Pampanga
Catch the world-famous Giant Lantern Festival of San Fernando, Pampanga, the "Christmas Capital of the Philippines." The highlight of the festival is the inter-barangay competition for the most beautiful and grandiose lantern, which will be held at Robinsons Starmills Pampanga on Dec. 16. The competition showcases an interplay of enchanting lights and festive music. After the awarding, the giant lantern will remain on display for nightly shows at the rear parking of the mall. The show is open to the public.
Paw Patrol, PinkFong with Baby Shark and Aladdin come to Robinsons Malls
Children are in for a treat this holiday season as their favorite characters come to life at Robinsons Malls!
Don't miss "Paw Patrol Ready for Action," a live show that features puppies Chase and Marshall, and their human Ryder.
It starts with Ryder receiving a call from Mayor Goodway asking for help with the Adventure Bay's Talent Show.
Catch the wacky trio at Robinsons Galleria on December 15; Robinsons Magnolia on December 16, and Robinsons Place Manila on December 18.
Pinkfong is going on a Grand Asia Concert Tour which includes the Philippines. And Robinsons Malls brings to its shoppers the chance to sing, dance and have fun with Pink Fong and Baby Shark in a live interactive show on December 13 to 18.
• Robinsons Place Imus : December 13 at 3PM & 5PM
• Robinsons Place Las Piñas : December 14 at 2PM & 4PM
• Robinsons Metro East : December 15 at 2PM & 4PM
• Robinsons Galleria: December 16 at 2PM & 4PM
• Robinsons Place Manila: December 17 at 2PM & 4PM
• Robinsons Place Lipa : December 18 at 2PM & 4PM
For a minimum P1000 single receipt transaction made at any retail outlet of Robinsons Place Las Pinas, Metro East, Robinsons Galleria and Manila, and a P500 at Robinsons Place Imus and Lipa, kids will be able to join the mall event.
Pinkfong is a global entertainment company, which creates fun and engaging children's songs and stories. By distributing the original digital content through its popular YouTube channels and mobile app series, Pinkfong has become a favorite character among children around the world. In October, Pinkfong reported a huge milestone for its flagship video series, "Baby Shark" which has been viewed, to date, 1 billion times worldwide, and has spawned an international social media challenge.
Get set for an exciting adventure with Aladdin as he sets out to save the Princess kidnapped by the evil Sorcerer in "Aladdin's Adventure."
Armed with his magic lamp, Aladdin can rely on his three wishes to battle the Sorcerer's magical powers.
Will Aladdin save the day? Go see for yourself today at Robinsons Novaliches. You can also catch the live shows at Robinsons Place Antipolo on December 16; Forum Robinsons on December 18; Robinsons Town Mall Malabon on December 19; Robinsons Otis on December 20 and at Robinsons Place Las Piñas on December 21. Show starts at 2pm and 4pm.
"Aladdin's Adventure," which features an all-Australian cast, will surely delight everyone's heart.
Robinsons Place Magnolia
Christmas is for kids. And Robinsons Place Magnolia welcomes them with a carnival-themed Christmas installation featuring a biking teddy bear, rabbits playing on a seesaw, bunny popping in and out of a coffee cup, a clown juggling, and elaborately painted horses circling on a merry-go-round. Beside the circus stands the towering 36-foot Christmas tree.