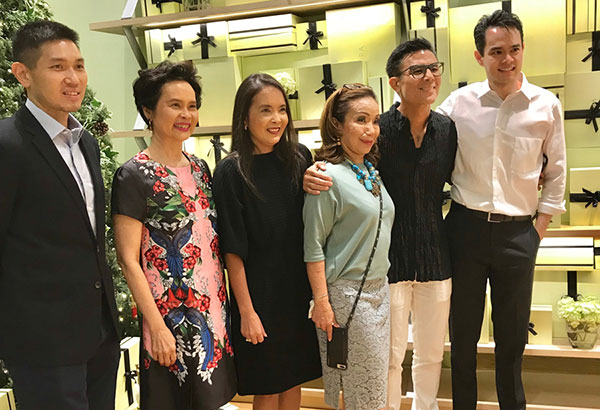 We are family: Michael Huang, Marilou Pineda, Rica Lopez-de Jesus, Maritess Tantoco-Enriquez, Donnie Tantoco, and Eman Pineda at the celebration of Adora's 10th year
Adora celebrates its 10thyear with Donnie Tantoco, and yes, Eman Pineda!
Ten years ago, I witnessed the opening of Adora in Greenbelt 5. Rather, I gatecrashed the event. No invitations to media were issued. I peeped through the door and having espied something beautiful, I decided to be an enterprising journalist and somehow got in through my relentless persuasion at the door. I was told that another person likewise got in, but obviously he used his charm—Jaime Zobel de Ayala. Charm, he has plenty of.
It was a quiet opening, just as the creator of Adora, Eman Pineda, wished. Quiet is how Eman has always wanted things to be. This retail visionary has never wanted photographs of himself, nor praises written about himself and his previous shop which was so admired in the industry. The selfless Eman just wants the products to speak for themselves. And they do speak out loud about his elegant taste, his masterful curating, his eye for what's next in fashion.
Fast forward to Nov. 28, 2017 at the Adora pop-up shop in Shangri-La Plaza and we celebrate Adora's 10th year (the store's first public event), this time with the noise it deserves: the popping sound of champagne bottles, the elegant chatter of beautiful women, the booming voice of event master Tim Yap, the eloquent words by Rustan's president Donnie Tantoco, and the warm applause from the guests.
Adora celebrates its 10 years with 10 brands that have helped shape its sophisticated appeal: Stella Luna, H. Stern, Maison Francis Kurkdjian, Chloe, Valentino, Harlan + Holden, Pretty Ballerinas, Penhaligon's, Pedro Garcia and Loewe.
Ten women who are among Manila's stylish set who enjoy the unique retail experience inside Adora were present: Solenn Heussaff, Lovi Poe, Rhian ramos, Kim Jones, Janine Gutierrez, Jasmine Curtis-Smith, Steph Kienle-Gonzalez, Bianca Araneta-Elizalde, Iza Calzado and Isabelle Daza.
Adora, the purveyor of #EverydayWonders, never ceases to amaze me. Eman, we are so ready to be amazed again. But not so quietly, please.
* * *
Adora is located at the 2nd floor of Greenbelt 5, Ayala Center, Makati City; and 1st Level East Wing, Shangri-La Plaza, Mandaluyong City. Adora is a part of Rustan's Group of Companies.
* * *
Follow the author on Instagram and Facebook@milletmartinezmananquil. Email her at mmmananquil@philstarmedia.com.