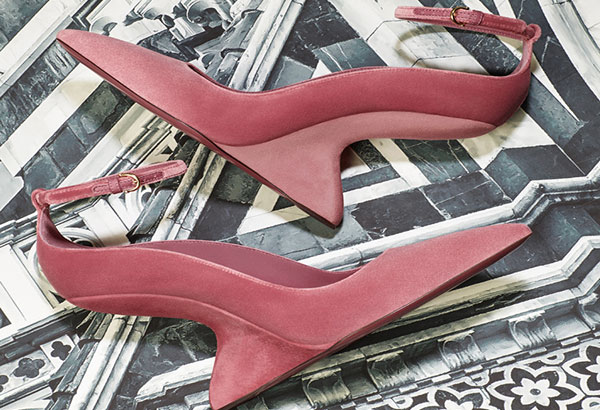 Capital Ferragamo: Paul Andrew reimagines the architectural F wedge in modern shapes and ultra-feminine, grown-up pink, available at Ferragamo.
Salvatore Ferragamo's lifelong obsession with craftsmanship, innovation and fit, comes from his work as an architect, engineer and aesthete — all these roles went into building his shoe empire in 1927. Today, Ferragamo is known for its signature style of feminine yet sculpted shapes and bright colors, seen in its latest collection, which was recently showcased at the "High Tech, High Craft" pop-up store at the Grand Atrium of Shangri-La Plaza.
Design director for women's footwear Paul Andrew states, "My concept for the collection was simply to highlight the fundamentals that made Salvatore such a profound and groundbreaking presence in his field and to express those values through designs that are relevant to a new generation of strong, discerning women."
The collection includes timeless Ferragamo icons and design gestures reimagined to fit the modern woman, such as the signature black and gold and the "column heel" from the late '30s, to the F wedge. The heel mix is diverse and mostly thick (read: comfortable). Textures are luxurious, in suede, frayed fabric and metallic leather. The fit of the shoes have been studied and adjusted for the current client mix, believing that experience is just as important as the look.
* * *
In the Philippines, Salvatore Ferragamo is exclusively distributed by Stores Specialists Inc., and is located at Greenbelt 4, Newport Mall, Rustan's Makati, Rustan's Shangri-La, and Solaire Resort and Casino.