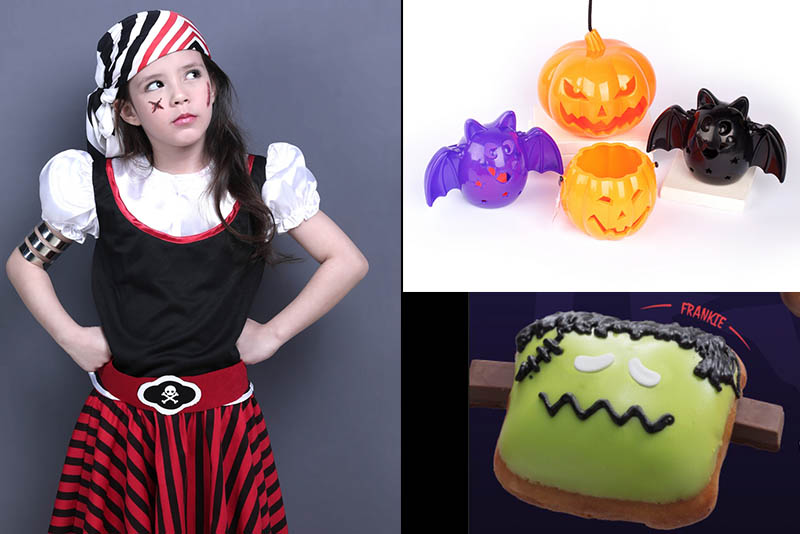 Make kids and kids at heart happy with these new treats with a few tricks up their sleeve.
3 treats with tricks for Halloween
MANILA, Philippines — A few more days to go and it will already be November, which is not only all about Halloween, but is also the National Children's Month.
As such, make kids and kids at heart happy with these new treats with a few tricks up their sleeve.
From scaring to caring
Toy Kingdom invites shoppers to turn scaring into caring this Halloween with "Trick or Treat for Unicef" by donating in any of the toy store's branches.
For those looking for Trick or Treat costumes, the toy store chain offers a new collection of head gears and jumpsuits or onesies that allow one to slip on a full costume in an instant. Cap off any awesome costume with top hats such as a stuffed Maleficent hat or long-horn unicorn headbands.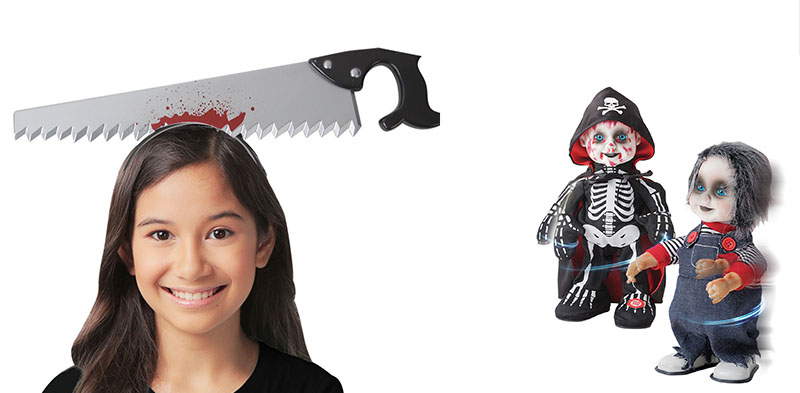 The toy store chain offers a new collection of costumes and home decor.
For home decorating, there are toys like talking and moving raven in a cage, zombie ground breaker and dancing and singing Zombie Boy. For keeping sweets, there are Disney-inspired character pails.
Likewise, SM Accessories Kids offers Halloween costumes and novelties like tutu skirts with spider embellishments, golden crowns fit for a fairy queen, and romantic floral diadems for pretty princesses.
Like "Trick or Treat for Unicef," Japanese retailer Miniso, a mini department store chain from Japan that just opened its latest branch in Megamall, has an environmental mission as it constantly cooperates with global environmental protection organizations and aims to provide a variety of natural and environmental friendly products to consumers. The brand ensures that its products and materials are healthy and safe without harming the environment.
Internationally-acclaimed children's books by Filipino authors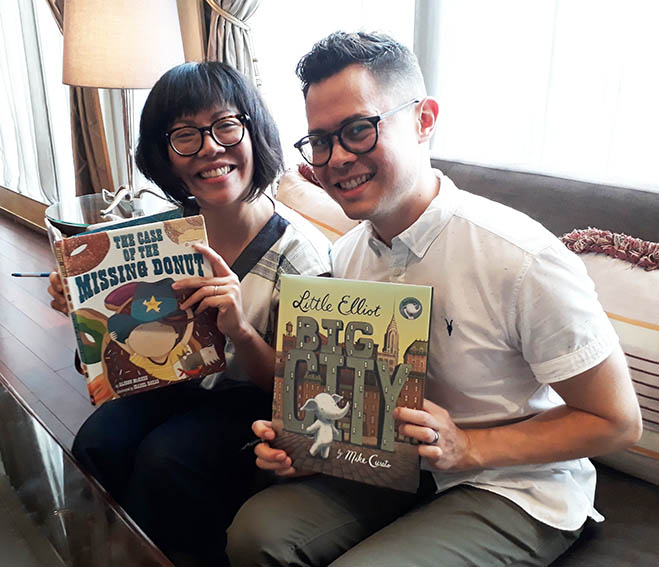 Roxas and Curato
Mike Curato is the author and illustrator of everyone's favorite polka-dotted elephant, "Little Elliot." Released in 2014, his debut title "Little Elliot, Big City" has won several awards and been translated into over ten languages.
There are now four books in the series, chronicling the titular character's wacky adventures. The upcoming fourth book, "Little Elliot, Fall Friends," follows the cast of characters as they go on a fun vacation in the countryside.
Meanwhile, Isabel Roxas illustrates picture books and creates ceramic creatures. She has illustrated several books for young readers, including "Goodnight Songs" by Margaret Wise Brown and 'Araw sa Palengke" by May Tobias-Papa, winner of the National Children's Book Award.
She has also illustrated other titles such as "Boo La La Witch Spa" by Samantha Berger, "Let Me Finish!" by Minh Le, and "The Case of the Missing Donut" by Alison McGhee.
Curato and Roxas' works are available in National Bookstore.
In "The Case of the Missing Donut," the sheriff is on an important mission: to bring a dozen donuts home safely. With those tasty treats practically calling his name, it would be wrong of him not to check on them. But, suddenly, in the blink of an eye—and with just a few nibbles—a donut disappears! Luckily, this is one case the sheriff and his deputy are sure to close.
On the other hand, in "Little Elliot, Big City," Curato explores how the big city holds many new and challenging experiences for little Elliot, the polka-dotted elephant. But Elliot is about to find out that life is full of sweet surprises that come in the smallest of packages.
Niceties and Trick or Treat events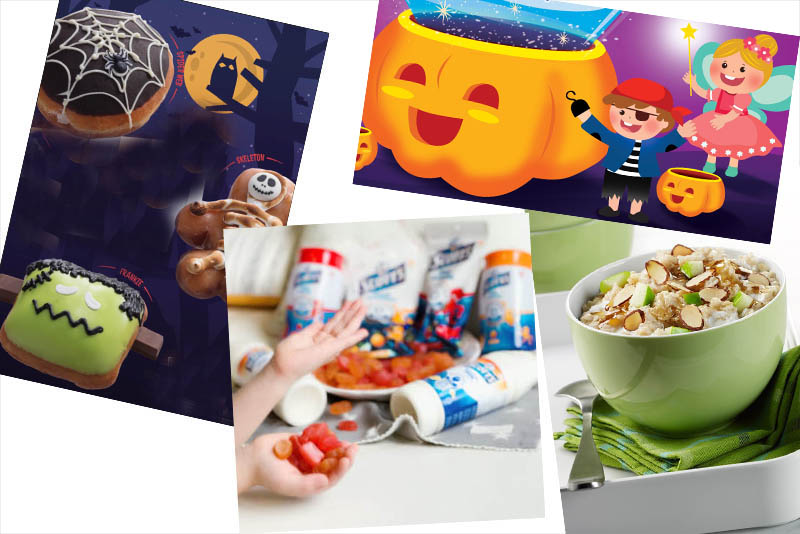 Check out these Trick or Treat goodies and events
Oats are rich in antioxidants, fiber and good cholesterol for a good heart. For those looking for healthy treats to give, oats brand Quaker now offers single-serve cups and granola bars in a variety of flavors, ideal for those always on-the-go.
Likewise, DHA (Docosahexaenoic Acid) is an essential fatty acid for healthy brain development, and normal brain growth in children, according to the World Health Organization. Claiming to be a rich source of DHA, Scott's DHA Gummies, available in orange and strawberry, are said to be microencapsulated with a patented technology that locks in the goodness of fish oil without the unpleasant taste and smell, so kids can reap DHA's benefits like better learning, attention, memory and problem solving.
"By the age of 6, a child's brain by weight is already 90 percent developed. It is therefore crucial for children during their early years to take DHA to help their brain development," said Jon Derrick Lee, Country Head for Skin Health and Nutrition, GlaxoSmithKline Consumer Healthcare Philippines. "But we understand that some moms might find it difficult for their growing child to drink milk, or struggle to eat DHA-rich foods such as fish. The gummies is a perfect supplement to a child's diet to ensure he gets DHA in a convenient and yummy format."
Halloween is creeping up and a good way to celebrate is through doughnuts. As such, Krispy Kreme offers special creations like Pumpkin, Green Frankenstein, Worms, Skeleton, Spider Web and the Halloween Sprinkle. doughnut store chain also offers Halloween activities from October 28 to 31. On October 29, the branch at Bonifacio High Street will be open for a Trick or Treat.
Little ones will have the chance to dress up in fancy costumes, enjoy fun games and have a wonderful time with their fellow kids at the costume party to be held at participating Jollibee stores nationwide until November 5. Kids can unleash their imagination and be whoever they want to be at the Halloween Fun costume parade. Kids Club members can make and decorate their own paper plate candy-holders with the help of their parents.
From dancing like zombies and Frankenstein, to feeding monster creatures and passing around a pumpkin ball, members of one of the country's most active kids clubs are in for a series of exciting Halloween-themed games that will have them jumping from their seats.
Halloween is here once again, and Shangri-La Plaza has lined up thrilling events for mall guests of all ages to enjoy. Visit the Toy Frenzy with the Boo Crew happening from October 19 to 29 at Level 1, Main Wing. Stock up on board games to play and bond over with the whole family from Hobbes &Landes; choose from a range of child-friendly books from National Bookstore; score educational toys from Build City;get child development tools for your infant or toddler from Ogalala; or simply discover what's new from other participating merchants. Young players can visit Alter Ego's boardgame events on October 21-22 and 28-29 at Level 5 of the East Wing.
See your favorite characters and superheroes in all their life-sized glory with the Halloween Installations from October 20 to 29 located in different areas of the mall. Pose with The Hulk, Iron Man, and Spiderman; cute characters such as Hello Kitty and the Minions; or the Star Wars iconic Stormtroopers, R2-D2, and C-3PO.
Bring the kids and dress them up in their best costume for the one-day-only mall-wide Trick or Treat on October 29 where little ones can go from store to store to receive sweet treats and surprise goodies.
Then, from October 30 to November 7, mall guests can shop their way into Dino Planet at the IMMRSV Dome located in the Grand Atrium. Enjoy a spectacular 360-degree view of the Earth in the age of triceratops and velociraptors. People of all ages will be awed by the one-of-a-kind experience of exploring the tropical forests and learning about these majestic creatures.