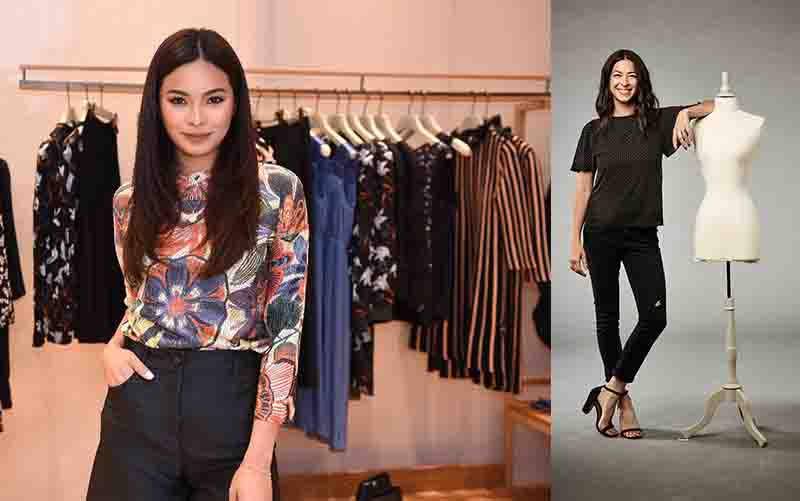 Miss Universe Philippines 2016 Maxine Medina (left) and New York-based fashion designer Rebecca
Minkoff
wearing skinny jeans (right) Photo release
'Project Runway' judge: Skinny jeans are dying
(Philstar.com) - June 5, 2017 - 9:50am
Before heading to mid-year sales and scouring for new arrivals, what are the year's top fashion trends that shoppers should watch out for?
"Trend-wise anything embellished and overly novel especially in shoes and bags, wide-legged pants, cropped jackets. As far as silhouettes, the more of cropped, loose or wide-legged pants. I think the skinny jeans is ending its reign. And you know lots of off the shoulder tops. Poplin is having a moment as well," New York-based fashion designer Rebecca Minkoff said in an exclusive interview with Philstar.com.
Minkoff is the latest judge to be added in Lifetime's all-new series, "Project Runway: Fashion Startup," which airs every Thursday at 9 p.m.
Check out the following trends and updates from some of your favorite brands for work and play.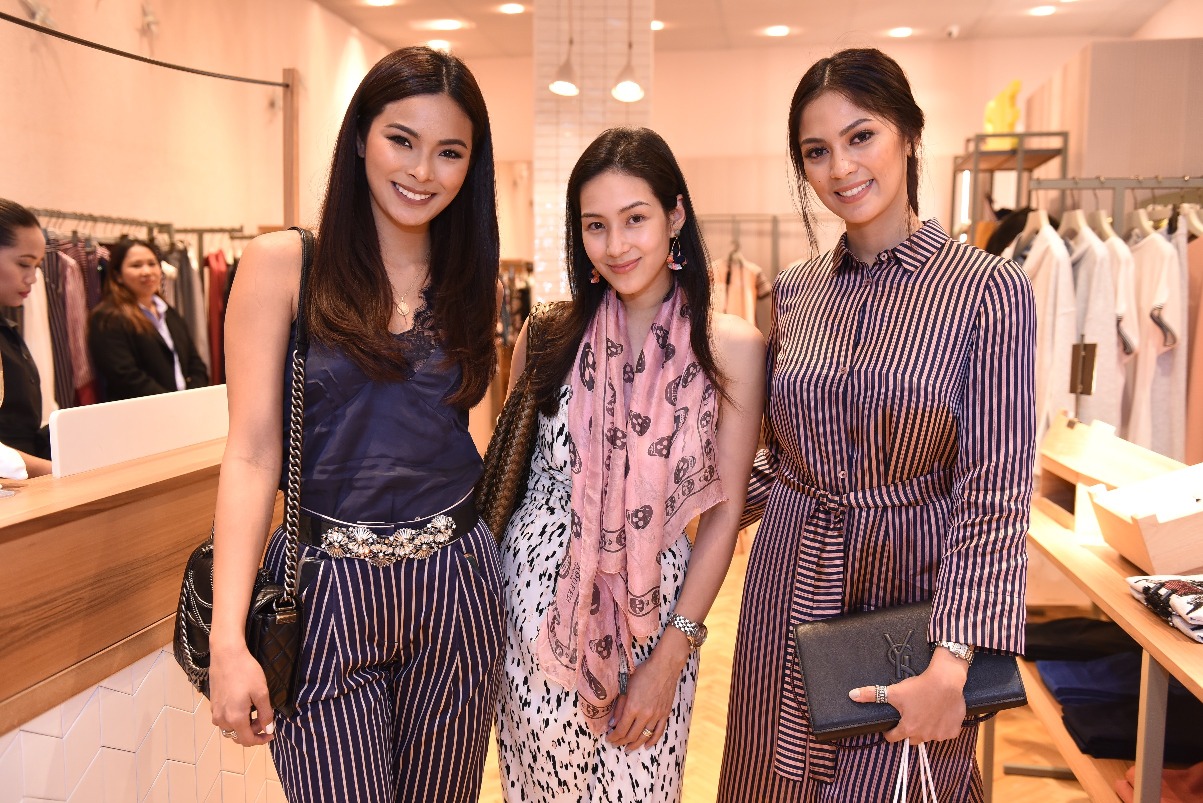 Miss Universe Philippines 2016 Maxine Medina, model Mikaela Lagdameo, and beauty queen-TV host Ariella Arida
Maxine Medina in MAX&Co.
MAX&Co., a style leader in women'swear, offers lovely ladies easy, effortless styles that are powerful as they are feminine. The brand recently opened its doors to all women and guests to celebrate International Women's Month and the unveiling of its Spring-Summer 2017 collection.
It was a celebration of prints, pastels and stylish flair as the brand channeled the laidback vibe of California in a collection that embraces the different aspects of the quintessential LA look. It was a bright display of lightweight fabrics, sunny shades and relaxed silhouettes that captured the bright and breezy mood of the season.
Guests Miss Universe-Philippines 2016 Maxine Medina and Miss Universe-Philippines 2013 Ariella Arida festooned MAX&Co. boutique in Bonifacio High Street. The Filipina beauty queens showcased their unique, timeless styles as they came in dressed in the brand's looks.
This season, discover the brand's refreshing palette of prints and florals that cater to all styles and personalities. Delight in an array of cool shirt dresses, cardigans, and short, silk dresses that are versatile every day. Look polished and powerful with the brand's updated trousers and long-line blazers, which give office wear a comfortable new attitude.
In the Miss Juno Flower Collection, discover flirty details in the form of appliqué flowers and tassel detailing, adorned as well in bags, scarves and necklaces. Following the global trend of athleisure, the brand offers its own staples of jersey basics that come in unexpected, asymmetrical cuts in a muted palette of black and gray.
Women who love a little rock and roll can channel their rebel personality, through high-shine plissé maxis, slouchy lurex knits, and leatherA-line minis designed to be worn for day and night.
In the Philippines, MAX&Co. is exclusively distributed by Stores Specialists, Inc. and is located at C1 Bonifacio High Street Central and Shangri-La Plaza Mall.
Island girls and sun-worshippers, on the other hand, will fall instantly in love with the brand's series of floor-sweeping maxis, which come in alluring floral prints and sunny colors. The carefree, bohemian spirit is also reflected in loose trousers, soft tailoring and off-shoulder, peasant blouses that are sexy and sweet. Kaftans that imbibe the 70s gypsy glamour highlight the white lace and crochet dresses that lend to the whims of romantic women.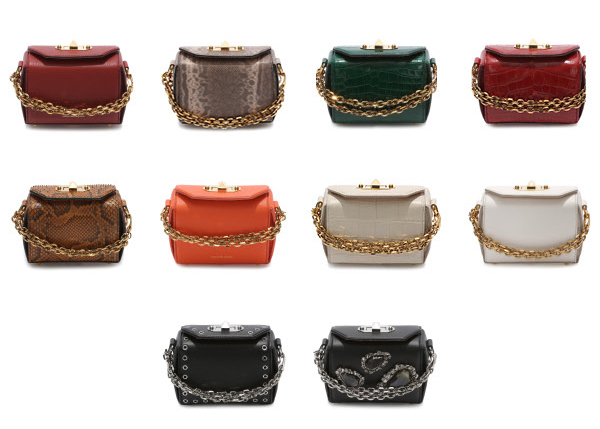 Alexander McQueen Box Bags
Alexander McQueen Box Bag
Alexander McQueen is pleased to introduce a new shape for The Box Bag this season. The new silhouette comes in two sizes – a 16cm small and 19cm medium – and is crafted in Italy with luxurious grained goatskin leather. Taking inspiration from antique luggage and treasure chests, the design has a distinctive fold and twist lock closure. It can be transformed from day to night using the detachable wide leather strap or decorative fine gold chain, and can be worn as a crossbody, shoulder bag or clutch. The bag has a sleek suede lining, high shine metal hardware and studded base. Fabrics include two-tone suede and leather, stamped crocodile print leather, exotic crocodile and python skin. The collection comes in core colours of black and off white and seasonal interpretations, including lacquered red, ginger and laurel.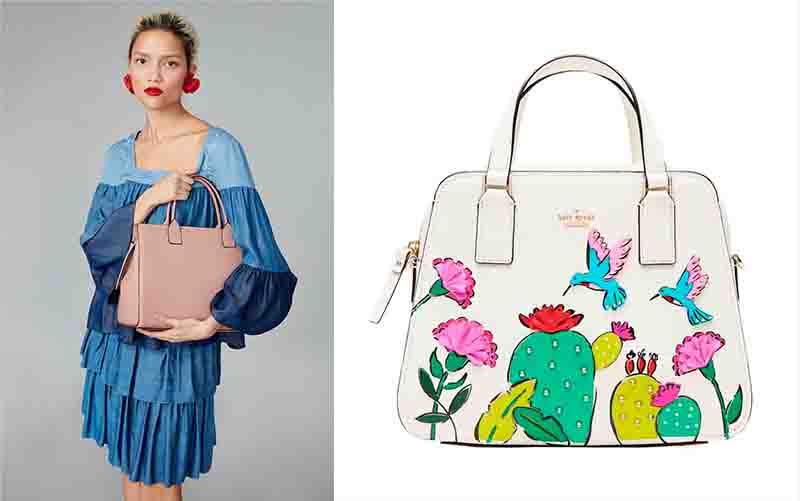 Frida Kahlo-inspired Kate Spade New York collection
Frida Kahlo-inspired Kate Spade New York
Kate Spade New York travels south of the border for summer 2017.
Inspired by the artful flair of Frida Kahlo, carnations, traditional Mexican wedding dresses, hummingbirds, piñatas, cacti and a few friendly desert-dwelling critters eliciting a celebratory mood. Colors range from high summer brights—vibrant pink, red, lilac, grass green and aqua—to graphic blacks and whites fading into dusky desert hues.
Distinctly summery full skirts and breezy blouses, tiered frocks and boldly-hued, bow-tied culottes are pillars of the collection. Tiered dresses and skirts in dark florals are playful and bold.
Florals abound in sweet prints and meet their match against graphic stripes and blocks of black and white. Midnight florals are striking and unexpected when applied to classic fit-and-flare styles. Geo borders and oversized polka-dots stand out in pink and green, and black and red.
Intricately embroidered accents highlight feminine patterns featuring hummingbirds, cacti, and other staples of Mexican culture. Sequin details lend a lavish touch to jumpers, dresses, and skirts.
Breezy fabrics in flattering silhouettes are perfect for hot summer days.
The Cameron Street Lane handbag, with the classic shape of a duffle bag compacted into a small crossbody, receives a roomier update. The luggage tag detail and adjustable crossbody strap are convenient and chic. The Daniels Drive Abigail is also a favorite with an updated satchel shape in richly-hued leather and stripes. For extra flair, the Crown Street Jasper is elaborately embellished and the season's novelty offerings—with cheeky nods to piñatas and taco trucks, hummingbirds and turtles—are conversation starters.
Boldly graphic tortoiseshell pieces contrast richly romantic statement necklaces, earrings, and rings with nods to fresh carnations (this season's favorite bloom). Cheeky nods to Mexico are adorned with chili peppers, taco trucks and a guest appearance by a little chihuahua. Sparkles find their place among the continuation of favorites like birthstone and initial pieces.
Kate Spade New York tech cases are celebrating the south-of-the-border spirit this season as well. Novelty iPhone 7 cases in cheeky options are collection favorites, like a silicone cactus or a packet of hot sauce.
In the Philippines, Kate Spade New York is exclusively distributed by Stores Specialists, Inc., and is located at Central Square in Bonifacio High Street Central, Greenbelt 5, Newport Mall, Power Plant Mall, Rustan's Makati, Rustan's Shangri-La, and Rustan's Cebu.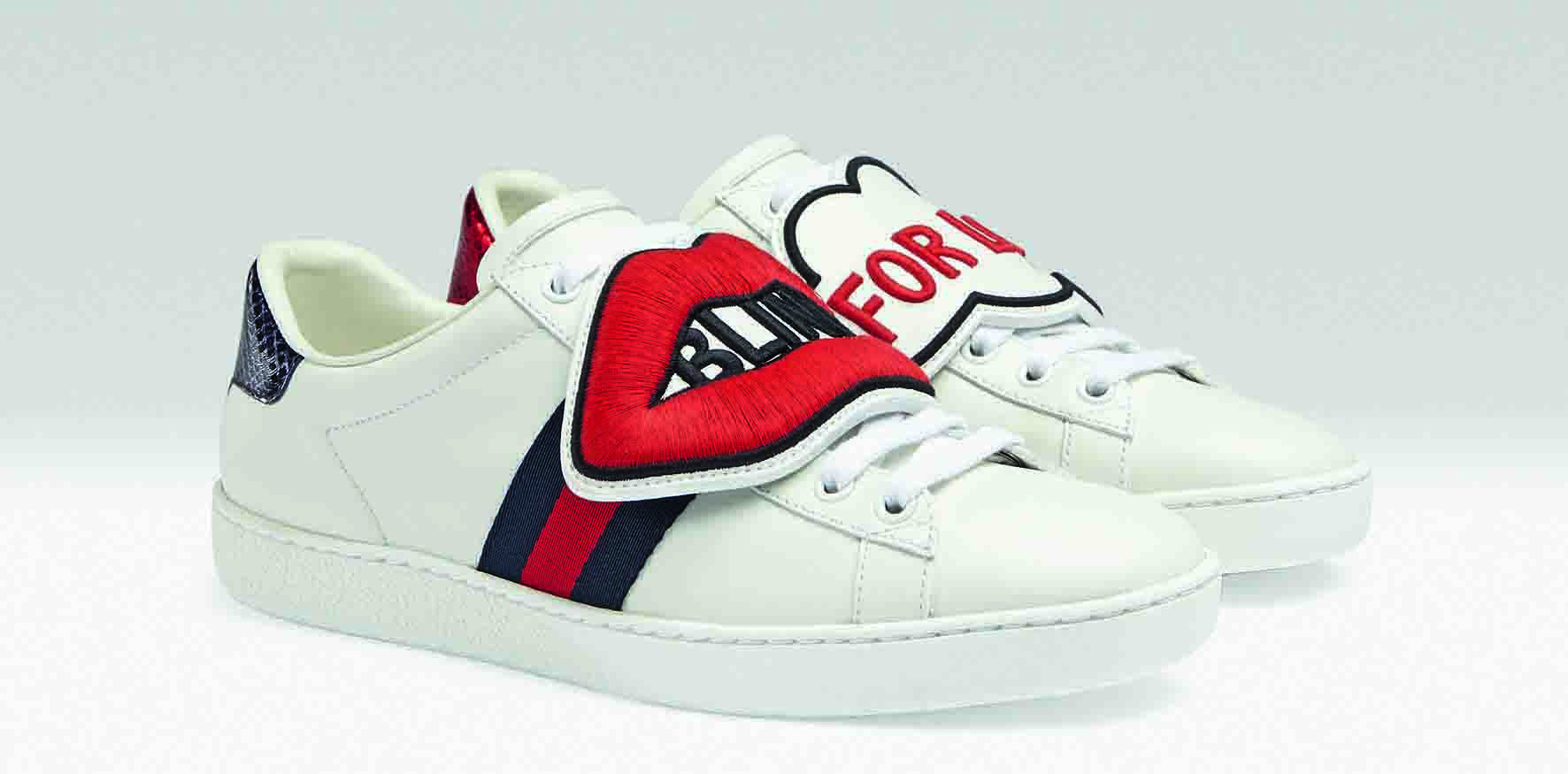 Ace sneakers
Gucci Ace sneakers
At Gucci, the desire to promote self-expression has led to the development of a comprehensive program of personalization and customization initiatives. Now this concept has been extended to the house's celebrated Ace sneaker, which has been developed to allow the application of detachable patches.
For Pre-Fall 2017, the iconic white Ace is introduced in six new styles for women, and five for men, with interchangeable patches that attach using snap buttons. Pairs are purchased already featuring patches and can then be customized by acquiring additional ones from a range of 9 add-ons. A single pair of shoes can be transformed into a canvas with over 100 patch combinations.
For women, there are six models featuring eccentric patches in either thread or crystal. Patches displaying the cat, 'Blind for Love' expression, pineapple, crystal panther and flamboyant fumé crystal bow feature on five pairs, while a sixth displays a patch with the number 25 on one shoe, combined with the motif of the beaded heart pierced by a sword on a patch on the other. All patches echo design details found in the Spring-Summer 2017 women's collection.
For men, there are five new styles with detachable patches: in thread, there is the 'Blind for Love' expression, the iconic Gucci tiger head, the cat, and the UFO, which is coupled with a dragon for the other shoe in its pair; a panther is also available, but unlike the women's style, it comes in terry material.
In both women's and men's styles the back of the heel always comes in laminated snake skin – blue on the right shoe and red on the left. All models are sold with specially designed packaging: black satin dust bag displaying a yellow Gucci logo per shoe; black tissue paper, boxes and bags feature an all-over multi-coloured 'rainbow' stripe. Boxes are sealed with a decorative black grosgrain ribbon, branded with tone-on-tone Gucci logos, which is tied with a bow.
In addition to the pre-determined patches that come with these Ace's, nine detachable crystal or beaded patches for the women's styles and nine detachable thread or crystal patches for the men's can be purchased individually to truly customise the sneakers (including the panther in crystal, for men). Each additional patch is sold separately, and is wrapped in a way that is complementary to the packaging used for the shoes.
For women, the extra patches are: two different bows, the flower, the snowflake, the eye, the bee, two feline heads (the tiger and the cat) and the 'Love' script with the rainbow. For men, the extra patches are: the beaded heart pierced by a sword, the tiger head, the pearled number 25, the pineapple, the cat, the panther, the bee, the eye and the owl head.
In the Philippines, Gucci is exclusively distributed by Stores Specialists, Inc., and is located at Greenbelt 4 and Shangri-La Plaza East Wing.
Finally, for men the Ace is now also available in a high-top version with patches. Here, again the patches are detachable. The high-top Ace comes in two versions – one with the iconic tiger head on the patches on both shoes in the pair, and another, more flamboyant style, with the blue cat patch on the front of each shoe in the pair, and another removable patch with the word 'GUCCI' written in studs attached to the back of both shoes. For both styles, the back of the heel always comes in laminated snake skin – blue on the right shoe and red on the left. These high-tops are sold with dedicated packaging that mirrors that used for the low-top Ace sneakers.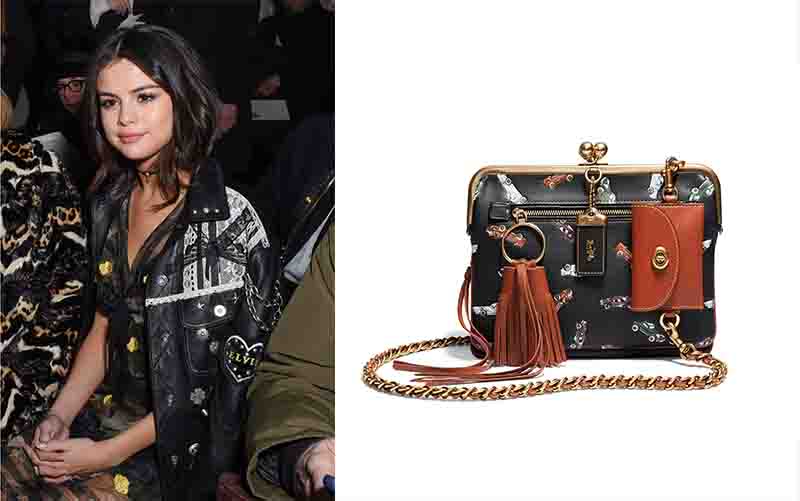 Selena Gomez (left) and a piece from the latest collection of Coach
Selena Gomez in Coach
In the Philippines, Coach is exclusively distributed by Stores Specialists, Inc., and is located at Rustan's Shangri-La.
A tomboy, playing with the juxtapositions of the great American outdoors and early New York hip-hop; the prairie and the city; what's unprecious alongside symbols of status and luxury, Coach-style. There's also Paper Moon, The World Famous Supreme Team's square dance/ scratch remix, Rexy and her carriage.
Riffing on shearling, varsity and biker. Raw-edged shearling worn with the swagger of something rarefied. Customizing and personalizing familiar pieces to make something new. An air of growing up, yet always with humor and playfulness, in the melting pot of New York City.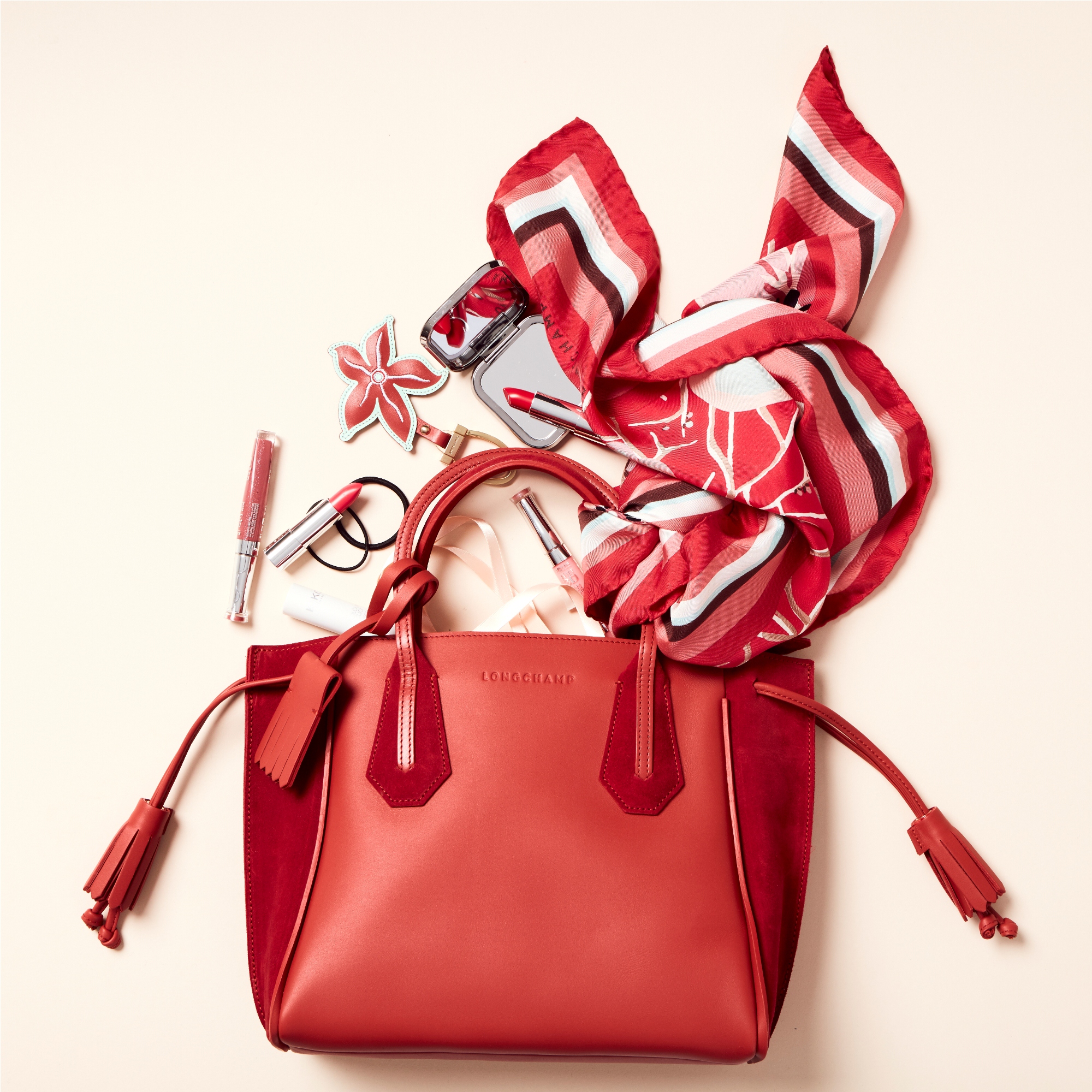 Pénélope tote
Longchamp Pénélope tote
Discover the Longchamp Pénélope line at Rustan's Makati, Rustan's Shangri-La, Rustan's Cebu and Greenbelt 5.
Longchamp presents the latest version of the Pénélope tote, both casual and luxurious.
With its trapezoid shape, raw edging and topstitched handles, the Pénélope line features models of rare elegance that fuse the hottest sporty-chic designs with Longchamp's time-honoured leather craftsmanship. And for a touch of feminine charm, the timeless tote features sophisticated details, contrasted leather in the dual-material version and some darling tassels.
This Spring ushers in a new "bucket" shape to top off the collection with refined style and perfect form. A dreamy bag that comes in understated original seasonal colors, just like all the accessories that also make great gifts, from clutches and jewellery to keyrings and silk scarves.
There is a Pénélope to match every whim and mood. Daydreamers will fall for graceful Celadon, whereas loungers will love the Misty version. But those pleasure-seekers will surely be whisked away by the Burnt red shade.
— Deni Rose M. Afinidad-Bernardo