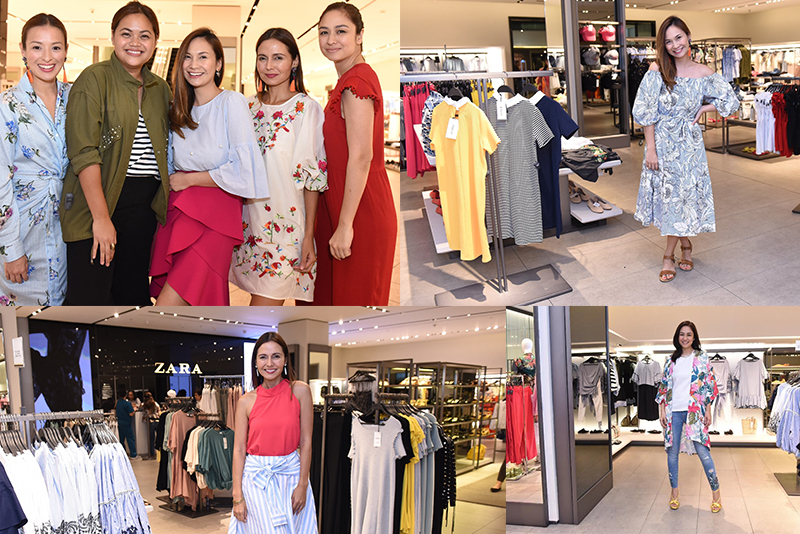 Baby Barangay's Kelly Misa-Fernandez, Nicole Hernandez-de los Angeles, and Bianca Santiago-Reinoso on a shopping spree.
'It' moms on a mothers' day out
(philstar.com) - May 12, 2017 - 8:19am
In this day and age, great expectations are placed on mothers. Not only are they expected to carry the great responsibility of raising a family and managing a household; they are also expected to do this all with bright smiles on their faces. As moms can attest, being a mother is not always easy, but it is definitely worth every sacrifice.
Celebrating their motherhood, a group of celebrity moms, who fondly call themselves the "Baby Barangay," treated themselves to an ultimate mom squad retreat – a day of fun and revelry, shopping, and great food.
"This is the most perfect day I could ever ask for," said Kelly Misa-Fernandez. "I got to spend the day with my best girls doing what I love most – eating and shopping!" Joining her are her closest confidantes and fellow moms Bianca Santiago-Reinoso, Nicole Hernandez-de los Angeles, Patty Laurel-Filart, and Cat Juan Ledesma.
"As a mom you don't get too much 'me'-time, so this was an incredible opportunity. Not only did I get the afternoon off, but I got to spend it with my best friends, so that's the greatest gift!" shared Patty.
For her, 'free' time has become quite rare, which makes this bonding moment even more special. "As a working mom, it's healthy to have breaks in between all the demands of work and home. I find that 'Mommy Time with Friends' helps me feel refreshed and renewed, making me a happier and more pleasant mom and wife."
In addition to enjoying a sumptuous Mother's Day lunch from Spiral featuring Mom's favorites as well as healthy yet flavorful dishes and luxurious spa treatment at Sofitel Philippine Plaza Manila, the five ladies were able to let their hair down, relax and enjoy an unhurried afternoon of retail therapy. Shopping is a passion and happy past-time they all share.
Since becoming moms, their styles and tastes have definitely changed, but their love for fashion has never diminished.
"As a mom, my style has definitely evolved. Today, I prefer pieces that flatter my body type. I value comfort more, especially as I have to run after two young boys," chuckled Nicole. Today, she gravitates towards classic pieces and timeless styles that are easy to mix and match, and spruce up with a colorful accent.
As for Bianca, she has always loved experimenting with trends and silhouettes. But now as a mother, she has taken a more practical approach to fashion. "My style has tapered down in a way, but I still look for clothes that will fit my current lifestyle and body. I still inject trends, but I carefully pick and incorporate these with my streamlined, easy pieces," she said.
Patty's current wardrobe staples include harem pants, shorts, skinny jeans, an array or flats, scarves, relaxed summer dresses, and loose sleeveless tops. "I've always leaned towards the 'relaxed casual' style long before I gave birth to Theo (son), so this still works for me now. I'd like to think I've been able to still keep my personal style, while making some tweaks here and there. As much as I'm a fan of fashion, it's all about comfort, mobility and flexibility now."
On the other hand, Cat puts a premium on quality, and invests in pieces that are not only comfortable, but also a good complement to her hectic lifestyle. "I've never been a high fashion gal, but my style has evolved even more to focus on comfort." Her winning everyday "uniform" usually comprises "jeans that stretch, flats I can walk and run in, and bags that can carry a lot of my stuff," she said.
For Kelly, gone are the days of tight tops, shorts skirts, and high heels. "Now it's about finding a balance between style and comfort," she admits. "I have to be able to carry/play with my son comfortably, stay wrinkle-free and look stylish. I like button downs, because they allow me to breastfeed with ease. Easy access clothing! Flats are also must-haves for sure, and rubber shoes for everyday wear."
While shopping for their loved ones now takes precedence over their own wants, the ladies know how important it is to never forget one's self. Shopping may seem like a luxury, but for many women (especially stylish, working moms), it is also a necessity. "If you look good, and feel good, you'll definitely become a better, more positive person," they all agree.
Despite sacrificing so much for others, the mothers of Baby Barangay never forget to treat themselves with a little well-deserved me-time, whether that is through shopping, eating out with their husbands, or indulging in a spa treatment.
On days as special as Mother's Day, every mother deserves to feel like a queen.